Culinary Delights on the Silver Moon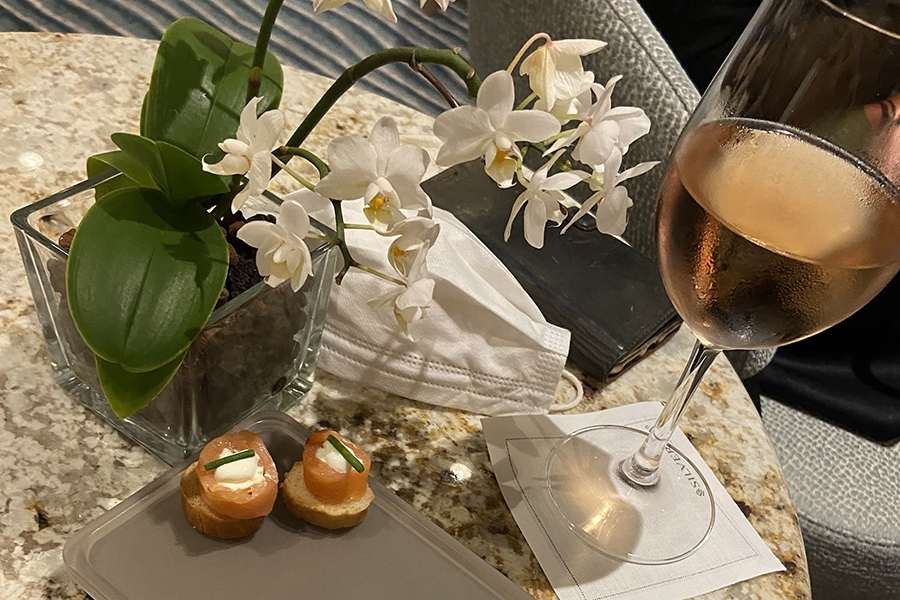 Culinary Delights on the Silver Moon
Can I just start by saying how nice it was to resume travelling again! Olivia and I were extremely fortunate to be one of the first to sail on-board the brand-new Silver Moon as she embarked on a summer season of Greek Itineraries. What a magnificent ship she is!
In this blog, I am going to talk more about our food experience on-board, and all the different styles of restaurants on offer!
If you are a real foodie like me, then you will certainly appreciate all that this ship has to offer! There is an impressive selection of both casual and fine dining options with a total of 8 restaurants to choose from, including the new S.A.L.T concept. The choices were endless, from champagne and canapes in the Dolce Vita lounge, to sumptuous lobster in Atlantide, to surf and turf sushi in Kaiseki, to jazz and tapas in Silver Note, followed by locally inspired dishes and paired wines for each port in the brand-new S.A.L.T Kitchen.... there was an impressive selection of delicious cuisine and well thought out menus.
Our first night on-board, was lovely. We wanted something a bit more casual and laid back, having spent the day travelling and feeling a little tired. So, we headed off to the pool deck to try out Silversea's renowned Hot Rocks experience (Which by day is a rotisserie, gourmet salad and burger bar). The setting was lovely, overlooking the pool area in a glass enclosed restaurant. All the lights were twinkling into the pool under the nights sky, it was very pretty and romantic. The experience is unique, you can order as many dishes as you like from seafood and meat menu. The waiters then bring the food out with heated lava stones which they place at your table. You cook your own seafood and steaks on a 300-degree heated stone. I ordered the giant prawns with steak, and they were delicious! We were really impressed with the concept and thoroughly enjoyed it.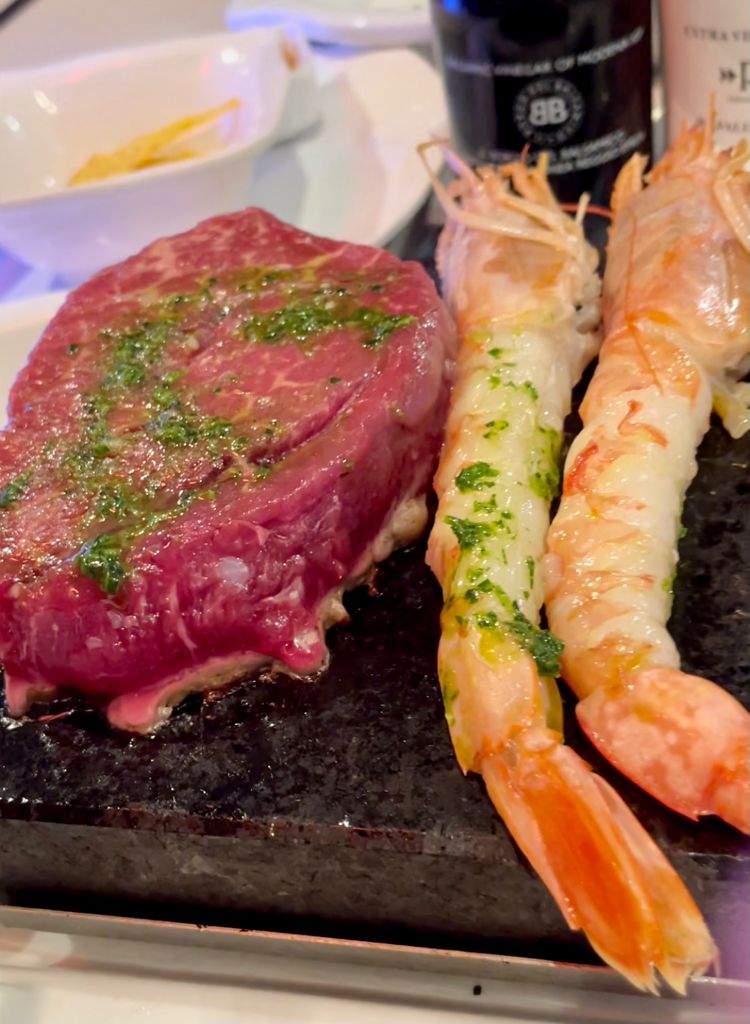 Now, let's talk about with the new S.A.L.T concept restaurant, which is a clear favourite amongst guests, and came top of my list as a personal favourite! S.A.L.T is Silversea's brand-new food and drink concept, and it didn't disappoint! The S.A.L.T. (Sea and Land Taste) project aims to give cruisers an immersive way to experience different flavours and traditions in the ports of call visited that day. To support the S.A.L.T program, is the S.A.L.T Restaurant, The S.A.L.T Lab, which is a test kitchen, enabling guest to learn more about the local ingredients, take part in cooking workshops, tasting and demonstrations. And finally, the S.A.L.T Bar, which allows guests to sample the flavours of the local regions, with an impressive selection of local wines, spirits, and even more importantly, some fabulous cocktails!
We were fortunate to dine twice in the new S.A.L.T Restaurant and were treated to local specialities from the ports of Cyprus and Crete. You can choose from two menus, the first menu features dishes based on local cuisine, so we were treated to Greek-inspired dishes and wines followed by the second menu, which features dishes based specifically on the port of call visited that day. There was an amazing section of food to choose from, all accompanied by specially selected wines. You had to option to order as many dishes as you wanted, so we certainly made the most of the choices on offer!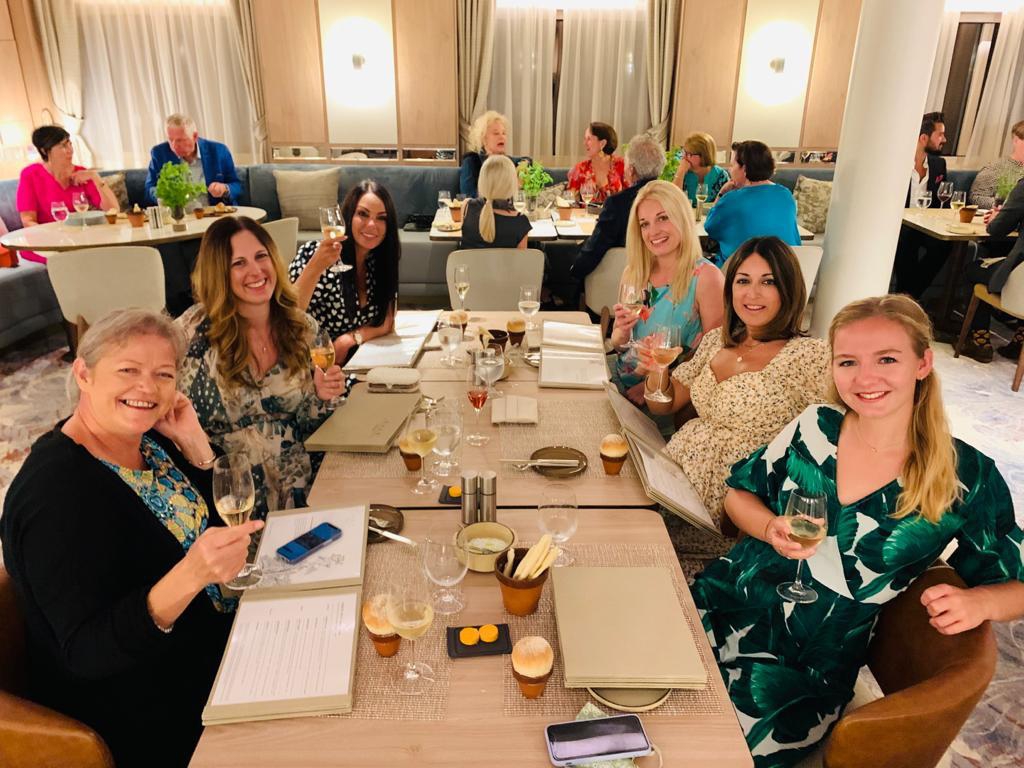 After our meal, we headed over to the S.A.L.T Bar, which again was another highlight of our time on-board. The bar has a lovely intimate feel with a lounge-style club setting. The cocktail menu was something else! We all treated ourselves to Silversea's new signature cocktail, 'Selene the Moon'! The bar tenders were fantastic and had the cocktail making down to a fine art, they took us through all the different drinks on offer and kept us thoroughly entertained as we drank our way through the locally inspired cocktails!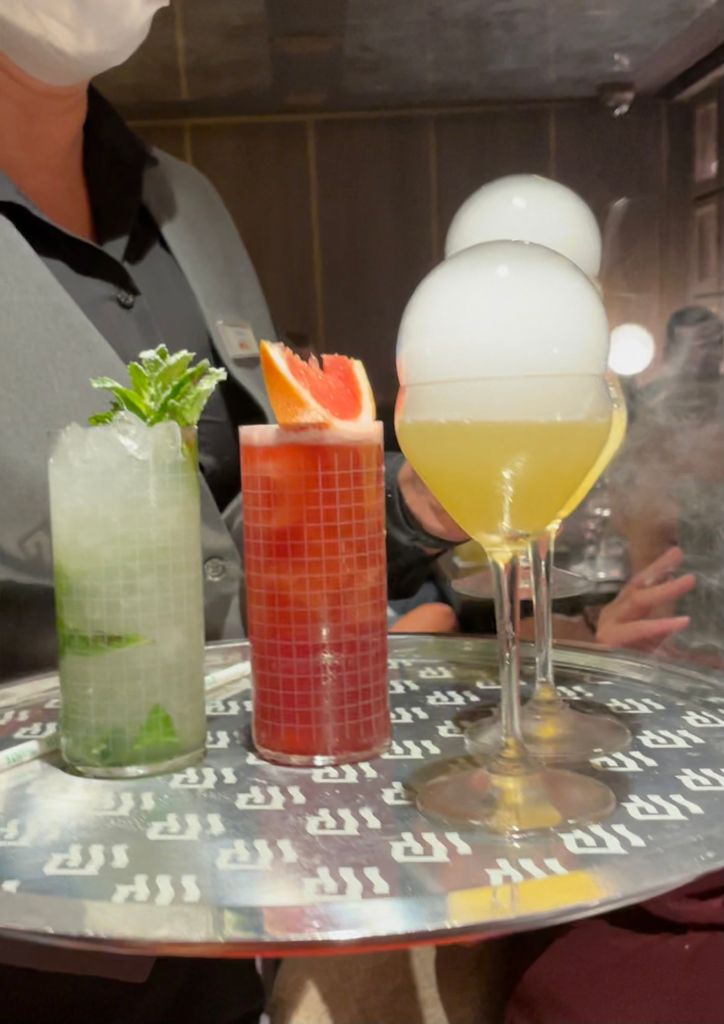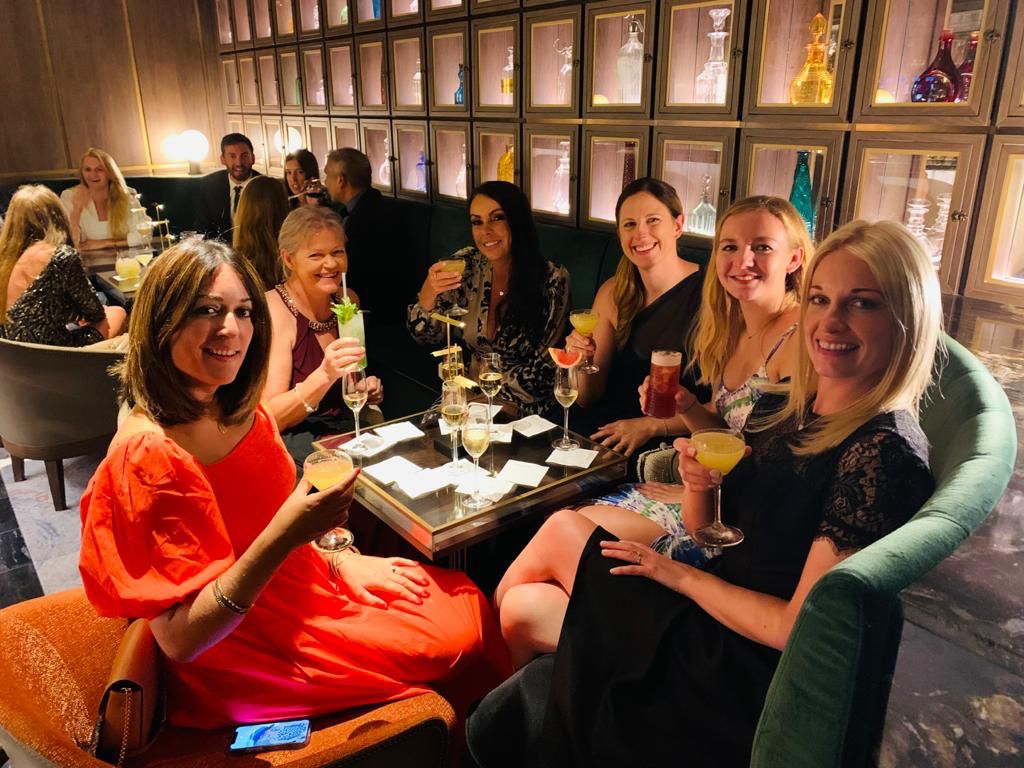 The following day, we were given the chance to experience the S.A.L.T Lab, which is a test kitchen. All the ingredients were carefully laid out ready for our MasterChef style class to begin. Here we learned how to cook two dishes with locally sourced ingredients. We made a Spanakopita (feta and spinach parcel) followed by Saragli (rolled-up baklava). Both the sweet and savoury options were delicious! It was a fun and interactive cooking experience, something I would highly recommend taking part in.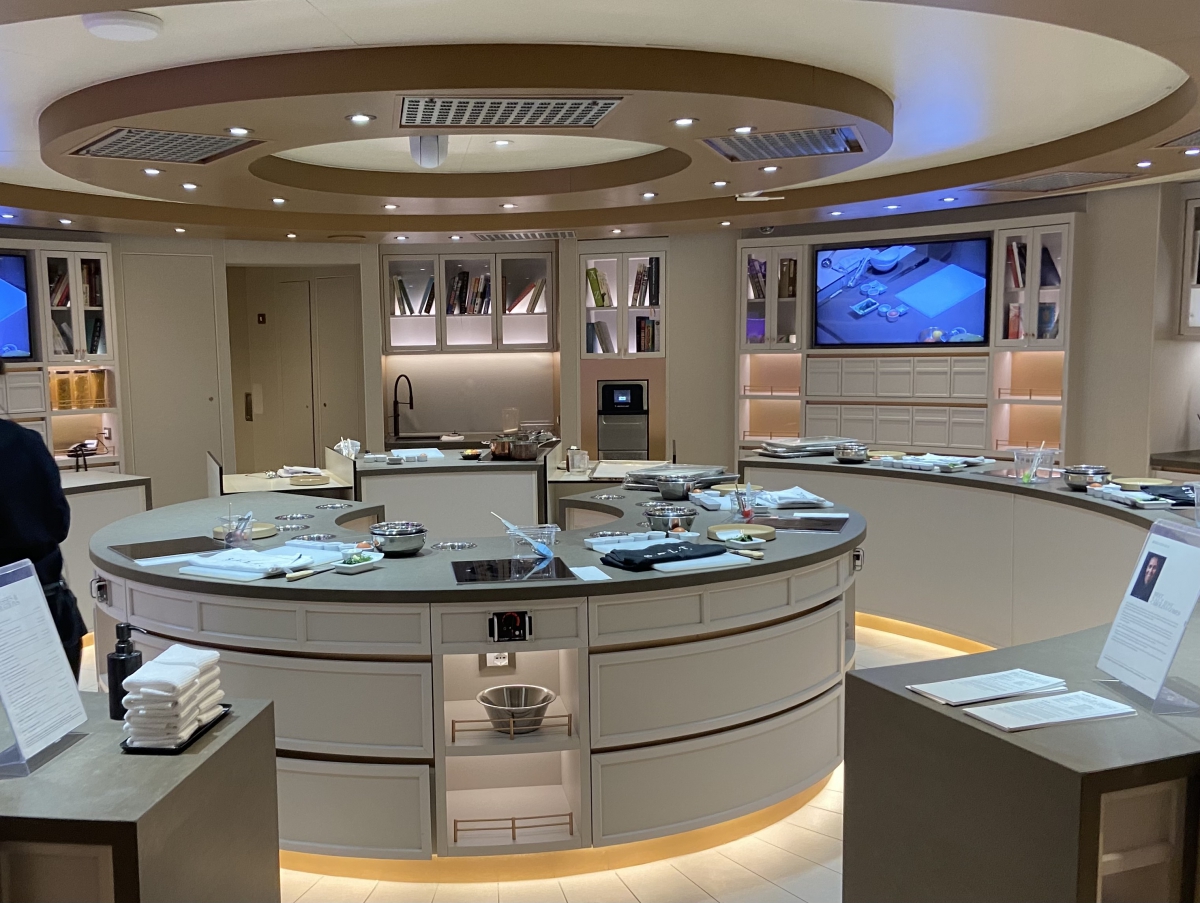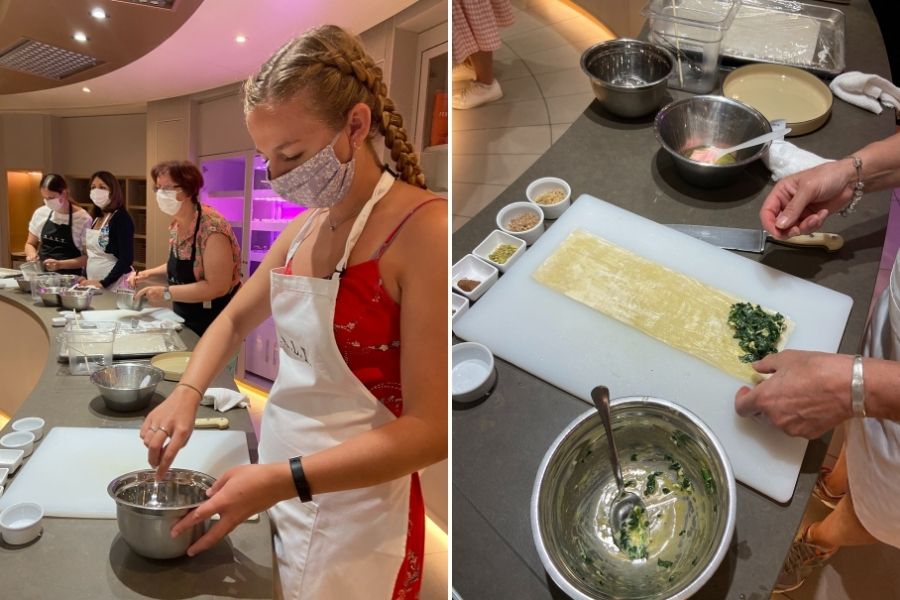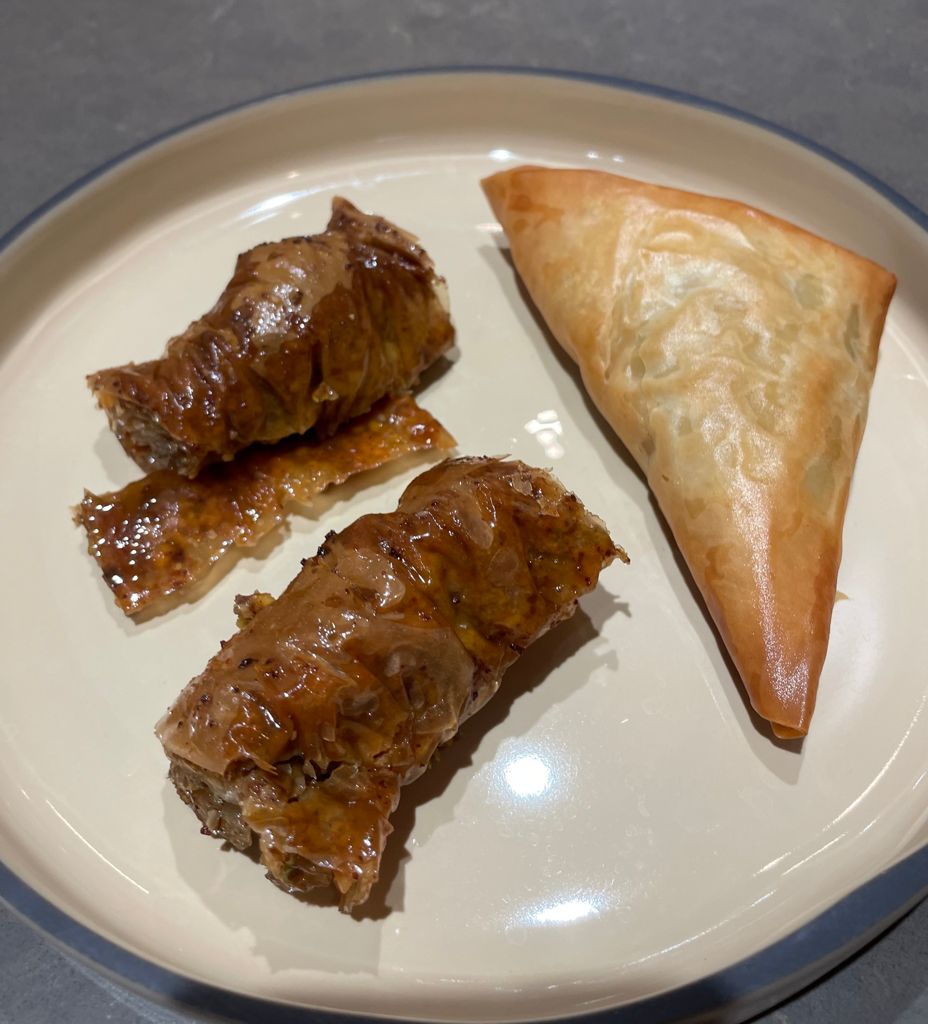 And last by no means least are the SALT excursions, which allow you to become fully immersed into the local culture and local dishes. Our excursion took place on the Island of Mykonos, we were whisked off to a farm in the hills above Mykonos Town. The farm is run by Jiorg and his family, who invited us into their kitchen to learn how to make local cheeses, and a selection of pastry dishes. On greeting us all, Jiorg said, 'I am not a chef, my best way to communicate is through food', which he certainly did! We spent the afternoon sampling lots of lovely delights and wine which came from Jorge's own vineyard! We left feeling a lot richer and fully immersed from the experience, and so were a little sad when we had to wave Jiorg off goodbye!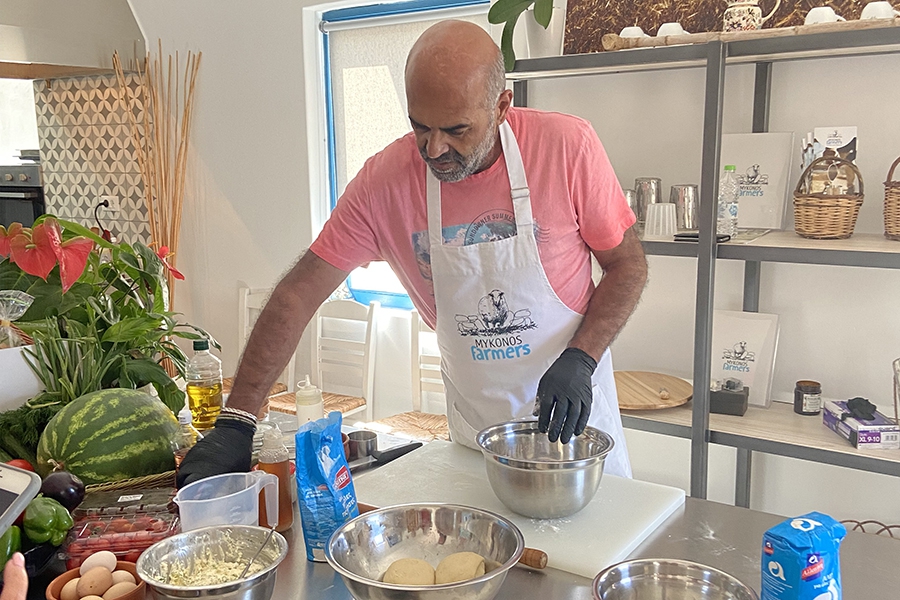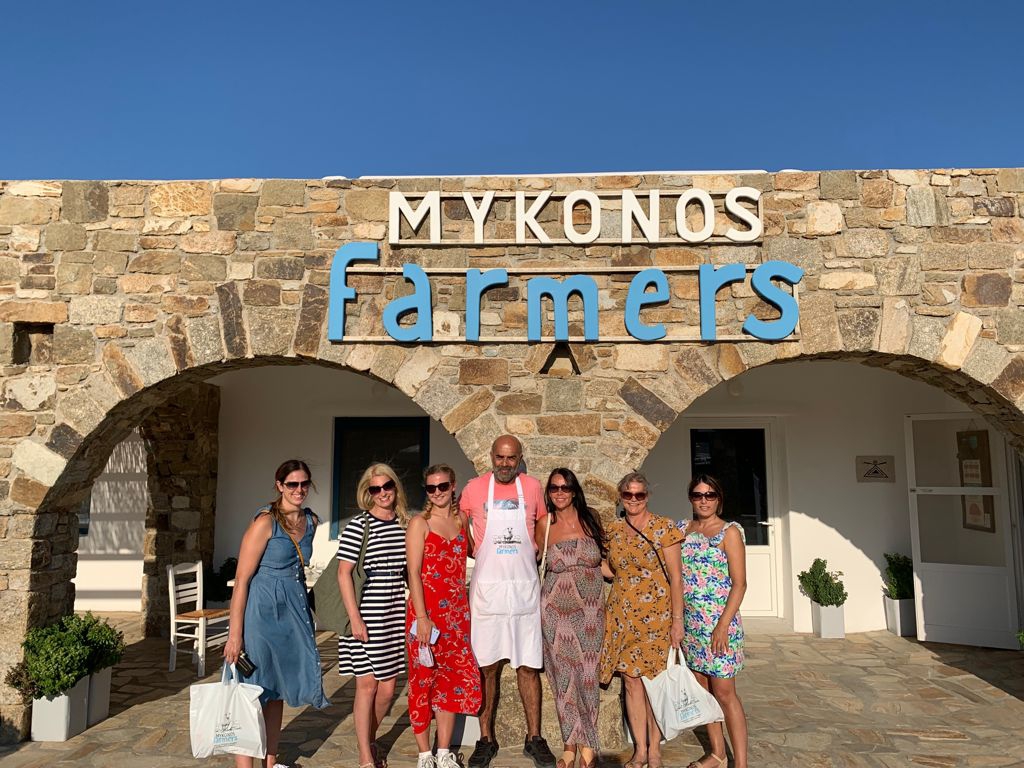 On a couple of the sea days, we all fancied something a little bit different for lunch, so we headed off to the Asian-inpsired venue Kaiseki, which offers Japanese cuisine with a sushi bar in beautifully decorated surroundings, complete with authentic costume art work on the walls. It offers a more casual lunch option during the day, and by night becomes a more formal affair, with reservations required in the evening at an additional cover charge of $60.00 per person. This ended up being one of our favourite venue's for lunch. We were served fresh sushi, sashimi and other Asian dishes on huge platters, including the amazing surf and turf sushi rolls which we would end up ordering extra of! We loved how different the experience was to other restaurants on-board.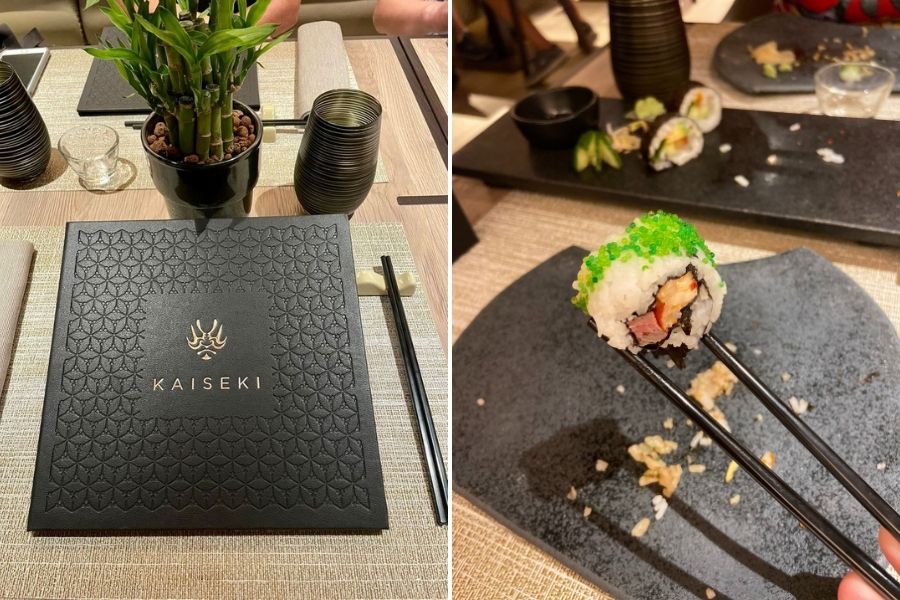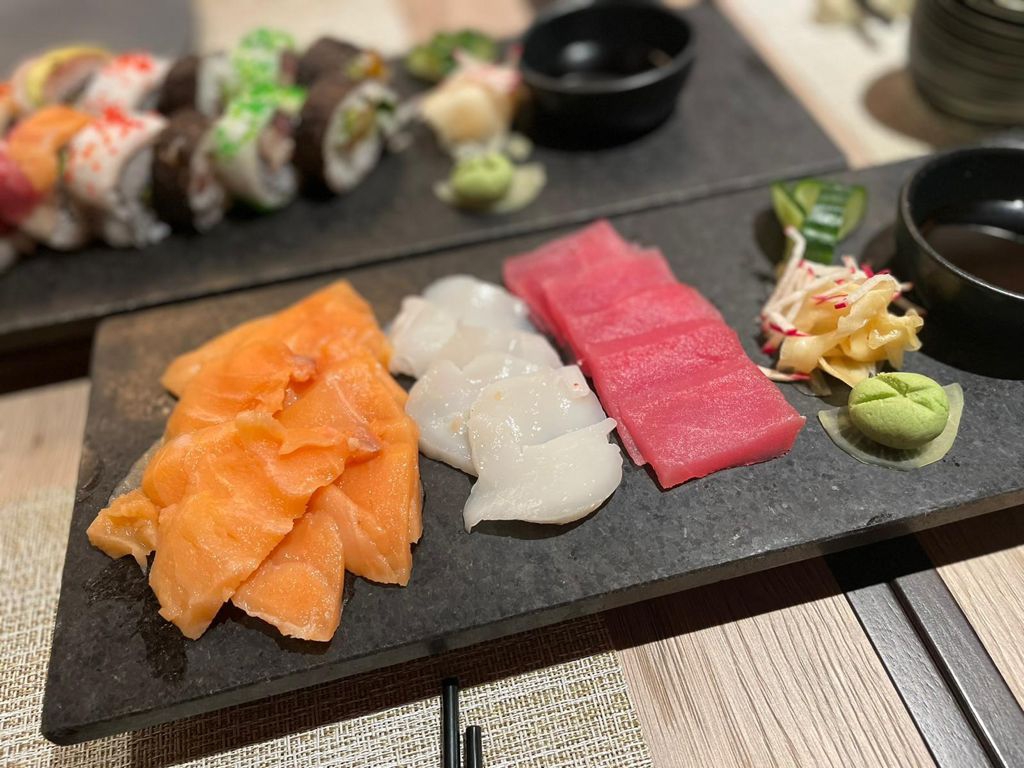 The only other restaurant which came at an additional cover charge was La Dame, which is Silversea's signature French restaurant. This restaurant is stunning and has a new look as well as an increased capacity from 30 to 56 seats. The restaurant is decorated with bespoke, handmade Lalique crystal panels in the theme of Masque de Femme and Coutard. We weren't lucky enough to be able to get a reservation here, but if you pre plan your visit ahead of arrival, this restaurant is worth a visit, especially if you are celebrating a special occasion!
Another amazing restaurant and one of our personal favourites alongside the S.A.L.T restaurant, was the Silver Note. This venue is superb, I can't recommend it highly enough! The atmospheric Silver Note combines tapas-style dishes with live jazz and blues music in a very stylish bistro setting. I would describe it as an intimate supper club, served with a side order of jazz and elegant cocktails! We were in food heaven, the dishes just kept coming and the drinks kept flowing! We ended up ordering about 8 dishes each, the highlight for me had to be the lobster tail, it was simply divine! The setting was so lovely and intimate, and we really enjoyed watching couples get up in between courses to go and dance on the dance floor. I was really surprised to see that this restaurant wasn't a chargeable option, if I had discovered Silver Note earlier on in the cruise, I would have dined here more than the once, it was such a special venue.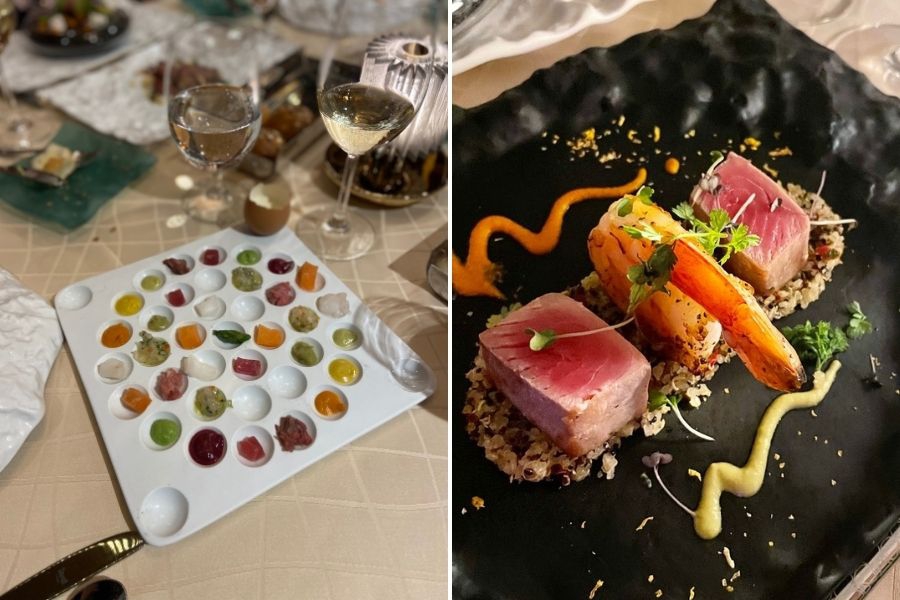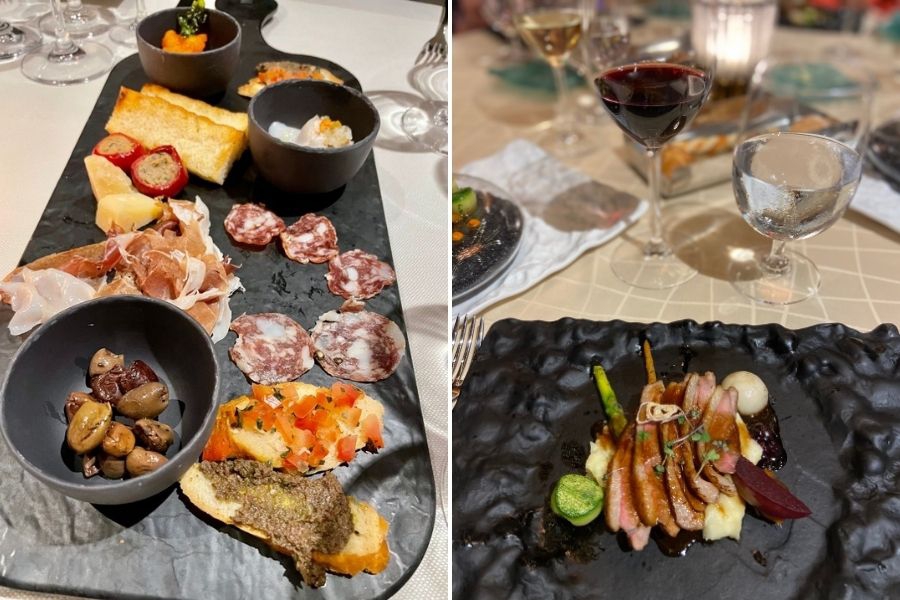 Another venue we dined at was The Atlantide. This restaurant is another firm favourite of guests, offering open seating with some fantastic steak and seafood options. It can accommodate up to 220 guests so is Silversea's largest dining option. The venue is lovely, everything is upholstered in claret velour with brass trimmings and a low ceiling. It competes with The Grill's version on the open-air pool deck. We enjoyed a menu of lobster tail and steak dishes, accompanied with a selection of fine wines. I would recommend dining here at least one night during your cruise, the food really was excellent!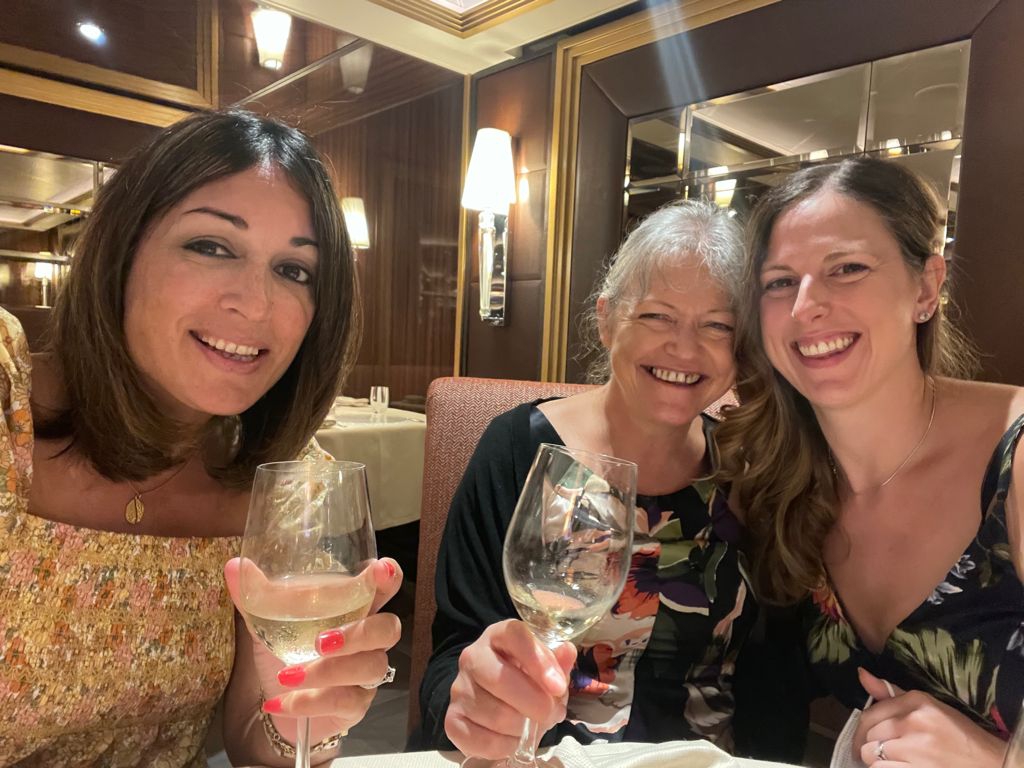 Our last evening which we were very sad about, was spent at La Terrazza, which serves authentic à la carte Italian dishes by corporate chef Alberto Colombo. (By day it offers a breakfast and lunch buffet) The restaurant is beautifully elegant, with fine linen tablecloths and a lovely neutral décor. Reservations are recommended here because it is so popular, but you could just turn up if you wished, but you may find yourself waiting to be seated. The menu is extensive, one of the largest menu's offering's out of all the restaurants, but this is great as you get so much choice! We were spoilt with the vast array of options, including antipasti dishes and fresh pastas. If you are a fan of Italian dishes, this venue does not disappoint! We had a lovely evening and were glad we waited until our last night to dine here, it was a great meal to end such a fabulous cruise!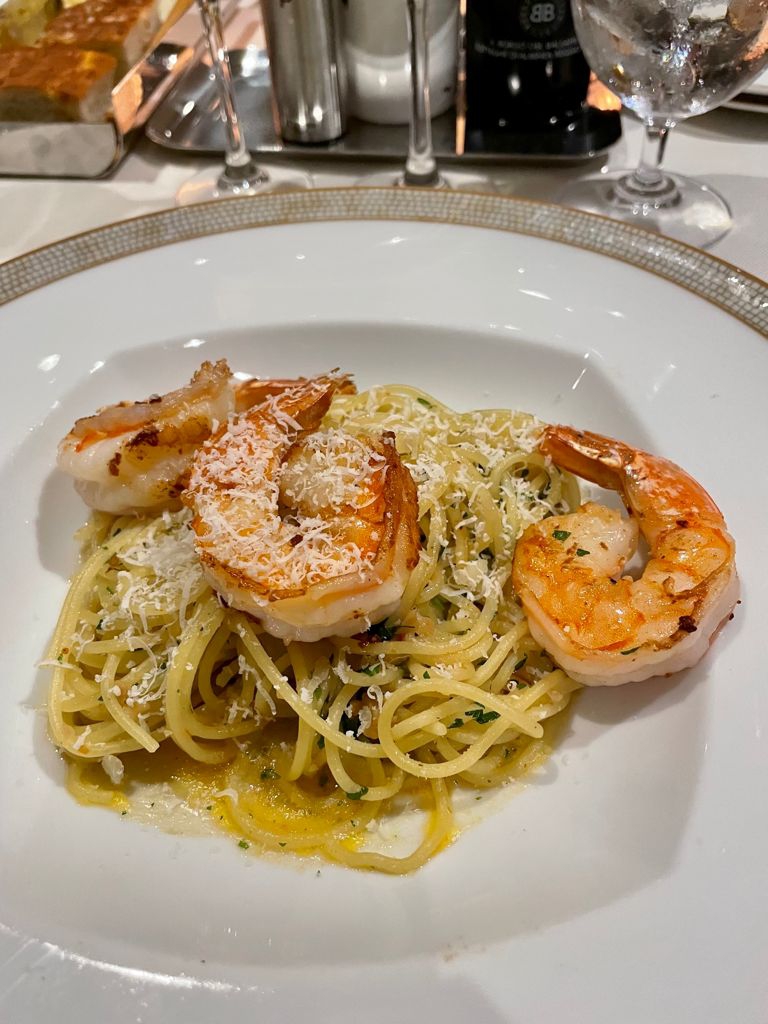 I have to say just how impressed I was with everything on-board Silversea; the Silver Moon is just fabulous and by far exceeded all our expectations. The variety and choice available would suit every type of customer. I haven't mentioned the room service menu up to now, as everything else was so amazing. But each morning I would order my favourite of eggs benedict, which set me up until lunch time came! The room service menu allowed you to order dishes from the main restaurants, so if you didn't fancy leaving your cabin one evening, or just wanted to relax on your balcony during the day, you could order dishes off these menu's. I came away having eaten my weight in lobster tail and steak! I would like to say a special thanks to Silversea and to Sarah, who kindly invited us on-board to experience everything Silversea had to offer. We had the most amazing time and were extremely fortune to joined by such a fantastic bunch of people!