My Bucket List Cruise on the Mekong River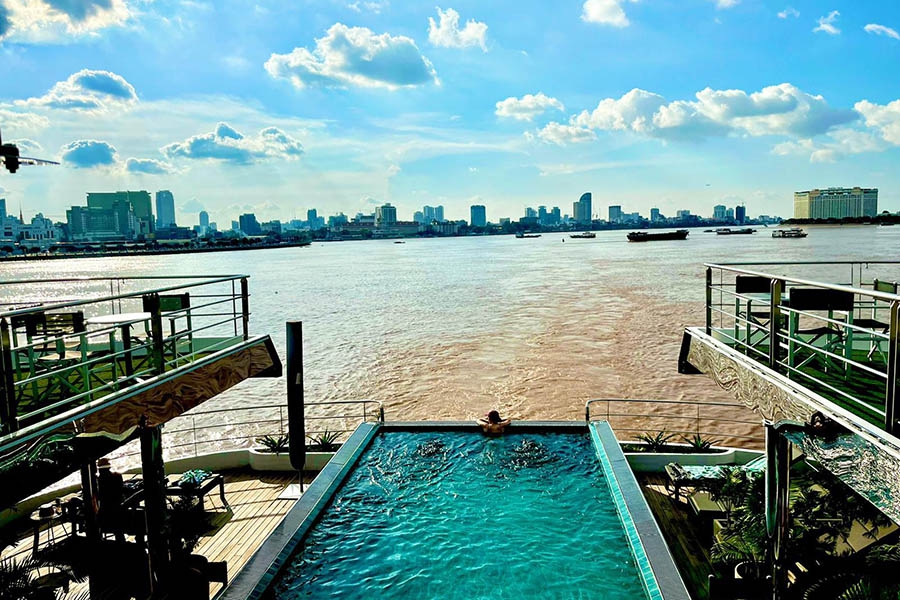 My Bucket List Cruise on the Mekong River
Oct 25, 2022
mekong river cruise, river cruise, mekong river, cambodia, vietnam, luxury river cruise, emerald cruises, emerald harmony, scenic, scenic spirit
A couple of weeks ago, Panache Cruises' admin executive Claire embarked on the trip of a lifetime. From her home base in Lanzarote, it was a long journey to get to her final destination... Phnom Penh, Cambodia!
Claire was incredibly fortunate to be invited on a week long cruise along the River Mekong on board Emerald Cruises' purpose-built luxury vessel, Emerald Harmony. She was also given the opportunity to tour Emerald's sister-brand Scenic's Mekong vessel, Scenic Spirit, while they were over in that neck of the woods! Claire has come back full of beans and excited to tell everyone about the amazing experience she had on Emerald Harmony and the unforgettable experiences she had learning about Cambodian and Vietnamese ways of life during her time there.
Read on to find out what Claire had to say about her cruise...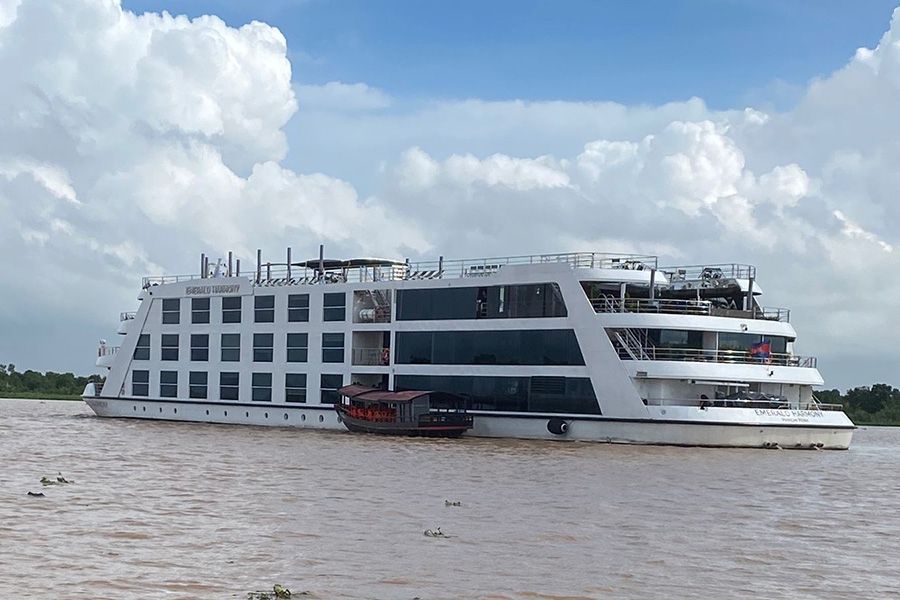 "Firstly what an epic experience this whole trip was. Upon our arrival in Cambodia, we were put up in a gorgeous hotel overlooking the river. Luckily our visas had all been arranged - a pre-approved visa is required for Cambodia and cost around £35 - and as we were fully vaccinated it was smooth sailing. From the moment we arrived at the embarkation point in Phnom Penh and saw the beautiful Emerald Harmony, I knew we were in for a real luxury experience.
Once we started embarking the ship, the staff were more than happy to welcome us on board and were all smiles, providing us all with cold flannels which was a delight as the weather was hot and humid.
The ship
After we were welcomed on board we were able to get our bearings and look around the ship. For such a small ship, I was impressed by the space on board. The Horizon Lounge was the meeting point for everyone, it was where we met for excursions and it also acted as a bar area. Towards the back end of this lounge was an outdoor terrace which was the designated smoking area on the ship as well as a secluded spot to catch a quiet sunset on board. There was also another quiet lounge on the lower deck towards the front of the ship where guests could relax at any time of day or evening.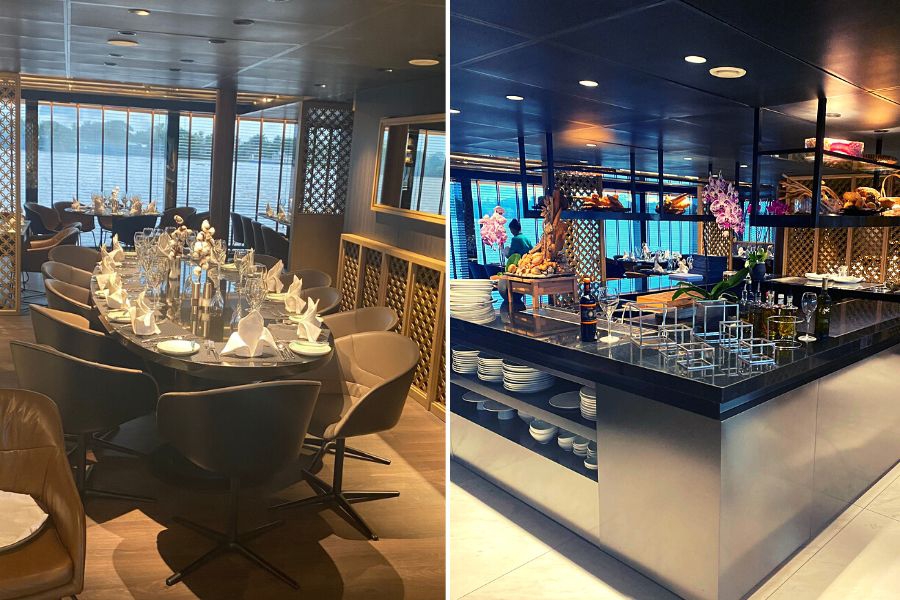 There was one main restaurant on board where a delicious breakfast, lunch and dinner were served every day. Here in the afternoon you could help yourself to the buffet, or order from the menu which featured local and Western food options. Every day there was a different theme, for example they had a Cambodian style lunch, Vietnamese delicacies, and one day they did different dishes from all the iconic rivers of the world like the Mississippi, Rhine and Douro. When we were dining we were truly waited on hand and foot, the crew couldn't do enough to help you. There was always someone on hand with different wine options to perfectly compliment each choice on the menu, and it was these little details which I appreciated.
One thing I wasn't expecting to be on board a Mekong river cruise was the lovely open pool area. There were lots of green plants surrounding the area, the pool was changing colour and was heated, and there was also a pool bar! There was plenty of space to recline on a sunbed (each bed came with a sun hat and a hand held fan) so this made for a really relaxing spot to enjoy an afternoon after a hot and tiring excursion during the day.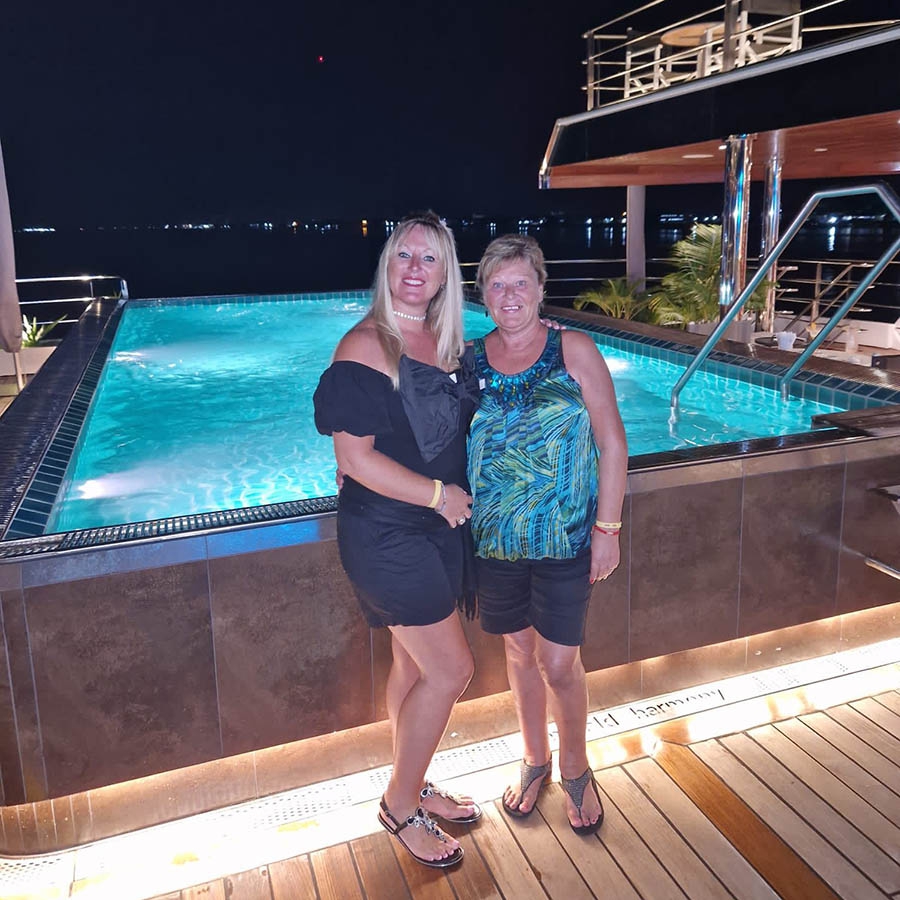 On the top deck was a huge green area where guests could play mini golf during the day, although this area was particularly great to simply sit and admire the views, especially when we were approaching Ho Chi Minh City with the tall buildings all lit up, it was really cosmopolitan.
Emerald Harmony also had a small gym area with the usual machines and some dumbbells, there was also a self-use laundry which was available to everyone with washing powder provided and an iron in this room. This again was something I didn't expect as laundry is usually at an extra cost, but it came in handy as we often got back from our days out very hot and in need of fresh clothing! There is also a lovely little spa on board, with two massage rooms, a hairdresser and a nail salon. I can imagine many guests enjoy making the most of these facilities as it provides a touch of home comforts whilst on board.
The service
The highlights for me were the staff on the ship and the little touches they provided. The trip fell on my birthday so when I returned to my cabin on my birthday evening my bed had been decorated with towels made to look like cakes and two towel monkeys hanging from the lights. They had placed a 'Happy Birthday' sign on my bed and had rose petals scattered around, plus I had a little birthday cake with my name on it and a bottle of bubbly with a personalised card from the staff on the ship. It was probably my best and most memorable birthday ever!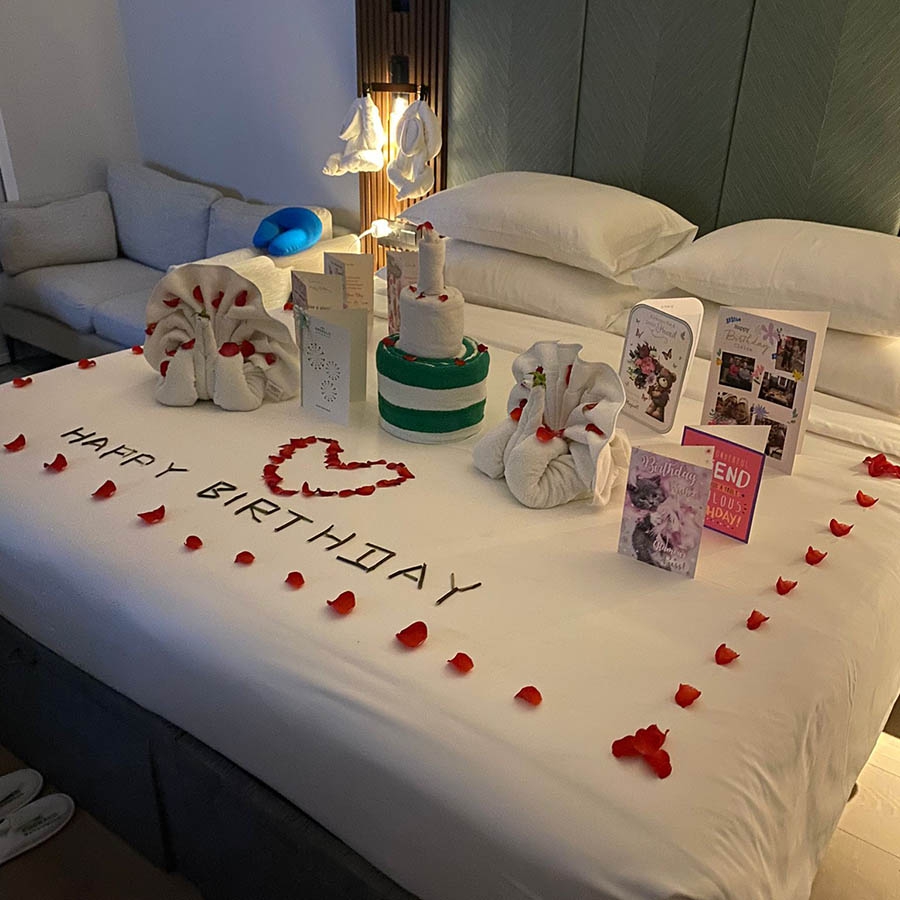 Also each night we all were left little gifts in our cabins like little bracelets that had been handmade by children in a local school; another day we got a map so we could see where we had been; another was a cotton scarf that we had seen the locals making by hand in one of the villages; and we were even given the very useful gift of a pot of tiger balm for any mosquito bites!
It was something really special to meet these genuinely beautiful people who just cannot do enough for you. I asked one of the staff where I could buy a bottle of water whilst I was out on a tour and he went to the van and got the water for me and ran back with it.
The accommodation
There are three types of cabins on board Emerald Harmony. On the lower deck you will find cabins with a port hole window (but plenty of space), on the upper decks are panoramic rooms wih a full floor-to-ceiling window which opens half way (almost like an indoor balcony effect), then there are the more spacious suites at the front of the ship which have a separate bedroom and lounge area, a walk-in wardrobe, big bathroom, and a large terrace with sunbeds and a private Jacuzzi. There's no doubt these suites are the place to be on board, a real private retreat with lots of space and gorgeous views!
The shore excursions
This trip was filled with tours, which really made the entire cruise a more enriching experience overall. I felt mixed emotions as we were taken through the deep, dark history of the Killing Fields in Cambodia and the War Museum in Vietnam. These moments were uplifted by visiting villages where the locals showed us their crafts, sang and danced for us, and the children wanted to just meet us and show us where they live. It is a real eye opener to see how basic they live yet they are all so happy with life and more than welcoming for us to visit.

We visited numerous temples which all have a story to tell, from the location where Lara Croft's Tomb Raider was filmed to the biggest religious site in the world, Angkor Wat. Seeing these temples still in use by real Buddhist monks, smelling the incense burn and being able to speak to some of them made each of these experiences truly magical. We also visited a few royal residences on his trip, including a beautiful palace which is now a museum with gardens where local children run around and play.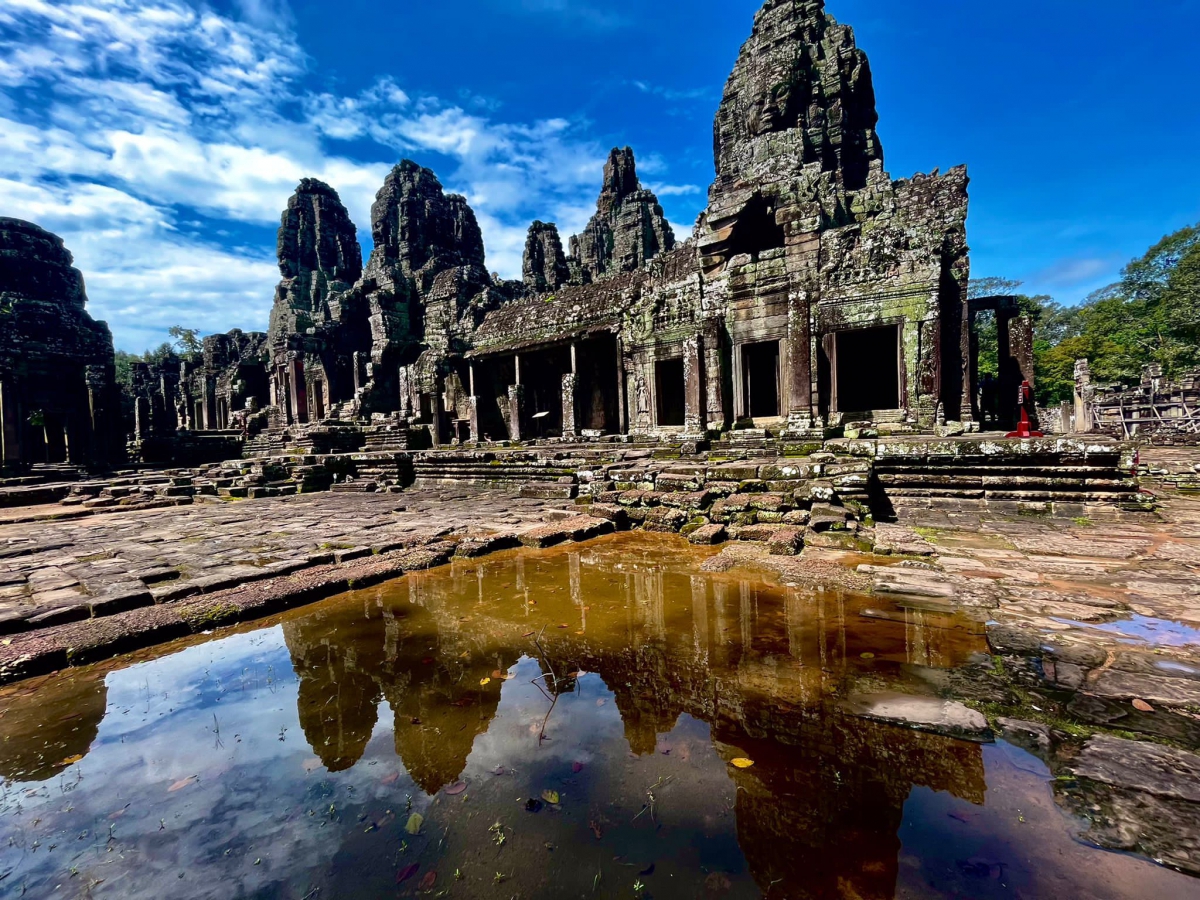 It was truly an amazing experience I will never forget and would recommend anyone to experience this phenomenal trip. The culture, food, welcoming people, and incredibly moving sights, although difficult to experience at times, made this one of the best bucket list experiences of my life."
Watch below as Claire chats all about her experience with Emerald Cruises' William Young:
Find out more about Mekong river cruises.
---
Want to experience this? Give the Panache Cruises team a call on 0161 513 8200 and they'd be happy to help!