Mouthwatering delights on Seabourn Ovation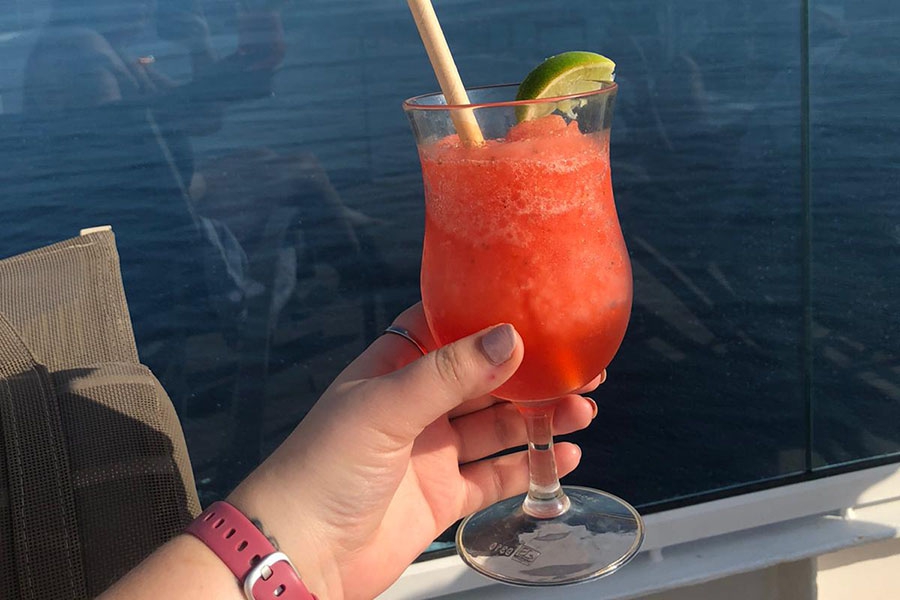 Mouthwatering delights on Seabourn Ovation
I recently had the pleasure to embark on the beautiful Seabourn Ovation and one of my favourite parts being the foodie that I am would have to be all the dining experiences on board, prepare for your mouth to water and tummy to grumble...
You truly are spoilt for choice on Ovation as there are many different styles of dining to suit all, for example a la carte, family style, buffet, gourmet dining and even being able to watch the food being freshly cooked at the Sushi lounge.
The Patio
Here we had our first taste of what Seabourn had to offer, the Patio is open for lunch and is situated on deck 9 around the main pool area. There was plenty of seating and a lovely, relaxed atmosphere. The choices were endless and the options changed daily so there was always something new to try. I went for a freshly prepared salad which was a perfect light lunch for a hot day in Monte Carlo. The staff serving were very polite and attentive, I asked if I could have some sweetcorn and the gentlemen serving said 'you are sweet enough'. The staff make you feel very welcome and it was nice to see them being able to have a joke around, they truly look happy to be working.
This area turns into the Earth & Ocean dining experience in the evenings, unfortunately this wasn't something that I had the chance to experience whilst I was on board, but I did get the chance to speak to others that had. The skilled chefs on board create an array of fresh, inventive dishes that reflect the destination you are in. I think this is a wonderful idea as you really get to explore the traditional flavors of each port of call you visit. This is a relaxed setting sitting under the stars and truly a dining experience like no other.

The Colonnade, inspired by Thomas Keller
Our first evening meal was at the Colonnade for a Thomas Keller inspired evening, this is something that is recommended to pre-book and can be done at guest services for an evening and time of preference. I would highly recommend this dining experience, the food is served family style and made me feel right at home. This is a set menu which is sometimes a good thing for myself as I can be very indecisive when choosing what I would like to order. The staff serving us came over to introduce themselves and explain the menu we would be dining from that evening, they recommended wines that would pair with the different courses perfectly.
To start we had a gem lettuce salad with slow baked beets, radishes, crispy capers, chopped hen egg and green goddess dressing – the dressing really was made from gods, it was delicious. The second course made my tastebuds dance with happiness. Hickory smoked BBQ ribs with wilted spinach, all-day baked beans, golden corn "pone" and whipped honey butter. Wow, wow and wow. The ribs had been cooking for hours on end and just fell off the bone, they melted in my mouth and the corn "pone" with melted butter together enhanced all the flavors. It was perfect. I was now starting to become pretty full, but I could not and would not give up. The next course was a cheese board, Jasper Hill farms cheddar served with Maldon flat bread and blue apron ale mustard. I have had many cheese boards before but nothing like this, the ale mustard complimented the cheddar like nothing I have had before, it was *chefs kiss*. Finally, but not lastly by no means least, the Blueberry potted cheesecake, these were adorable, I know that's not the usual description for a cheesecake, but they just looked so perfect. The whipped clotted cream, the fresh blueberries, the perfect end to a perfect evening.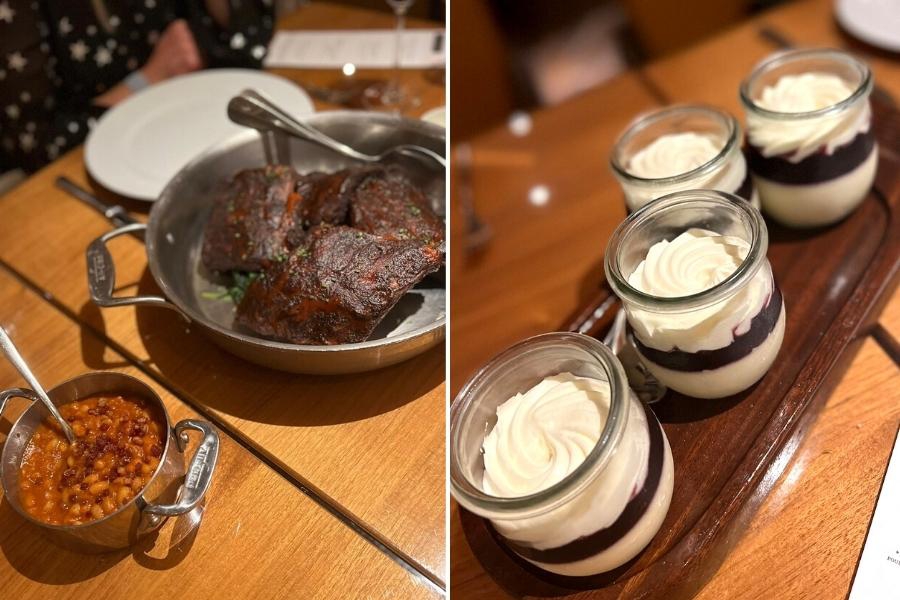 Sushi
This is not something I got the chance to try on board, but I did go for a look around and the décor is simply stunning. This is situated on deck 8 and is open for lunch and in the evenings. I am not a fish fan myself however I was pleasantly surprised that they do also offer meat and vegetarian options. The table arrangements are twos and fours, but larger groups can be accommodated no problem at all. I would have loved to experience this as there are also table options to sit and watch the food being prepared. Seabourn experts have researched the best ingredients to develop a menu that is a perfect blend of authenticity to maintain the root of the cuisine.
The Grill by Thomas Keller
The Grill is a unique culinary concept from chef Thomas Keller which is exclusive to Seabourn. We highly recommend pre-booking this dining experience due to its high demand, this can be done when the booking is made or once you embark with guest services.
The first thing I noticed when I walked in was the plush round burgundy booths dotted around the room, this is a shared dining experience perfect to get to know others onboard. The décor reminded me of an American restaurant in the 1960s with light piano background music which created the perfect atmosphere. We were greeted immediately by a lovely gentleman who firstly asked if we had any dietary requirements and then the second most important question, what we would like to drink. Shortly after whilst we were browsing the menu, we were brought the most eye-catching appetizer, fresh cucumber, carrots, and peppers served on ice with a lime dill dip. For starters I ordered from the daily specials, Gnocchi whipped in egg yolk and topped with parmesan. This melted in my mouth and was so light, the portion size was perfect for me as I hate overpowering starters.

My main course I decided to go for the New York strip steak with peppercorn sauce, the presentation was just impeccable even down to the sauce placed so gently next to my steak. The steak was cooked to perfection, and I could not believe the size. We ordered an array of sides and put these in the middle of the table so that we could try them all, my favorite was the glazed carrots and creamed mash. When we were presented with each course, we were advised which wine paired perfectly and any questions we had the staff could not be more attentive, I found them very knowledgeable about every dish and the whole concept of the dining. To finish the dessert options all sounded mouthwatering, I opted for the vanilla ice-cream but another agent who I was dining with went for the raspberry pavlova and when it looks too good to eat you know you are in for a treat. Overall I could not recommend the service or food enough, if you are or already have a Seabourn trip booked this is something you just have to experience whilst on board.
The Restaurant
The Main Restaurant is open for Breakfast, Lunch and Dinner. This is an a la carte open seated dining experience, so you can choose when and where you would like to eat. We chose to dine in the restaurant one evening and was seated by one of the large windows towards the back of the restaurant. I loved watching us sail away and the waves crash whilst enjoying my food. The menu had lots of different options to cater for all dietary requirements. The service like everywhere we dined during our stay on Ovation has been out of this world. The staff really do care and want to make sure that each guest is happy, comfortable, and relaxed at all times. I highly recommend the salted caramel bomb for dessert and my colleague said that the scallops are to die for.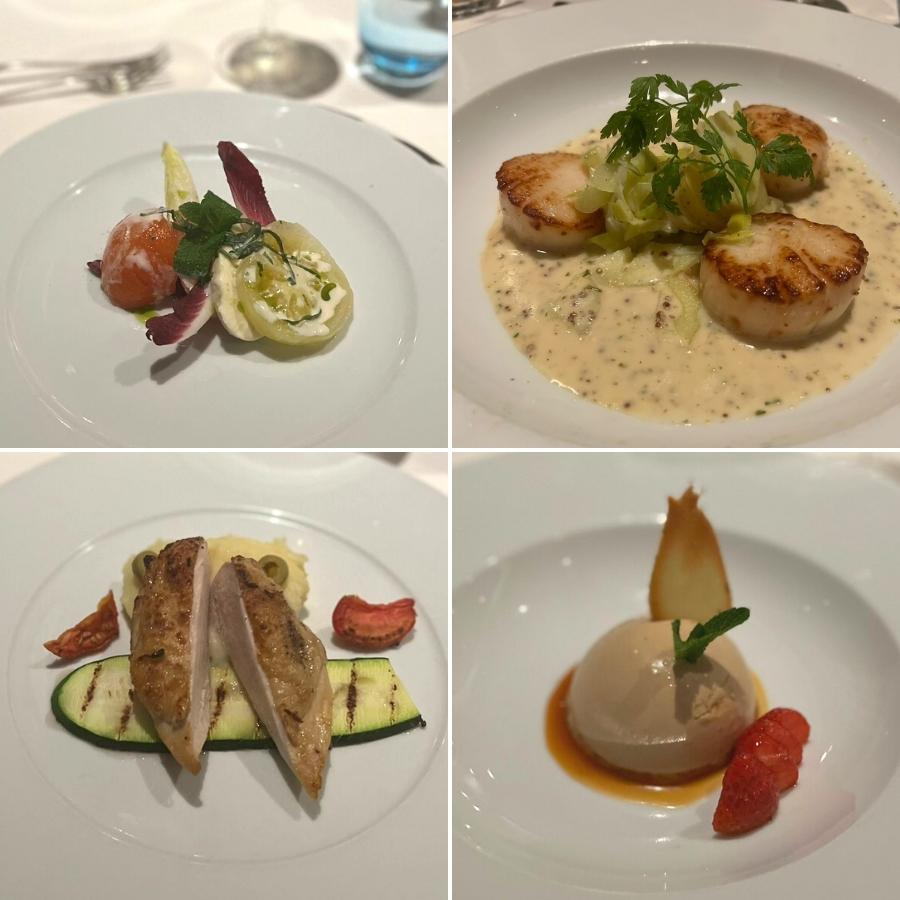 The Colonnade Buffet
Each morning and sometimes for lunch we would dine in the Colonnade, this is buffet style and open seated dining. The morning buffets were my favorite, I would have a fresh mango smoothie and some fruit to start and then move onto my fried options. Everything is so freshly prepared, there was never a time I came to something and it was empty. The staff were on the ball with whatever you required, my colleague ordered an English tea on the first day and every day after that she was greeted asking if she would like her English tea. This blew our minds, a little thing like remembering someone's preference with all the guests they speak to daily was very impressive. As well as the endless choices on the buffet, fruits, meats, cheese, cereals, granola, overnight oats, fried options, smoothies... I could go on and on! There was even a menu to order fresh options from the grill such as pancakes, waffles, steak, eggs, and omelets with whatever filling your heart/tummy desires.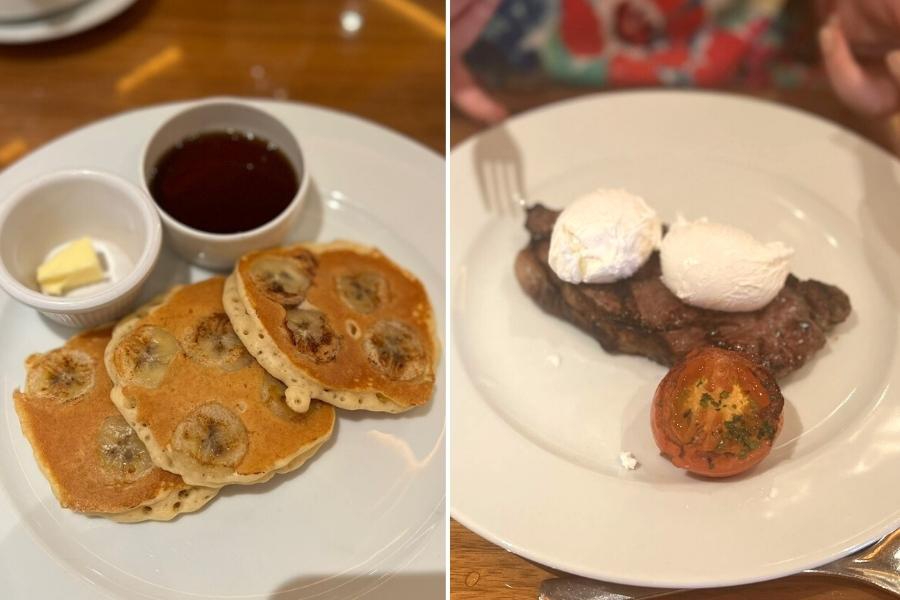 As you can see there are so many options to suit absolutely everyone with any dietary requirements you may have. The service is second to none and this on top of the standard of food on board was just spectacular. There is also the option for in-suite dining on your private veranda whether this be for breakfast or dinner. I must say I did not take advantage of this however the 24hr room service I may have… One afternoon I sat on the balcony with a glass of champagne watching the world go by, I loved going to sit around the pool area however it was nice for just that bit of peace and quiet to sit back and relax in the privacy of my veranda.
I hope that you have enjoyed reading all about my yummy experience on board, if you have any questions at all please feel free to email me on georgia.redmond@panachecruises.com or call me on my direct line 0161 250 6732, don't be shy I would love to have a chat.