Mediterranean Intrigue Aboard Oceania's Riviera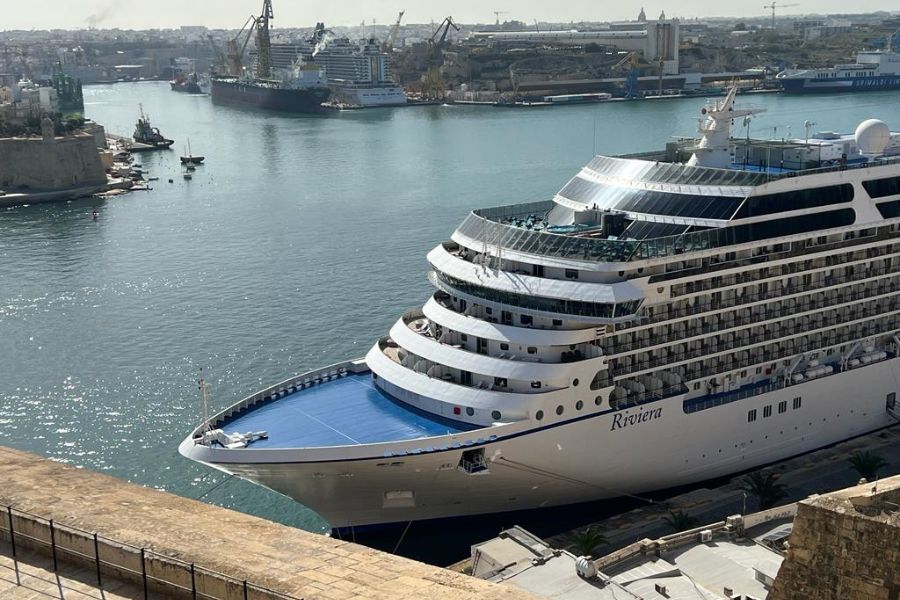 Mediterranean Intrigue Aboard Oceania's Riviera
Connoisseur Diane was lucky enough to be invited aboard Oceania's Riviera ship. Setting sail from Civitavecchia in Rome, the Riviera would make a few stops before finally docking at Palma de Mallorca, Spain. In this piece, Diane takes us around the ship's facilities, gives us a taste for The Finest Cuisine at Sea, and talks us through her excursionary adventures.
Cabin and facilities
The room was spacious and 24/7 room service is included in the cost of the ticket. More freebies were found in the bathroom, where Bulgari toiletries were a nice touch. There were both bath and shower facilities in the bathroom, but the baths are due to be replaced with larger shower facilities. In fact, all the suites on the ship are due to undergo refurbishment. Lighter interior tones will replace a dark wood vibe to create a more contemporary and spacious ambience. We can't wait to see it.
The bed was knockout, pristinely made up with premium linens for a glorious night's sleep. We could even choose our own pillows, tailored to our own personal preferences. The facilities outside the room were similarly knockout. More active cruisers would find the fully-fitted gym and the running track useful; less active ones can enjoy the heated pool and spa facilities with no booking necessary.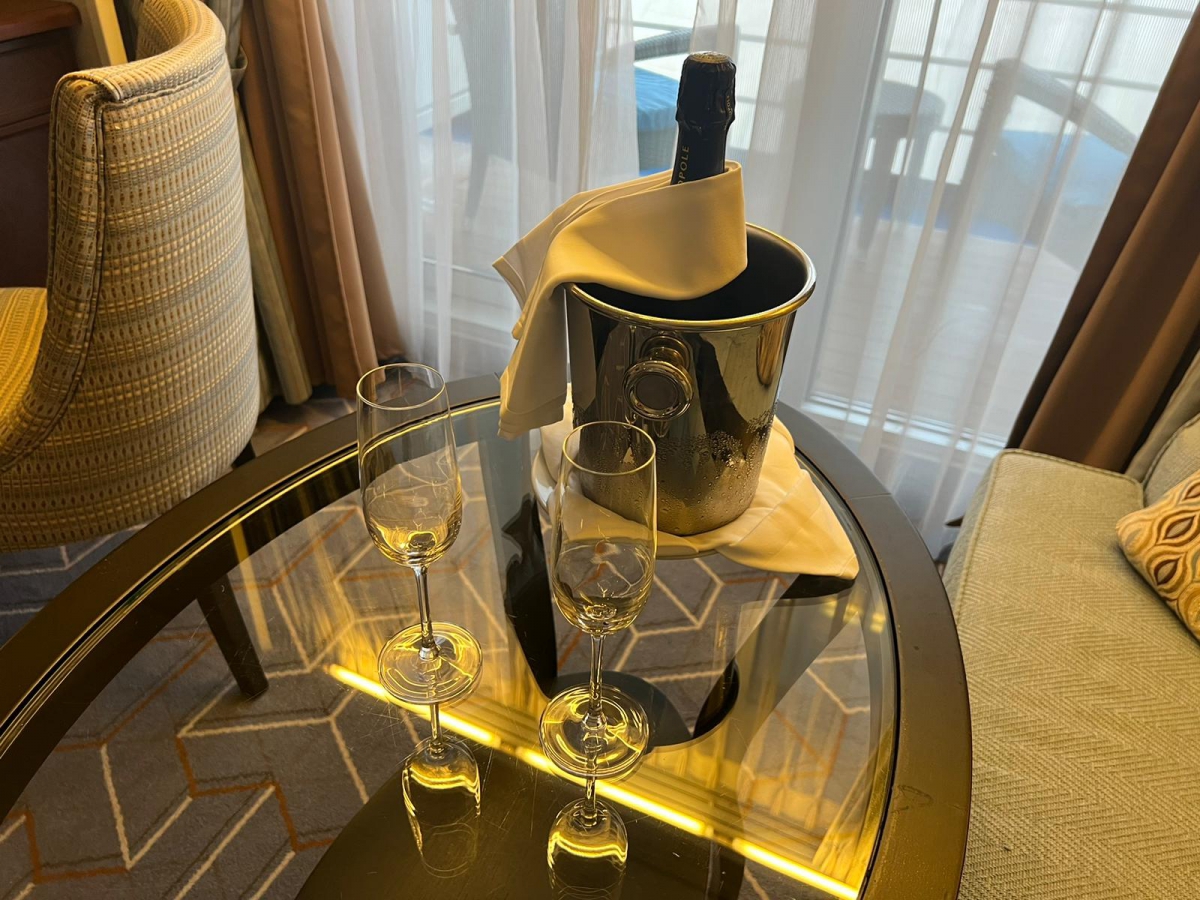 Food, restaurants, lounges, and bars
We were promised the Finest Cuisine at Sea and we weren't disappointed. Oceania Cruises offer a huge selection of places to eat, drink, and chill on their ships.
The Grand Dining Room
The Grand Dining Room is the central restaurant on all Oceania ships. It's open for breakfast, lunch, and dinner with no reservations required. Still, the menus change every day to ensure you don't get bored; there's always a bit of variety. We loved the casual but luxurious decor, it suited the mood of this everyday restaurant.
Recommendation: A jaw-dropping New York cheesecake
Red Ginger
Red Ginger is Oceania's chain of Asian restaurants, with Vietnamese, Thai, and Japanese. With exotic flavours, impeccable attention to detail, and incredible service, Red Ginger is not one to be missed when sailing with Oceania.
Recommendation: Miso-glazed Sea Bass
Polo Grill
Polo Grill is Oceania's signature steakhouse, offering prime cuts of melt-in-your-mouth beef. Steak is taken seriously here. If you fancy something else, there's a mouth-watering range of similarly decadent starters and main courses.
Recommendation: Polo Grill Surf & Turf , Florida Lobster Tail, and Filet Mignon

Toscana
Everybody likes Italian food; everybody loves rich, authentic, Italian food that tastes like it came straight out of Nonna's kitchen. This was my absolute favourite restaurant on board the Riviera. 
It all started with the work of art that was the bread board; it ended with the chef taking the time to come to our table and answer one of my questions about how a meal was prepared. We even had an olive oil waiter and a very knowledgeable sommelier pairing wines with every course. Toscana offers a truly exceptional level of service, with cuisine to match!
Recommendation: Lobster Tail served on a fresh bed of Tagliolini
Jacques
Modelled on a typical Parisian bistro, Jacques restaurant is beautifully decorated with fine wood, heirloom antiques, and art from the chef's personal collection. Of course, the food matches the surroundings. Chef Jacques Pepin reimagines classics, turning the already-classy into the gorgeously luxurious.
Jacques is only open for dinner and requires a reservation.
Recommendation: The Herb-crusted Rotisserie Chicken falls off the bone and melts in your mouth
Waves Grill
Another grill restaurant, Waves offers al fresco American dining by the pool area. Expect easy-to-eat, more casual dining at Waves; burgers, seafood (of course), and lovely fresh salads. They've also got a gorgeous smoothie menu and a selection of ice cream for hot days on deck.
Recommendation: The Oceania Club Sandwich is the perfect quick snack
Drinks
Obviously, there are other areas to relax on this ship. Horizons Lounge is the perfect place to be as the ship sets sail, offering panoramic views over the bow. Evening entertainment also takes place here. We found a good routine starting our evening with Oceania Signature cocktails, picking at the trays of canapes from the waiters doing the rounds.
Martinis Bar offered 25 different types of Martini alongside different wines and a range of other cocktails. I loved it here; it was probably my favourite place to relax, chilling with a classic Martini and listening to the classical pianist before I went for my evening meal.
Other notable mentions include The Grand Bar, which is located in the hall outside the Grand Dining Room. It's elegantly furnished with personable bar service; another lovely place for a pre-dinner glass of champagne or cocktail. Baristas is the place to go if you want freshly-ground coffee. They also serve pre-dinner drinks, Italian-style. Finally, The Lounge is the onboard theatre for production shows, enrichment lectures, and movie screenings.
Excursions, activities, and destination highlights
We wanted to make the most out of every excursion, so we disembarked early doors at every stop to explore each area. Docking in the shadow of Vesuvius, Naples was our first port of call.
We only spent an hour wandering around this historic city. It would have been nice to explore more, but we'd been tipped off. A colleague told us to catch the ferry across to Capri, a picturesque island 45 minutes south of Naples. Here, we walked and we walked and we walked. The main town centre of the island sits on top of a hill, so it was hard work. In the end, it was totally worth it. The views at the top were absolutely stunning.
We treated ourselves to a traditional Napoleon pizza once we got down to the bottom, washed down with a lovely bottle of Italian red. You can't go to Naples and not have pizza!
Sicily was our next port of call, and probably our favourite. 
We went off exploring on our own, soaking up the fabulous atmosphere. There was an exciting buzz about Sicily, with every street lined by stunning architecture and colourful market stalls. There's so much more to Sicily too - postcard beaches, mighty mountains, active volcanoes, and even skiing opportunities. It's definitely a place that needs to be explored more. 
Finally, we docked in Valletta. We only had a few hours in Malta's picturesque capital, so we opted for another wander. Talking one of the longer recommended routes, we could see that this was another gorgeous location steeped in history and beautiful Baroque architecture.
What did you love about your Oceania cruise?
The whole experience was magical! It was the smaller details you don't get excited about beforehand that impressed, like a great night's sleep in a comfortable bed.
If I had to choose, the main highlight would be this cruise as a culinary experience. I love food, both eating it and cooking it, but the attention to detail and quality here was like nothing I'd ever had. Again, it was those smaller, unexpected touches that made the whole experience as magical as it was. 
Finally, I need to give an extra special shoutout to the staff. Every single one of them was not only friendly and helpful, but extremely knowledgeable in their role. Having people go about their work in a happy, professional manner while enjoying what they do filters down to the whole feeling and atmosphere of an experience like this. 
The staff were the real stars of the show!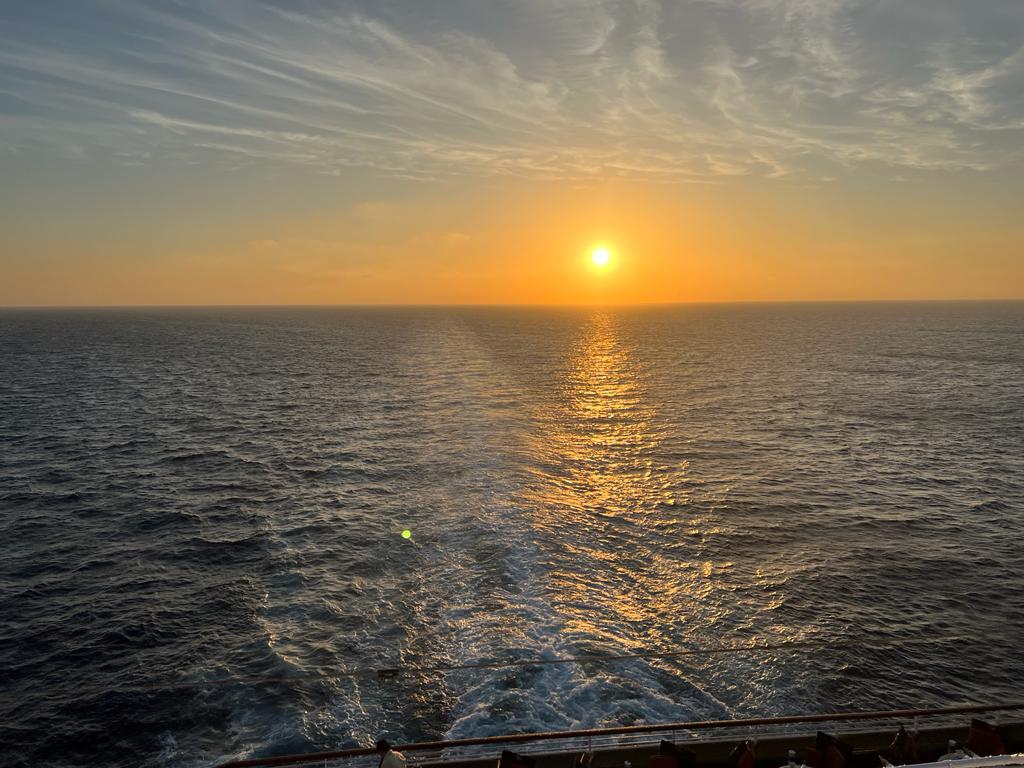 Find out more about Oceania Cruises or give the team a call on 0161 513 8200 to book your next luxury cruise.