Explora Journeys: Brim Full of Grace & Pizzazz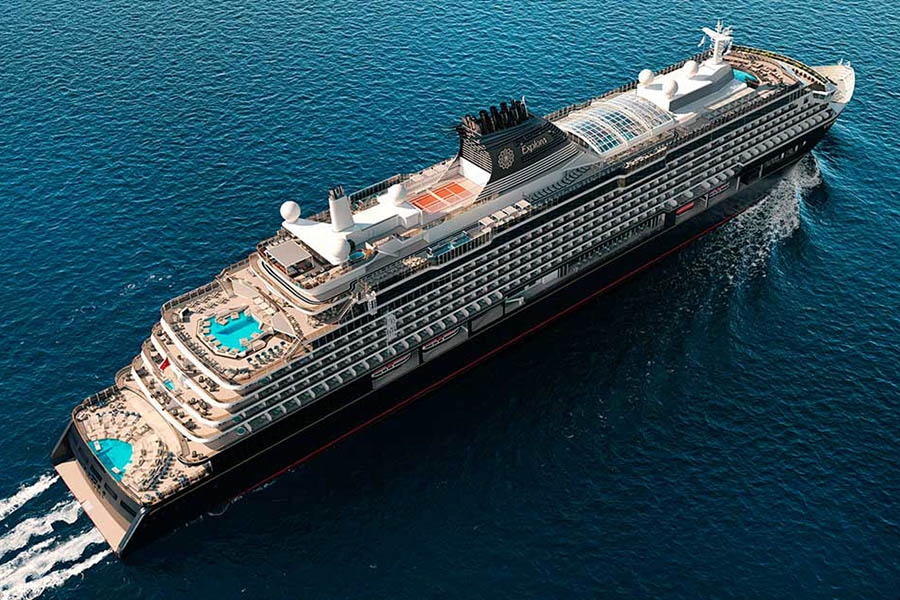 Explora Journeys: Brim Full of Grace & Pizzazz
Luxury cruise lines are seeing an unprecedented boom in bookings and this looks set to continue well into the future. Perceiving this specific demand, Explora Journeys are breaking new ground with their novel iteration of opulent cruising. While lavish suites on all-inclusive ships are topping the charts, there's a penchant to splash out on multi-day city stays as part of evermore extravagant and far-flung itineraries. At sea, luxury is not about excess; nor does it pertain to cost, it is about inherent values.
Should you take for granted some travel editorials in glossy magazines, every cruise ship afloat offers a life of hedonistic pleasure, with everything prefaced by the term 'luxury'. The truth is rather different and 'luxury' has been demeaned in recent years. Applied indiscriminately by people trying to sell anything and everything, it leaves you with a belief that tangible luxury has lapsed.
True luxury is a mercurial quality that elevates the experience to a whole new echelon of experiential splendour. Ultra-luxury cruise companies appreciate the nuances of refinement where the little things in life, so personal to individuals and their psyche, assume a value beyond compare.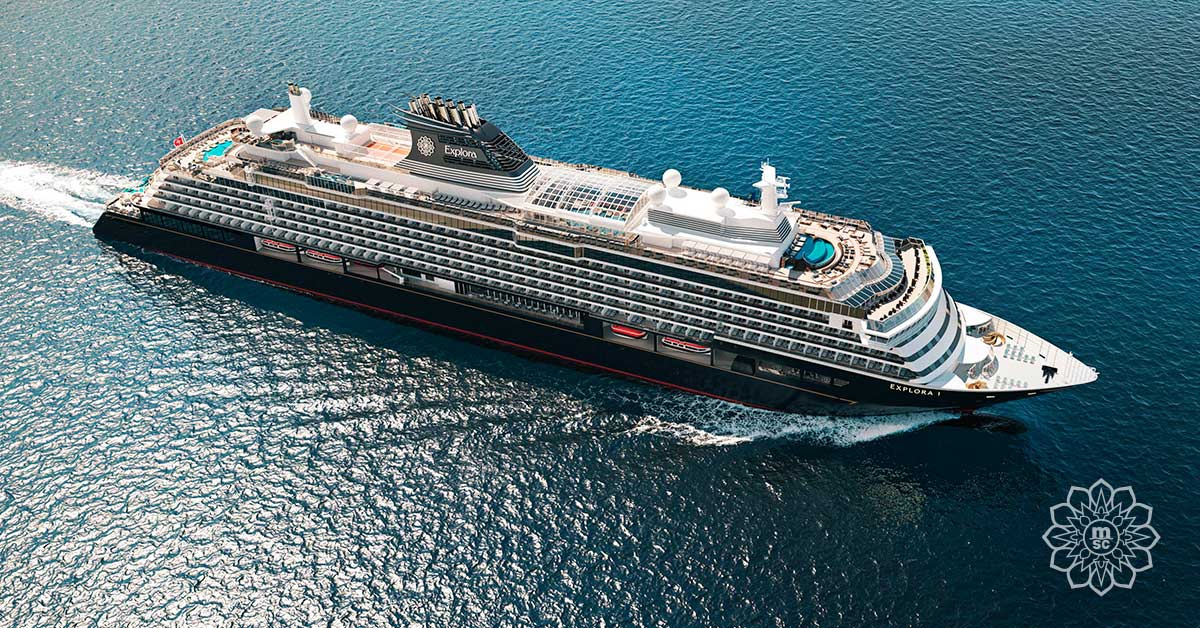 By subtle alchemy, a league of extraordinary cruise lines has elevated seagoing luxe and indulgence to produce something that manages to extract the vital spark from both. This avatar of cruising encapsulates the spirit of seaborne adventure at its most supreme.
The cruise industry is in full throttle and astute companies operating in the bona fide luxury sector are especially bullish. Across the world shipyards are delivering new ships, each one brimful of grace and pizzazz. In tandem with this trend, cruise lines are launching new and exciting itineraries that are little short of heroic.
Regent Seven Seas Cruises have shore excursion concepts that further enhance the immersive destination experiences for which the luxury line is famed. The 'Behind the Design' and 'Eco-Connect' tours invite discerning travellers to explore destinations and landmarks from unique and original perspectives.
The leading culinary and destination-focused cruise line, Oceania Cruises is on course to showcase its new 1,200-guest Vista. Amongst a host of distinguishing features are 12 dining options, four of them brand-new; eight bars, lounges and entertainment venues; spacious standard staterooms at more than 290 sq ft; new Concierge Level Veranda Staterooms for solo travellers; palatial Owner's Suites styled exclusively in Ralph Lauren Home; not to mention an expansive Aquamar Spa and Terrace.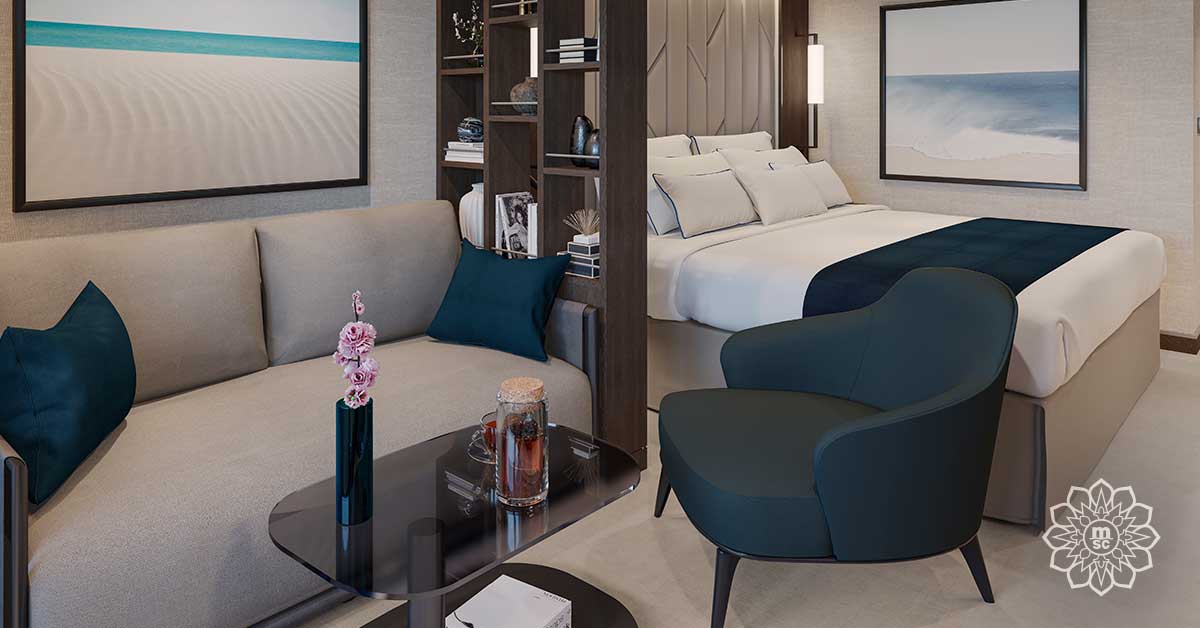 Azamara's fourth ship has joined the fleet. Amongst several new concepts, Azamara Onward showcases the Atlas Bar - a unique venue offering artisanal cocktails. The company's first ever world voyage is a five-month odyssey visiting over 40 countries on six continents in 2024. Designed to provide travellers more time to discover each destination's hidden gems, Azamara's voyages explore the most coveted ports of call in Europe and beyond. Exclusive to the cruise line, AzAmazing Evenings are unique to each location and feature local talent and performances. In many ports these are hosted in historic venues such as The Odeon of Ancient Ephesus in Turkey and The Solìs Theatre in Uruguay.
Epitomising the ultra-luxury doctrine, Silversea's new voyage collection between March 2023 and May 2024 has over 60 maiden calls and 197 overnight stays in port; there are also two grand voyages to Africa and the Arabian Peninsula as well as the Mediterranean. Constantly pushing the boundaries, Silversea has conceived S.A.L.T. - not so much a cookery school, more a focus on the social side of preparing and cooking food the way the locals do in countries the ships visit. The company has recently elevated the shipboard spa experience with OTIUM - a yummy concept which blurs the boundaries between living well and being well.
It's not just ocean cruising that's witnessing burgeoning growth, a flotilla of new expedition ships overflowing with luxe credentials is appearing on the horizon. Seabourn Venture, the first of this renowned line's two purpose-built, ultra-luxury expedition vessels, is a headline grabber in this thriving cruising niche. This ship boasts oceanfront veranda suites and top-notch cuisine - including menus created by Michelin-starred Chef Thomas Keller. The 264 guests revel in explorations aboard 24 zodiacs, kayaks and two six-passenger submarines.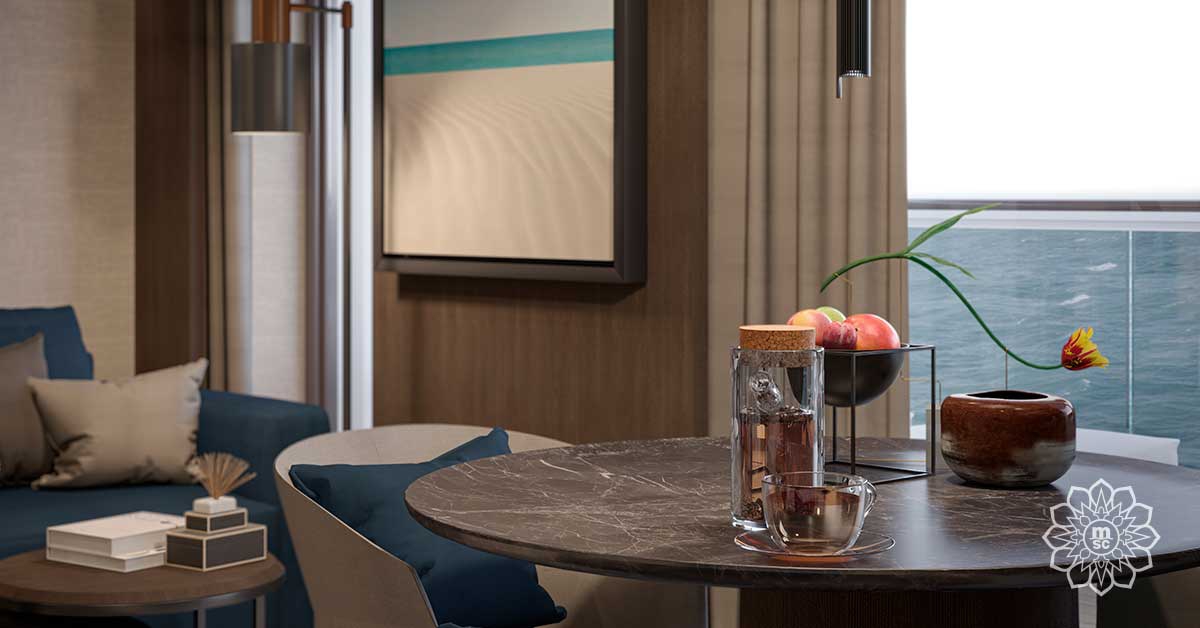 Famed designers are being appointed to conceive new whip-smart ships. The result is an ambiance of genteel perfection; as though everything that has been created has been designed to promote a feeling of inner well-being amongst everyone on board. While the eclectic cadre of luxury and ultra-luxury cruise lines are adept at showcasing their virtues, a new kid on the block with a superb pedigree not to mention deep pockets, has made them look to their laurels.
Explora Journeys is revolutionizing the luxury cruise market with EXPLORA  I, the first of four all-inclusive ships. The company's full-on vision is to transform ocean travel through highly innovative, superyacht style luxury ships and immersive itineraries. This is the first venture into the lucrative ultra-luxury segment of the cruise market by family–owned MSC Group, the largest privately-owned cruise company and fourth-largest in the world. 
Enjoying the benefit of starting with a blank canvas, the creators of Explora Journeys have established three pillars for their vision. These are: to enable guests to reconnect with themselves in a private space; to facilitate them meeting like-minded others; and to offer an authentic connection with exploits ashore. These are distilled into the tagline: 'ocean state of mind.'
At the intersection of architecture and design and representing the future of new luxury travel at sea, each of the initial four 922-guest vessels will reflect a sleek, cool style. The noted British designer Martin Francis, who's created some of the world's most iconic yachts, has conceived an exterior profile that's more superyacht than traditional cruise ship. Explora Journeys have also appointed De Jorio Luxury who has been involved with MSC Group's fleet design since 2000.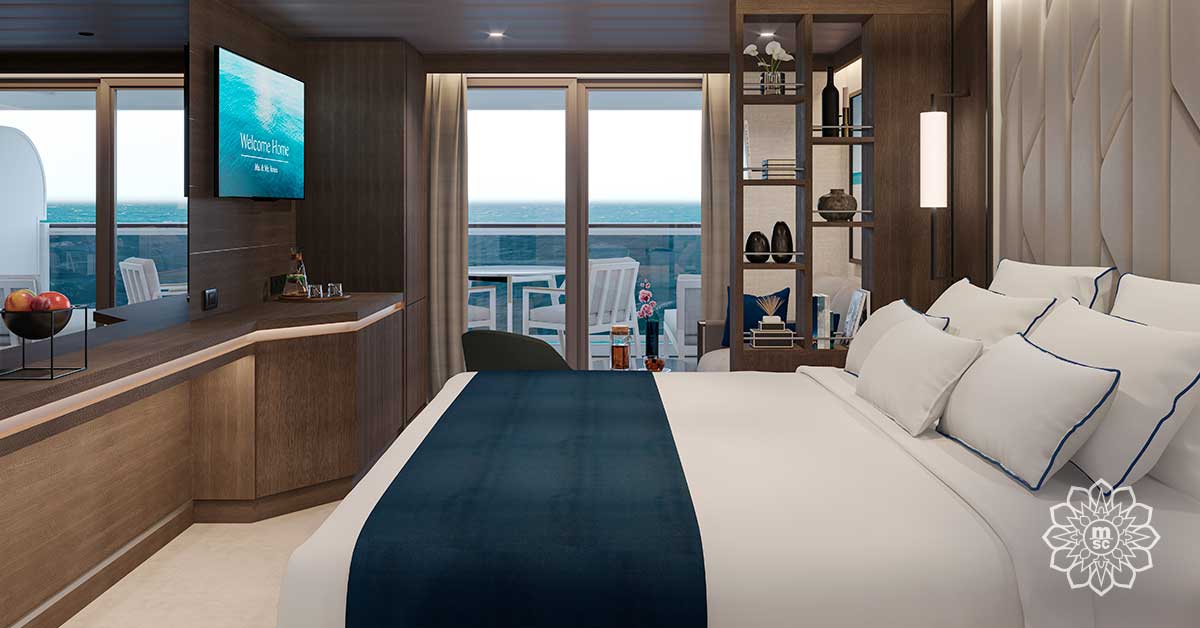 On board each ship, within the 110,266 sq ft of indoor space across 14 decks are 461 ocean-front suites, penthouses, and residences, all with private terrace. These come in four categories: Ocean Suites at 376 sq ft; Ocean Penthouses from 462 sq ft; Ocean Residences at 753 sq ft, with private whirlpools and full butler service; and an Owner's Residence at 3,013 sq ft. There will be 82 connecting suites for multi-generational groups.
A head-to-head comparison of lead-in suites with three other ultra-luxury cruise lines puts Explora Journeys' suites into context. Verandah Suites on Seabourn Ovation are between 246 and 302 sq ft; Verandah Suites on Regent Seven Seas Splendor come in at 301 sq ft; while Vista Suites on Silversea's Silver Dawn measure 334 sq ft.
The ambience is one of a luxurious vibrant European hotel with a residential vibe. Nine distinct culinary experiences with flexible dining times include all-service restaurants with menus created by culinary maestro Franck Garanger. The cuisine features wholesome ingredients sustainably sourced from local partners during each cruise. There are three swimming pools and 64 private cabanas, while an indoor pool with a retractable glass roof has been created adjacent to a vast spa and fitness studios.
The ships feature the latest in eco-friendly technologies, while being ready to adapt to alternative energy solutions as they become available. The design incorporates provision for battery storage to allow future hybrid power generation.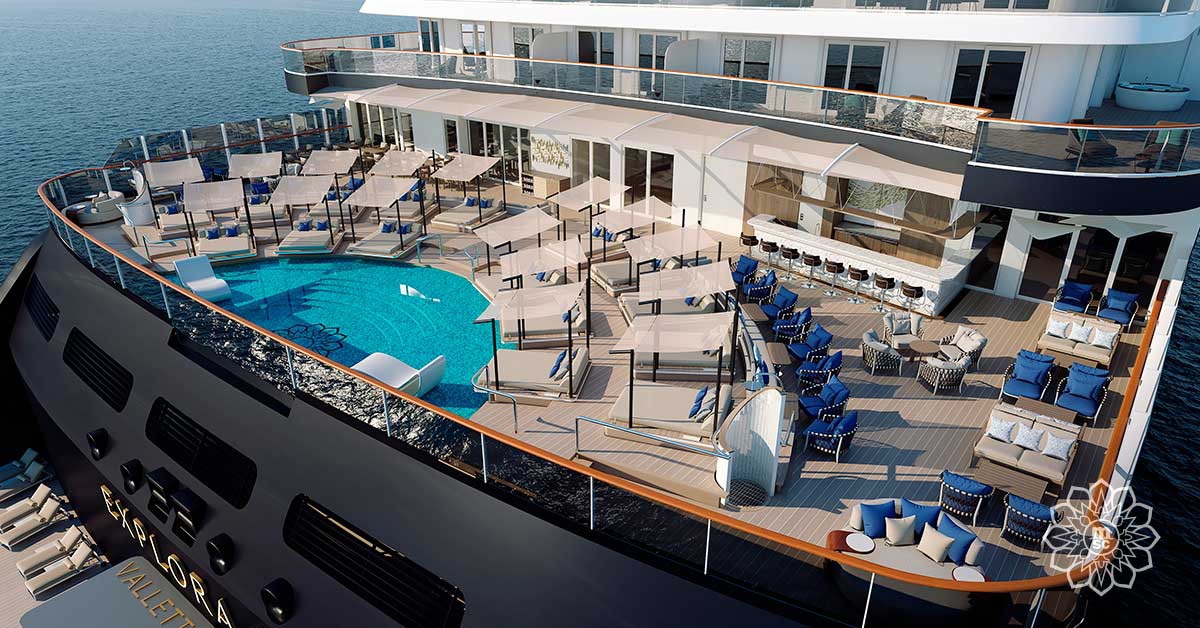 The luxury travel brand of the MSC Group has come up with non-conventional arrival and departure times combined with overnight stays, allowing guests to access unique experiences. Itineraries in the inaugural collection offer a blend of noteworthy destinations and lesser-travelled harbours.
Explora Journeys aims to transform ocean luxury travel through a synergy of sassy ships and immersive, remarkable itineraries to provide its guests with the opportunity to discover further, travel deeper and linger a little longer at each destination. Whatever the port, Explora Journeys will offer exclusive access far beyond the classic luxury ocean experience.
The company has partnered with Travelife as part of a pledge to build a sustainable future. The company aims to create a strong awareness among its partners for effective sustainability planning, maximising social and economic benefits for local communities where its ships will visit, enhancing cultural heritage and reducing environmental impact.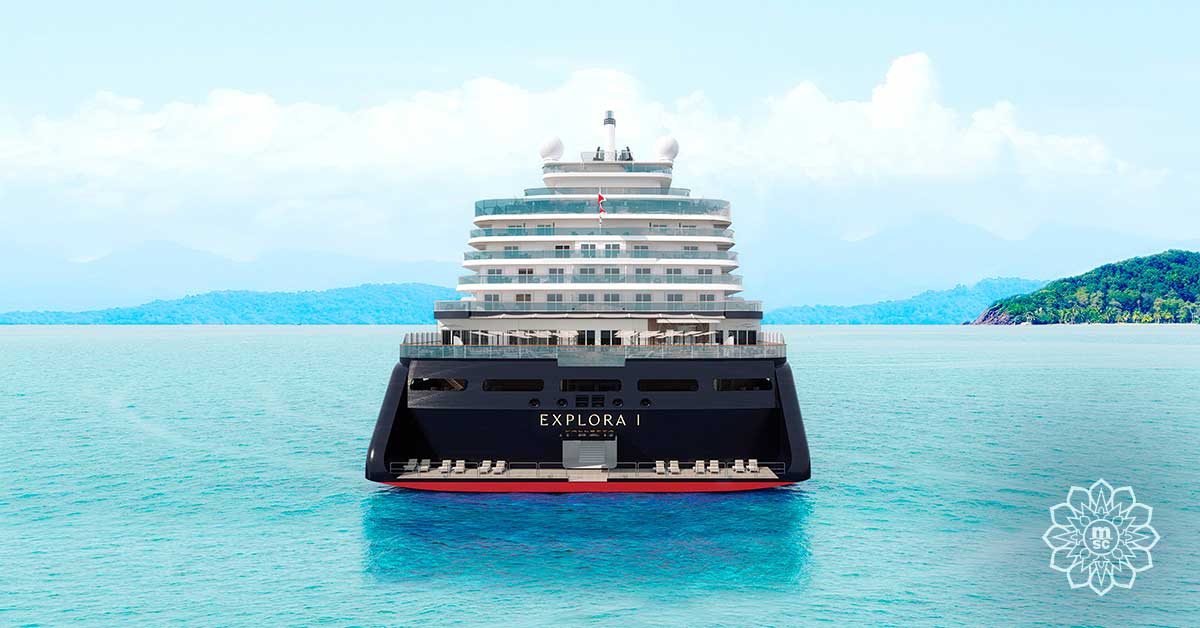 The inaugural season of EXPLORA I covers the Mediterranean, Northern Europe, UK, Iceland, Greenland, Canada, U.S. East Coast, Caribbean, South America and Hawaii. Sailings range from 6-night journeys to a 44-night Northern Europe, Grand Journey. The ship will visit 132 ports in 40 different countries, including two destinations, Kastellorizo, Greece and Saint Pierre, Martinique that have not been visited by cruise ships before.
There's no doubt this is the most highly anticipated cruise venture for many years and word on the street is that it will be the hot-ticket over the next decade. Having the edge over the competition in the accommodation stakes, there's an odds-on chance Explora Journeys will soon be wooing the cognoscenti of cruising. If the company's manifesto lives up to its hype and their ships turn out to be lodestars of the highest calibre, then cruising will have a shipshape new aristocrat.
In the future those for whom luxury is a prerequisite will treat cruises as a collector's item. The holiday choice that once dare not speak its name has morphed into a trendsetter, one that's paving the way for the future of elite travel. No matter what the world throws at us, cruise travel offers the zest of a life well lived.
---
---
Fancy learning more about Explora Journeys?
Give us a ring on 0161 516 9027 to find out more!
Thank you to Panache Cruises' Ambassador Gary Buchanan for contributing this article to our website.