Blown Away by Scenic Eclipse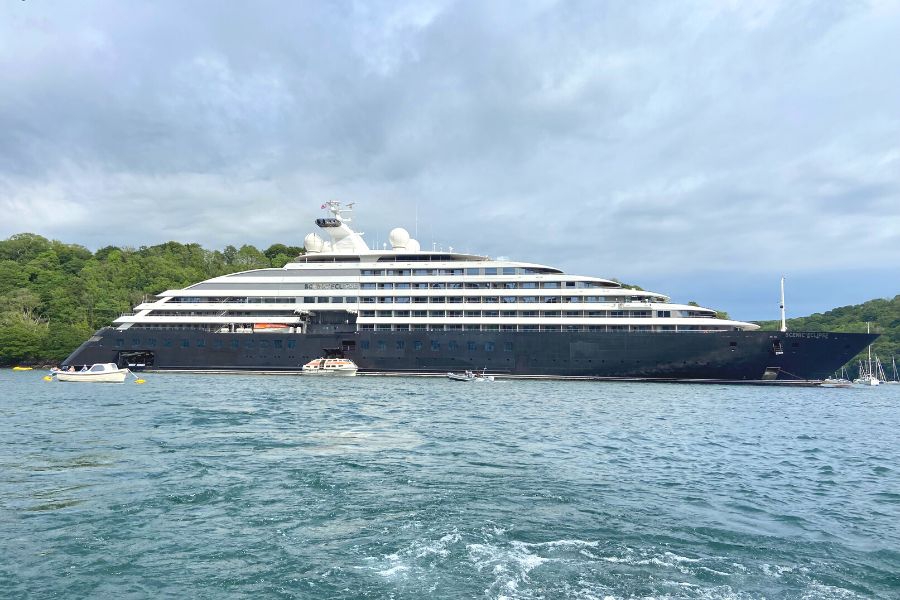 Blown Away by Scenic Eclipse
I just returned from three days on board the ultimate expedition cruise ship: Scenic Eclipse. My colleague Emma and I joined the Western Europe Discovery voyage which was sailing from Lisbon to Bergen – however we just sampled a snippet of the journey and embarked in Fowey, Cornwall, and disembarked in Amsterdam three days later.
The 'World's First Discovery Yacht' truly is an impressive and iconic vessel, paving the way for a new era of expedition cruising. Seeing her docked in Fowey harbour was a sight to behold; despite her small stature, her sleek black lines looked imposing in the little Cornish town.
After completing passport and medical checks, including a quick lateral flow test, we were good to go and boarded our home for the next few nights. Immediately I was taken aback by the dark, minimalist interiors, feeling like I'd boarded a Bond villain's mysterious yacht. But the large open Scenic lounge and friendly faces of waiting crew put me at ease and I instantly felt comfortable as we waited to be shown to our suite.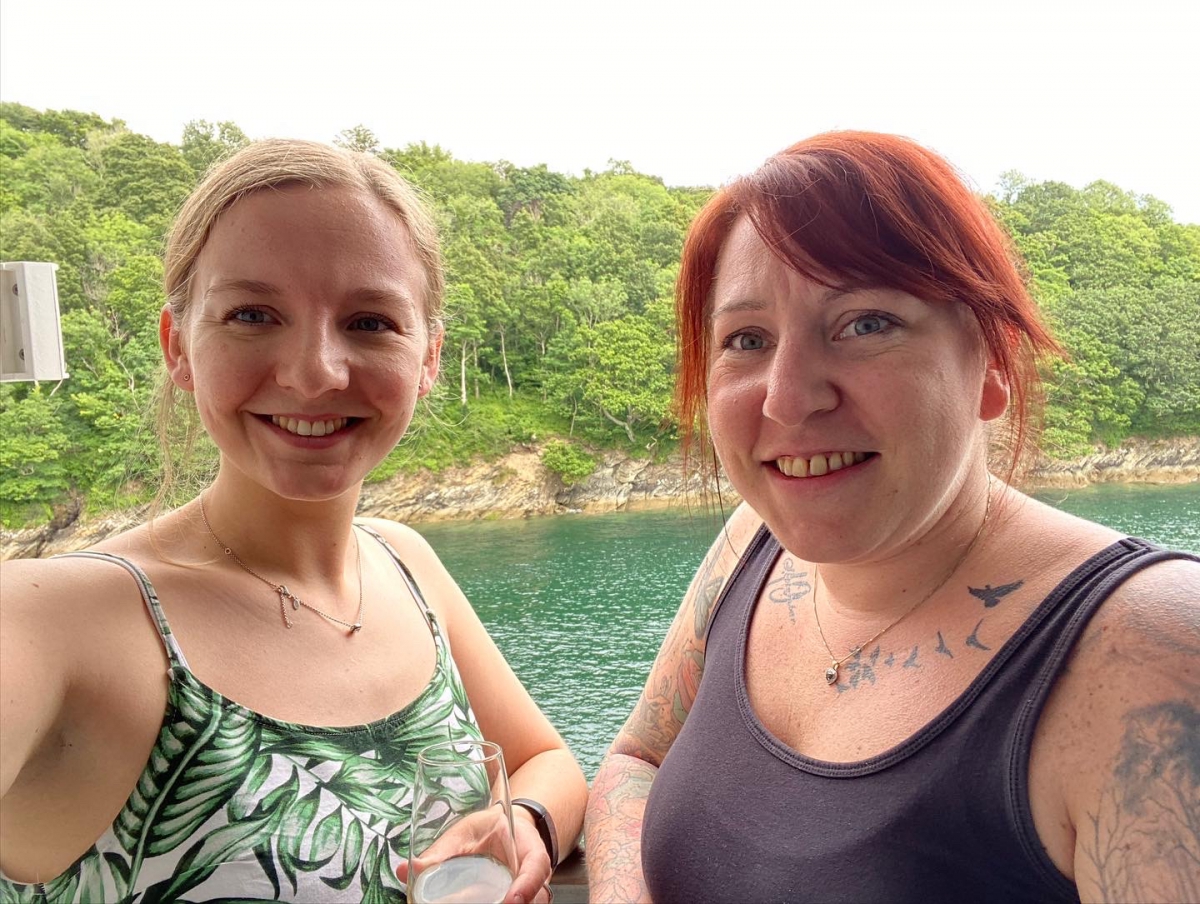 Our Deluxe Veranda Suite (624) was beautifully appointed in a very minimalistic style, nothing gaudy or pretentious about the décor. Our butler introduced himself and pointed out the electric blinds (perfect for a good night's sleep), safety equipment, minibar (upon request your butler will decant your chosen spirits into special glass bottles), and Scenic slumber beds… you may be wondering what on earth that is. Well, it is by far the most comfortable bed I've ever slept in! A remote control allows you to lift the head and foot of the bed to your liking, and an extensive pillow menu means everyone is catered for – including those who wish to try out the 'anti-aging' pillows!

The bathroom was a good size and had plenty of storage space and featured a waterfall shower, while the veranda was equally a good size for two and would be the perfect place to enjoy an in-suite breakfast while whale watching on an Antarctic expedition.
We also viewed other suites on board, including the Panorama Suite, Spa Suite, and Owner's Penthouse Suite. All were beautifully appointed – the Spa Suite features a gorgeous Jacuzzi bath with views out to sea and the Owner's Penthouse has even the finest details such as woven silk carpets.

Our first night on board we ate at Koko's, the popular Asian fusion restaurant on board. Koko's offers three unique dining experiences: Asian fusion, sushi, and the Night Market with Teppanyaki Grill. Koko's features regular tables and sunken seating, inspired by traditional Japanese dining, making it a fun way to experience the delicious food on offer.
Our other nights on board were spent eating our hearts out in Elements (the main dining venue which also features a private Chef's Table) and Lumiere, the French restaurant and Champagne bar which was my personal highlight of the cruise. I will leave the details of the dining experiences to my colleague Emma, who is our resident foodie and will no doubt entertain everyone in a separate blog post with photos of mouth-watering dishes!!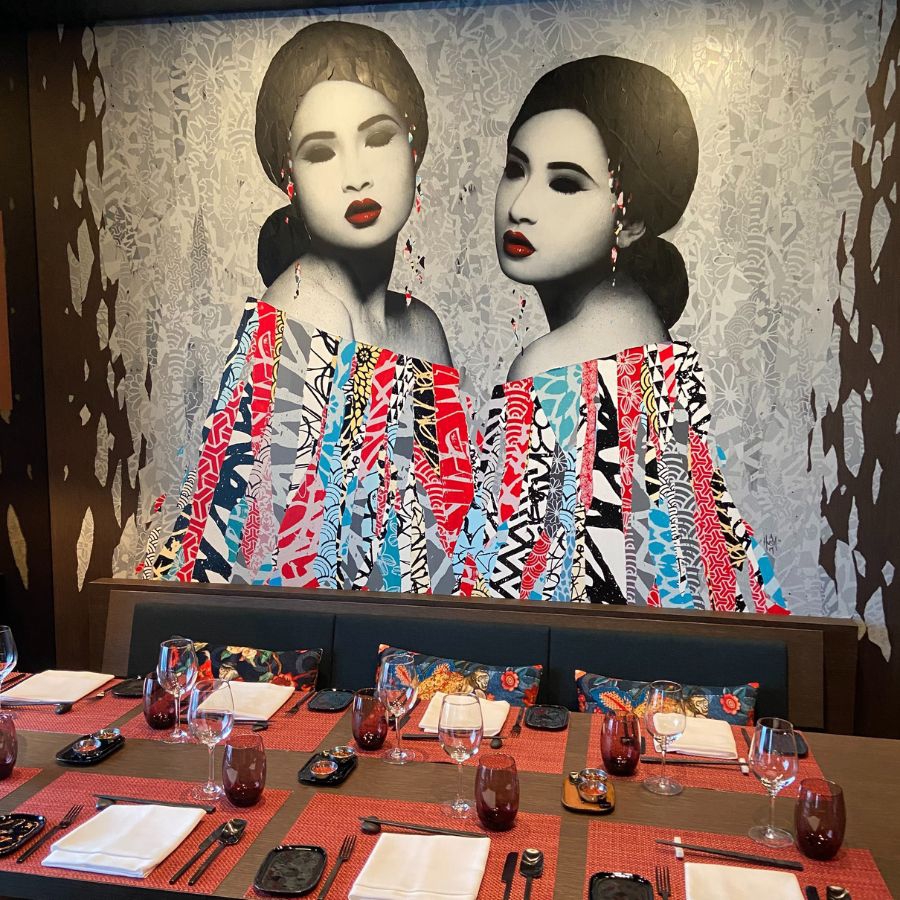 After our evening meals we enjoyed a variety of entertainment on board, something which I hadn't given much thought when preparing for the trip. For such a small ship, there was plenty of entertainment without there being any pressure to get involved. Some guests enjoyed daily trivia and card games in the observation lounge while many chose to enjoy quiet conversation in the Scenic lounge while the pianist provided a serene backdrop and the whisky flowed.
Scenic Eclipse's Cruise Director Beth, along with her Assistant Cruise Directors Joe and Pablo, also hosted musical evenings each night which were simply fantastic. Beth and Joe sang Disney showtunes (my favourite!) while Pablo hosted a spectacular Latin night for us all in the Yacht Club on our final evening.
Again, the crew really got involved with one waiter dancing with guests and others chatting to us on the side-lines. It felt much more informal and comfortable than the stiff-upper-lipped butler service you might receive on a more traditional luxury cruise. It was lovely to talk to the crew about their experiences on board, whilst working in places like Antarctica, and they all showed genuine passion for working for Scenic.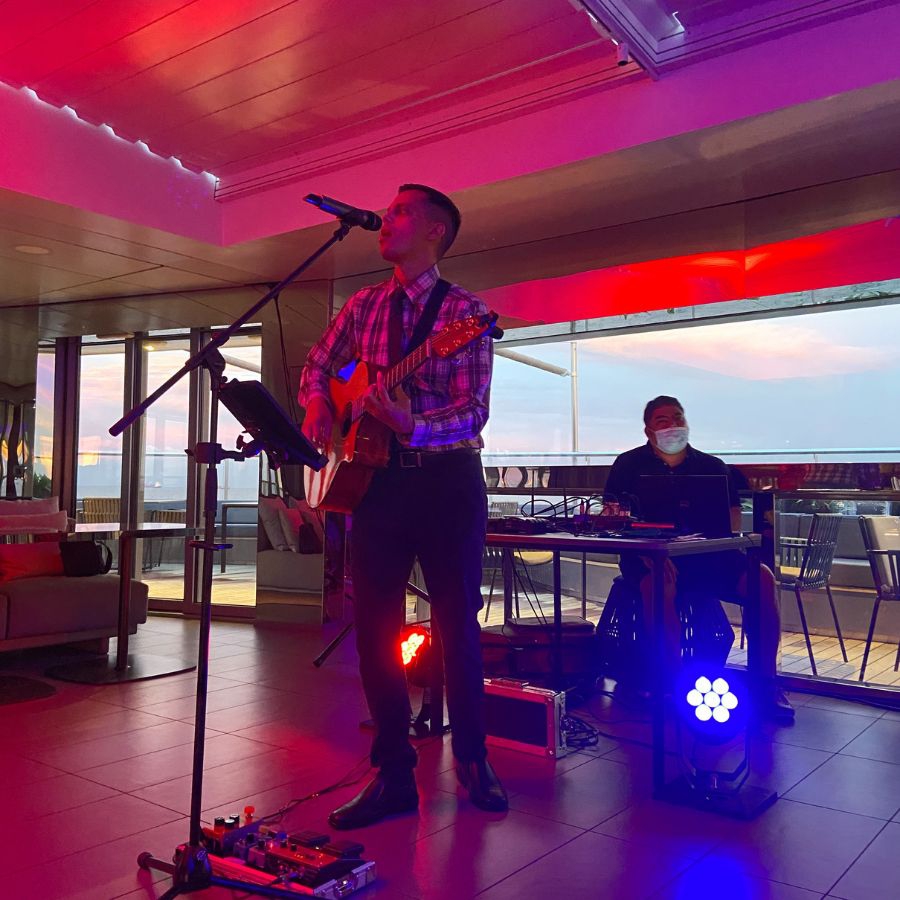 Our excursions were also excellent and really well organised – again something which surprised me as Scenic Eclipse is made for expeditions and discovery-style excursions, so to be on a 'regular' itinerary in Western Europe I wasn't expecting such great offerings. Our first excursion was in the Isle of Wight, where our group explored Carisbrooke Castle with an enigmatic local guide. Our second excursion was in Bruges, where we enjoyed a walking tour and some free time to sample the local goods, including chocolates, waffles, fries and beer!
These were Scenic Freechoice excursions – a flexible outing which provided guests with a taste of the destination. The next level up is Scenic Enrich excursions – these are more frequent on cultural itineraries as they provide more personal experiences in a destination such as private opera shows or private tours. Finally, for the expedition cruises, there are Scenic Discovery excursions, where in-depth exploratory tours make use of the kayaks, zodiacs, bicycles, and snorkelling equipment on board.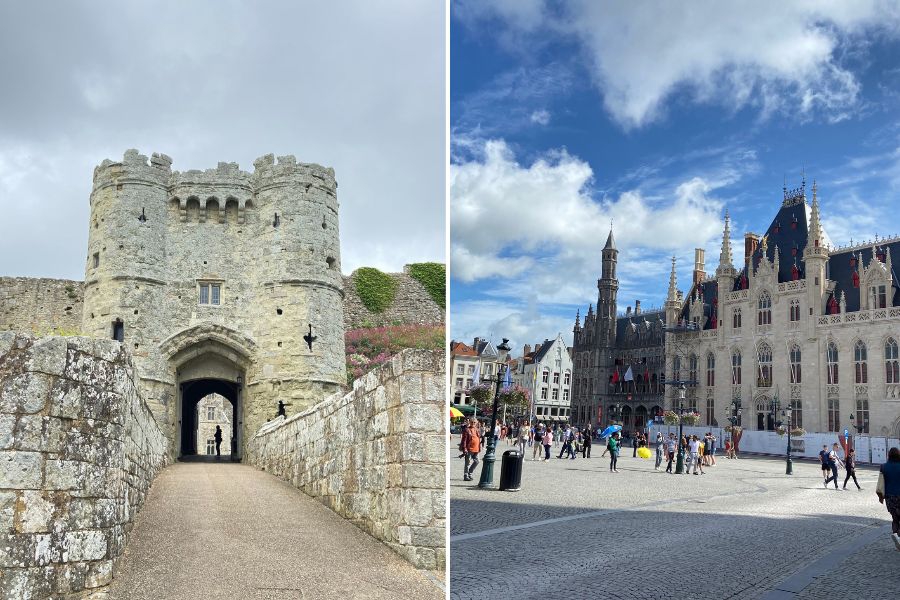 Which brings us onto the most unique features of Scenic Eclipse… the one-of-a-kind expedition equipment and 'toys' on board! Scenic Eclipse has not one, but TWO Airbus H130-T2 helicopters which seat 6 guests and provide an epic perspective of the cruise destination on a 30 minute flight. Imagine seeing the icy landscapes of Antarctica from above, or the sparkling Norwegian fjords with a bird's eye view.
Not only are the helicopters a fantastic offering, Scenic also offer underwater excursions in their very own submarine, Scenic Neptune. Taking 6 guests alongside the pilot, Neptune is able to dive to 300 metres, showcasing the natural beauty of the underwater world. Scenic Eclipse II will feature a slightly enhanced submarine which will provide even more comfort and better viewing.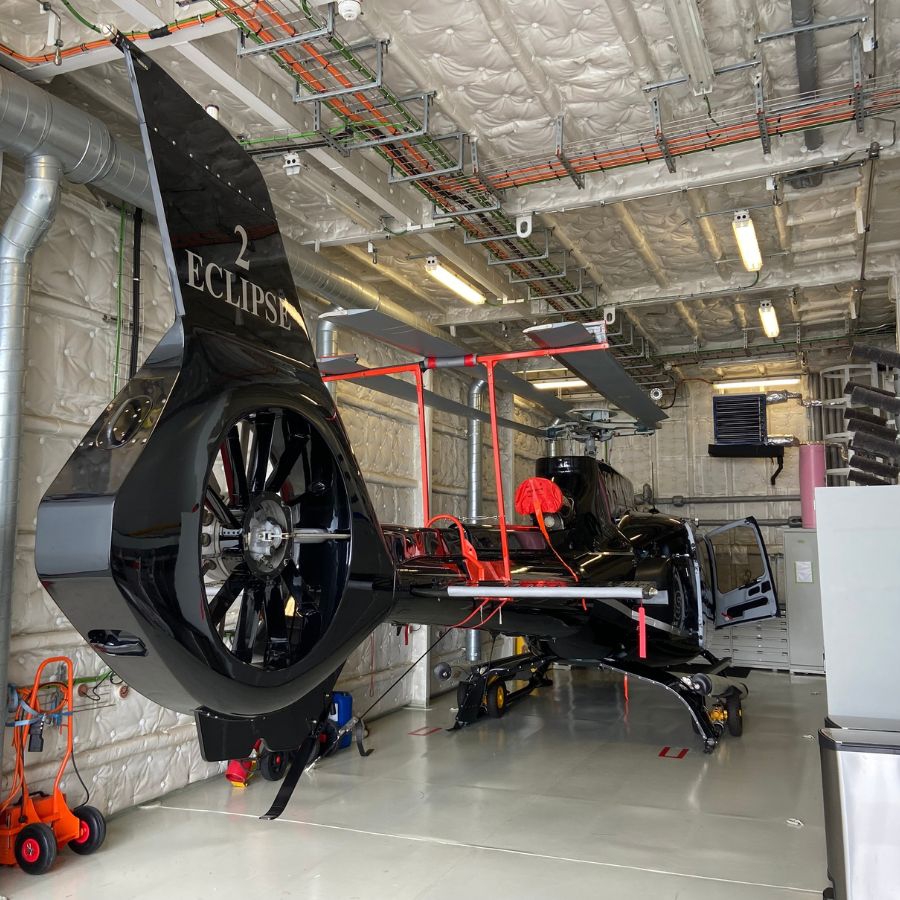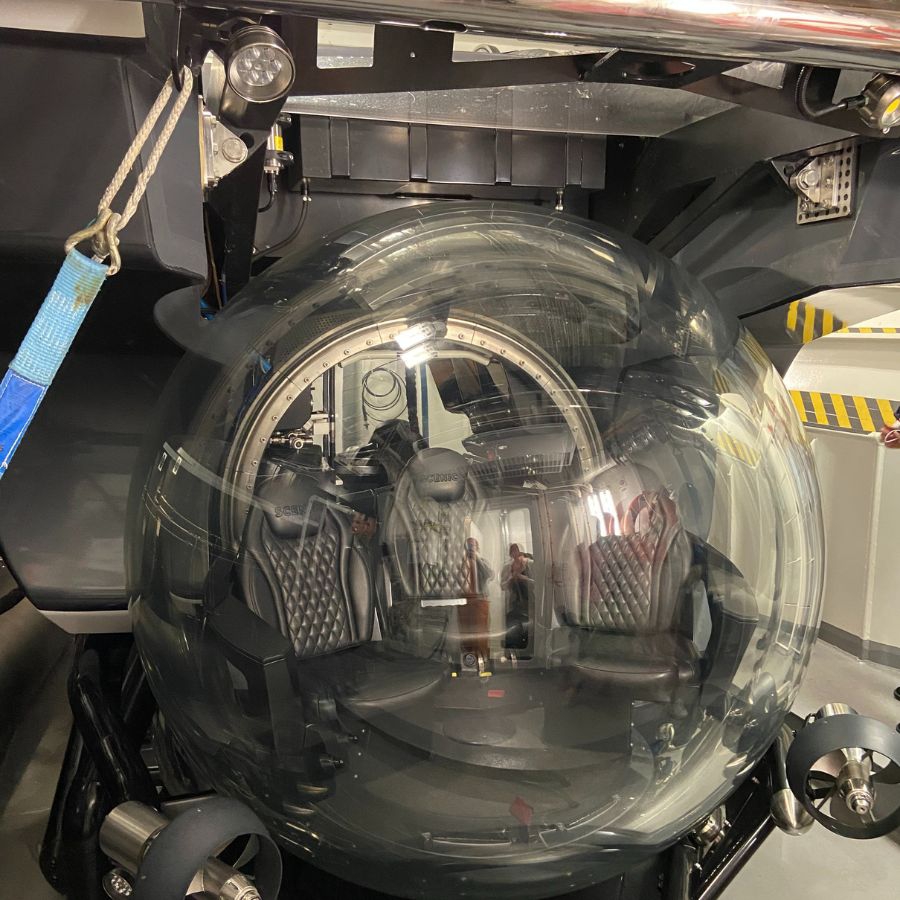 These expedition features are what really make Scenic Eclipse stand out from the crowd and dominate the expedition cruise sector. There is quite literally no better ship for exploring some of the most remote and fascinating regions of the world – in particular the polar regions. The Discovery Team (there are up to 20 experts on board each voyage) further enhance the expedition experience and provide learning opportunities for guests keen to understand more about the destinations, cultures, history, and natural landscapes.
Plus, Scenic Eclipse operates in a sustainable way – with environmentally-friendly features such as its dynamic positioning system (meaning it doesn't have to drop anchor and disturb reefs and delicate underwater ecosystems), Azipod propulsion systems and stabilisers. We were lucky enough to speak with one of the officers on the bridge, who showed us how these features work and the benefits of using them as opposed to typical cruise ships.
Every interior feature and piece of furniture on board Scenic Eclipse is also sourced from a certified 'green' business. This is something I am hugely passionate about – as we all are at Panache Cruises – as it demonstrates a willingness and passion within the cruise industry to make practices more sustainable. Scenic Eclipse shows her guests the beauty of our planet without damaging it in the process.
We truly had a spectacular time on board and would have loved to stay longer – it's safe to say we are very excited for the launch of Scenic Eclipse II in 2023!
Find out more about Scenic Eclipse here. Give us a call on 0161 513 8200 for more information.