Windstar's legendary front-runner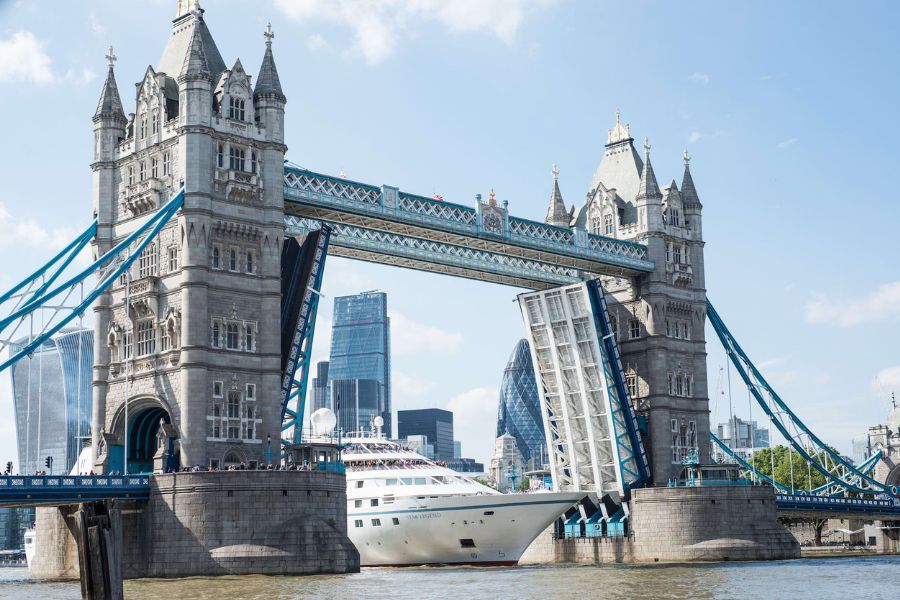 Windstar's legendary front-runner
There aren't many opportunities to sail on a ship that's starred in an A-Lister movie, but the appropriately named Star Legend has genuine Hollywood kudos. Movie buffs will recognise the ship from her starring role (as Seabourn Legend) in the 1997 film 'Speed 2: Cruise Control' starring Sandra Bullock, Willem Dafoe, and Jason Patric. The implausible plot involves a computer hacker who sets the ship on a collision course with a giant oil tanker and then demands a ransom. In the nick of time, with the hero in control, the ship crashes into the Caribbean island of Saint Martin, a finale that set records as the most expensive stunt ever filmed.
---
Regardless of this renown, Star Legend and her two sister-ships, Star Pride and Star Breeze, have always been in great demand, so in 2020 and 2001, the decision was made to 'stretch' them. This 'Star Plus Initiative' cost a cool $250 million, and the svelte doyennes of the seas now have 50 plush new suites. No expense was spared in the quality of the decorative details and trappings of luxury when these ships were built. Having been reborn, this tantalising all-suite trio is renowned for offering a similar lifestyle to that of deluxe resorts, combined with a buzz of exclusivity, plus intuitive and anticipatory service where the obliging crew has a knack for remembering guests' names.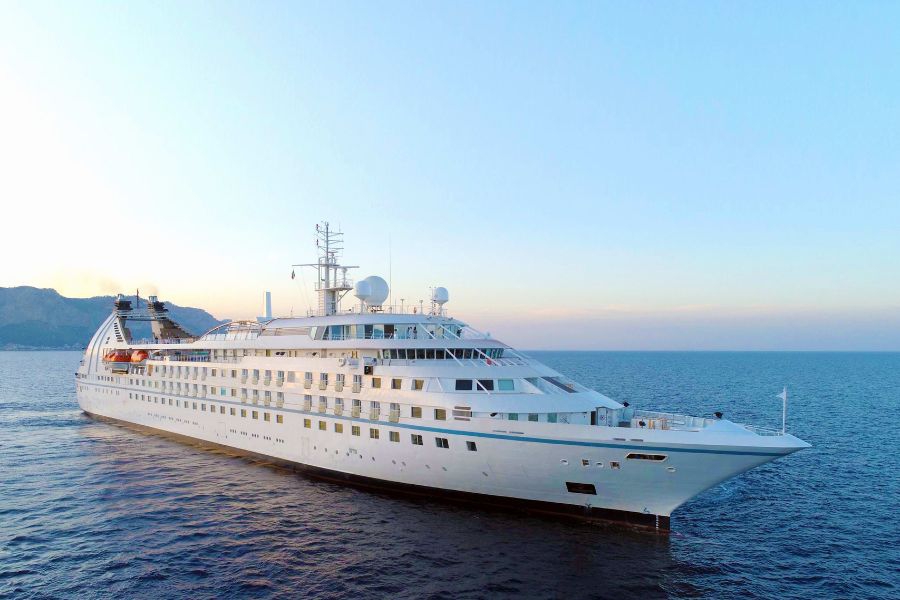 Benefiting from the transformation and refurbishment of all existing suites, Star Legend now boasts an additional 10 Star Porthole Suites, 15 Star Ocean View Suites with windows, 22 Star Balcony Suites, two Deluxe Suites with French Balconies, and a Deluxe Suite with an ocean view window. There are also 106 suites located in the original parts of the vessels, these include two Classic Suites and two new-style Owner's Suites with three bedrooms and two balconies. In addition, new marble bathrooms were fitted in existing staterooms and suites. Each is stocked with L'OCCITANE products and has twin sinks, a shower, and a bath.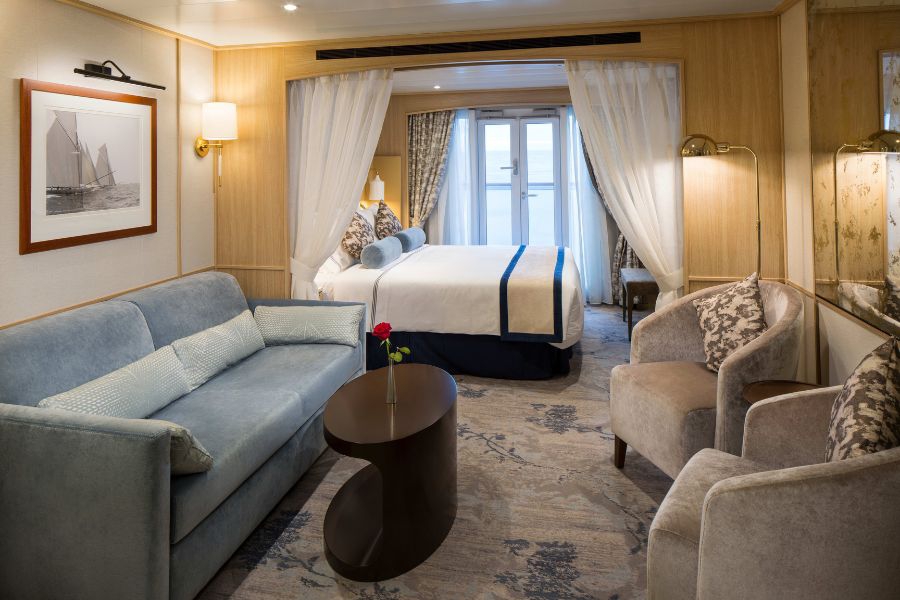 An expanded choice of dining venues lies at the heart of Windstar's reputation as a cruise line and is very much on the radar of those seeking culinary excellence. The main dining room on Deck 3 is Amphora, which is only open for dinner, and there are no pre-assigned tables or first or second seatings. The extensive menu showcases regionally influenced and sustainable specialities, as well as signature dishes created by renowned members of the prestigious James Beard Foundation. This highly respected non-profit organization has a mission to celebrate, support, and elevate the people behind America's food culture and champion a standard of good food anchored in talent, equity, and sustainability.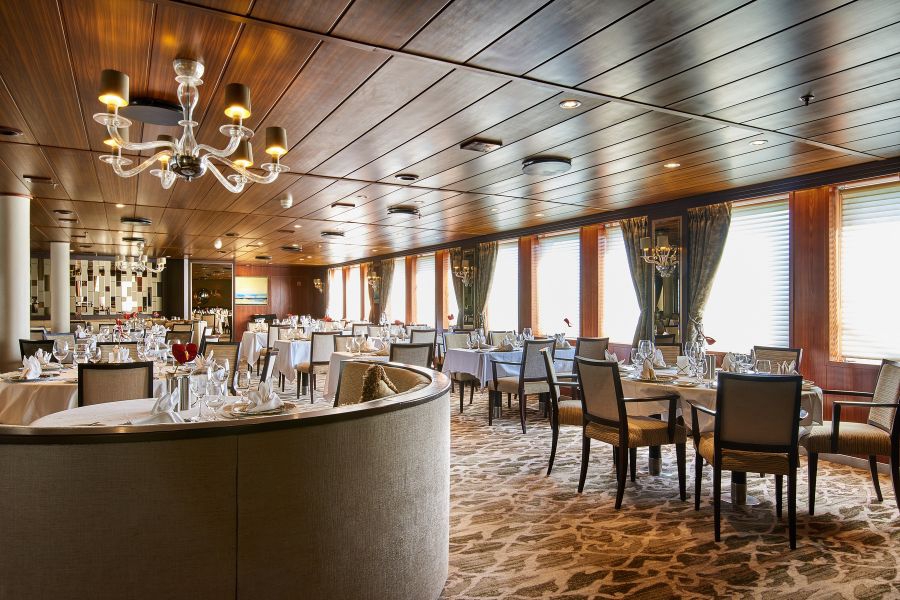 Open from midday to 4pm, the Star Grill by Steven Raichlen on Deck 8 puts the focus firmly on grilled, smoked and rotisserie fare, including made-to-order seafood, meats, and vegetable dishes paired with salads and sauces in a casual alfresco environment cosseted by gentle sea breezes.
With inside and outside tables, the Veranda is open for breakfast and lunch and serves a variety of buffet options, including a salad bar, plus a selection of à la carte dishes. By night, this area becomes Candles, a reservations-only, intimate dining option where steak and seafood reign supreme, although vegetarian and vegan options are available on request.
The real hot ticket is a reservation at Cuadro 44, tucked away on Deck 6. Just 38 diners can choose from small plates to share and entrées showcasing innovative cuisine from coastal regions of the Iberian Peninsula. All are conceived by Anthony Sasso, whose flagship New York restaurant, Casa Mono, held a Michelin star for ten years. This eclectic restaurant with a tapas-bar vibe, is open from 6pm until 9pm and is named after the hull section that was added to the ship when it was stretched.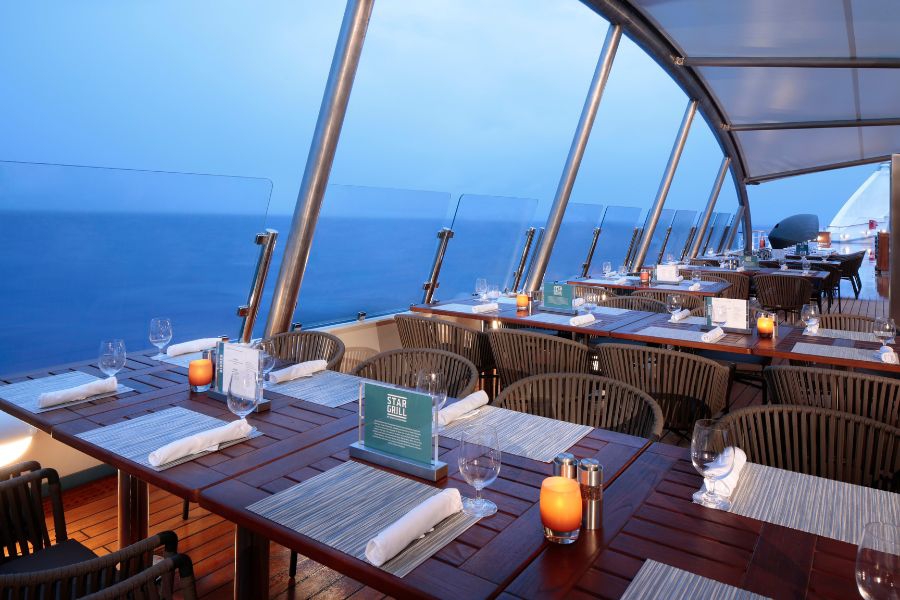 At the front of Star Legend on Deck 8 is the Yacht Club Café, which is open throughout the day and serves superb coffees and cappuccinos, smoothies, and fruit-infused waters. A cabinet displays croissants and pastries for those just wanting a continental breakfast; wraps and sandwiches are offered for a light lunch; and then cakes and cookies arrive in the afternoon. This is also the elegantly furnished ship's library.
An element of the F&B operation that few critics put to the test passed with flying colours on this comely ship. Room Service orders were consistently delivered promptly, and the team was happy to get specific items from the menus in Amphora and Cuadro 44. Outside of mealtimes, there was a menu of snacks and light bites. Another notable feast is the perennially popular once-a-cruise deck barbecue.  
Neither Candles nor Cuadro 44 attract a supplement, which is a welcome change from the norm, and underscores Windstar's quest to push the epicurean envelope to ensure such tongue-tingling cuisine at sea rivals top-notch restaurants on land. Guests can also sign up for in-depth culinary shore excursions and local market tours, as well as on-board cooking classes.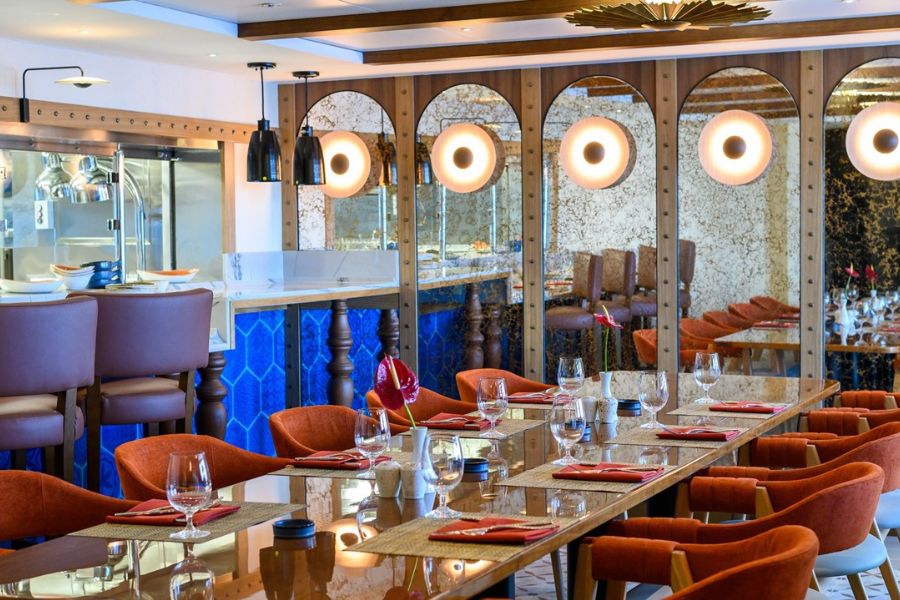 After-dinner activities are low-key, with live music from a talented duo or an accomplished piano or guitar player in the Compass Rose. There's also dancing in the Lounge, but on warm nights, it's the Star Bar that attracts a party crowd. Occasionally, ship's officers join guests for a 'Liars Club' panel game; other nights, 'Name That Tune' proves popular, as does Team Trivia. In a few ports where the ship has a late departure, a local dance or singing ensemble entertains guests. The Star Boutique team occasionally promotes their wares in the Screening Room.
An open bridge policy allows guests to visit the captain and navigation crew, except when manoeuvring in and out of port. There's also a crew talent show towards the end of each cruise when some great singers and guitarists from the hotel department entertain passengers – a standing ovation is assured.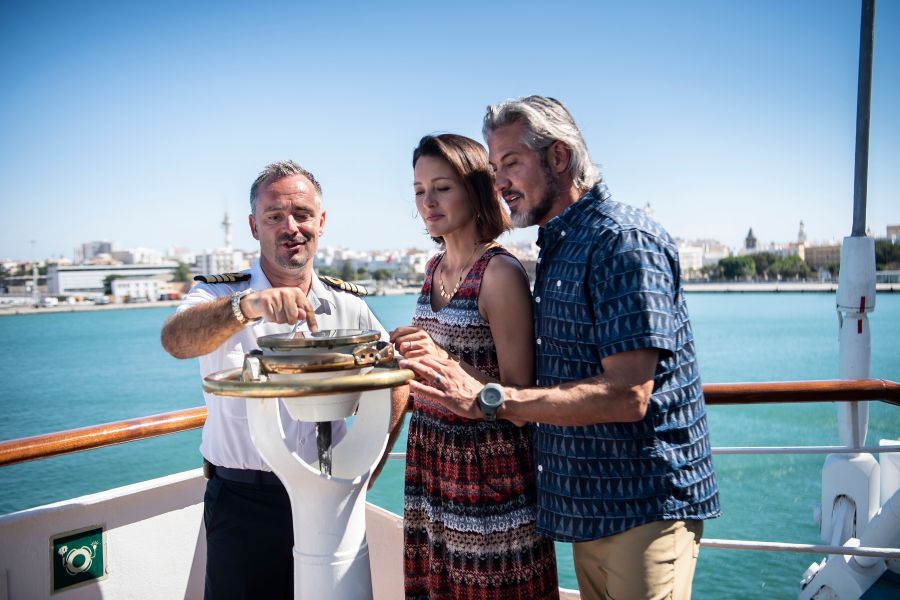 The World Spa promotes a range of pampering therapies and massages in four well-appointed rooms. There's a large gym and a separate studio (for Pilates and yoga, which alternate daily). The fitness centre has the latest gym equipment and is well patronised, as are the cedar sauna and steam room, plus a relaxation area with four mosaic thermal chairs. In addition, there's a wide range of beauty treatments; there's even an Oriental practitioner on hand for acupuncture.
Throughout the day, the Pool Deck is popular, especially the new infinity pool, which has great views. There's also a whirlpool at the ship's bow on Deck 5. In calm weather, when the ship is at anchor, the crew lowers the watersports platform which is reached from the aft of Deck 3. Equipment includes kayaks, stand-up paddleboards, windsurfers, floating island, and snorkel gear. The ship also offers a beginners' Discover Scuba Diving programme on select voyages.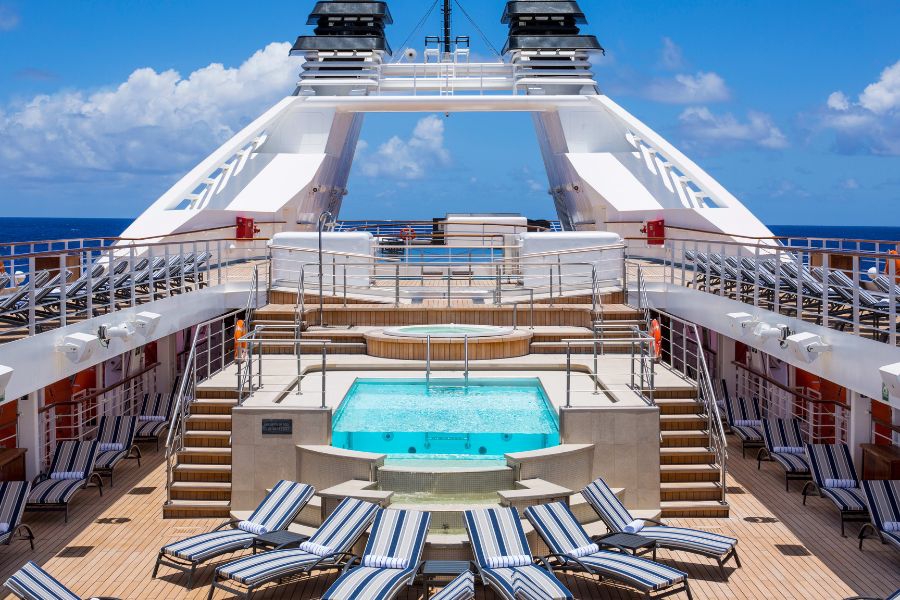 Shore excursions are at the heart of the company's ethos. The Essentials collection is ideal for first-time cruisers; the Concierge collection for smaller groups specialises in cultural and culinary-themed activities; and the Beyond Ordinary collection features outstanding experiences for the most enthusiastic and adventurous travellers.
---
Windstar's fleet of boutique cruise yachts encompasses three 'Wind Class' sailing ships – Wind Star, Wind Spirit, and Wind Surf - as well as the three 312-guest 'Star Plus' motor yachts – Star Breeze, Star Pride, and Star Legend.  This front-runner in small-ship luxury cruising offers a luxury-like experience at a mid-market price, one where every touchpoint is top-notch.
To find out more about Windstar Cruises, head to our website or get in touch with your personal cruise connoisseur today on 0161 513 8200.