A week on board Silver Moon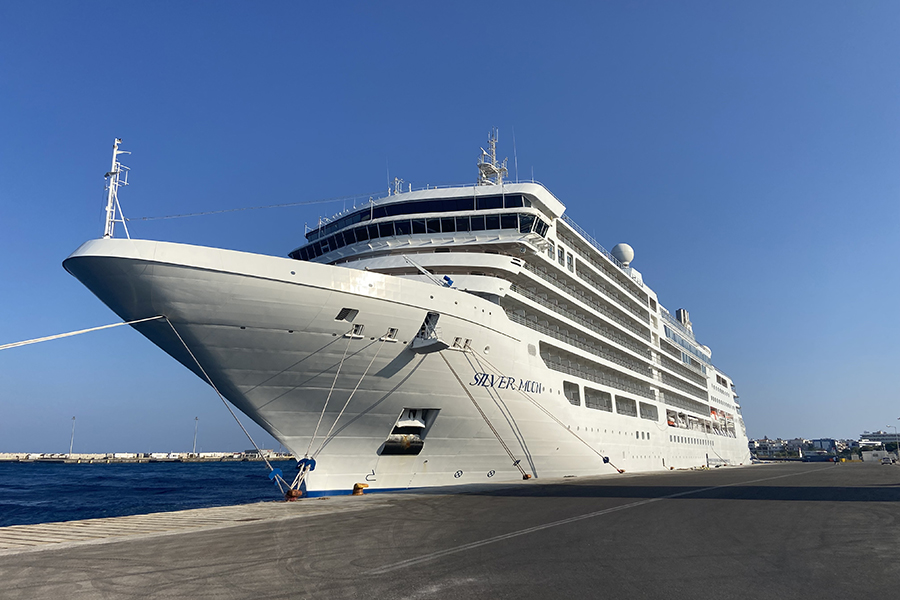 A week on board Silver Moon
The other week, my colleague Catherine and I were fortunate enough to be invited on board Silversea's newest ship, the Silver Moon, for a sailing around the Greek Isles. The whole experience was absolutely incredible. It was my first ever cruise and I certainly started at the top! We were on board for six nights (the actual cruise was 10 nights, but we got on board a few days in). We embarked in Rhodes, had a sea day, docked in Limassol, Cyprus, followed by another sea day, then docked in Heraklion, Mykonos, and Athens before disembarking.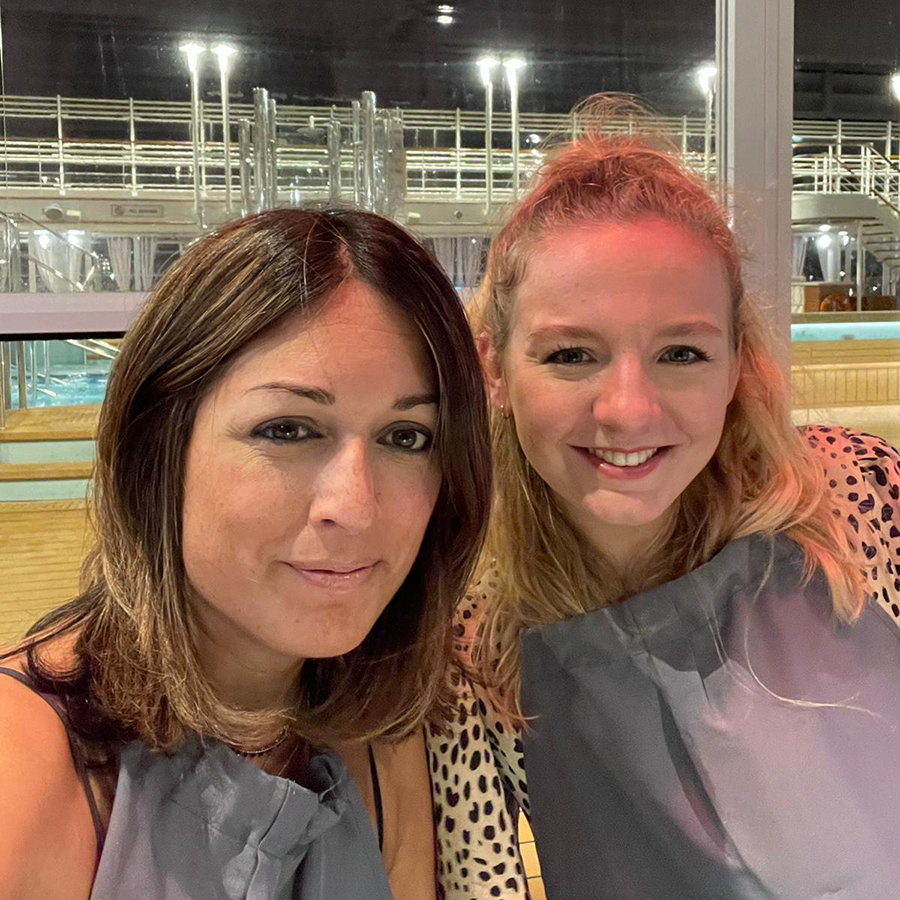 From start to finish, everything went smoothly, and we felt really safe throughout the entire process. Not only was I nervous about sailing for the first time, but I was also a little nervous about cruising during a pandemic. However, it really is true what cruise lines are saying: ships are without a doubt one of the safest places to be right now.
When we were picked up for our transfer to the ship, we stopped by a local testing centre in Rhodes where we had a quick test and then by the time we had reached the port and got our paperwork approved ready to board, our results had come through to confirm we were all negative. Luckily, we didn't have to worry about testing in the UK prior to travel; all we needed to fly to Rhodes was our passenger locator form (easy to fill in and download on the Greek Government website) and our Covid Vaccination Passport (again, easy to download from the NHS app or online).
Once we had boarded, we enjoyed a welcome drink in the Dolce Vita lounge before heading up to our suites where our luggage awaited, along with our personal butlers! We each had a deluxe veranda suite to ourselves, which was absolutely amazing and by far the most beautifully appointed suite I have ever seen, let alone stayed in myself! Here are some photos of my suite (number 651):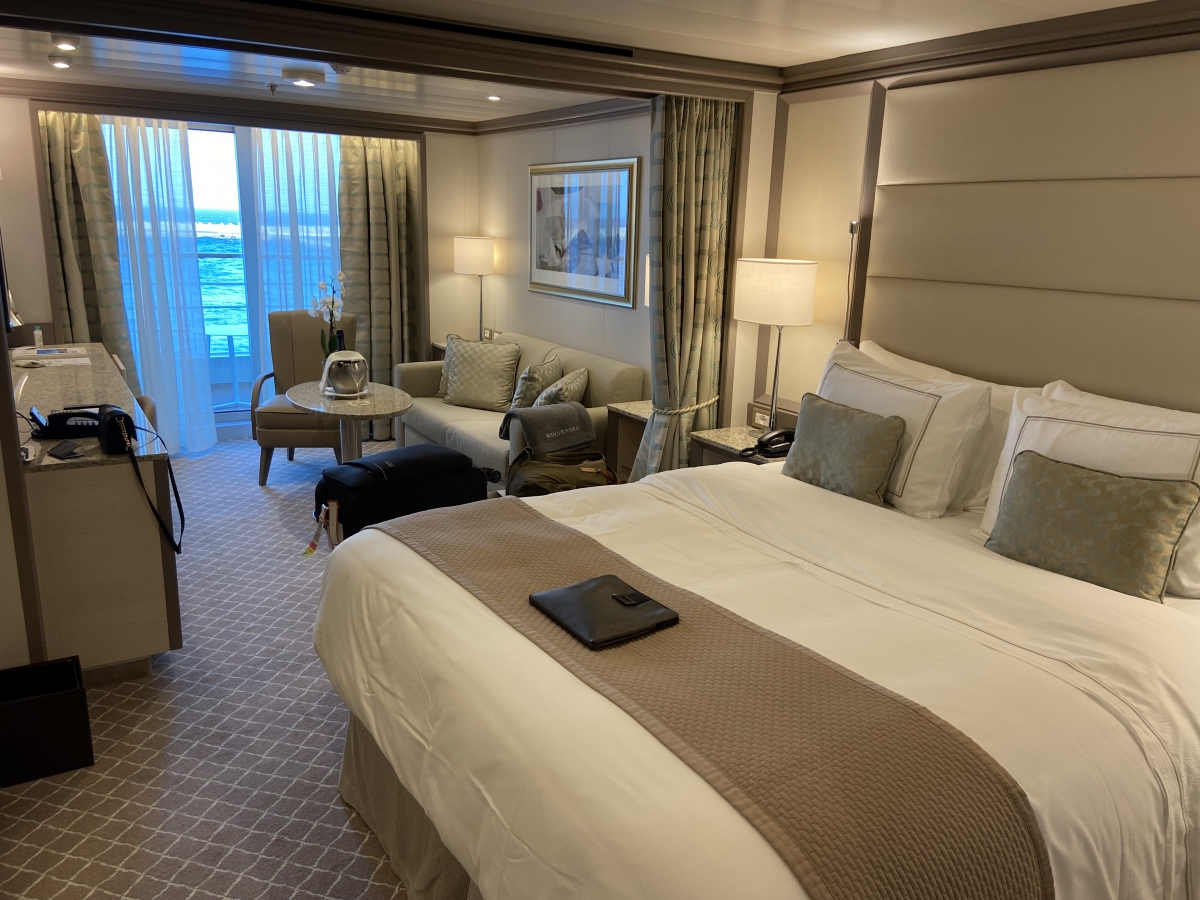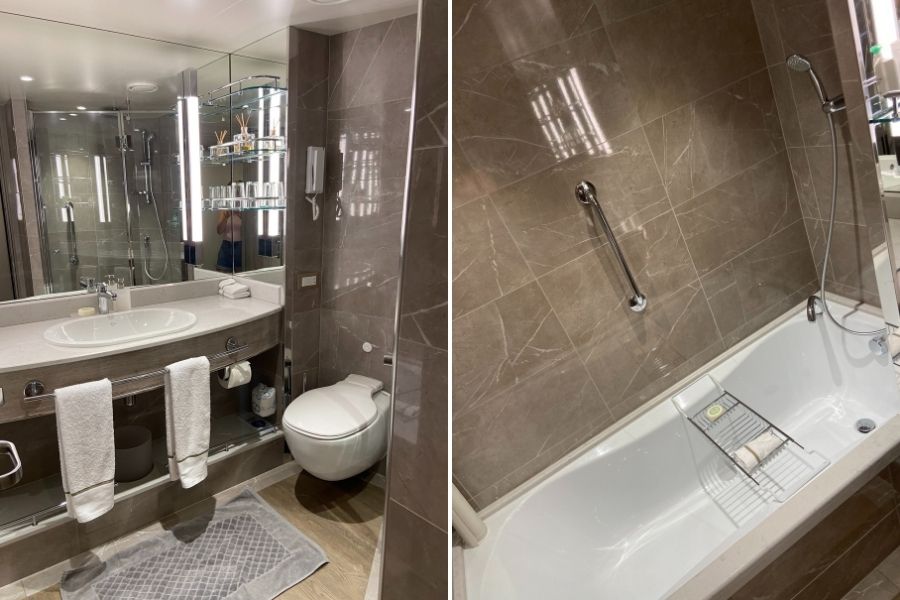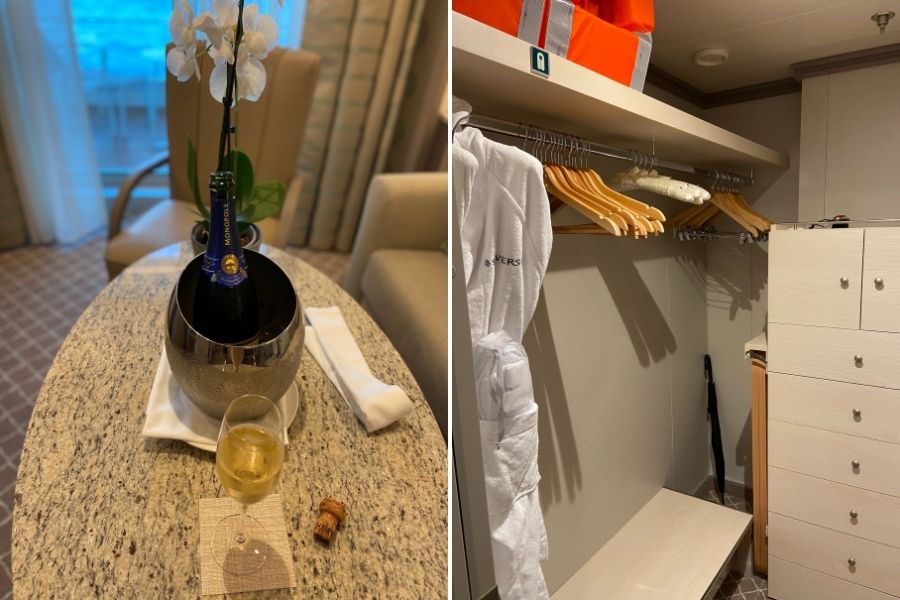 Our first day was spent on an extensive ship tour, where we viewed a number of other suites and all of the restaurants, lounges, and communal areas of the ship. It really is incredible how easy the Silver Moon is to navigate!
First, we viewed the Owner's Suite, Grand Suite, Silver Suite, and Vista Suite. All were wonderfully spacious, with complimentary Bulgari amenities and fully stocked minibars. We then toured the restaurants, which we will explain in more detail in an upcoming article, and the various lounges on board. The Panorama Lounge was a popular spot in the evenings as there was live music and dancing, whereas during the day it was the perfect place for reclining with a book on the terrace. Alternatively, the Dolce Vita lounge is the most central location for evening drinks and the waiters there are rather partial to whipping up their own signature cocktail each night, which we thoroughly enjoyed.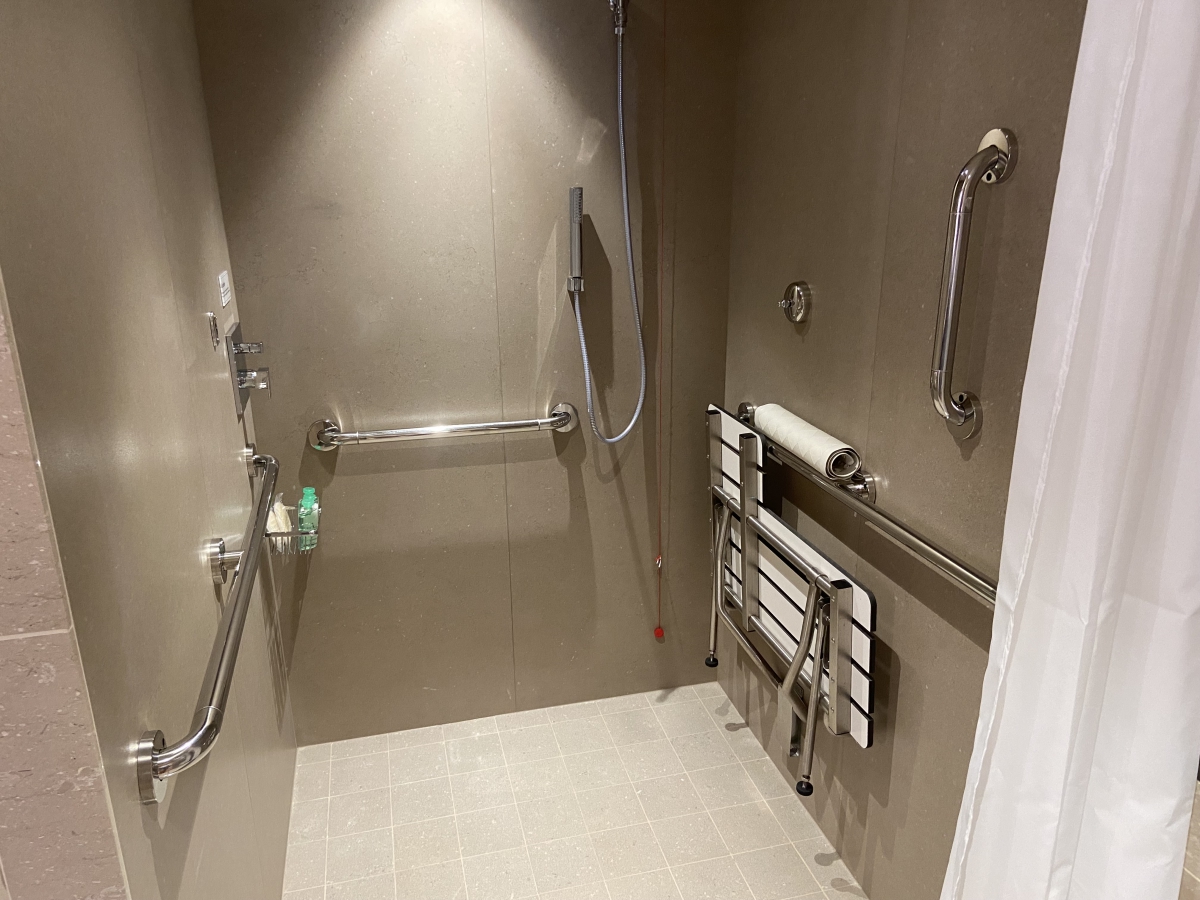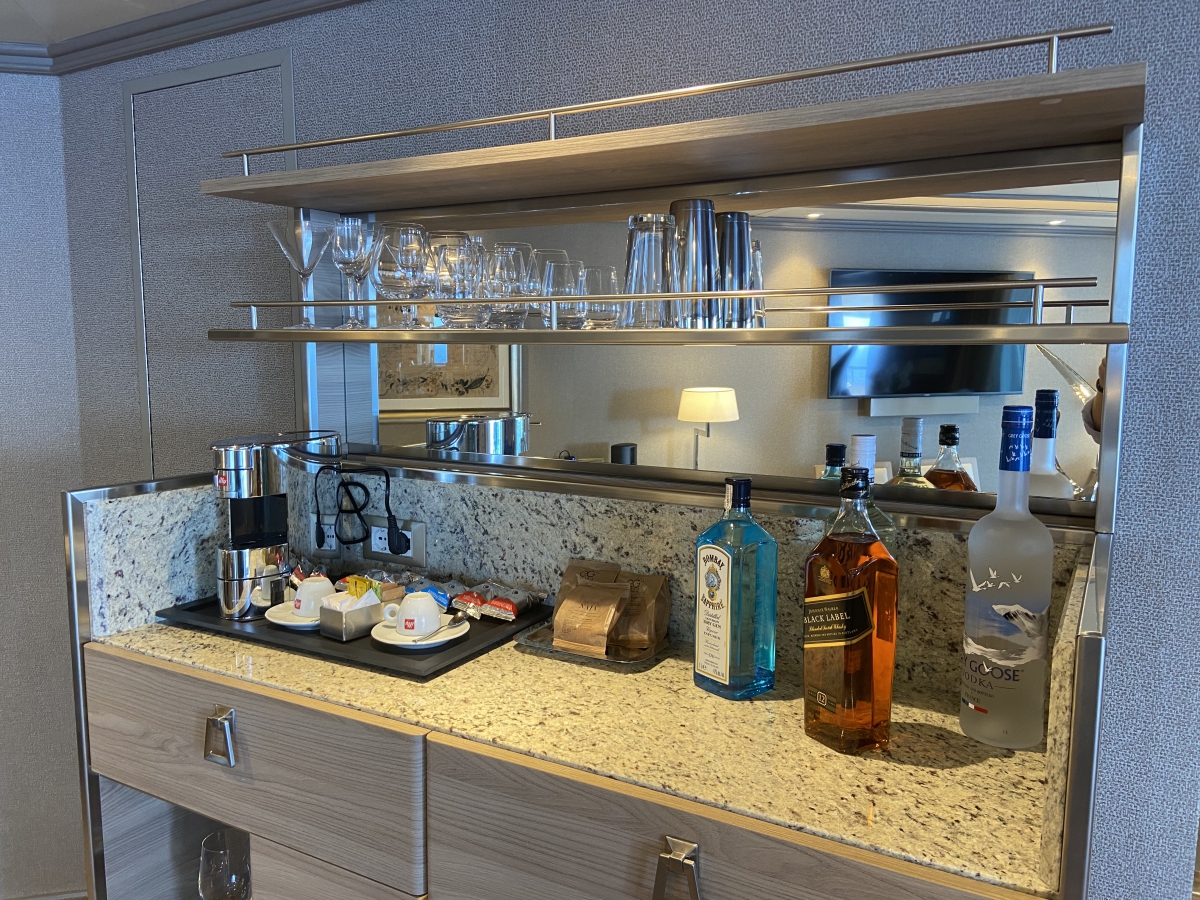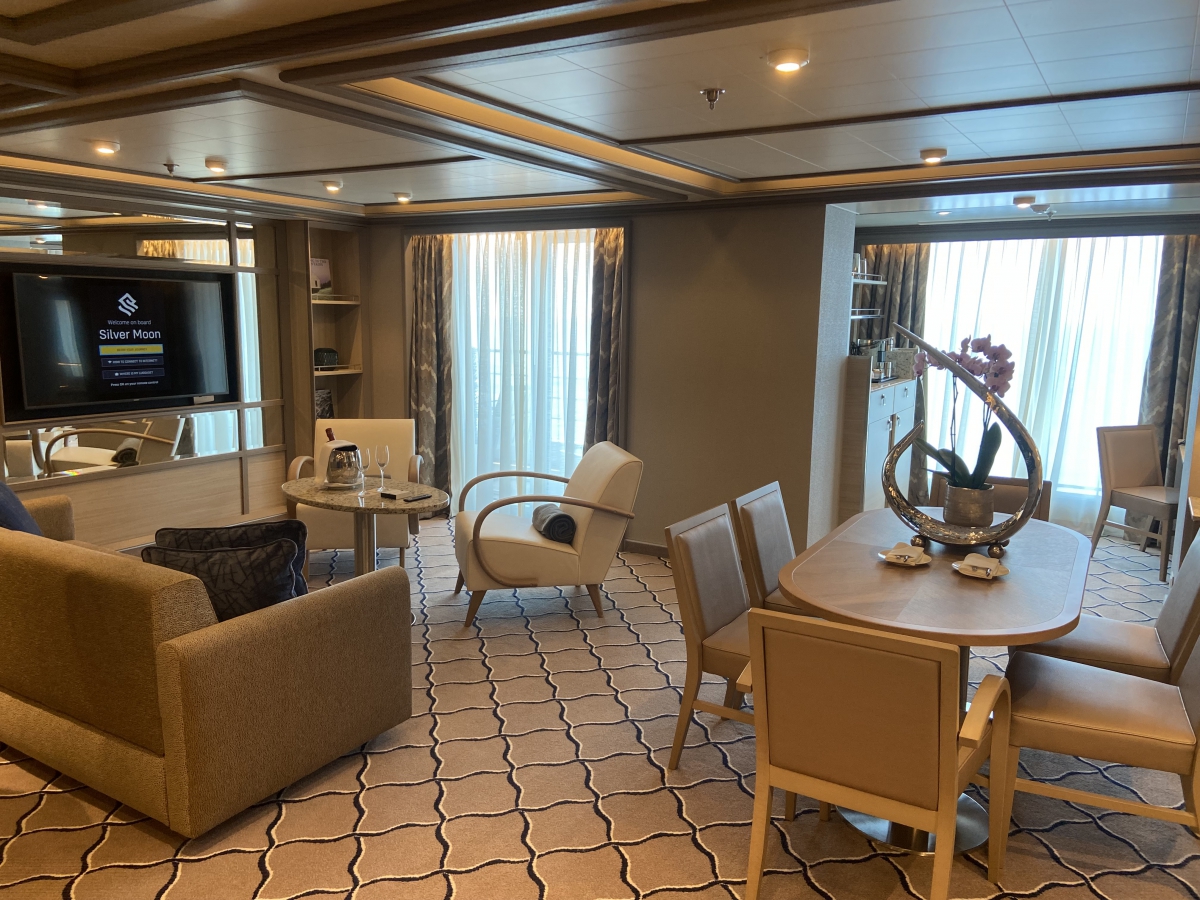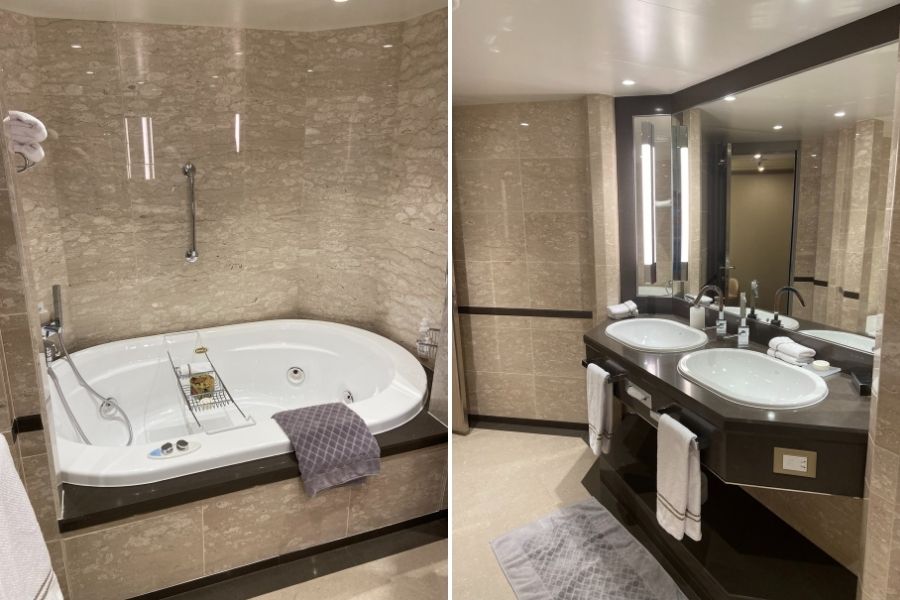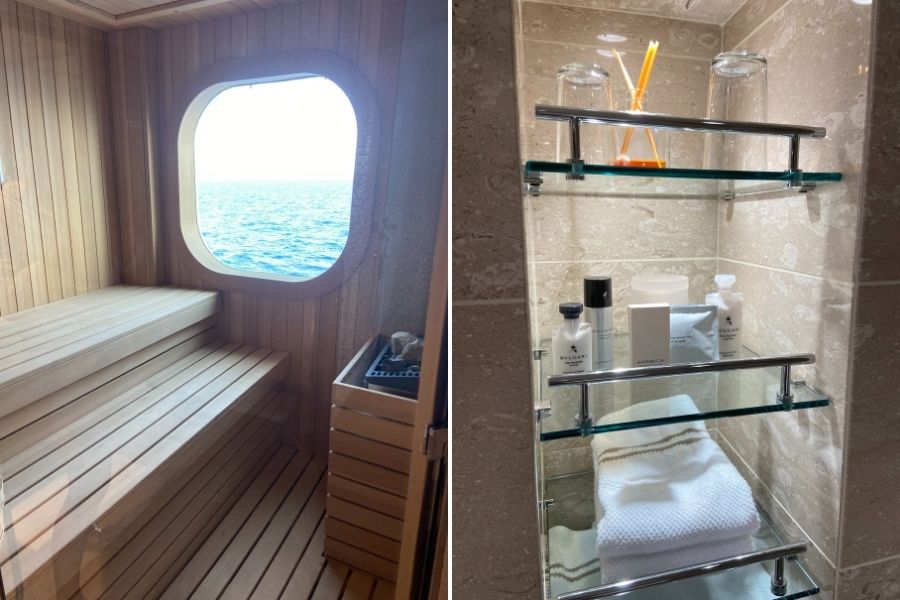 One of my favourite spots on board was the Arts Café, where the friendly (and hilarious!) waiters would chat with us over our coffees, recommend the best cakes, and remembered my coffee order after just two days on board. We were also shown the Zagara Spa and fitness centre, which I had all the intentions of using but never got around to it. I was surprised at how spacious and well equipped the gym is, and it seemed to be regularly used by many guests. The spa also looked like a tranquil slice of heaven, with a variety of specialist treatments available, saunas and steam rooms, and private pool.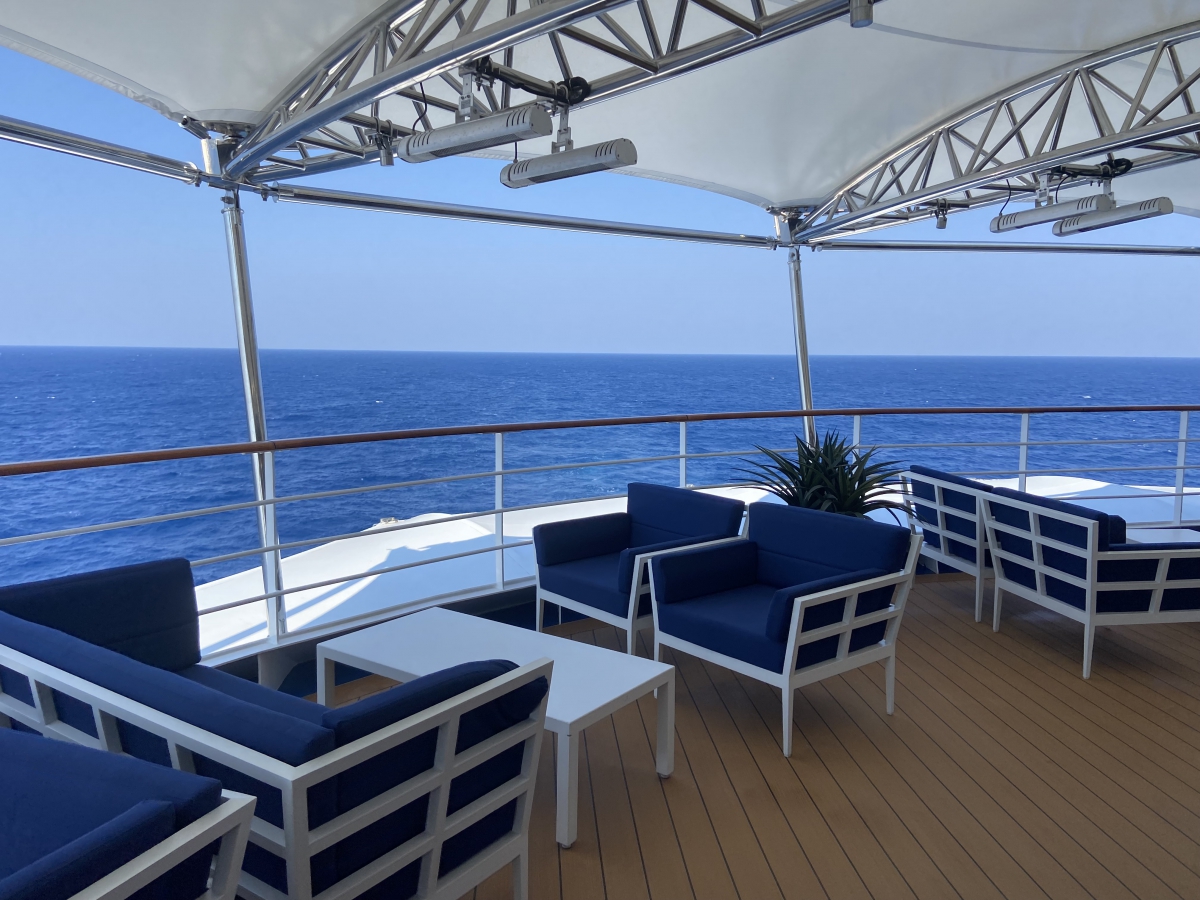 Other areas we viewed but did not use during our time on board were the casino, observation library, and connoisseur's corner. Again, all areas were spacious, light and airy. If I had spent another week on board, I'm sure I would have found myself in the library at some point, as it was a beautifully quiet room with stunning views over the bow of the ship.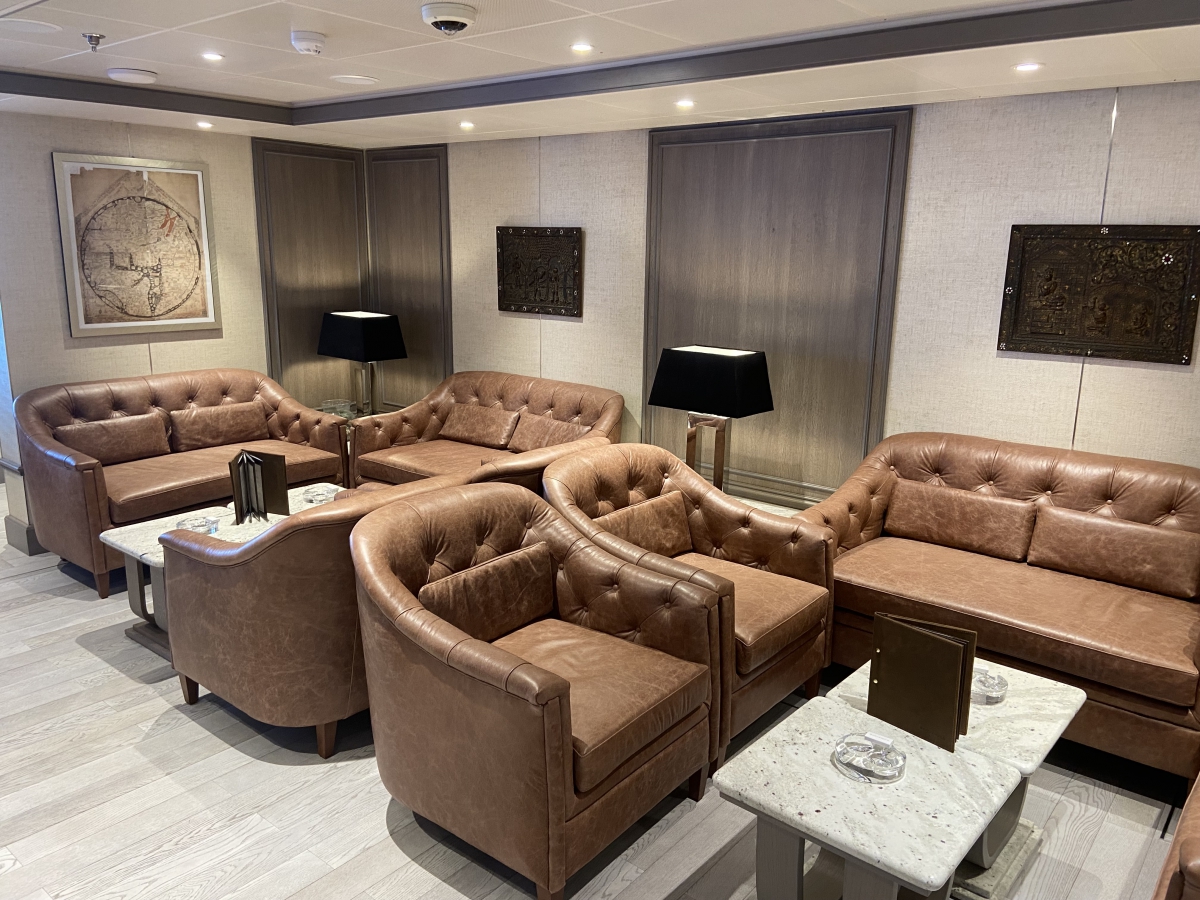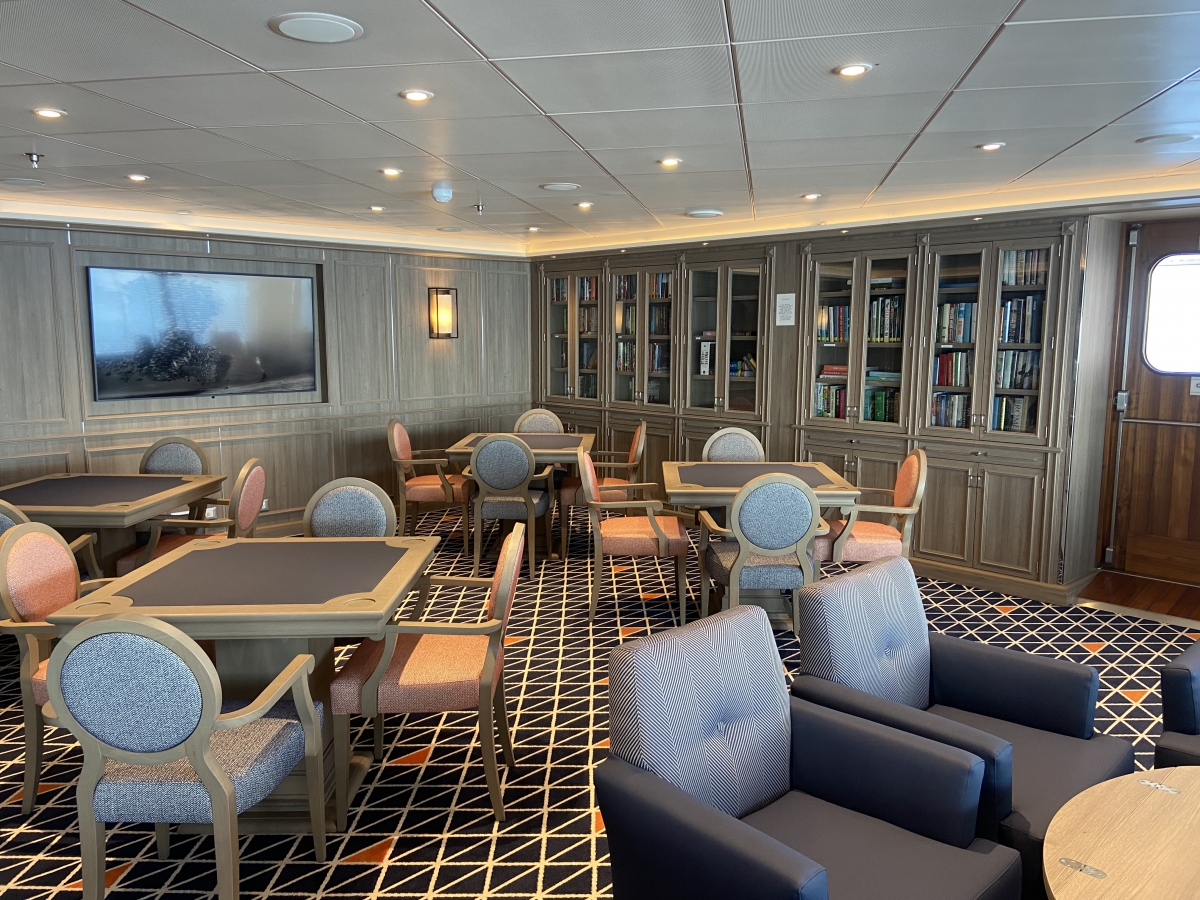 Throughout our time on board we learned a lot about Silversea Cruises, how they have managed during the pandemic, and all about their plans for Silver Moon's sister ship, Silver Dawn, which is embarking on her inaugural sailing in November this year. We also spoke to a number of guests on board and everyone I had the pleasure of speaking to was thrilled with their experience on board Silver Moon and felt so safe and happy to be cruising again.
The atmosphere on board was often commented on as being really laidback yet elegant; during the day, you never would have known there were over 400 passengers on board (out of the 596 capacity) as many relaxed by the pool, read in lounges, took part in local cooking classes in the on-board S.A.L.T Lab, or enjoyed a variety of shore excursions when we were in port.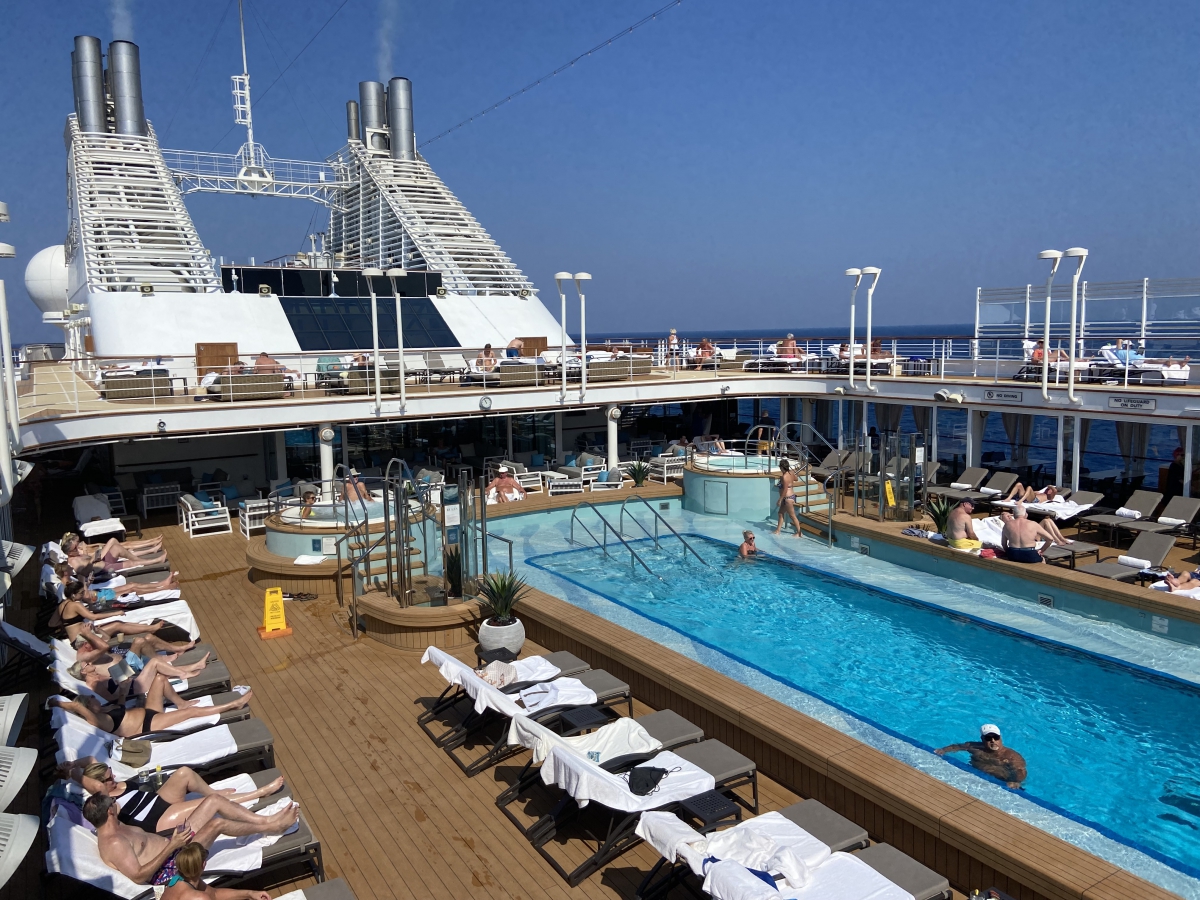 In the evenings, although we only had one formal night and the rest were either informal or casual, it was lovely to see everyone embracing the more elegant aspects of the cruise. We ate at every restaurant on board, except the specialty French restaurant La Dame, and took full advantage of the all-inclusive premium wines, signature Silver Moon cocktails, and world-class fine dining. Don't worry, there is a whole other blog post to come about the dining experience on board Silver Moon, but for now let me tell you it was absolutely fantastic, out of this world cuisine which I fully indulged in throughout the week!!
My final mention must go to the outstanding service and the wonderful crew on board the Silver Moon. My butler, Marites, was so lovely and everyday went above and beyond my expectations in delivering personal and efficient service. On our second to last night on board, the cruise director Brian hosted the farewell show 'Magic of the Musicals' in the Venetian Lounge. The Voices of Silversea put on one final show, followed by a speech from the captain himself and a thanks to all of the staff and crew, some of whom were cheered onto the stage. It was a wonderful evening and truly highlighted the exceptional work which goes on behind the scenes on board Silver Moon.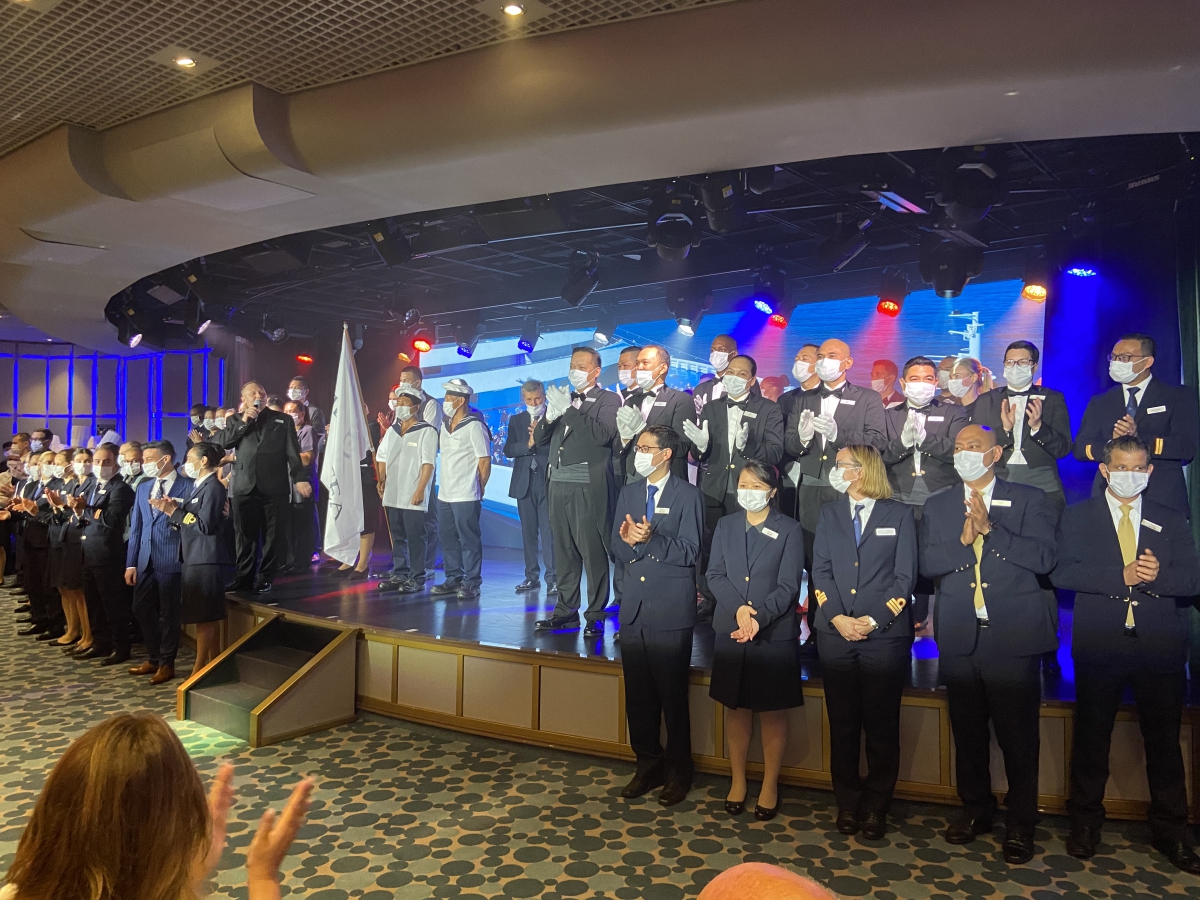 Overall, Catherine and I loved our time with Silversea and I for one cannot wait to get back on another cruise ship! I was certainly spoiled by my experience on Silver Moon and struggle to think what could possibly be better. Thank you to Sarah at Silversea for arranging the trip of a lifetime!
If you would like more information about Silversea Cruises or Silver Moon, click here.