Star Pride: what a treat!
Star Pride: what a treat!
Well, what a treat this was! I have just returned from a fantastic voyage with Windstar Cruises on the newly refurbished luxury yacht, the Star Pride. It was the Star Pride's Inaugural voyage, since having had a major facelift, and it certainly delivered on all levels! We sailed from Athens through to Barcelona, stopping off at various ports throughout Greece and Italy. It was such a lovely experience, and one the most intimate cruises I have been lucky enough to have sailed on so far, carrying just 312 guests!
As soon as we stepped on board, we felt immediately comfortable. The atmosphere was so warm and welcoming. Each staff member took their time to get to know us, quickly building a great rapport and making us feel at home. I've not genuinely felt as relaxed before on a cruise ship, the staff just seem to have the right balance.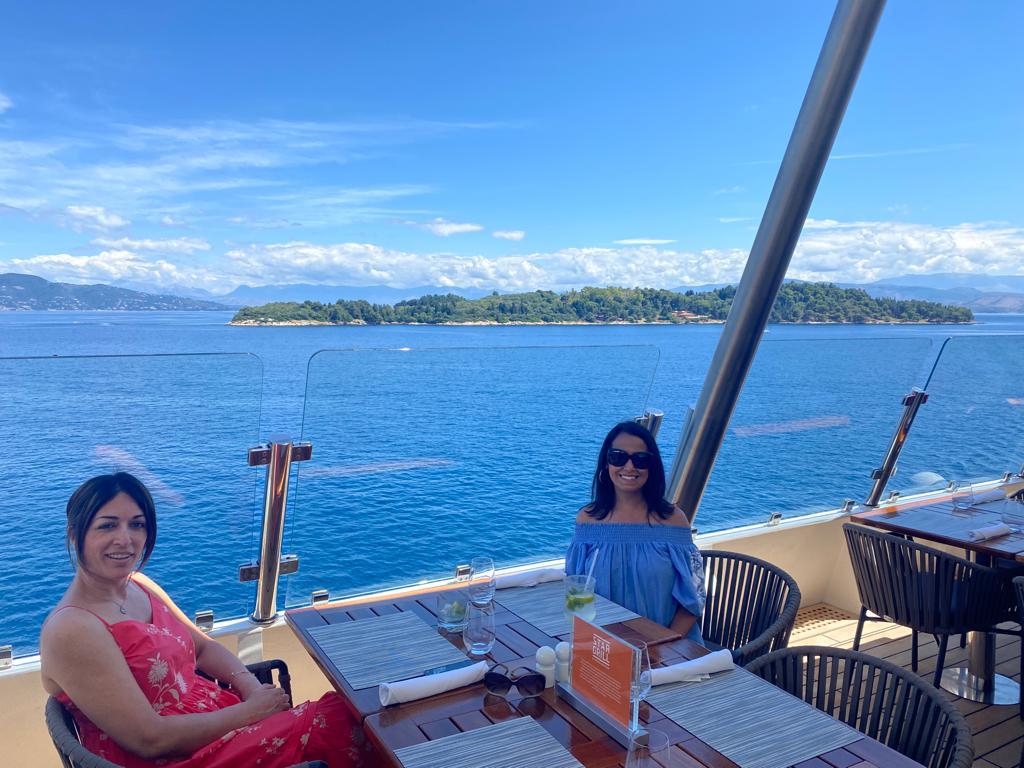 The ship itself is beautiful and feels really spacious. There's plenty of deck space and lots of little outdoor areas to go and relax and lose yourself whilst reading a book or just switching off from the outside world. The suites on-board (with a lead in of 277 sq. ft), come equipped with walk in wardrobes, upgraded bathrooms with square-sink double vanities and glass walled showers (some have bathtubs). There are new public areas, including two new dining venues, a new expansive spa, and fitness area. And of course, the water sports platform and guests' firm favourite, the famous barbeque night which takes place on the pool deck once weekly!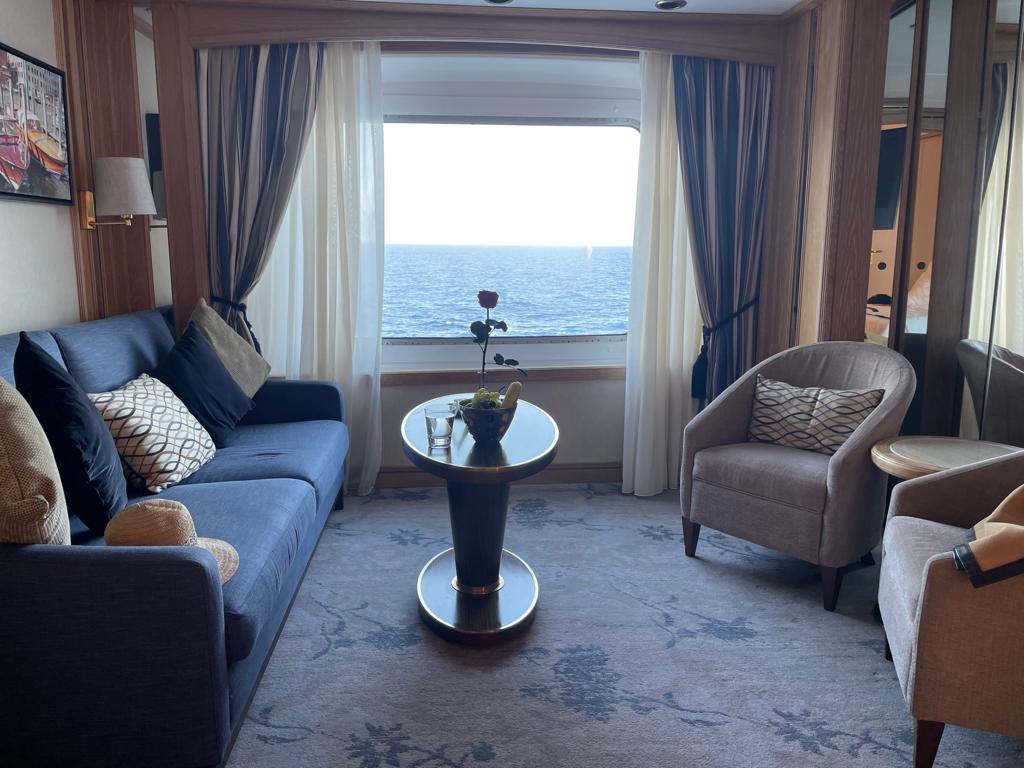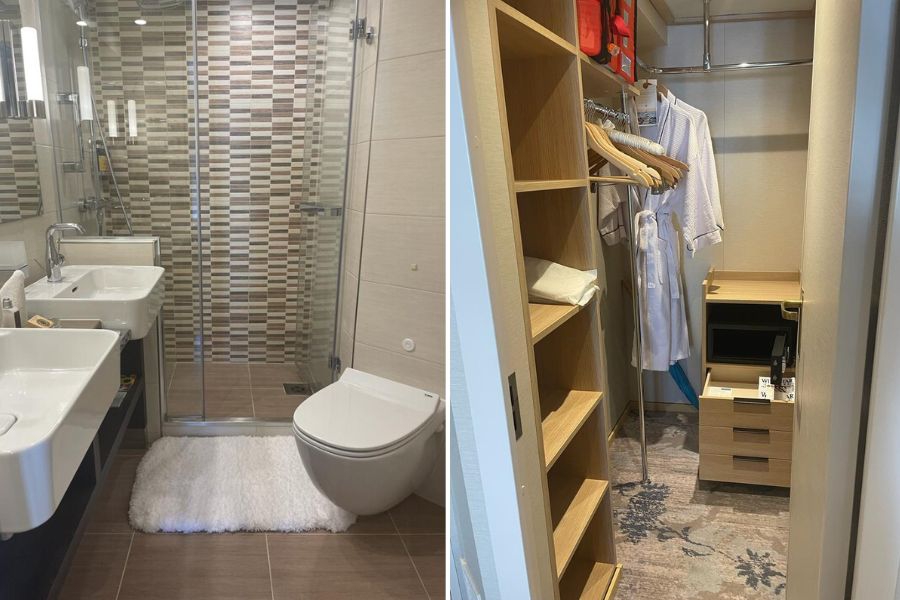 And before I forget to mention, the sail aways are brilliant! Windstar make the sail aways a big event on-board, playing the cruise line's signature classical sail-away song, "Conquest of Paradise" from the Greek composer Vangelis. It's all very dramatic and theatrical, guests loved this!  
Now, the most important thing for me on a cruise, has to be the quality of dining offered. Food is a real passion of mine; I absolutely love anything food related! If I'm being honest, I wasn't too sure what to expect with Windstar being such a small ship, carrying only 312 guests, but I needn't have been disappointed. The range of dining options offered on-board is absolutely fantastic, and most importantly, the quality of food, it absolutely exceeded all my expectations!
If I start with the Room Service (which we used a couple of times for breakfast and once during the evening) There is a vast menu available, which also includes an evening daily menu choice from the main dining room. This is a great feature, and gives everyone the chance to experience in-suite dining if they preferred a quiet night in. We made the most of this one night, ordering a 3-course meal to our room, it was so lovely to just relax in our suite and not have to worry about getting ready to go to the main dining room for dinner that evening.
For lunch, there are two venues, you have the option of dining at 'Veranda' (which is the venue used for breakfast, located at the back of the ship with a nice outside terrace area), or you can dine in Star Grill – which is absolutely INCREDIBLE! Star Grill is the offering by famous American chef Steve Raichlen who specialises in grilled barbeque food. The alfresco dining venue is located just off the Pool Deck and has beautiful views overlooking the ocean, with a lovely ocean breeze. We were really spoilt for choice here; with the vast array of gourmet salads, selection of grilled meats and the special 'dish if the day', it's a lovely modern grill venue. We always looked forward to our lunches on-board, because the choice was so good, and the food was so fresh.

Next is Amphora – This is the main dining room and soon became a very firm favourite of ours. We got to know Hubert the Maître-D, and all the other restaurant staff really well. Each evening Hubert made sure to seat us at our favourite table, so that we could participate in our favourite thing – people watching! The menu selection in here was amazing and each evening was tailor-made around the port we had visited that day. The chef on-board, Nilesh, had such a flare and attention to detail, his dishes were absolutely superb. He would come out after dinner and talk to the guests to find out what they thought and what food they would like to see on the menu the following day. He even offered to cook a special curry for just myself and my friend using his mother's own home-made ground spices from India. We immediately took him up on the offer, and the following evening were served the most fantastic gourmet curry! The staff in here always made us feel really special and treated us like we were VIP's!
Next up is Cuadro 44 by Anthony Sasso – Now this venue was one I was really looking forward to.  I'd heard a few good reviews from people saying be prepared to be wowed over! This is Windstar's speciality restaurant, which requires a reservation ahead of arrival. This new eclectic Spanish restaurant, by Michelin chef Anthony Sasso, who is part of the James Beard Foundation, offers inventive, modern Spanish cuisine. The venue seats just 34 people and has a lovely intimate setting. Quite simply put, this place is perfect! There is a great menu choice, the quality of food is some of the best I have ever eaten, it is definitely a real treat for all the foodies out there! If guests wish to dine in here on any extra nights, you can just request this on-board, and Windstar will do their best to accommodate this.
As previously mentioned, Veranda is the casual breakfast and lunch venue, which is located at the back of Deck 7. However, in the evening it transforms into Candles – which is the most incredible steakhouse. Candles is Windstar's second speciality restaurant, which again requires a reservation ahead of arrival. Most ships have a steakhouse these days but again, the attention to detail from the staff and chefs is impeccable. You even get to select the type of salt you'd like on your steak! Make sure that you book to dine in here so that you don't miss out!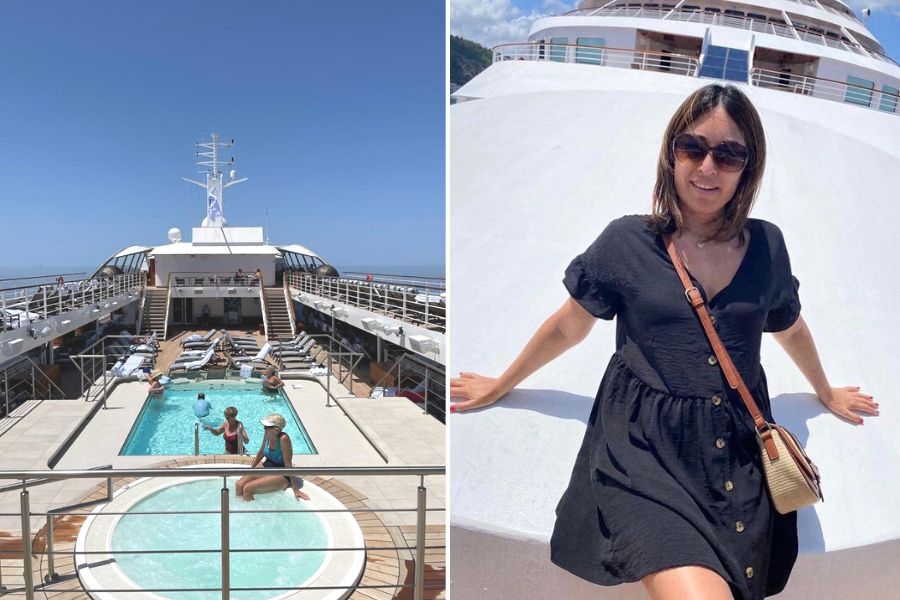 Our favourite evening on the ship, had to be the signature pool deck BBQ night. On each of the sailings, weather permitting, they host a pool deck BBQ night. Everyone on the ship takes part, so the pool deck is full of guests and crew who come together to enjoy live music whilst tucking into the biggest BBQ i have ever seen! The choices of fresh meats, sea food, gourmet salads, a giant Paella, hot and cold foods, along with a huge spread of sweet treats! There was just so much selection, and it was all so delicious. Once they had cleared away the BBQ, the entertainment staff were all up on the deck, performing their famous line dancing routines for the guests. It was such a great atmosphere, all the guests including myself danced the night away to the live band, it was one of the best evenings on-board and we were really sad for it to finish at the end of the night!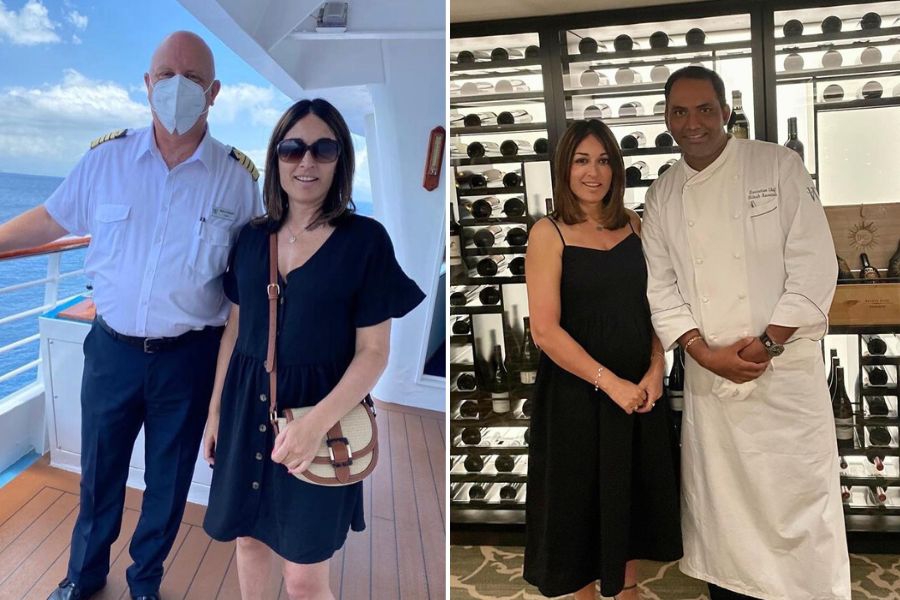 Overall, I've been lucky enough to sail on lots of different ships over the years, ranging from Ocean cruising to River cruising, but this was my very first time sailing on a Yacht style cruise. I must say, out of all my cruising experiences so far, Windstar has to be one of my personal favourites. The quality on-board, along with the staff, the service, the space, the overall ambience and most importantly to me, the amazing food, I could go talk all day about the food! It really has the WOW factor! Windstar make sure that standards throughout the ship are kept high, and everything seems so effortless.  The ship definitely caters well for guests looking for a small ship experience, but with the right balance of laid-back luxury and attention to detail, nothing is too much trouble. I loved it so much that I am already planning on going back next year!
Find out more about Windstar Cruises here or give me a call on 01565 364441 and I'll happily share my experiences with you!