Silversea's new Silver Nova is a supernova, says Gary Buchanan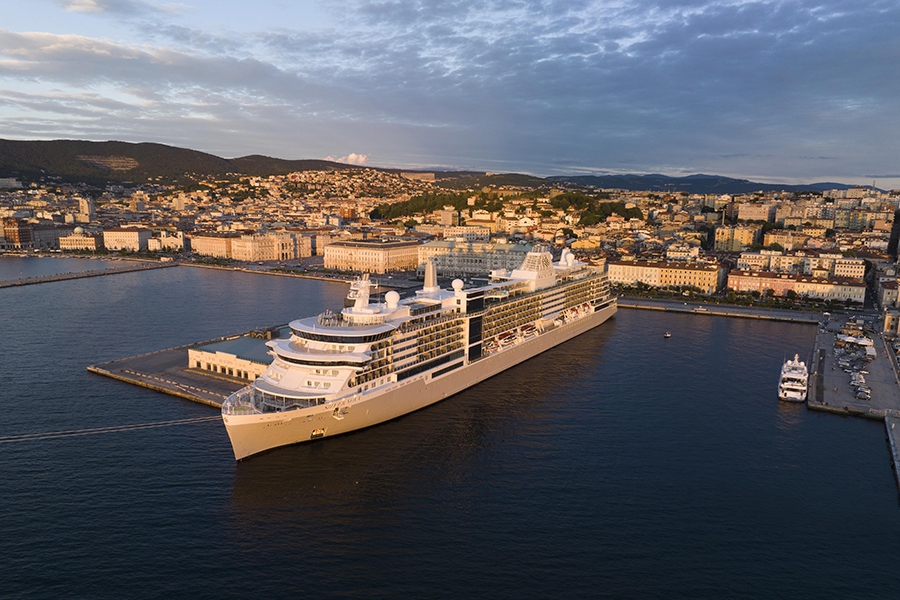 Silversea's new Silver Nova is a supernova, says Gary Buchanan
Every so often, a cruise ship appears, one that's set to define a new era in seagoing finesse and luxe. Silversea Cruises' new Silver Nova is such a vessel.
During the travel industry preview cruise in early August, pundits and professionals hailed this new ship as a "game-changer." "Pushing the boundaries like never before" was another comment, while several critics acknowledged, "this is a master-stroke and will elevate Silversea to another level."
That observation was probably the most incisive, as the ship was conceived after Silversea was purchased by Royal Caribbean Group in 2018. The deep pockets and technical resources of the new parent company allowed the designers to create a pacesetter - one that's bigger than its predecessors and has an all-new layout.
A vessel's architecture doesn't normally grab the headlines, but Silver Nova is no ordinary ship. Silversea's 12th vessel has been created with a groundbreaking asymmetrical design. This means that the port and starboard sides are structurally different. By conceiving a radical skeleton, the horizontal layout of the ship has achieved a massive 41,980 sq. ft. of open deck space.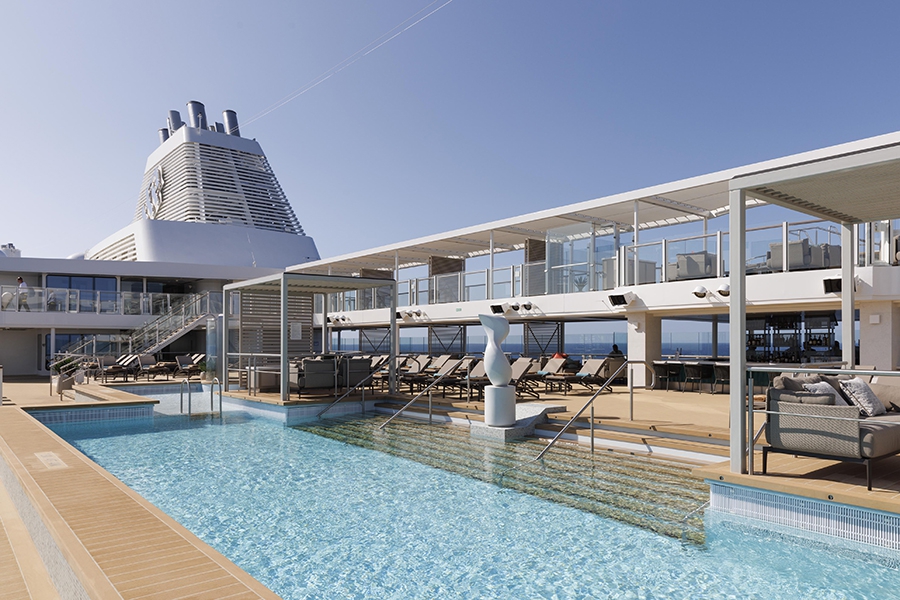 The first of an all-new class of ships for Silversea, Silver Nova is notable as it's more open to the sea than any other luxury ship afloat. Nowhere is this more evident than at the large 1400 sq. ft. horseshoe-shaped swimming pool area on the starboard side of Deck 10. Sun-loungers are oriented outward to the sea, while there's a pergola-covered area with comfy seats and chairs in the shade. There's a large bar that is an outdoor focal hub, and so too is the newly conceived Dusk Bar, a social nexus with panoramic views at the stern of the ship, ideal for sunset sailaways that are accompanied by chilled-out melodies from a virtuoso saxophonist. There's also a Cliff Whirlpool with great views overhanging Deck 11.
The statistics are worth scrutiny as they explain why this German-built ship puts the 'nova' in innovation. With a capacity of 728 passengers, the 54,700 GRT Silver Nova is around 34 percent larger than the company's last three new-builds, yet only holds 22 percent more guests. This is underscored by the space-to-guest ratio of 75 GRT per passenger, a yardstick of personal space that exceeds the ratio of 59 on the 596-guest Silver Muse, Silver Dawn, and Silver Moon. The asymmetrical design – with public rooms on Decks 3, 4, 5, 10 and 11 – are notable for their higher than usual ceiling heights.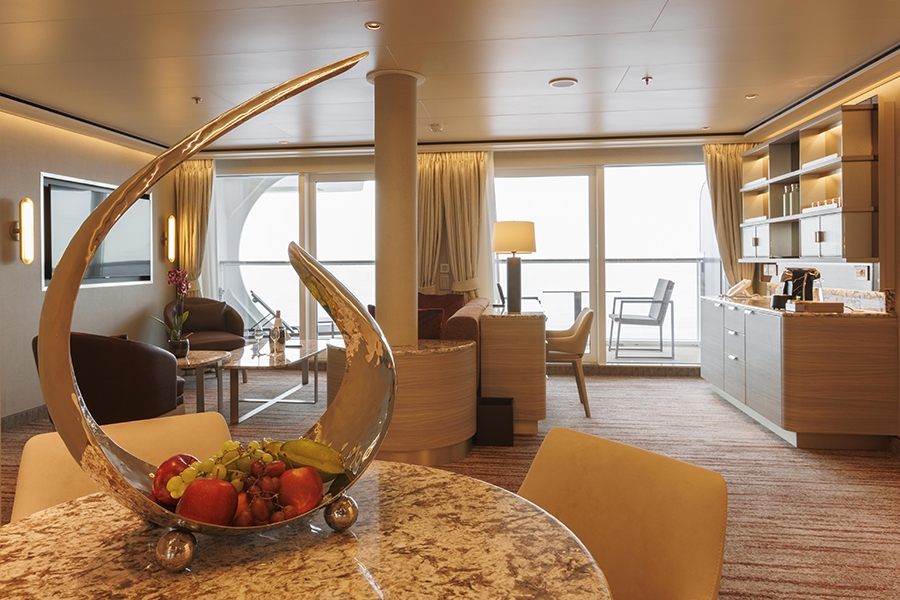 Spanning the entire length of Decks 6 to 9, are the suites, all of which have verandas. Because of the horizontal design, for the first time, Silversea can boast larger suites with an aft view. Also worth noting is that of the 13 categories of suites, seven are new to Silversea. The line-up includes two Otium Suites at 1,324 sq. ft.; six Master Suites ranging from 721 to 826 sq. ft.; four Signature Suites measuring 700 sq. ft.; four Junior Grand Suites from 581 to 624 sq. ft.; six Premium Medallion Suites at 527 sq. ft.; 38 Medallion Suites spanning 527 sq. ft.; and 42 Premium Veranda Suites coming in at 357 sq. ft.
Ninety percent of the accommodation options are in the 93 Deluxe Veranda Suites, which are all unusually large for entry-level accommodation at 357 sq. ft. What distinguishes them is their location. 22 percent of Veranda Suites have separate baths and showers, and all suites have butler service. The über-comfortable Otium mattresses in all suites come with special toppers, and the crisp sheets are by Rivolta Carmignani.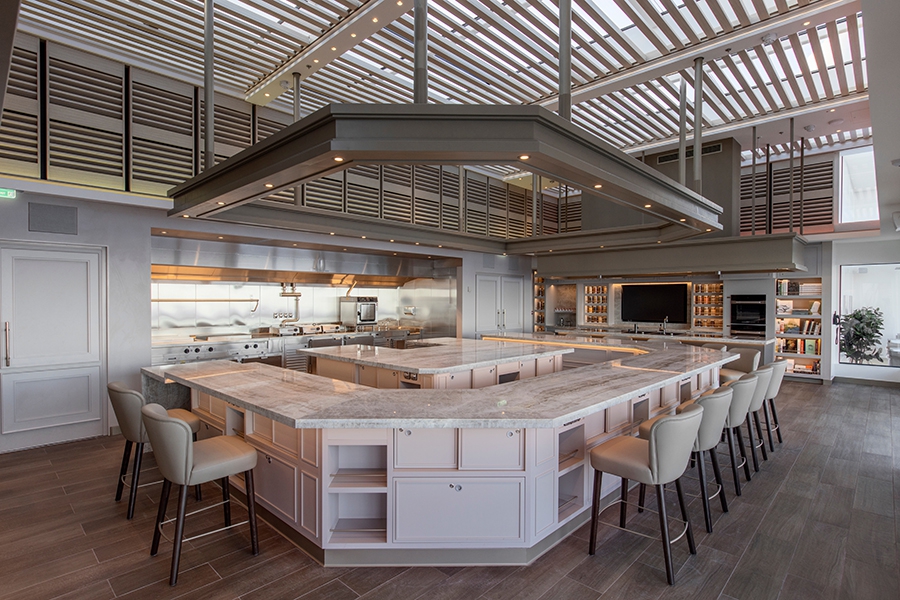 With eight signature restaurants, culinary experiences take centre stage. The S.A.L.T. Experience (Sea and Land Taste), which made its debut on Silver Moon and Silver Dawn, has been taken to a different level. Full of culinary theatre, the 18-seat Chef's Table offers an 11-course dégustation menu. The S.A.L.T. Bar is the perfect venue for mixologists to show their prowess; S.A.L.T. Kitchen offers a regional menu and a daily-changing speciality menu. S.A.L.T. Lab offers 24 eager gourmets the chance to learn how to prepare and cook typical local dishes, while immersive S.A.L.T. culinary land tours are compelling and offer access to restaurants renowned for their cuisine, whether it's rustic or rated by Michelin.
The spacious Atlantide restaurant overflows with opulence, and the menu is brimful of classical, gourmet treats such as Caviar and Dover Sole. This highly popular option with regular Silversea guests is open for breakfast, lunch and dinner. With handcrafted Lalique glass panels and a Hirondelles crystal chandelier, the elegant French speciality restaurant La Dame has been expanded, while the range of Asian cuisine in the intimate, Japanese-inspired Kaiseki has been enhanced to include Vietnamese, Thai, Indian, Korean, and Chinese specialities. Guest reservation fees on Silver Nova have been hiked to $160 for La Dame and $80 for Kaiseki. La Terrazza, the largest of Silver Nova's restaurants, comprises both indoor and outdoor seating and offers buffet-style breakfast and lunch, while for dinner, a multi-choice menu features expertly cooked gustatory treats from the culinary colossus that is Italy.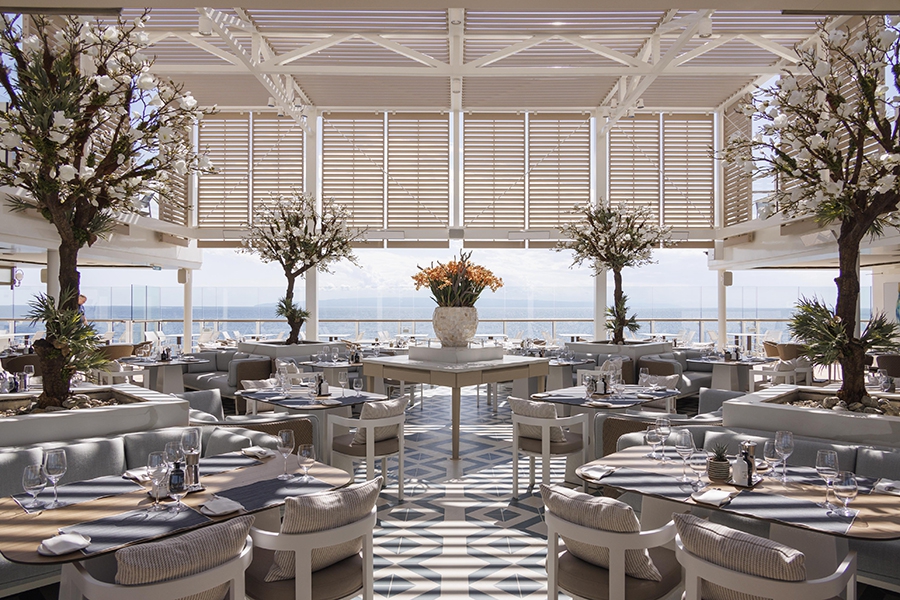 The two-deck-high Marquee is an alfresco dining venue with a St Tropez vibe. Guests can enjoy endless views while having a healthy breakfast of smoothies and fruits. Comfort foods such as fish and chips and hot-dogs are popular at lunch. This rendezvous, adorned with four tall faux trees and giant vases filled with flowers under a pergola, also incorporates Spaccanapoli, serving arguably the best pizza at sea, and the Grill, which offers diners the 'hot rocks' table-side concept where guests cook steaks and seafood to their liking on volcanic rocks.
An integral part of the three-deck-high Atrium is the Arts Café, which is close to the Reception and Concierge desks. A firm favourite with Silversea guests, this central meeting point serves speciality teas, coffees, and infused water, while pastries, wraps, sandwiches, and snacks are available until late afternoon.
With the administration functions located on Deck 4, the sophisticated Dolce Vita Lounge is now a more intimate, calming space with a central bar. Nightly performances by the accomplished pianist Alfredo set the tempo for the Silver Nova band, which plays until midnight. The late night revelry continues in the Panorama Lounge, where the DJ holds court until the early hours. Cigar aficionados head to the Connoisseur's Corner, with indoor and outdoor seating.
At the base of the Atrium is the Shelter, a contemporary new bar adjacent to Atlantide and S.A.L.T. Kitchen, which is an ideal pre- and post-dinner cocktail bar, accompanied by the classical strains of an accomplished violinist. It also specialises in a selection of Moët Hennessey's most prestigious champagnes, with many vintages available by the glass. The Observation Lounge is a superb vantage point to relax and enjoy the unfolding seascapes. Tucked away at the rear is one of the most fetching libraries at sea, with its ceiling resembling a planetarium.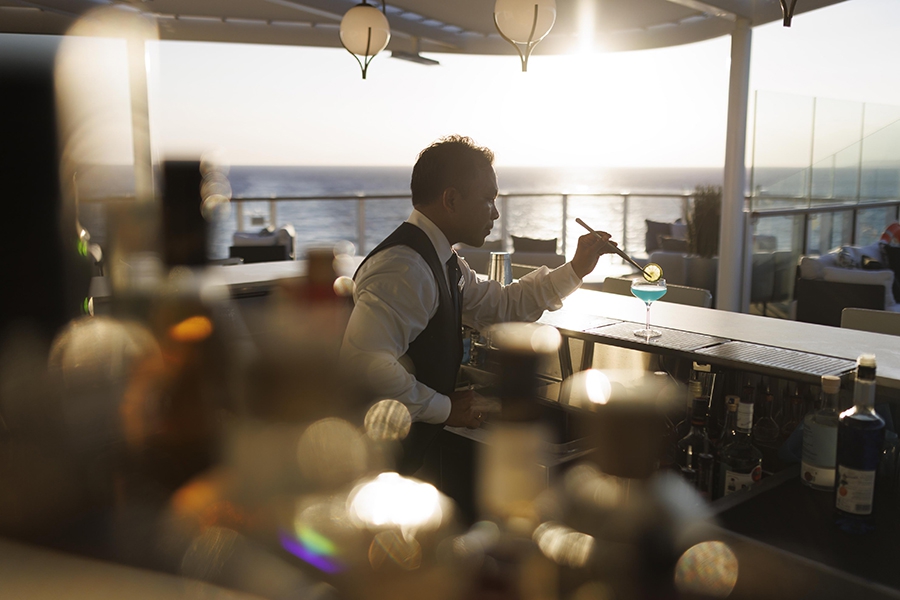 Entertainment centres around the light and airy Venetian Lounge. This is the first two-deck theatre since Silver Cloud and Silver Wind. There's cabaret-style seating, with intimate tables and chairs between the rows of tiered banquettes. There is also a small casino with Blackjack and Roulette tables, plus several slot machines. Spanning decks 4 and 5, is the large, high-end Boutique.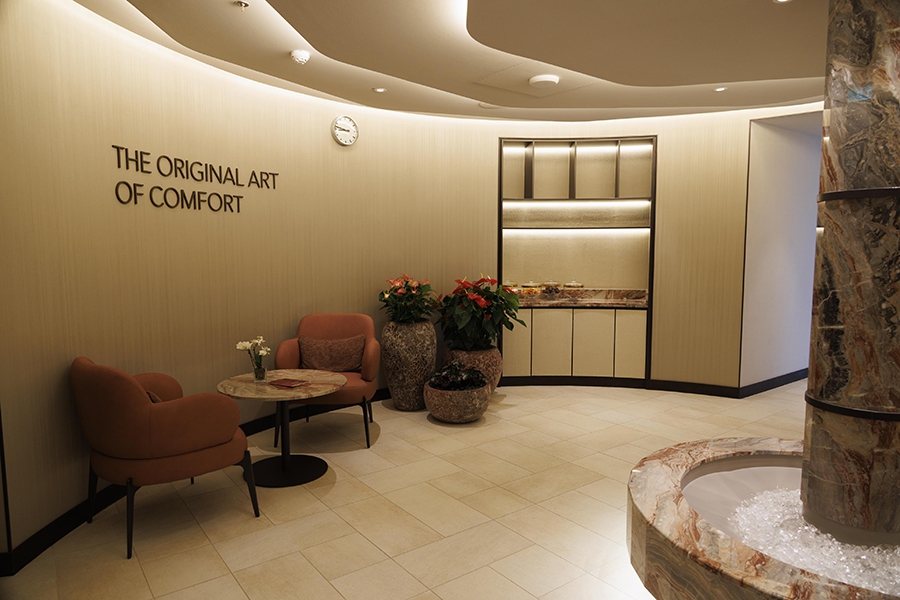 Towards the bow of the ship on Deck 5 is the Otium Spa. An arched corridor leads to the eight treatment rooms and relaxation rotunda. Inspired by the concept of a Roman bathhouse, the large thermal area includes steam rooms and saunas, as well as an indoor pool with a water fountain wall and floor-to-ceiling windows.
One of the most striking design feats aboard Silver Nova is the banks of three glass lifts that extend outward on the forward part of the port side and aft on the starboard side of the ship, providing passengers with superb views of the ocean. Because of the asymmetrical design of the ship, I found it took longer than usual to get my bearings. Once I had worked out the subtle concept of the four decks of suites topped and tailed by the public spaces, it was effortless.
The most headline-grabbing element of the ship, however, is not on display for guests. Below decks, there's been a hi-tech revolution that's the envy of the cruise industry and represents a significant step towards a zero-carbon future, which is the ultimate goal of the cruise industry. The propulsion system has resulted in 40 percent more energy efficiency than Silversea's previous ships thanks to advances like LNG (liquefied natural gas), waste heat recovery, and battery banks. Silver Nova is the most sustainable ultra-luxury cruise ship at sea. It is also Silversea's first ship with dual-fuel capability, switching to LNG whenever there's the opportunity to use this cleaner fuel rather than burning marine gas oil. In addition, banks of batteries kick in whenever additional thrust is required, rather than powering up another engine. Silver Nova also has the ability to plug into emissions-free shore power while docked.
This summer, Silver Nova will sail on 7-, 8-, 9-, 10- and 11-night Mediterranean itineraries before positioning to the Caribbean for the winter. The ship's christening will take place in Port Everglades on 4th January 2024. Later next year, a virtually identical sister-ship – Silver Ray – will also elevate the guest experience for this thoroughbred cruise line.
©  Gary Buchanan
---
Want to experience Silversea's ultra-luxury like Gary?
Give the Panache Cruises team a call on 0161 513 8200 and they'd be happy to help!