A Magical Trip to the Galapagos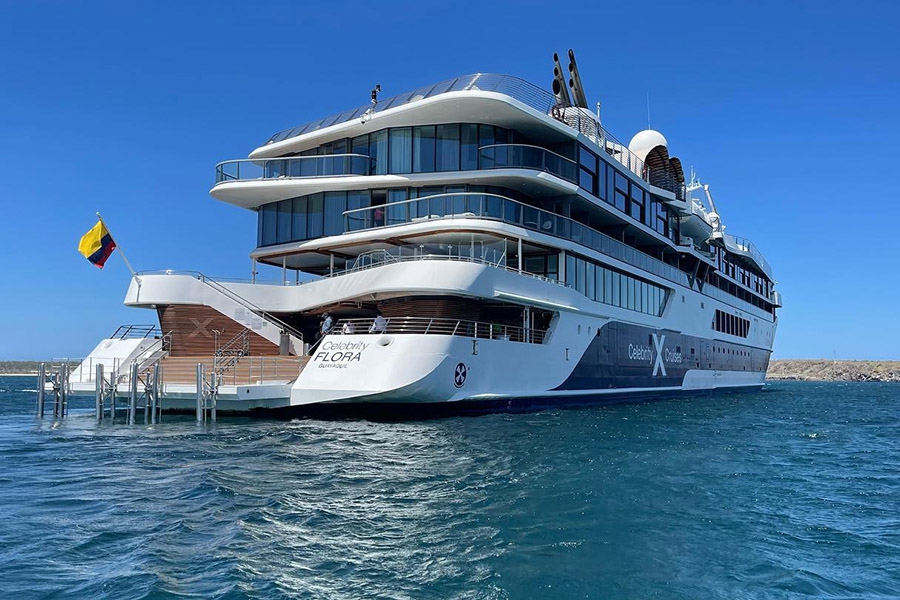 A Magical Trip to the Galapagos
I was lucky enough to be given this amazing trip by my fantastic boss James Cole, to experience the cruise of a lifetime alongside my lovely colleague Emma Taylor.
Celebrity Cruises made the whole process seamless. When we arrived at our hotel in Quito it was explained to us that we should take it easy with it being our first night in the second highest city in the world. We were greeted by hotel staff who gave us some special tea for acclimatization to the high altitude.
Celebrity Cruises were all over this and the safety of all passengers, and upon arrival into Quito we also had to complete our first Covid test two days prior to boarding to ensure we were negative. This was a PCR test, and we got the results the next morning. Celebrity Cruises also tested us before we left the hotel prior to boarding a flight to Baltra in the Galapagos. This was great as all expenses for testing was fully covered by Celebrity.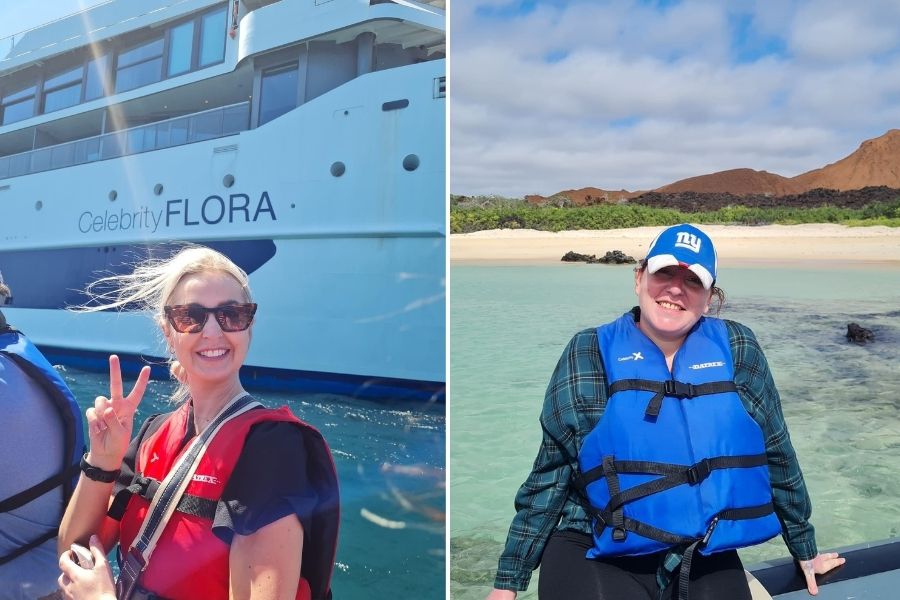 In terms of the safety of all guests, when on coaches and the flight guests did need to wear masks. We were all given our own sanitisation pack which included two complimentary face masks and one hand sanitiser. We were all separated on the coaches to avoid as much transmission of Covid as possible.
When we boarded the Celebrity Flora, we did not need to wear face masks as we knew by that point that everyone who was on the ship had tested negative. The crew were quick to give us a safety briefing on the top deck and then in the early evening we were given all of our snorkelling gear and wet suits ready for the week ahead. The expedition and safety team were very efficient in giving this out and ensuring all of our gear fit us correctly.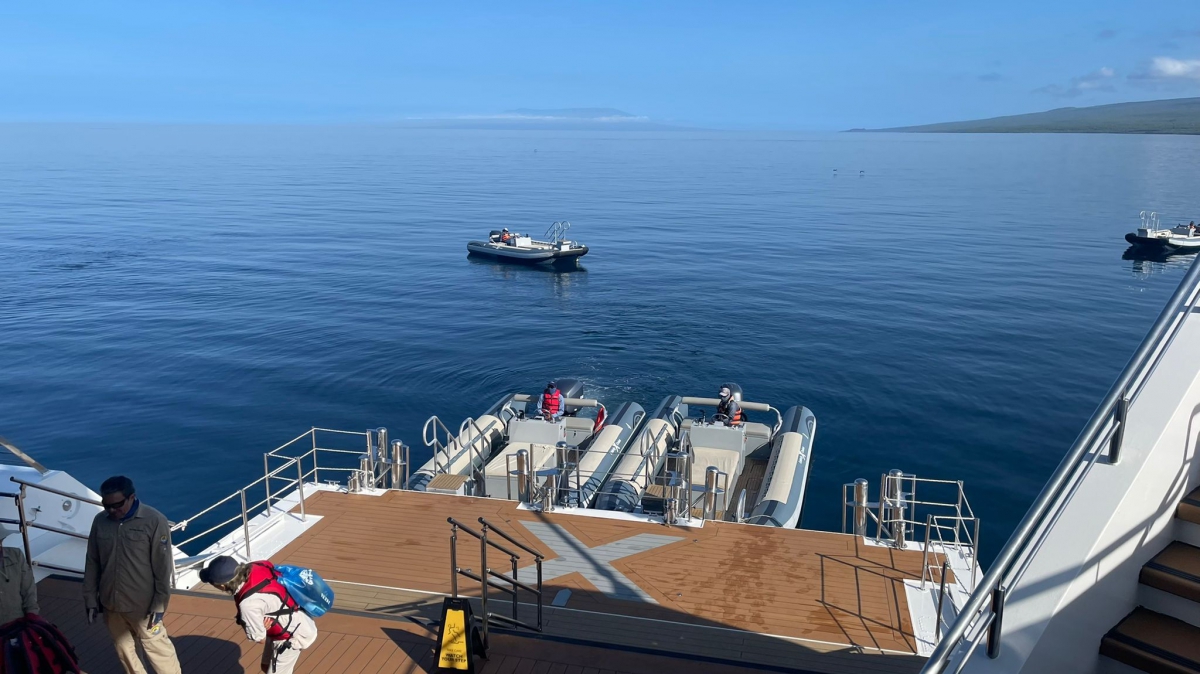 The Sky Suite
We were staying in a Sky Suite with Veranda, which I would whole heartedly recommend to book if you want a FULL veranda, as the Sky Infinite suites are actually more like a French balcony. Our suite was just totally out of this world, upon arrival I was blown away with just how clean and beautifully the suite was set up. There was a bottle of champagne in an ice bucket, chocolates neatly placed on the dressing table, and the beds were SO comfy. The balcony was not your usual size, it was actually bigger than a lot of standard balconies. It was big enough to fit a small table and two chairs onto it or a lay down bed.
The marbled modern bathroom was gorgeous, we even had our very own filtration system in there to fill up our Celebrity Cruises water bottles that they kindly provided us with. There was a full length mirror in the bathroom which is always a plus on holiday, as well as double sinks and a larger than normal shower, however no bathtub!
Our mini bar was set up with fizzy drinks, beer, and wine. We could also request any cocktail to our cabin, nothing was too much trouble - I loved this, it also didn't feel too formal, everything was just so relaxed. The wardrobes were really big actually, and I normally worry about hotels and ships not providing enough hangers but there was plenty. The suite had a lot of storage space for shoes and clothes, which was fantastic! You can also pop your suitcases under the bed as they easily slot under there leaving you lots of room in the suite. There were also numerous films and documentaries available in-suite which were complimentary, these were great if we were shattered from a day of exploring and wanted an early night - we did this twice throughout the journey as it was very full on.
The best thing about the suite for me was the fact that the beds faced the balcony doors, and there was a switch if we were feeling rather lazy so that we could open/close the curtains from the comfort of our bed! Let me tell you, there's nothing better than waking up in the morning to the view of a stunning sunrise over the beautiful Galapagos Islands.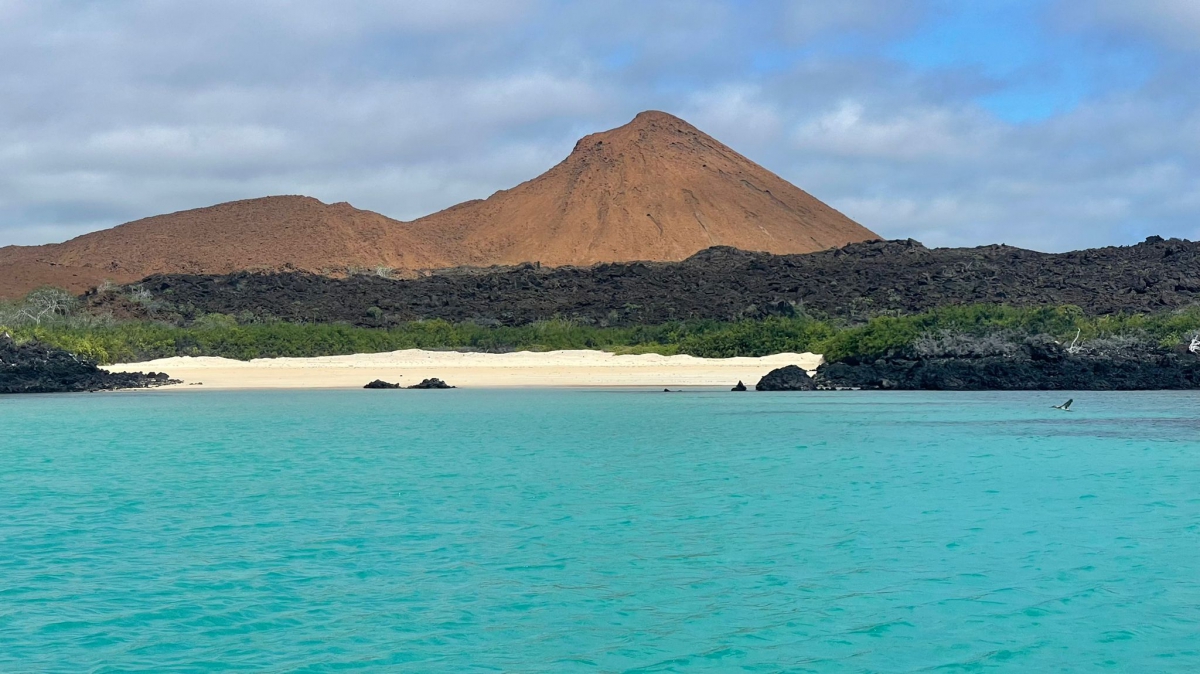 The Food
Wow wow wow. Where do I start here? On board the Celebrity Flora there are only a couple of restaurants to dine in. However, my goodness the food is a real treat!
Breakfast is always a treat when you go away as I normally miss it back at home. However, when you have the option for French toast, pancakes, fruits, smoothies, full English breakfasts, you name it you can't miss it. Breakfast is served in the Seaside restaurant where evening meals are also served, there was a whole array of choices for breakfast. The service was impeccable in here, you could have coffee on tap, fruit juices and anything else we asked for they endeavoured to get it for us. On other days we decided to have room service for breakfast as with all the suites 24/7 dining is available.
My favourite dining venue had to be Ocean Grill on the top deck, where from 12-1:30pm we could order anything from hummus and dips to fries and a burger. There were also seafood options, snacking options, and desserts too. Right next to the Ocean Grill is a bar where cocktails are made, along with other drink options all served by the attentive staff.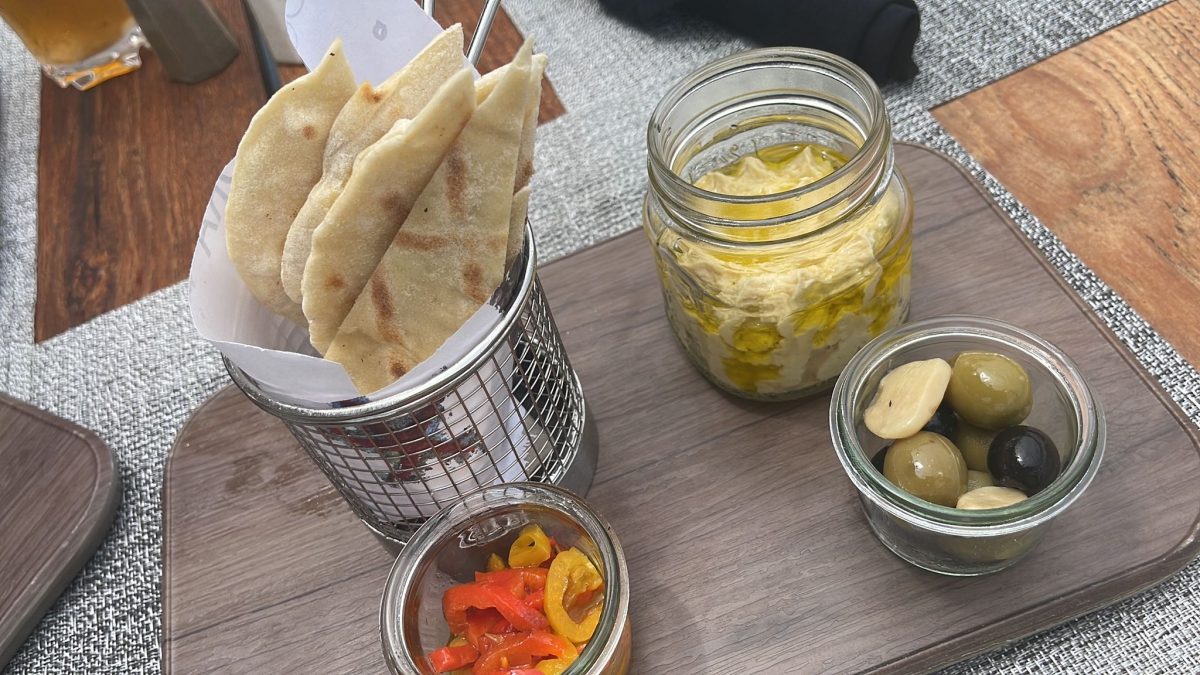 In the evening Emma and I would dine in the Seaside restaurant which served various beef, steak, chicken, and fine seafood options. With the Celebrity Flora having to stick to the regulations of the Ecuadorian Government on what food supplies are allowed on board, I think they absolutely nailed the food. It was also very casual attire for evening meals so we did not need to dress up at all with it being an expedition style cruise.
There was the option to dine under the stars at Ocean Grill, you do have to book this when you board the cruise however. Emma and I did book this and it was well worth it, the menu was very similar to that of Seaside restaurant, however it was extra special to be able to dine in the middle of the Galapagos at night time. The staff even came over and provided us with a blanket as it got cooler in the evening!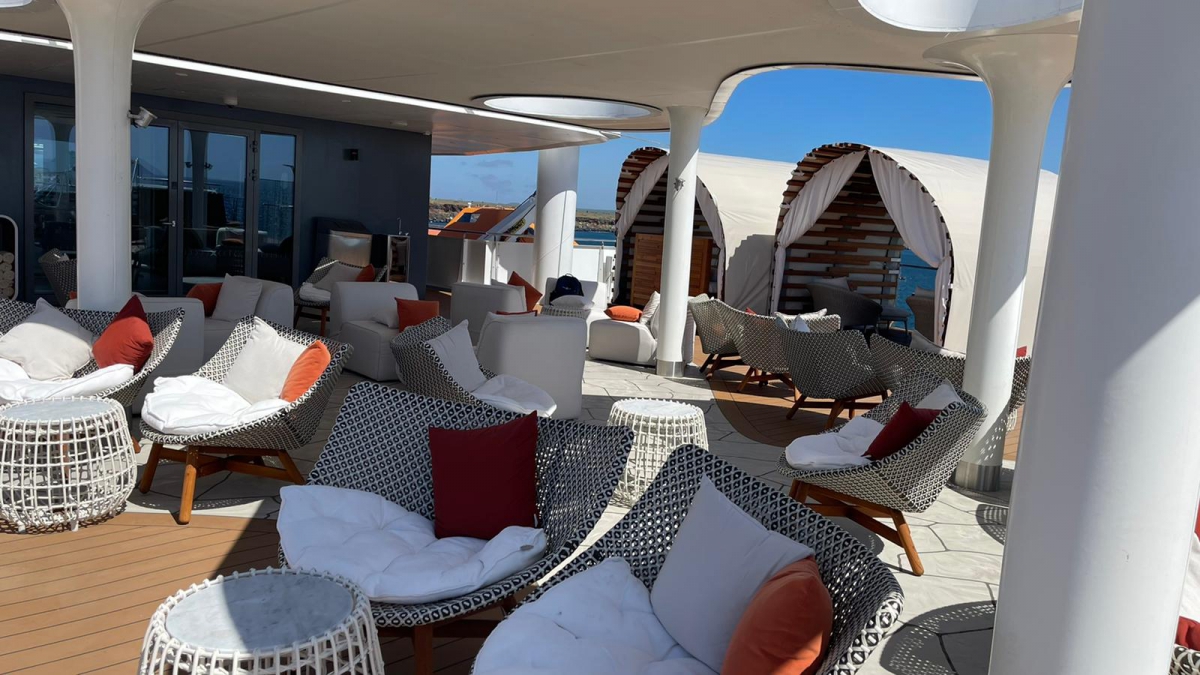 One of the last dining experiences which I must mention is the room service menu, I found it quite cool how you can scan the room service menu by QR code. There were plenty of options to choose from with room service - I always opted for the Galapagos burger! It came with fries and it was very yummy. One night Emma ordered from the Seaside restaurant and had full suite in-room dining which was also fine to have.
Overall the food was lovely with Celebrity and I was really impressed with the variety considering how remote the destination is.
The Excursions
Before boarding Celebrity Flora, we were lucky enough to stay two nights pre-cruise at the beautiful JW Marriott Hotel which I must say was spectacular. As Quito is the second highest city in the world, when we were greeted we were given a special tea to help with the high altitude of the city. The meet and greet from the airport to the hotel from Celebrity was phenomenal and we had our own private car from Quito airport to the hotel with bottles of water provided. The hotel staff at the JW Marriot were brilliant and faultless, they couldn't do enough for us.
Our second day in Quito consisted of a 7 hour city tour around Quito followed by lunch in a local monastery. After this we then went on to visit the Equator line, now that was pretty crazy! We were given a tour around a museum and got to know about the history of Ecuador.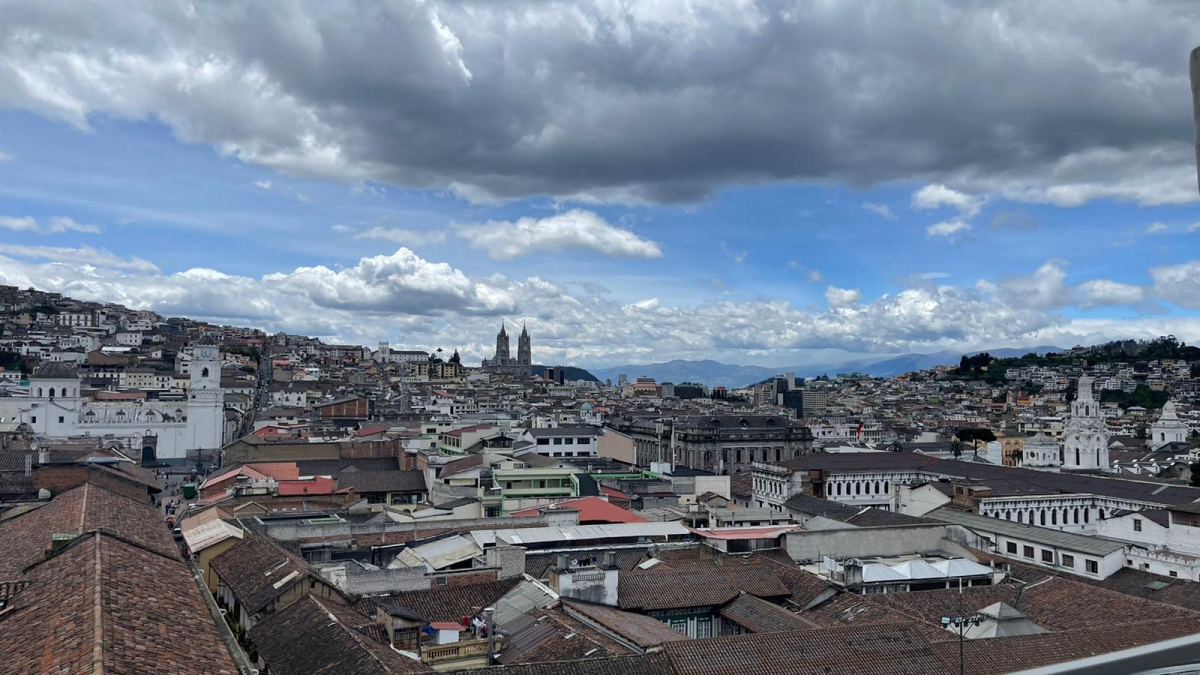 On board the Celebrity Flora, there is a dedicated team of Ecuadorian locals who have lived in the Galapagos Islands for most or all of their lives. So there was nothing better than knowing that we were going to get expert knowledge of the wildlife and geography from them. Each evening experts led the daily excursions (some have worked for Celebrity Cruises for over 17 years!) and gave briefings about the excursions that lay ahead the following day. 
We visited many beautiful and historical islands in the Galapagos, we cruised the inner loop which is the best option for the geography and landscape (apparently the outer loop is best for more wildlife, although we saw loads on our route). We managed to see seals, penguins, blue footed boobies, turtles, flightless cormorants, pelicans, and sea lions. We even had a sea lion join us on one of our tender boats! That was probably one of my highlights getting up and SO close to this cheeky fella, who just decided to relax all day, not that we needed the tender boat or anything...!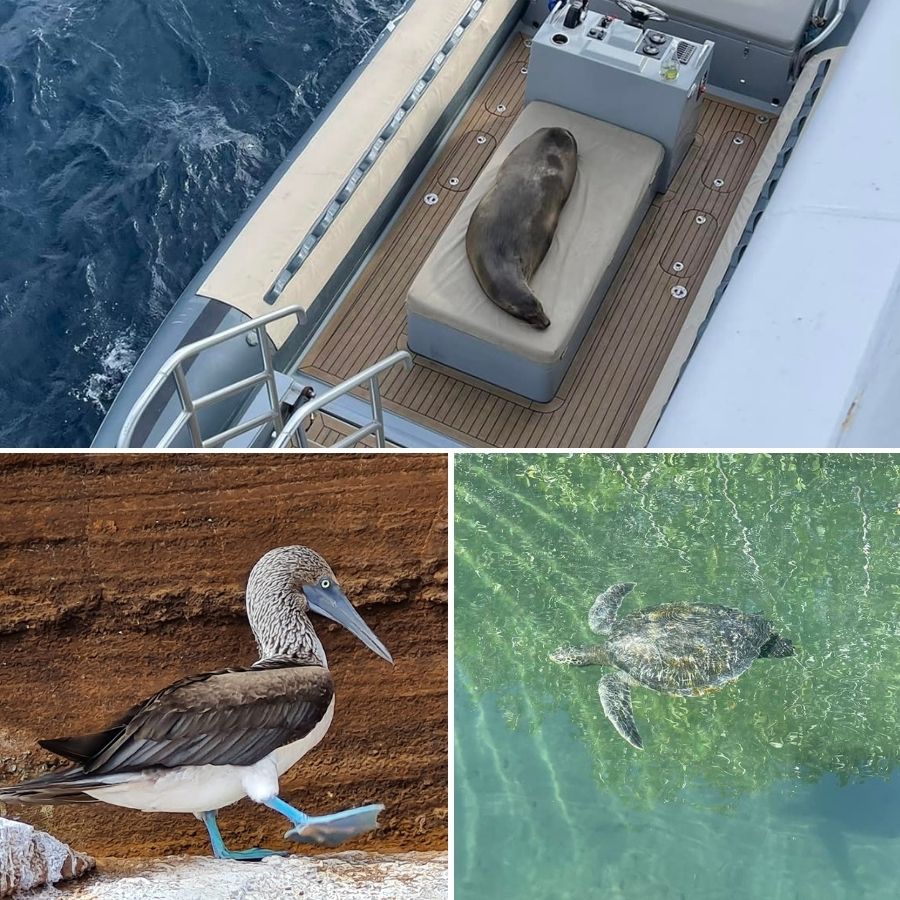 On the last day, there was a whole ship excursion on the Saturday to Santa Cruz Island, where we were lucky enough to visit Manzanillo Giant Tortoise ranch, some of the giant tortoises here were potentially more than 100 years old. It was incredible, we were able to take photos and get as close as 1 metre away from them. At the ranch we were served lunch off the ship and treated to a dance from the local school - that was rather amazing too.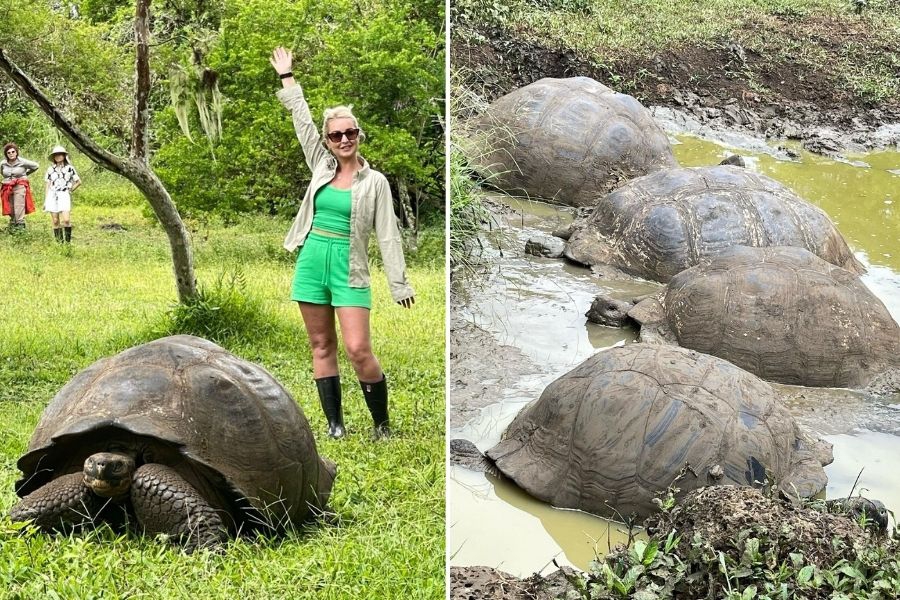 Personal Highlights
My highlights from this once in a lifetime trip were both the ship itself and the wildlife we encountered on excursions. I am just so amazed by the Galapagos and how the islands were formed by volcanic activity, it just absolutely blows my mind. It was great to learn so much about the islands and get so close to the wildlife.
When the tender boat got closer and closer to the ship, I felt like I was going to cry a little because of how beautiful the ship was. It is most certainly even better in person than in the photos. She really is remarkable.
The big thing for me from the start was to be able to see the giant tortoises, and guess what, I did! They are even bigger in real life from what you see in photos. They are a bit nervous and hiss a little bit which I didn't even realise they did. I loved seeing the penguins too, they were only 19 inches in size and the second smallest in the world - they're adorable!
One thing that really touched me was that Celebrity Cruises gives something back to the environment. At the start of our tour on the last day we were taken into a remote forest where we planted two different types of trees - that was so cool. I am proud that Celebrity care about sustainable tourism and that I was able to take part. They do this on every cruise, for all 95 guests, so there is some serious tree planting going on!
Overall, the whole experience was incredible. The organisation of the transfers, hotel stay, and Quito tour was second to none. The staff at Celebrity Cruises really care about making sure your experience goes as smoothly as possible with them. I have had the most amazing experience of my life on this trip and I will forever be grateful for the opportunity to visit this remote corner of the world.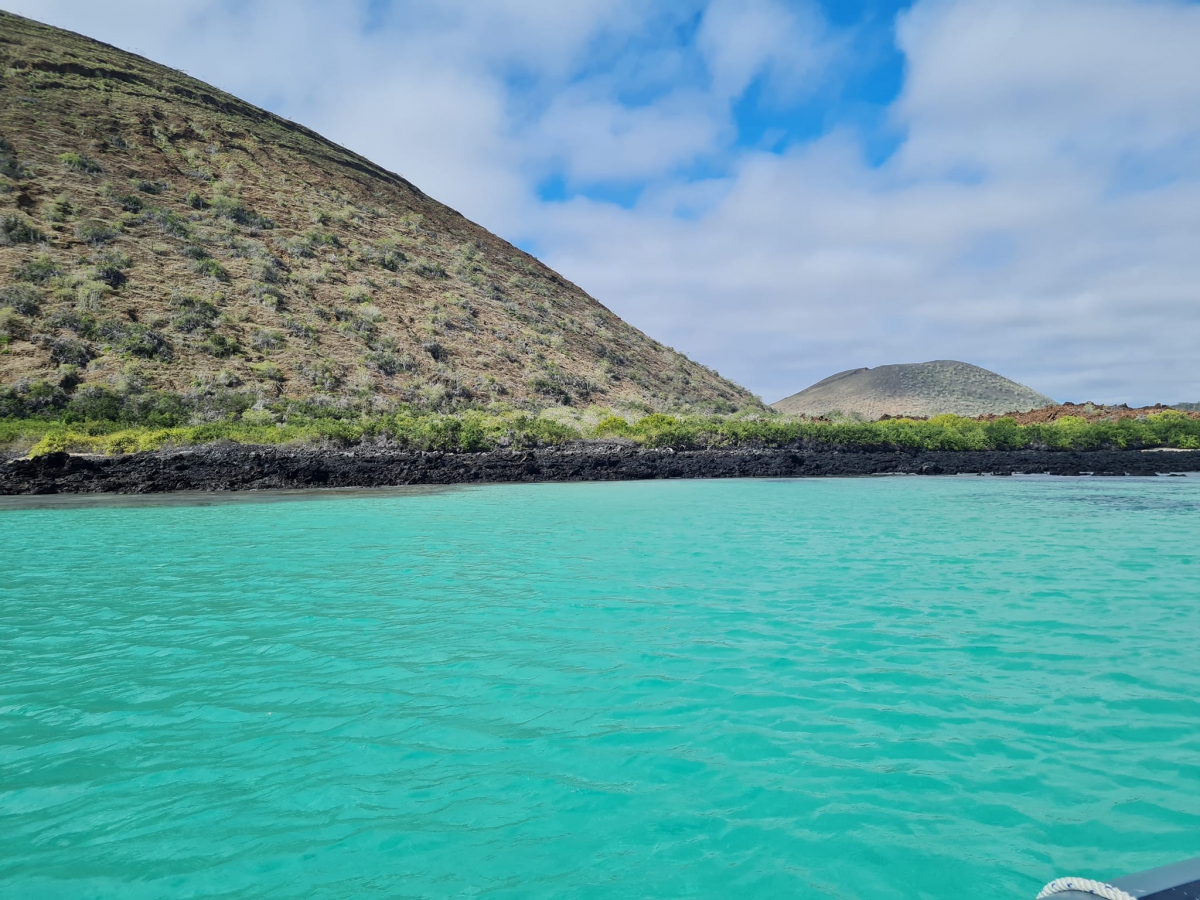 If you would like to book an expedition cruise to the Galapagos Islands, please don't hesitate to give me a call on 0161 513 8209 and I'd be more than happy to share my experiences with you and help to book your dream cruise!