Living the Suite Life on Seven Seas Voyager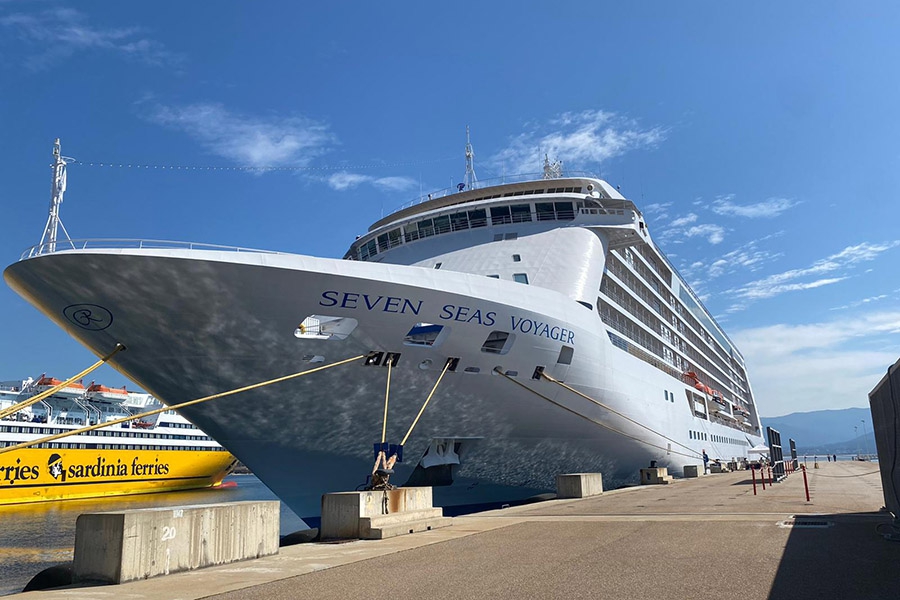 Living the Suite Life on Seven Seas Voyager
A couple of weeks ago, three Panache team members were invited on board Regent Seven Seas Voyager for her 'shakedown' - after not being in operation for two years due to the pandemic, Voyager was finally sailing again and our team were there to see firsthand how it went. 
The ladies were treated to three of the best suites on board - the Voyager Suite and two Penthouse Suites - and Lyndsay has reflected on how the luxury and comfort of these suites enhanced the overall experience with Regent Seven Seas. Read on for more details from Lyndsay...
"I was staying in a Penthouse Suite number 868, this suite has the added advantage of a private butler who was always on hand for any requests I asked of him, he was waiting for me with a chilled bottle of champagne and a fruit plate when I arrived and took the time to show me around my suite and go through the pillow menu too!
My suite was decorated in warm mink and cream tones and had a fabulous and extremely comfortable memory foam topped bed, a large dressing table/desk overlooking the sea and a walk in wardrobe that was larger than my ensuite bathroom at home! The bedroom area could be portioned off by a curtain from my sitting area which housed a 3 piece suite and coffee table, perfect for sitting and relaxing with a coffee in a morning whilst reading a book, or enjoying a glass of bubbly and my early evening canapes that were delivered to my room every evening before getting ready to go down for dinner.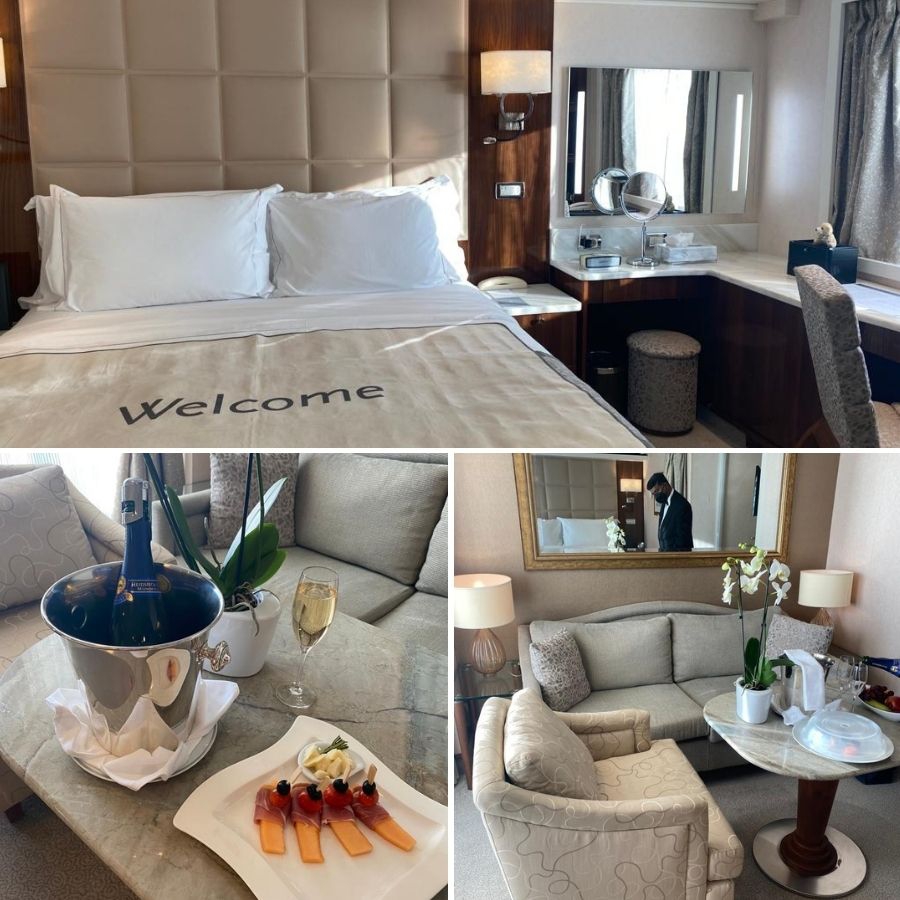 My suite had a good sized balcony (approx. 5 square metres) which had lovely rattan recliners perfect for sitting and watching the world go by at sea!
My bathroom was fantastic! Floor to ceiling marble and granite counters, with a full size bath, separate glass shower cubicle a very spacious granite sink area, with lots of mirrored shelving, which we ladies need to house all our lotions and potions! Being in the penthouse also meant we were treated to upgraded bath amenities by L'Occitane and Guerlain , aswell as priority online dining and shore excursion reservations.
Catherine, my colleague, had the beautiful Voyager Suite all to herself. This suite was incredibly spacious and light, with a large private bedroom separated from the living area. Sliding doors opened onto the balcony which was really big, a perfect spot to enjoy a glass of Champagne before going for dinner. The open space in the living area was really the highlight of this suite as it made it feel like a chic and spacious apartment. The Voyager Suite actually accommodates up to four guests, so you can just imagine how large the suite is. Catherine enjoyed brilliant butler service, a grand marble bathroom, and all the extra amenities which help make the Voyager Suite elevate your stay on board Regent Seven Seas Voyager.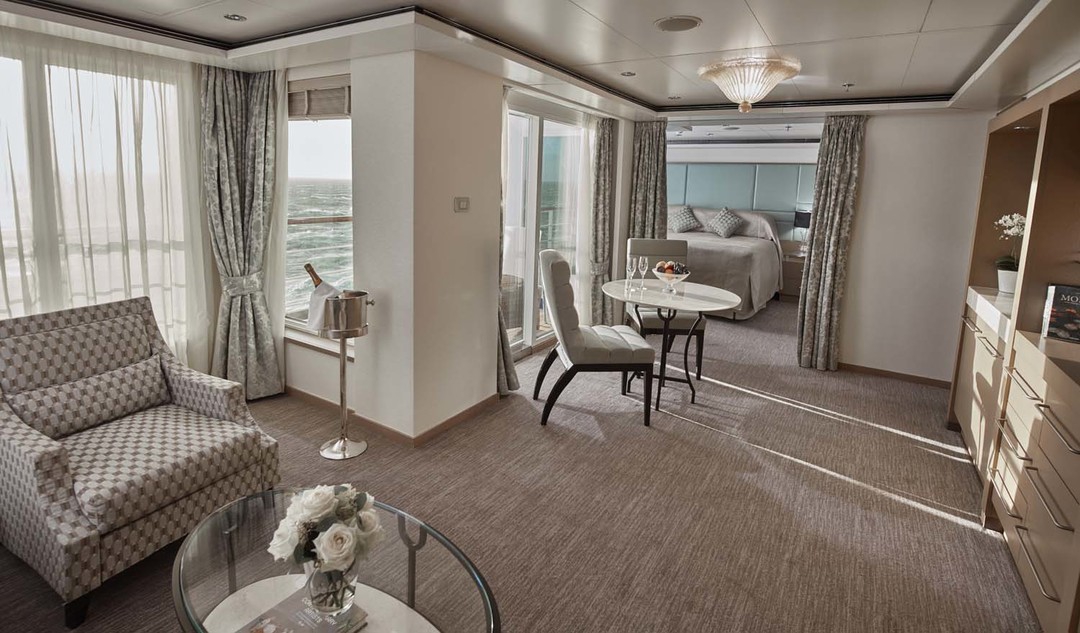 The Master Suite is the top suite on Voyager and from the moment you walk in your get the Wow factor! Placed just off the pool deck they are positioned perfectly for wandering straight out onto the pool deck area. On entering the suite through a small hall, you have your very own beautiful rosewood paneled bar complete with cream granite worktops and everything you would need at your very own bar – perfect for entertaining new friends!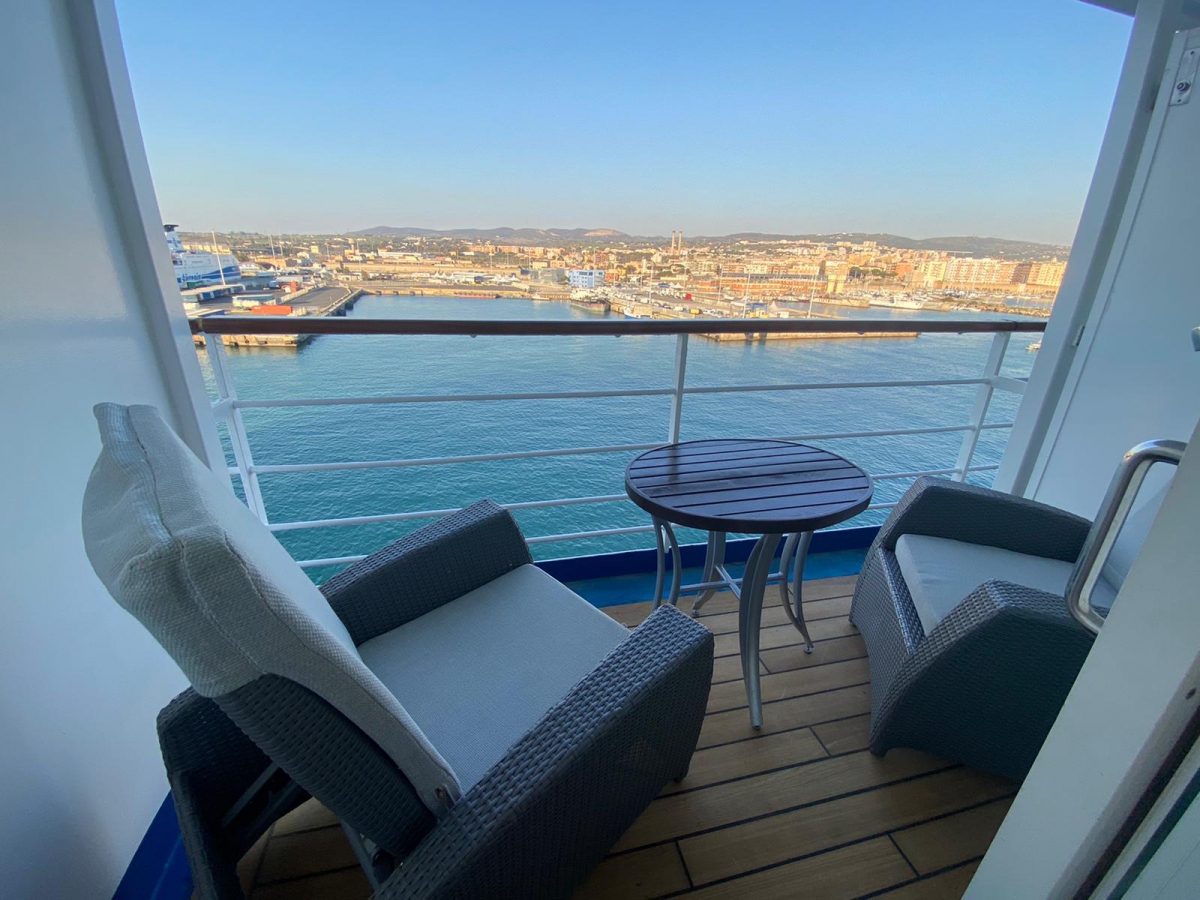 Continuing into the palatial lounge/dining area which was sumptuously decorated in hues of pale greys and taupe's with rosewood cabinetry continuing throughout. This suite has 2 bedrooms both with their own balconies and full bathrooms with the master bedroom having the luxury of a walk in wardrobe just off the beautifully appointed bathroom, which is complete with its own steam shower, dual sinks and free standing bath – beautiful !
With two bedrooms, this would be perfect for a grown up family or sets of friends travelling together its like having your own chic 'New York' style apartment at sea! This suite comes with a whole host of extras including guaranteed reservations in all the specialty restaurants and complimentary cocktail party too!
The opulent Grand Suite is open plan and even has 2 entrances! This suite has a great size lounge and dining area, with sumptuous 3 seater sofa and 2 chairs sat next to a lovely rosewood media wall housing a large TV and book library, prefect for when you just fancy a lazy evening watching a movie in the comfort of your suite!
4 seater marble dining table with modern cream leather chairs overlooking the floor to ceiling windows, perfect whilst your butler serves you your evening dinner course by course, if you choose to escape it all and dine in your suite! The bedroom in this suite is something special, apart from the exclusive regent king size slumber bed, there is a leather chaise lounge right next to a large private Jacuzzi with floor to ceiling windows – now that's a bath with a view!! A large balcony with reclining rattan furniture, guest bathroom, sumptuous marble master bathroom and walk in wardrobe complete this luxurious suite.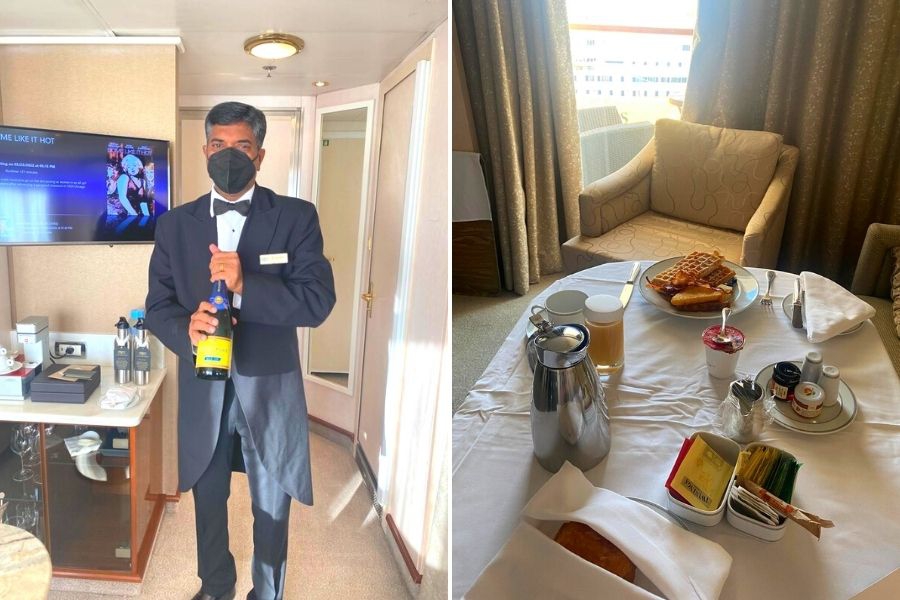 Entering through a marble floored long hallway, brings you into the open plan Seven Seas Suite, the warm rosewood paneling continues throughout this suite, with cosy fabrics and modern art. The suite comes with a guest bathroom just off the hallway and a good size open plan living/dining area that has a warm velvet corner sofa and glass coffee table for you to sit any enjoy your bottle of champagne on arrival.
A beautiful two-seater glass dining table is perfectly positioned infront of the floor to ceiling glass doors, that continue out into your furnished teak balcony. Off your sumptuous bedroom area with large picture window is your walk in wardrobe which having cruised on other ships, I can honestly Regent do have some of the largest wardrobe areas of any cruiseline, which is always important when cruising for all those dresses and outfits us ladies (and men!) like to take with us on holiday – and that's before all the shoes we bring too! Continuing through your walk in wardrobe brings you to your deluxe marbled bathroom, with full size bath, separate glass walk in shower and marble sink tops. I was impressed with the size and opulence of all the bathrooms in all categories on this ship.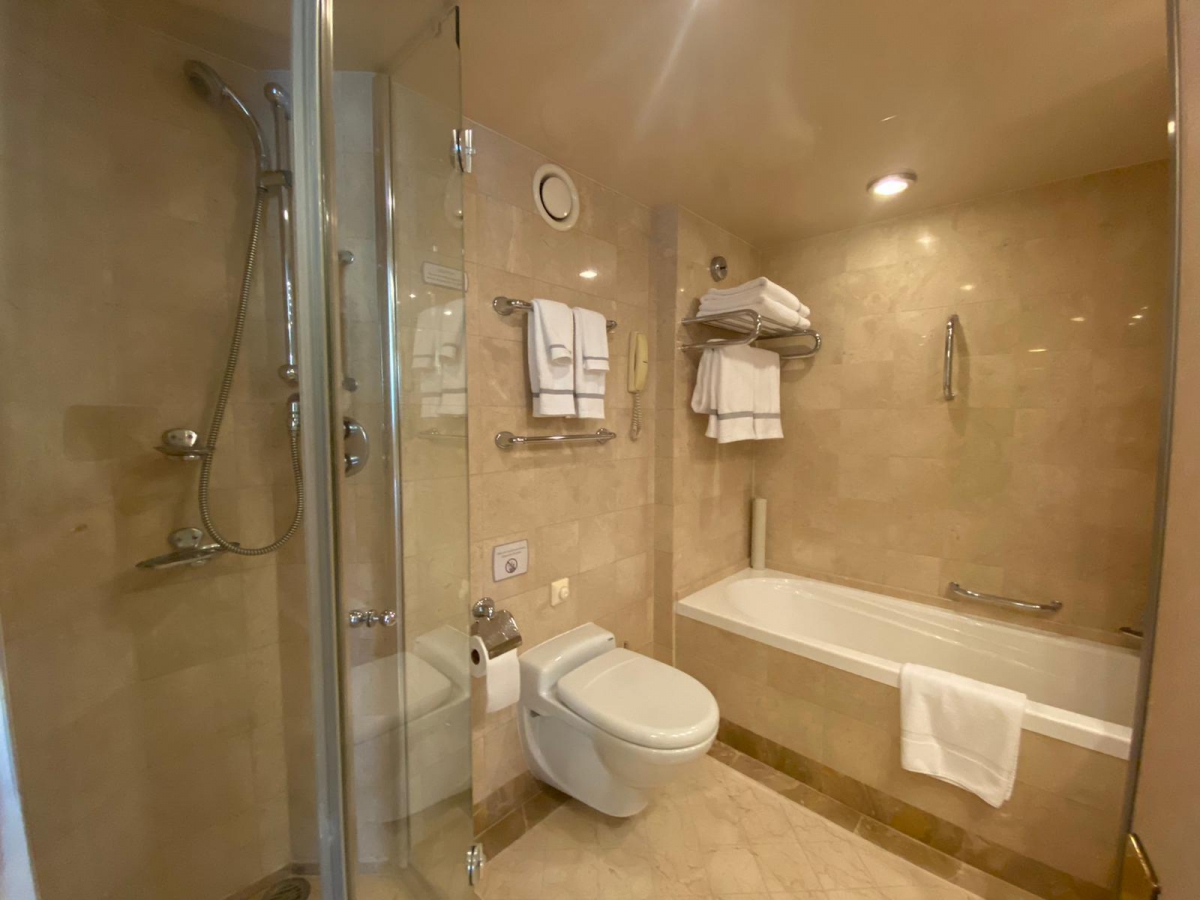 The Deluxe Veranda and Concierge Suites are identical, the concierge suite comes with heightened amenities being the 1 night complimentary pre cruise hotel with transfers, breakfast and porterage which starts at this level aswell as the Illy espresso makers and cashmere blankets, which are perfect for that morning cup of coffee whilst sat on your balcony enjoying your in-suite breakfast if you so wish!
They are a beautifully appointed 'lead in' category suite, trust me you will not feel disappointed in this suite category at all, every part of these suites have been designed to maximize the space, decorated with luxurious fabrics and mirrors in either creams and royal blues or golds.
All of these Suites have the exclusive Regent Slumber Bed which always ensured a peaceful and very comfortable night's sleep. The suite also enjoys a sumptuous seating area in which to enjoy the fabulous views from your floor to ceiling glass doors through to your private, well-furnished balcony complete with plush rattan chairs and table where you can enjoy a glass of wine whilst taking in views that only a cruise can offer.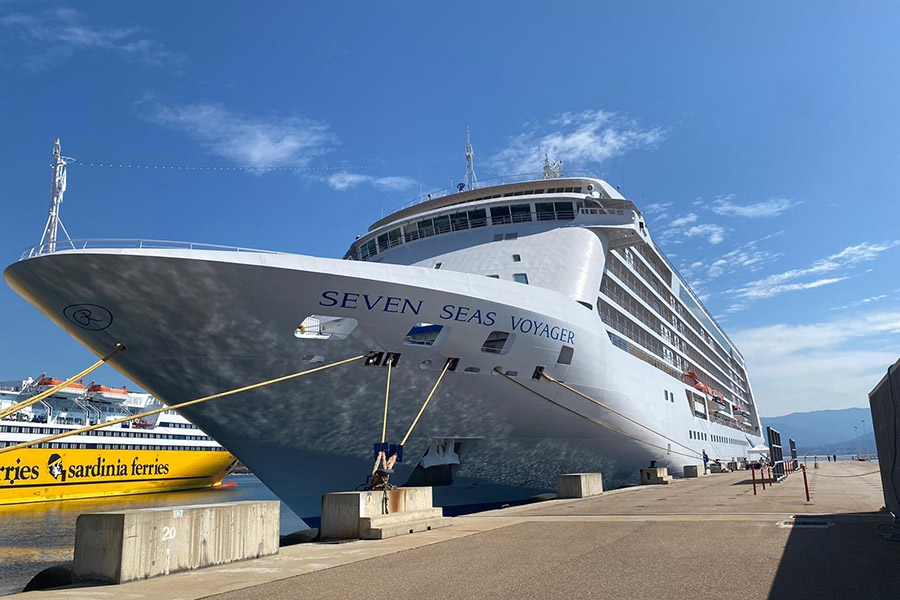 I must also note that our comfort both in and outside of our suites was also due to the health and safety measures on board. As I was lucky enough to be staying in a Penthouse Suite, I had the luxury of my own private butler who upon greeting me on my first day through to the end of my stay always wore a mask in my presence. Whilst on board Voyager, masks have to be worn when walking around the ship indoors, but once we sat in a restaurant/café/bar we were able to remove them. I didn't find this an issue at all and if anything it made me feel secure that extra precautions were being taken. Overall I had an amazing experience sailing with Regent Seven Seas and can't wait to (hopefully) sail with them again in the future!"
If you would like to book your next luxury cruise on board Regent Seven Seas, call us today on 0161 513 8200 and we would be delighted to help.