First Guests on Emerald Azzurra!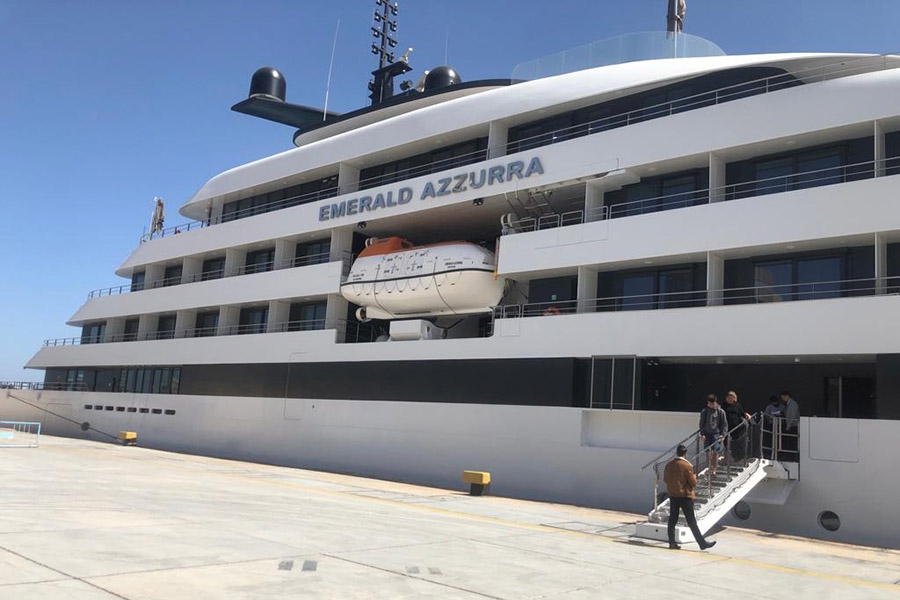 First Guests on Emerald Azzurra!
At the beginning of March, Panache Cruises' Sales and Operations Director Clare Cruise was invited on board Emerald Cruises' brand-new superyacht, Emerald Azzurra, on her inaugural cruise out of Aqaba, Jordan.
As it happens, Clare was the very first guest to step on board Azzurra – an absolute honour and an unforgettable experience!
Every guest was welcomed on board by a group of local dancers before getting tested. At this point, the healthy and safety regulations were not as strict as we saw them last summer, for example, and were carried out smoothly and efficiently. After testing, nothing else was required of the guests and masks were not mandatory on board – a welcome relief to everyone. The only time health and safety was an issue after embarkation was when Azzurra docked in a port where local authorities requested testing; a local representative would simply come aboard to carry out the procedure and then everyone was good to go.
With a maximum of 100 guests on board and 64-68 crew, Emerald Azzurra is not your typical yacht-style cruise ship. Rather, it feels like your own private yacht. What more could you wish for?
Each suite on board is beautifully appointed; from the cosy yet spacious lead-in Oceanview Suite located on Deck 3 and the stunning Balcony and Deluxe Balcony Suites which offer a small outside space to enjoy a glass of Champagne as you watch the sunset. As the name suggests, the Terrace Suite boasts an extremely spacious terrace and is in perhaps the best position on the aft of Deck 5. This suite includes a comfortable corner sofa, sun loungers, two sets of French doors, and even an outdoor minibar.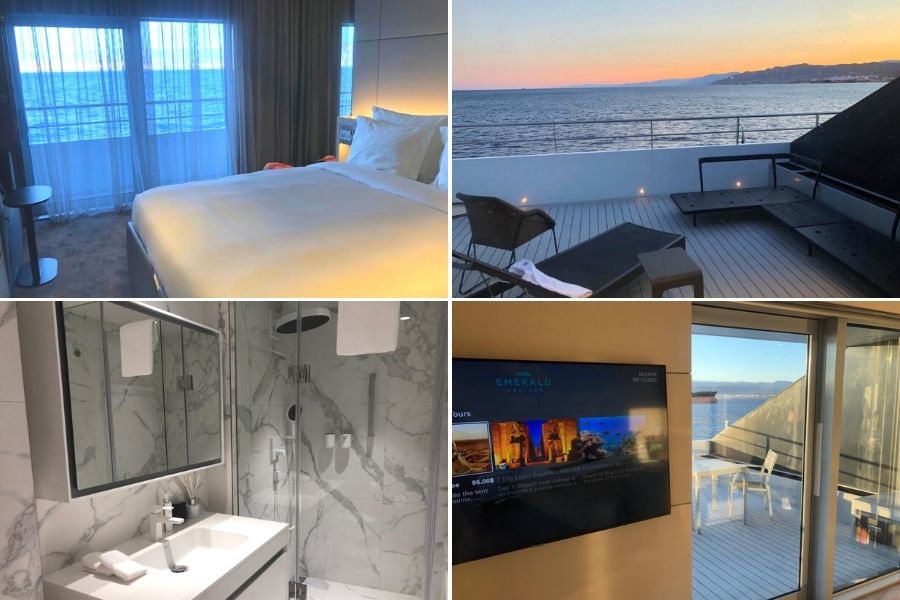 The Yacht Suite, located on the aft of Deck 4, is where Clare was lucky enough to stay, and this housed a spacious terrace complete with corner sofa, sun loungers, seating area, and outdoor minibar. The balcony wraps around the suite with two sets of French doors (similar to the Terrace Suite), but inside the space is even larger and more comfortable. The ensuite is huge with a beautiful multi-jet shower, and the walk-in closet is also incredibly spacious. With unique touches such as electric blinds, adjustable beds, and a personal coffee machine, this suite was magnificent.
Finally, the Owner's Suite is located right at the front of the ship on Deck 6. The balcony of course is very large and well-furnished, like the other terraced suites, but inside is a little more spacious than the Yacht Suite. A reception room welcomes you the suite and guides you to lounge area, spacious bathroom (with bath), huge walk-in closet, and bedroom complete with another private balcony.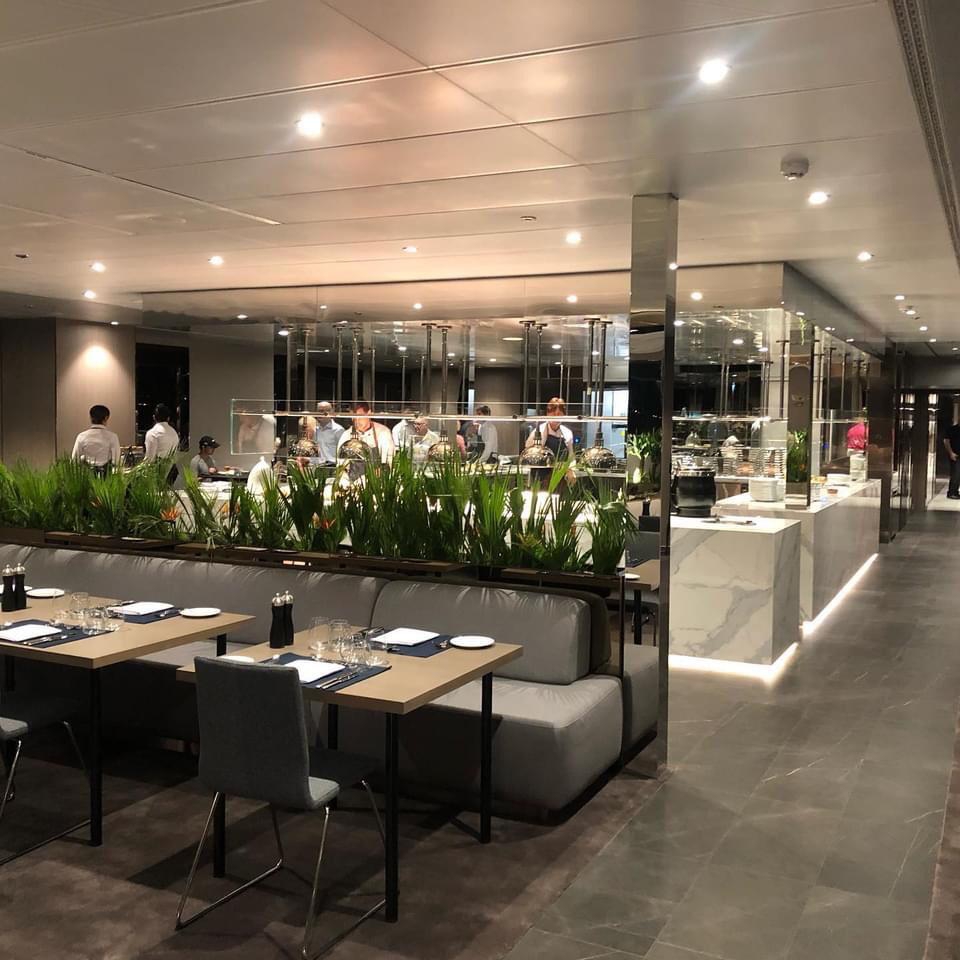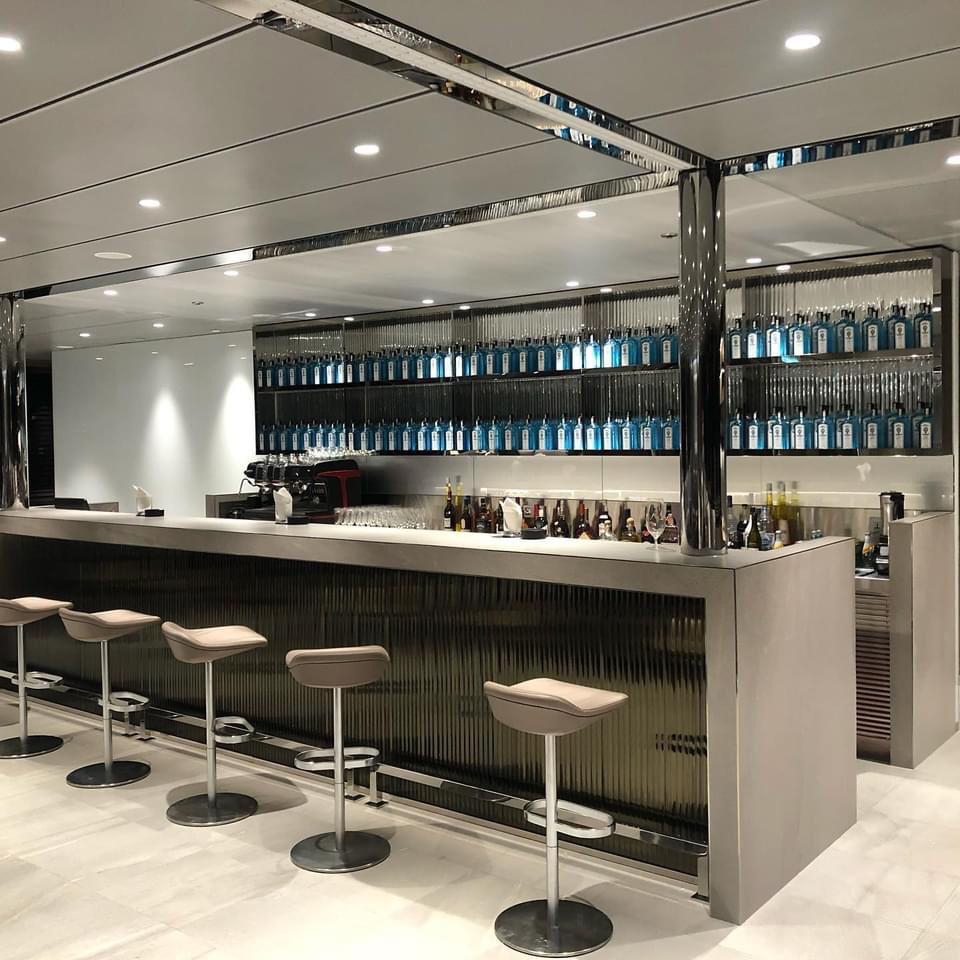 The service on board Emerald Azzurra was great and very personal. With the yacht being so small, there is only one restaurant on board but wow it's good! The menu contained a variety of classics which remained each day but then there were two extra choices which changed daily.
In particular, the lunch buffet was one of the best that Clare has ever seen, and the quality of food throughout the cruise was incredible. Some people worry that a small ship cruise with fewer options impacts the standard of dining, but Emerald Azzurra proves that this is not the case. Additional eateries around the ship include Sky Bar on Deck 7 and the Aqua Café on Deck 6 where guests can lounge by the Aqua Pool and enjoy anything from a coffee and pastries to a cocktail and a snack. The Aqua Pool and Sky Deck are both really quiet and intimate spots on Emerald Azzurra, with an infinity-style pool and a spa pool  – sailing around the Red Sea in the scorching heat, these had to be taken full advantage of.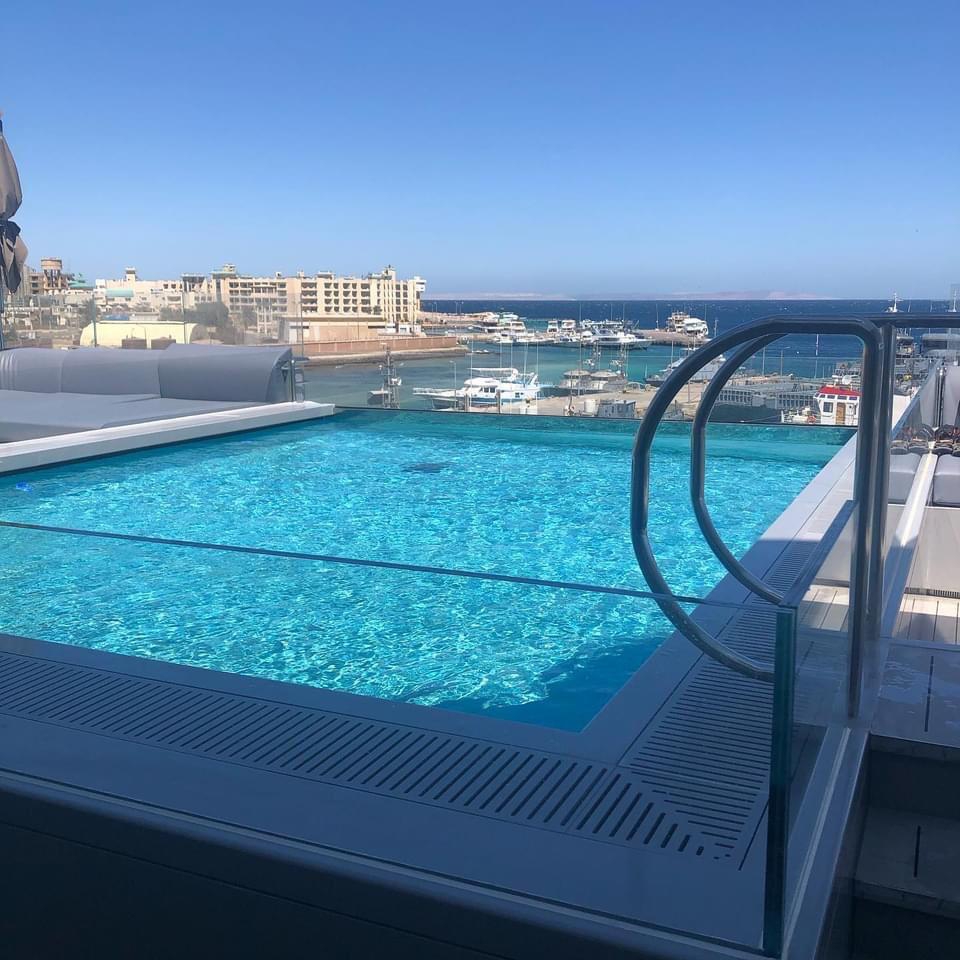 Excursions are included in most ports, with extra activities and day trips on offer at an extra charge if you wish to do something a bit different. A group of guests took the opportunity to travel to the iconic site of Petra, which is one of the New Wonders of the World.
However, the yacht itself was the highlight of Clare's trip. Feeling both small and intimate, yet pleasantly spacious, the ship never felt busy even on a sea day. Emerald Cruises has excelled with the design of Emerald Azzurra and made it feel modern and chic with crisp, clean lines – no clutter or over-the-top adornments.
In the evenings, it was lovely to not have to move very far from a spot by the pool to the comfortable bar area for pre-dinner drinks or even a night cap. Entertainment was very low-key with just one entertainer and a cruise director, perfect for those who are seeking a more peaceful and relaxing cruise holiday. They both sang and played instruments, and arranged the odd quiz here and there, but apart from that it was more about taking time to socialise, enjoy fabulous food and fine wines, and truly relax.
Watch this short video tour of Azzurra below!
Enjoy the peace and tranquility of an ultra-luxury yacht-style cruise on Emerald Azzurra. Call us today on 0161 513 8200 and we can help create your dream holiday.