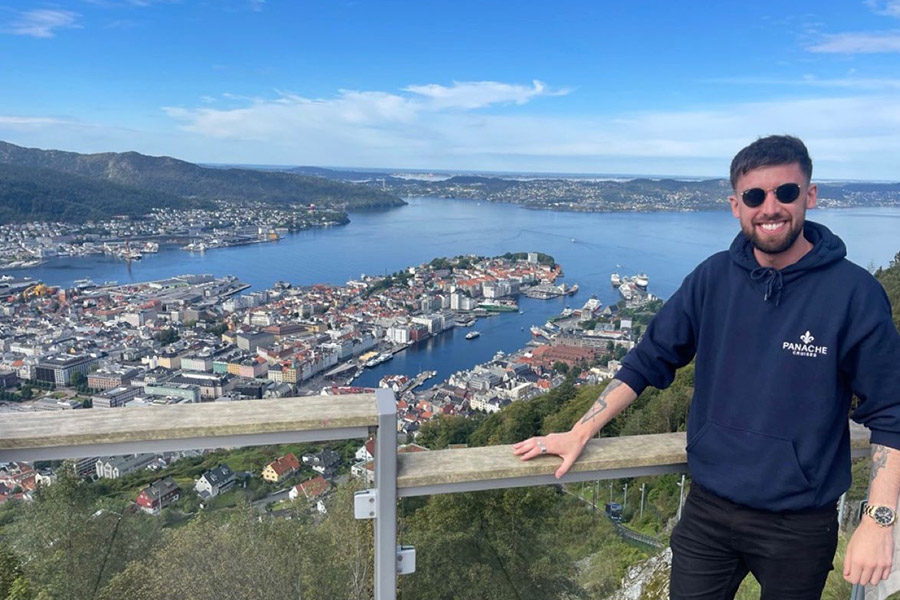 48 hours on Le Champlain
Last week I was invited on board Ponant's expedition yacht, Le Champlain, for two nights while she sailed from Dover to Bergen, Norway.
The entirety of my voyage was purely at sea until we arrived in Bergen on the morning of disembarkation, but we did get to see the city in full that day.
Bergen is a stunning Norwegian coastline city, and it's no surprise that so many cruise lines take their guests there. Upon disembarkation we were given free time to explore the city as we pleased, and I headed towards the 'Fløibanen Funicular' situated very close to the port, which is the train that takes passengers up to the top of Mount Fløyen. This is one of Bergen's city mountains and its peak sits 400m above sea level, giving me some of the most breathtaking views I've ever enjoyed and in such lovely fresh air. We could see the whole city beneath us, including the ship, the fjord & the mountains. The train only takes 8 minutes to reach the summit also, and cost around the equivalent of £15 return which we thought was reasonable. There's also a lovely park at the summit where guests can hike through the woods, feed goats, and then return to the main area where a restaurant offers outdoor seating with spectacular views.
Other than this, we simply roamed around the city and enjoyed walking through its bustling streets and visited local shops, purchasing some Norwegian souvenirs, and stopped at a few bars & restaurants for coffees, cinnamon buns, then lunch.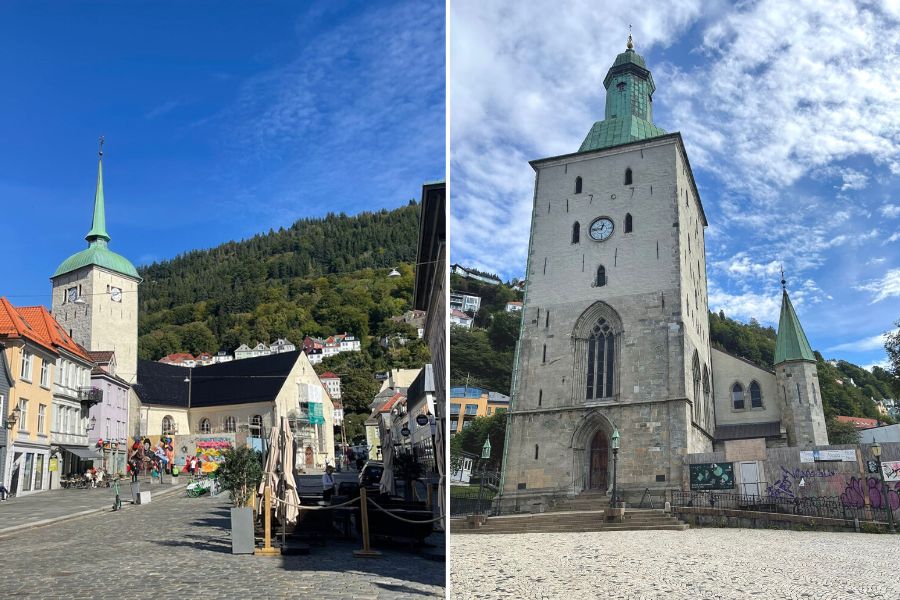 The Suite
I stayed in one of the yacht's beautiful Deluxe Staterooms (cabin 4019). Whilst this is the entry-grade accommodation on board, I was massively impressed by all aspects of the stateroom including its size, amenities, cleanliness, bed, everything!
The stateroom was 204ft2 which I thought was very spacious to say the yacht is very small (accommodating 184 guests across 92 staterooms & suites) and being 430ft long. The stateroom had a king-size bed (180 x 200 cm) which could be converted into twins, which was incredibly comfy! Across the bed was a huge flat-screen modern TV, which had a few live channels along with a wide selection of on demand movies & tv series, and live information about the cruise (schedule, ship location, weather, etc).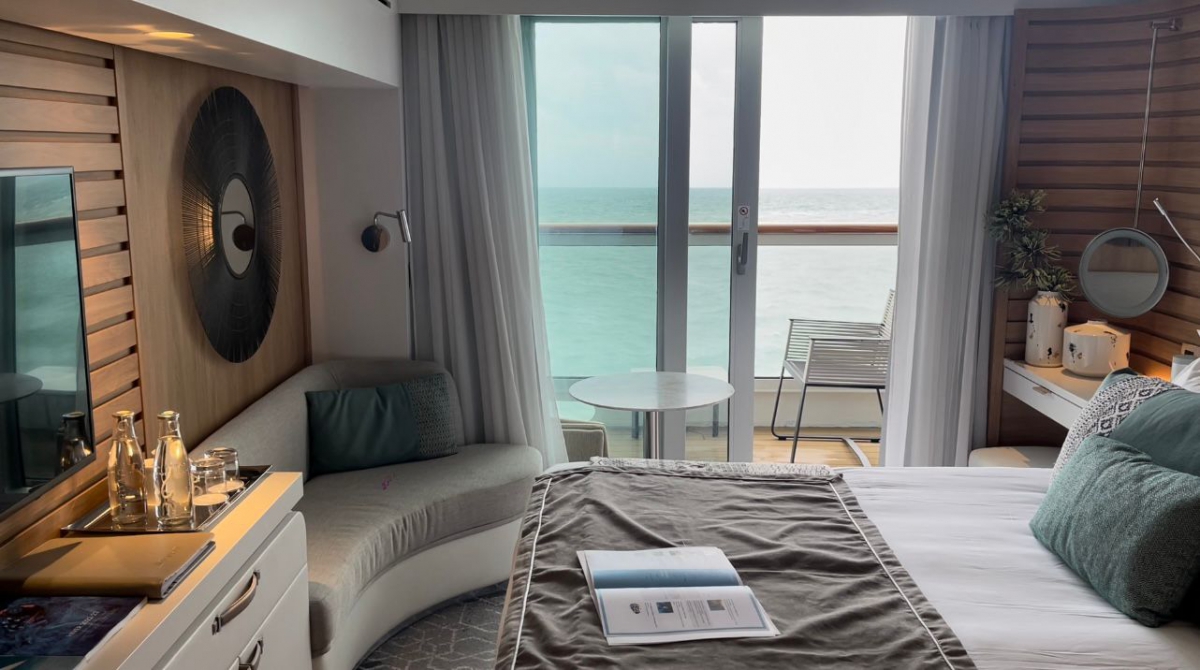 The corner of the stateroom included a small corner sofa, and office desk opposite. My personal highlight with this came a modern Bose Bluetooth speaker, allowing me to link up my smartphone to listen to my own music whilst getting ready for the evenings and whilst relaxing on the balcony.
The balcony was fantastic, too. Despite being the entry-grade of accommodation, the stateroom included a 4m² private balcony with unobstructed views & two armchairs to relax and watch the world go by. Amazing especially for the extra-scenic itineraries Ponant takes their guests to!
The bathroom again was very spacious and had walk-in shower with a very sleek & modern design, whilst also being stocked with Hermes luxury bath products to enjoy.
Other notable inclusions that I was very impressed were the Nespresso coffee maker & boiler, as well as minibar constantly re-stocked with alcoholic & non-alcoholic drinks, all complimentary. 24-hour room service was also a key highlight, as well as decent internet connection – all complimentary.
Dining on Le Champlain
Situated towards the aft of Deck 4 is The Le Nautilus, the gastronomic on-board restaurant where guests can dine for breakfast, lunch & dinner. It's also able to accommodate all guests at once, meaning guests don't need to worry about queueing for their meals or having to pre-book their dining time. It offers both a buffet of salads, desserts & cheeses but mainly a delicious selection of dishes that can be ordered at your table and brought to by waiters as normal. Each a la carte sitting offered a selection of special dishes specifically for that sitting, as well as a set menu available every day.

The other restaurant on board is the Grill Restaurant. Sadly, weather didn't allow for much al fresco dining to take place, but we did learn a lot about it! This is Le Champlain's exterior grill restaurant on Deck 3 that sits 70 guests and offers amazing views out over the pool deck and a very relaxed ambience to it. Guests can enjoy grilled meats, salads & desserts at Grill Restaurant.
Ponant offered undoubtedly some of the finest cuisine I've ever had on a cruise ship, I loved every meal I had! Lunch included a selection of delicious meals inspired by French brasseries, as well as typical but fine cuisine from other parts of the world (steaks, pastas, etc). Dinner time meals were heavily focused on traditional French cuisine, along with fine wines from the restaurant's cellar to accompany particular dishes (all complimentary) and recommended by the sommelier. Options were extensive with French traditional food such as duck pate, langoustines, beef bourguignon and more. I especially loved the bread, baked on board by their on-board French baker.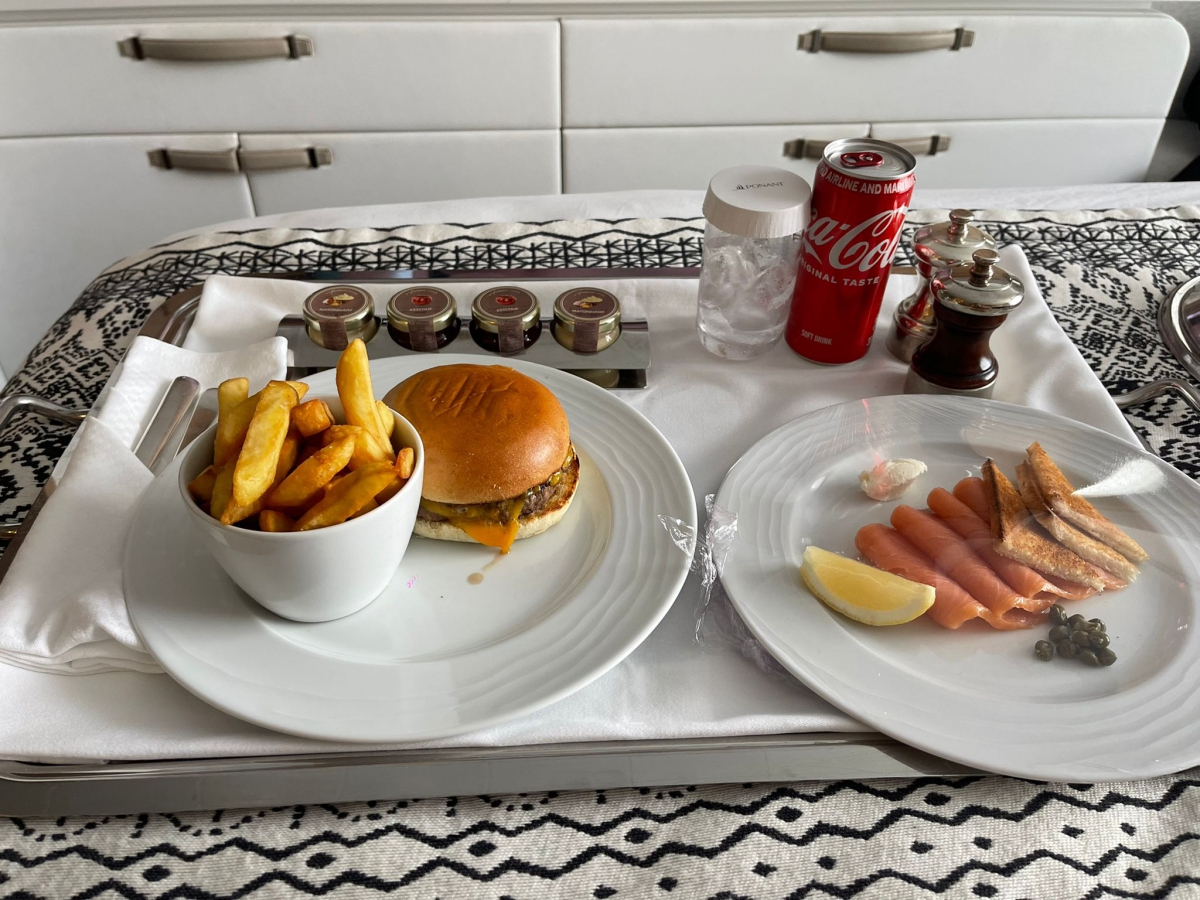 Breakfast was available from 6:30-10:30 and guests could dine either in the two mentioned restaurants or in their stateroom/suite. This included a selection of Lenotre pastries, home-made cakes, eggs, cheeses and more. My favourite was a salmon-smoked cream cheese bagel!
For lunch we enjoyed a great buffet with a selection of salads, meats, cheeses and a main dish & dessert. The main dish & dessert options are cooked based on the theme of the day (e.g. Mediterranean, Asian, Italian) but with a daily set menu to choose from also. My personal favourite was the 300mg rib-eye steak, accompanied with the nicest peppercorn sauce I've ever had!
In between lunch & dinner was teatime at around 4pm in the Main Lounge. Guests were offered some nice hot drinks and sweet treats to fill the stomachs lightly in preparation for the evening meal. I enjoyed a lovely buttery pancake drizzled with chocolate sauce, all cooked right in front of me knowing that it was fresh!
Lounges & Bars
Main Lounge (Deck 3)
This is Le Champlain's main area for guests to socialize, enjoy a wide selection of drinks, and watch evening entertainment. Main Lounge is very spacious with plenty of seating and large ocean view windows, as well as a grand piano for live music performances. This lounge also hosts daily activities. The atmosphere here was great! Staff were very friendly and attentive, drinks options were fantastic and served quickly, big open area in the centre for guests to enjoy dancing to the live music, and more. It was also conveniently located next to the pool area for guests to quickly enjoy some outdoor time while also being in and around the entertainment and buzz of the ship.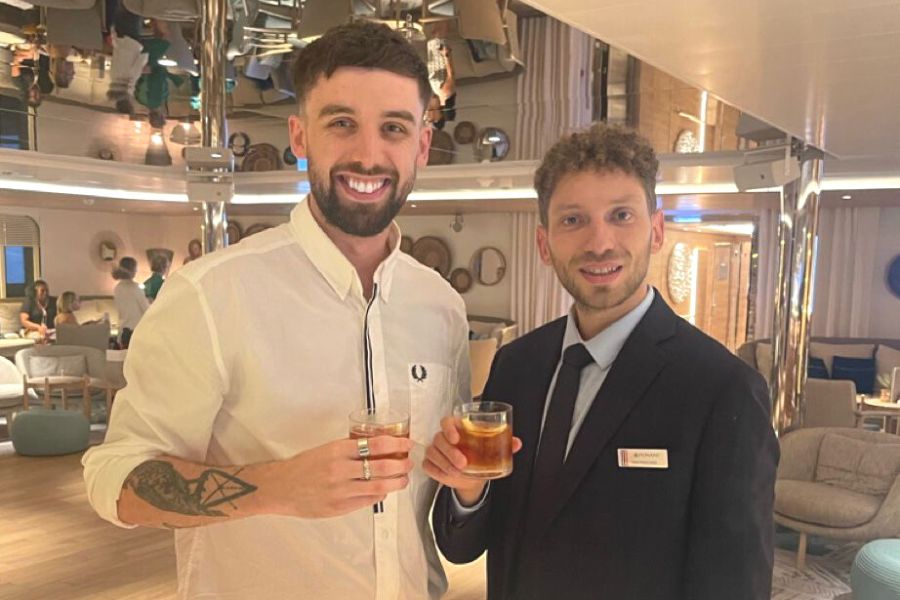 Theatre (Deck 3)
The Theatre was very impressive! It's able to accommodate all guests at once and has modern lighting technology and a LED stage background to produce high resolution media. This is where lectures take place focusing on the itinerary, as well as presentations & port talks in the day. In the evening it transforms into a cinema, offering an immersive experience.
The Blue Eye (Deck 0)
This was definitely my favourite part of the cruise, and I'm sure the same goes to many of the guests I sailed with! The Blue Eye is an incredible underwater bar, a key USP for Ponant. It is located beneath the water levels with large external windows, giving guests unprecedented views of the marina life that surrounds them! It acts as a multisensorial lounge as the chairs are specifically designed to bring guests closer to the underwater world, with specifically designed & developed hydrophones and 'body-listening sofas'. A first ever at sea!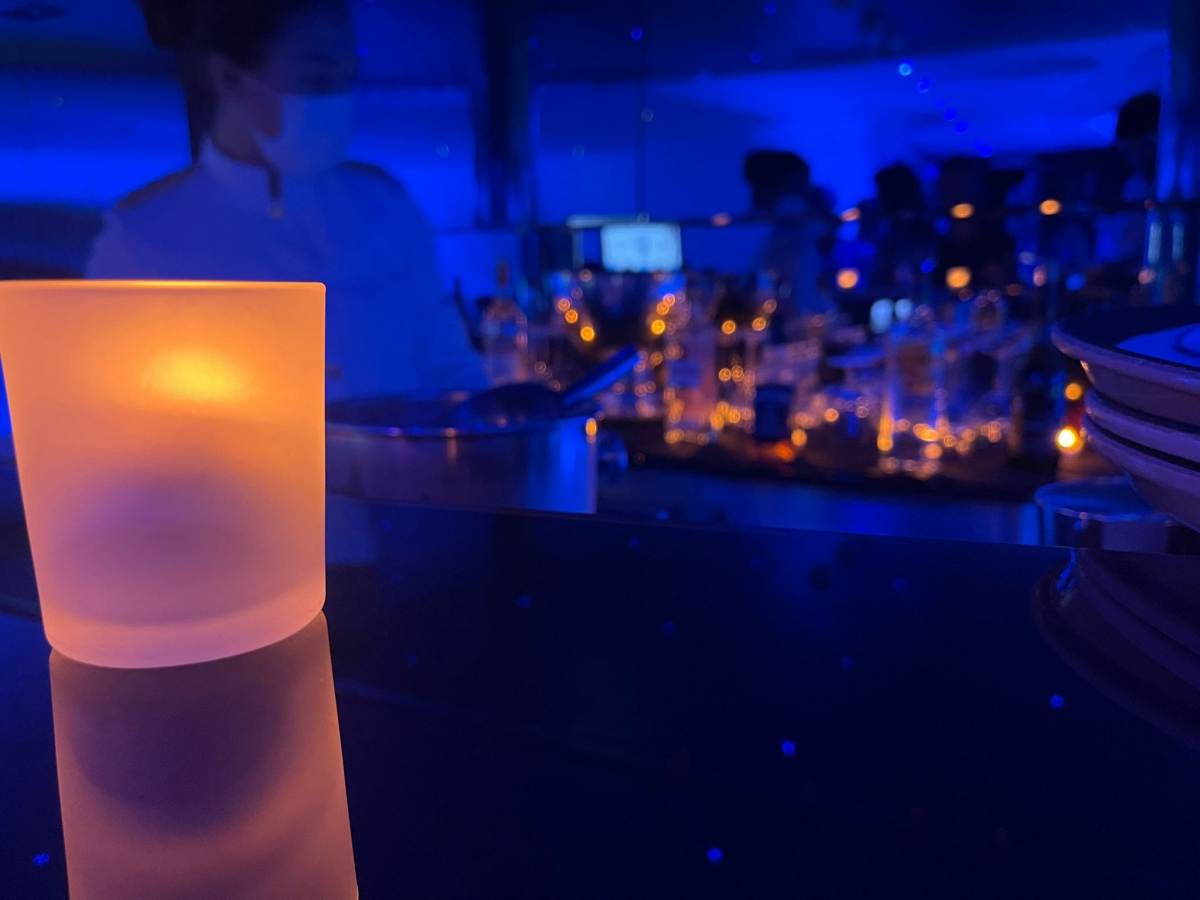 The Panoramic Lounge (Deck 6)
This lounge was built to offer guests the best above-water scenic views that the itinerary can provide. The Panoramic Lounge offers a very intimate and relaxed atmosphere with panoramic views across portside, forward & starboard sides of the ship. It also offers library, internet space, bar and on some evenings live entertainment.
Highlights of my experience
In terms of the ship's facilities, my key attraction was definitely the Blue Eye Lounge. I've never seen such a unique but amazing experience offered by any cruise line. This will be particularly special for guests sailing on itineraries in areas rich with marine wildlife, especially when docked, and I'm sure this in itself is enough to persuade guests to sail again with Ponant.
For the overall experience, I was massively impressed by the inclusions as standard along with the service on board. All food was included 24-hour (and it was incredibly fine luxury dining) and very few drinks on the menu's came at an extra cost, so I didn't have to spend a penny at the end of my cruise. The staff on board came from all parts of the world – especially the USA, France, Eastern Europe, and Southeast Asia – and were always all incredibly welcoming and pleasant with us. Nothing was too much trouble for any crew member, and they accommodated all requests, it was a pleasure to be served by them.
Because of the stateroom, food, inclusions, service, ship design and lounge facilities I'd give my experience with Ponant an incredibly high review and would love to sail with them again. The only factor I can think of that would stop this becoming a 10/10 cruise for me is probably the evening entertainment options. Whilst the live music was fantastic and the acts were amazing, I think a little more can be done such as shows in the Theatre (and not just daytime talks then evening cinema experience).
Watch a sneak peek of Le Champlain here...
To find out more about Ponant, click here. Or more specifically to check out Le Champlain sailings, you can find them here.
Get in touch with me to book your next luxury cruise - just give me a call on 01932 963700 and I'd be happy to help!