What is a Christmas Cruise like?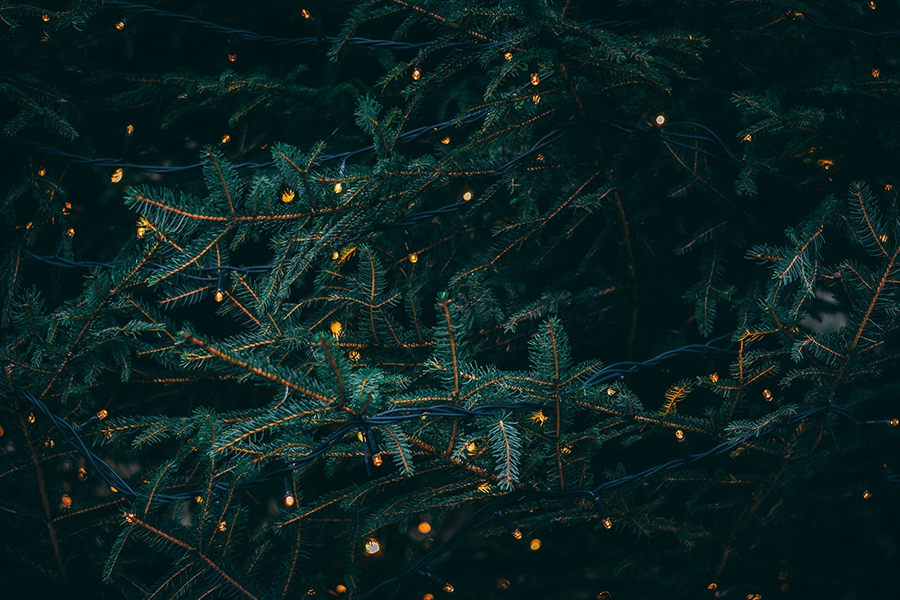 What is a Christmas Cruise like?
Feast on Christmas dinner, cooked by the best chefs at sea… but don't fight about the washing up afterwards. Get merry at a fabulous Christmas performance; carol singers, dancers, pantomime, the lot… no bother about who's driving home later. Surround yourself with decadent festive decorations… without climbing a stepladder once. A Christmas cruise hits differently, but with all the same feelings and emotions that make the festive season such a special time of the year. Are you a winter sun kind of person or do you like it cold and cosy? Do you fancy hitting the beach or the Christmas markets? Either way, a luxurious Christmas cruise is the way to do it.
We've made a list and we're checking it twice. Here come some of our favourite Christmas cruises.
If you're ready to talk to a connoisseur about a Christmas cruise or anything else, give them a call on 0161 513 8200.
---
What is a Christmas cruise like?
A Christmas cruise is floating Christmas without the faff, visiting gorgeous locations and fabulous excursions on the way.
"Escape the winter chill and plan a holiday vacation to some of the sunniest destinations around the world. Build a sandman on the pristine beaches of the Caribbean. Get into the holiday spirit while sailing around Australia and New Zealand. Or spend Christmas Eve during a once-in-a-lifetime cruise around the Galapagos Islands."
Source: Celebrity Cruises
To be honest, we've asked a bit of a misleading question. What a Christmas cruise is like depends entirely on the kind of Christmas cruise you choose. Regular Panache Cruises subscribers will be fully aware of our different cruise categories: Elite Ocean, River, Expedition, and Yacht-style. All the different cruise lines within these categories will offer a Christmas cruise on one or many of their ships in their always-growing fleets.
When we add in the amazing destinations we can visit across the world - hot or cold, culture or nature - choosing a Christmas cruise suddenly sounds like a bigger job than first expected. We've put together a list of three vastly different Christmas sailings to give you a better idea of what you can expect from three different types of Christmas cruise.
For a bit of winter sun...
It's not for everybody; hats, gloves, sledges, and snowmen. Some suit a pina colada much more than they do a mulled wine or an eggnog. Sometimes it's just nice to get away when the big coats get bought out. Luckily, there are plenty of sun-chasing winter cruises.
Sapphire Sea Holidays with Oceania Cruises
This festive sailing promises The Best Christmas Dinner at Sea while the beautiful, sunny Caribbean islands dawdle past outside. This is the definition of winter sunshine, setting sail from the sunshine state itself. From there, you'll visit some iconic Caribbean destinations on the way. Bridgetown, the capital of spirited Barbados; Puerto Plata, named by Cristopher Columbus after its gorgeous views; and San Juan, the capital of Puerto Rico are just some of the awe-inspiring, relaxing, and vibrant locations you'll visit over the Christmas period.
Miami, USA
Puerto Plata, Dominican Republic
San Juan, Puerto Rico
Gustavia, Saint Barthélemy
Roseau, Dominicana
St. George's, Grenada
Bridgetown, Barbados
Pointe-à-Pitre, Guadeloupe
Philipsburg, St. Martin
Oceania Sirena is the perfect ship to explore some of these destinations with. Small enough to dock in those smaller ports; small enough to enjoy an intimate onboard atmosphere, she's still large enough for passengers to enjoy their own space. Launched back in 1999, but refurbished in 2019, all 30,277 tonnes and 594ft of her are brilliantly engineered.
Sirena is contemporary, modern, and classy, especially when transformed into a real winter wonderland. With 648 guests on board you won't be squished together with other guests like a packet of pigs in blankets, but you will have room to breathe socially if you please. Over 400 staff cater to your every need while you focus on revelling in the Christmas spirit.
For a real Christmas cruise...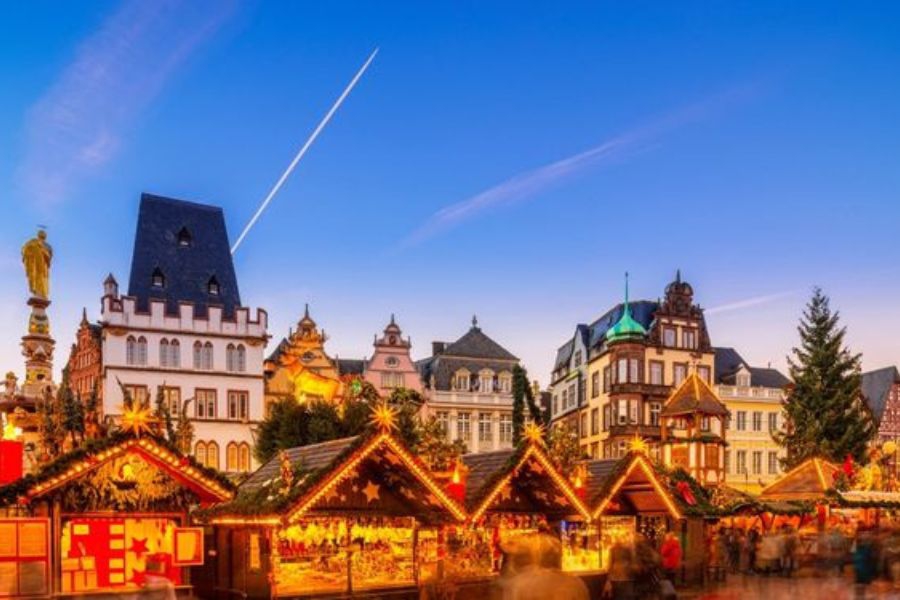 Christmas is similarly celebrated in countries all across the world, but traditions obviously vary. In Japan, for example, the family feast around a big bucket of KFC fried chicken. In Austria, demon-like Krampus punishes naughty kids. In Sweden, everybody stands around a big goat. A European Christmas river cruise is your opportunity to taste Christmas cultures from different countries. Christmas markets and all that jazz.
Christmas and New Year with Scenic Cruises
Soak up the magic of Christmas with a cruise from Amsterdam to Budapest. Celebrate and delight in Europe's glittering Christmas markets. This is a proper Christmas cruise; Christmas done as it should be. Santa Claus, Christmas trees, markets, and gift-giving. In town after town, you'll have the opportunity to experience these rituals with new eyes. As a special highlight, you may wish to join a Midnight Mass in Würzburg before celebrating Christmas on board.
Amsterdam, Netherlands
Cologne, Germany
Rüdesheim, Germany
Miltenberg, Germany
Würzburg, Germany
Nuremberg, Germany
Regensburg, Germany
Salzburg, Austria
Melk, Austria
Vienna, Austria
Budapest, Hungary
Scenic Opal is luxury, floating. Launched in 2015 and refurbished in 2019, she can grace any of Europe's most iconic waterways and look like she belongs there. Good thing then, because this cruising takes you on more than one iconic European waterway with this sailing.
You'll enjoy an intimate Christmas cruise with room to breathe. There's plenty of space to mingle on board with enough room to relax alone. Butler service is provided for every cabin, minibars stocked up daily, and more services provided for more expensive suites; You'll spend the festive period being waited on hand-and-foot. Finally, Scenic's fares include all excursions, drinks throughout the cruise, use of electric onboard bicycles and gratuities. 
For a real winter wonderland experience...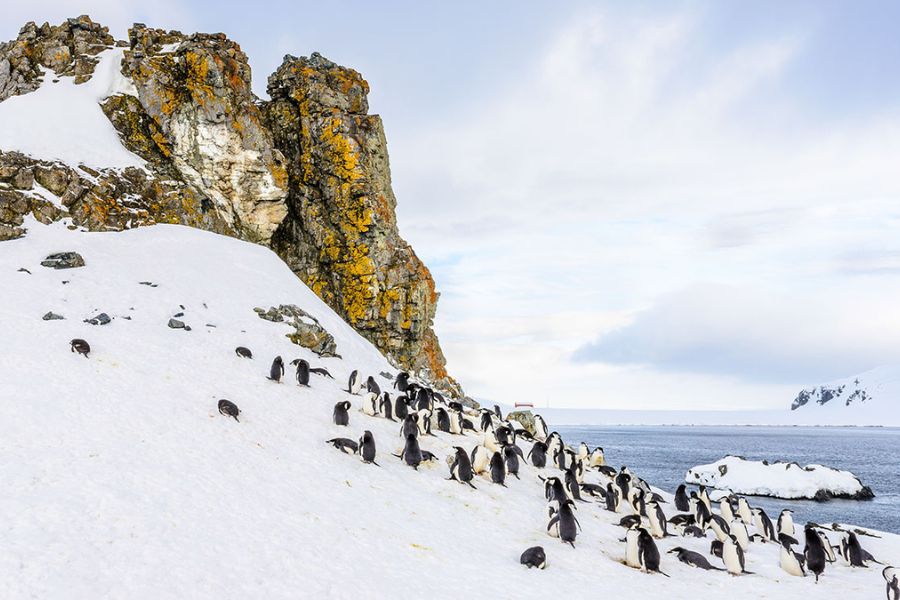 Whale watching, polar bear spotting, and chilling with the walruses are all everyday activities on an Arctic expedition. You can kayak amongst icebergs, watch glaciers crash into the sea from a Zodiac, hike the Viking trail in Greenland, and watch the Northern Lights just about anywhere. If you're especially brave, you can take the polar plunge.
Not for the faint-hearted, polar expedition cruise really gets those winter feelings going.
South Georgia and Antarctic Odyssey with Aurora Expeditions
Enjoy a real Christmas adventure with Aurora Expeditions. On this epic voyage, not only will you explore the famed white continent, enjoy two days discovering the Falklands encounter the wildlife haven in South Georgia, you will also sail to the South Sandwich Islands, a chain of seldom-visited volcanic islands located 740 km (460 miles) south-east of South Georgia. Simply reaching these wild, far-flung islands is an adventure.
Ushuaia, Argentina
Drake Passage, International Waters
Antarctic Peninsula
Elephant Island, South Shetland Islands
South Georgia Islands
Falkland Islands, UK
Sylvia Earle is a brand new ship. Launched at the end of 2022, she's perfect for polar expedition sailing; packed to the rafters full of technology and gear to help passengers explore the unexplored in complete comfort.
She is a floating ambassador for the conservation of the planet. Paying tribute to Dr. Sylvia Earle and six pioneering conservationists with public decks honouring their contributions and shining a light on their important conservation causes. Certified 100% climate neutral, with a fully equipped Citizen Science Centre, expert lectures and participative citizen science programs, to enrich your knowledge and connection to the places we travel to. Enjoy a different kind of Christmas, but in complete luxury.
---
A Christmas cruise just hits differently. With so much diversity in cruise lines, vessels, destinations, and itineraries, you can enjoy a different kind of Christmas - but one that's perfectly suited to you. If you're ready to talk to a connoisseur about a Christmas cruise or anything else, give them a call on 0161 513 8200.