My trip with Ponant changed everything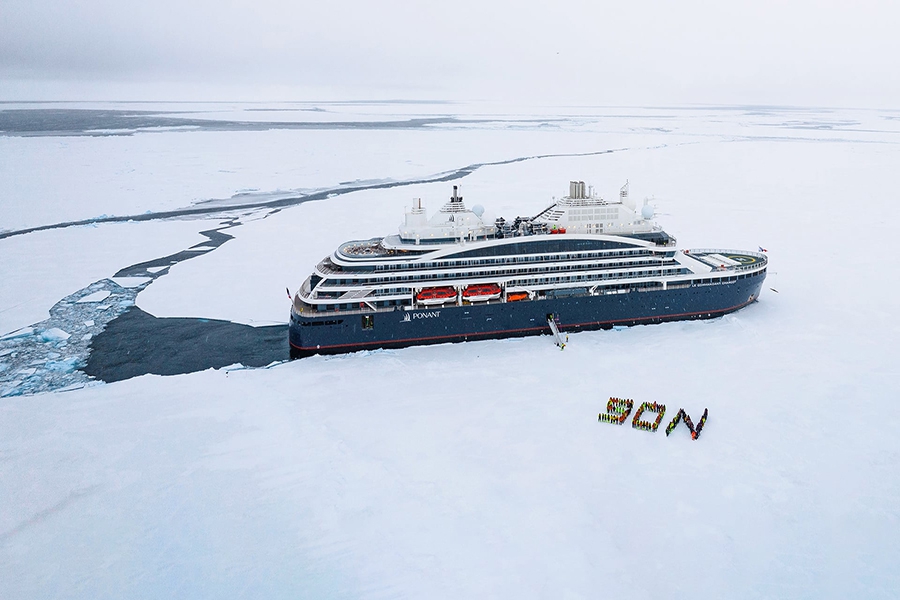 My trip with Ponant changed everything
My trip didn't start well, but bear with this piece. The train down to Southampton was by far the most traumatic experience of the week. Standards were low at this point, so we grinned and beared it. We were packed like sardines all the way from London to Southampton. We couldn't get a seat. The sun was shining and my back was sweating. The only way from here was up.
An overnight stay in Southampton was the first stop on our itinerary. As is tradition, we toasted to the ship's safe passage through the English channel. A chicken burger and a few pints of Guinness later and we were ready for bed; up early the next day. In hindsight, that chicken burger was my last taste of normal life, lived by pre-Ponant George. He was a less sophisticated version of himself.
We were up and in Southampton's brand new cruise ship terminal for an early morning embarkation at around 8am. I had a few issues getting on because my name wasn't on the list. Not to worry Ponant's fabulous team, Nabil and the rest, got me on board, with my very own Prestige Cabin sorted, just in time for the Champagne reception. There were other options apart from Champagne: orange juice, coffee, tea, and even beer - anything we wanted. Coffee might have been a better idea, seeing as though it was only 8:30am. But I was already morphing into my final form, with which a Champagne breakfast comes as standard.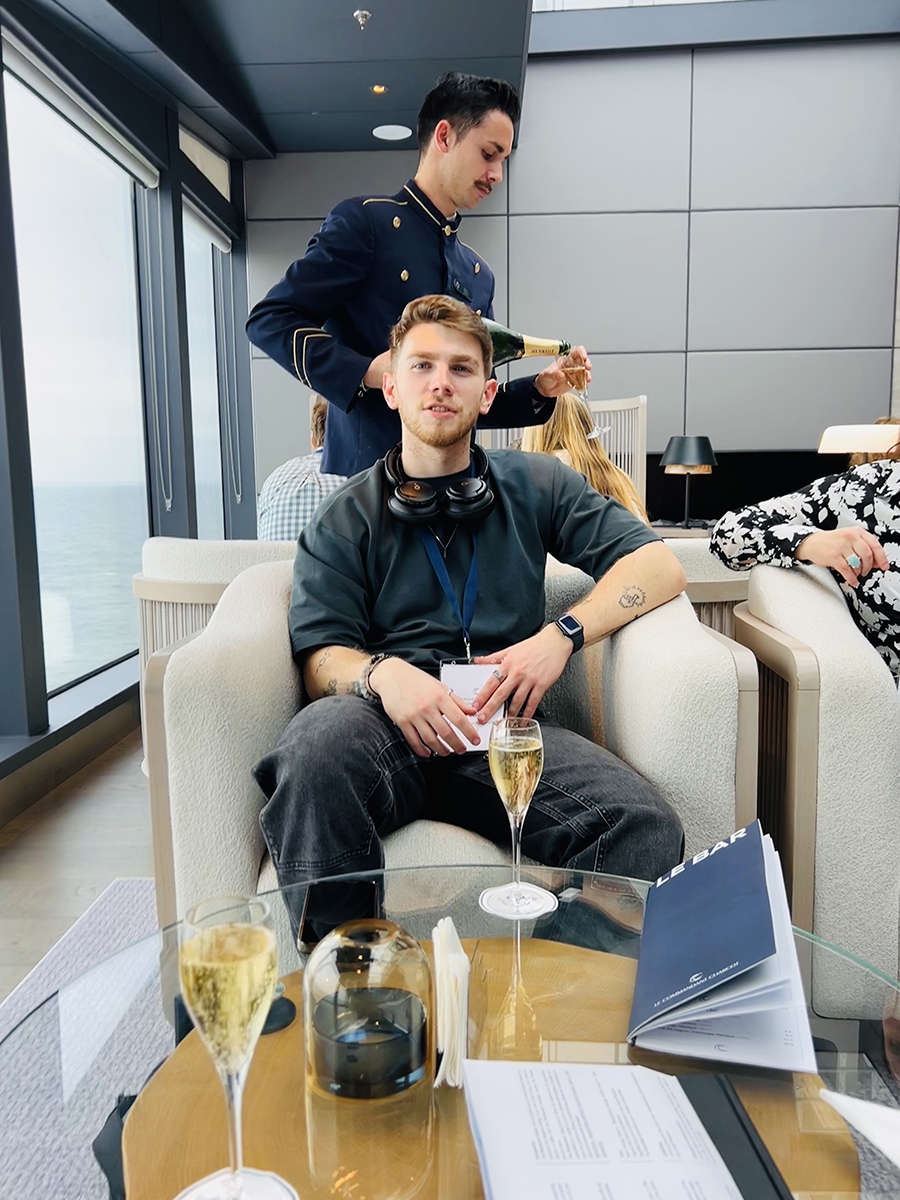 Naturally, my attention turned to the baked goods. I'd heard about Ponant's pastries and they didn't disappoint. I couldn't have possibly asked for my croissant to be flakier, more buttery than it already was. I closed my eyes and I was sitting outside a Paris patisserie on a lazy Sunday. I wasn't sitting in a dreary, grey English Channel.
The Ponant crew, dripping refinement and good manners, brought out the Champagne (certainly not Prosecco) magnums as we waited to embark. A tugboat led us out to sea with an impressive water salute and we were off on our way to Brest, spending two nights at sea.
An uninspiring destination, but it was the journey that these passengers were interested in.
After a tour of this glorious ship, lunch was finally called. The venue was Nuna, the ship's exclusive restaurant and speciality dining experience. Our first meal on board Le Commandant Charcot was glorious. PJ was our wonderful waiter. To give you an insight into PJ's outlook, I asked him how he was and he told me - very handsome actually, thank you. 
I chose the beetroot carpaccio to start with. Beetroot carpaccio, fresh goat cheese, pecan nuts, and soy vinaigrette to be precise.
- That was delicious, PJ.
- Thanks - I made it myself. 
Something different, but delicate slithers of fresh beetroot and a picture-perfect egg yolk only whet my whistle for what came next. With a cheeky smile and a cheekier wink, off PJ went to get my main course.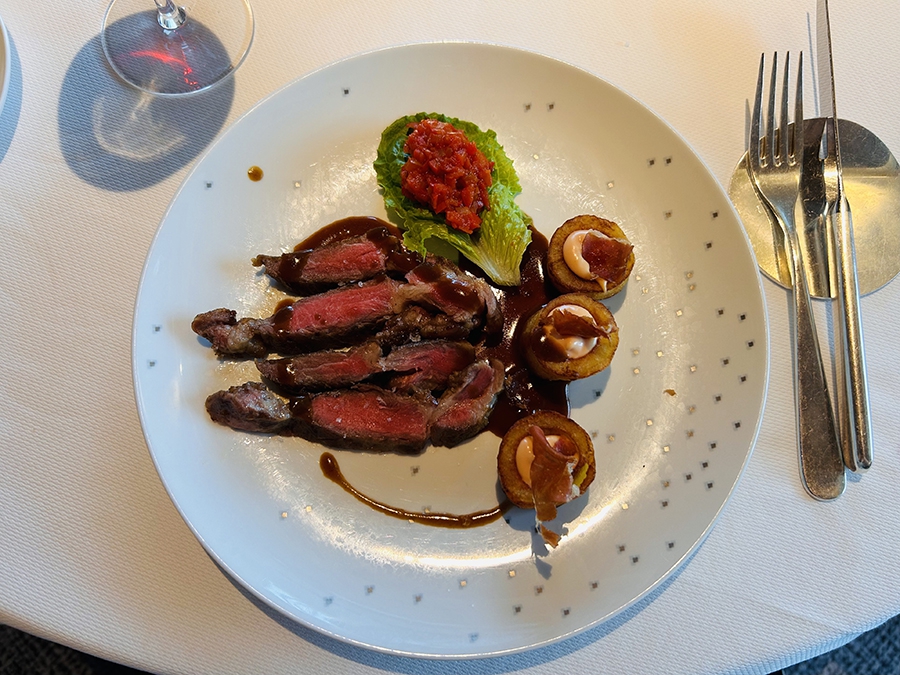 The showstopper: Grilled Iberico pork pluma, patatas bravas, and a 10y Talisker jus. The pork melted in my mouth while my perception of what was delicious before melted away. The patatas bravas were constructed with precise architecture, perfectly cooked. I was even excited by a single Romaine lettuce leaf filled with a finely chopped salsa. What had I become?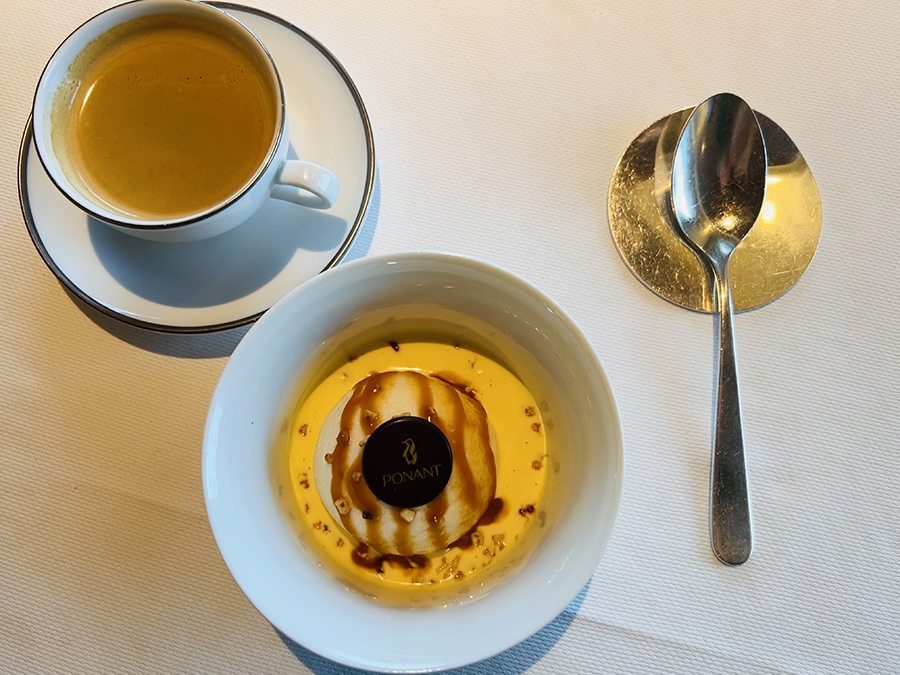 For dessert I had the floating island. I can't seem to remember it exactly enough to describe it. I must have already been in a flavour coma. I'll simply refer to my notes: "The dessert course was so beautiful, so perfect that I didn't know whether to eat it or cherish it".
As you can tell, everything got very pretentious, very quickly. The food was absolutely knockout. Yesterday's chicken burger and three pints of Guinness felt very far away.
Afterwards we learnt all about this incredible ship, we mixed and mingled with the wonderful Ponant staff, and we drank and danced until we had to go to bed. I'd slipped back out of my flavour coma and entered a state of pure joy. I had taken my final form. Post-Ponant's new normal agreed with me. I could get used to this.
My first impressions were good; so good that they bordered on pompous. Le Commandant Charcot is a gargantuan feat of engineering, standing alone as the most powerful non-nuclear fuelled icebreaker; the world's first icebreaking luxury cruise ship. If I could have this much fun and feel so much grandeur on a simple Southampton to Brest sailing, imagine this ship in the polar regions where she belongs. She chews through ice, but more than that she does it with typical French grace and fashion.
But it wasn't just the magnificent ship that made this trip so agreeable, and it definitely wasn't our journey to port or the destination. It was the people.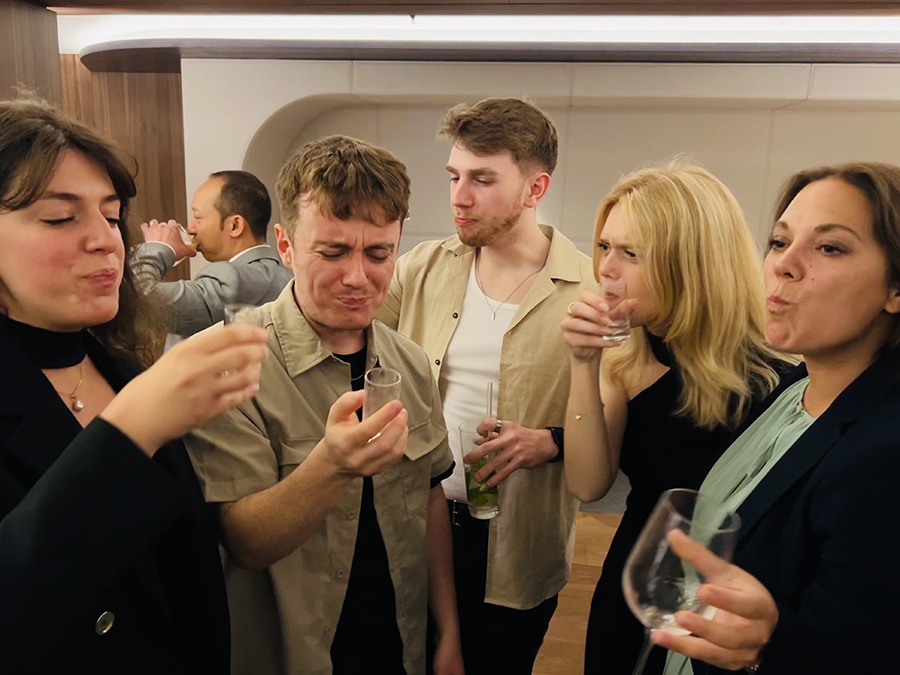 Ponant's staff, crew, captain, expedition leader; PJ, Nabil, and the rest were genuinely brilliant. They looked after us, laughed with us, and danced with us. One day I'll swagger back on board a Ponant ship and greet them as old friends.
---
If you want to feel like I did on Ponant, call us on 0161 513 8200 to find out more.