Gary Buchanan revels in La Dolce Vista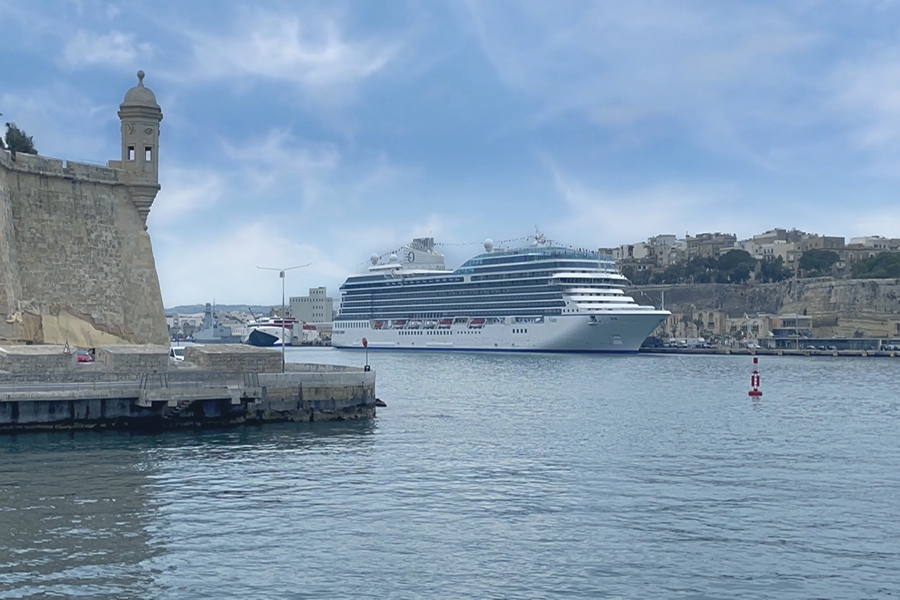 Gary Buchanan revels in La Dolce Vista
Valletta's spectacular Grand Harbour in Malta was an appropriate setting for the inauguration of Oceania Cruises' first new-build in a decade. Following several speeches, the ship's Godmother, Emmy Award-winning TV food personality Giada De Laurentiis, christened the ship. This was followed by an hour-long concert by Harry Connick Jr., and then a massive fireworks display illuminated the ramparts of this historic port.
Vista is a showstopper. Like a sophisticated sister, the 1,200-guest ship retains the cosy club-like vibe of the other six ships in Oceania Cruises' fleet. Across the 11 passenger decks, there are nods to creativity in all the public rooms, which are bathed in an urbane palette of graceful ornamentation. There's also an impressive collection of modern art.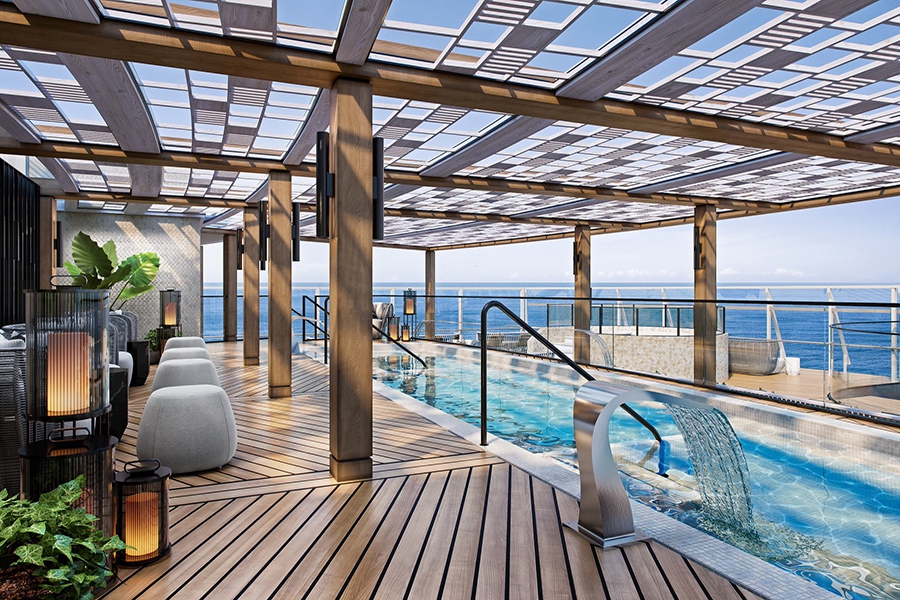 An undisputed torchbearer in the 'upper premium cruising' stakes, Oceania is the antithesis of gimmick-driven cruising. It's also considered the world's leading culinary and destination-focused cruise line. Little wonder the company has gained a loyal following of Brits who appreciate good living and fine dining.
Most of the design kudos goes to Miami-based Studio DADO, one of whose founding partners is Greg Walton. He told Panache Cruises, "Guests will be impressed from the moment they board. Embarking on this ship is like stepping into a work of art. This sets the tone for the other spectacular spaces, and it's these small details that set Vista apart from other cruise ships."
In the Atrium a sculptural staircase envelopes a two-deck-high crystal chandelier, which resembles a vortex of water filled with schooling fish, subtly lit with changing hues coalescing from pinkish gold to icy white.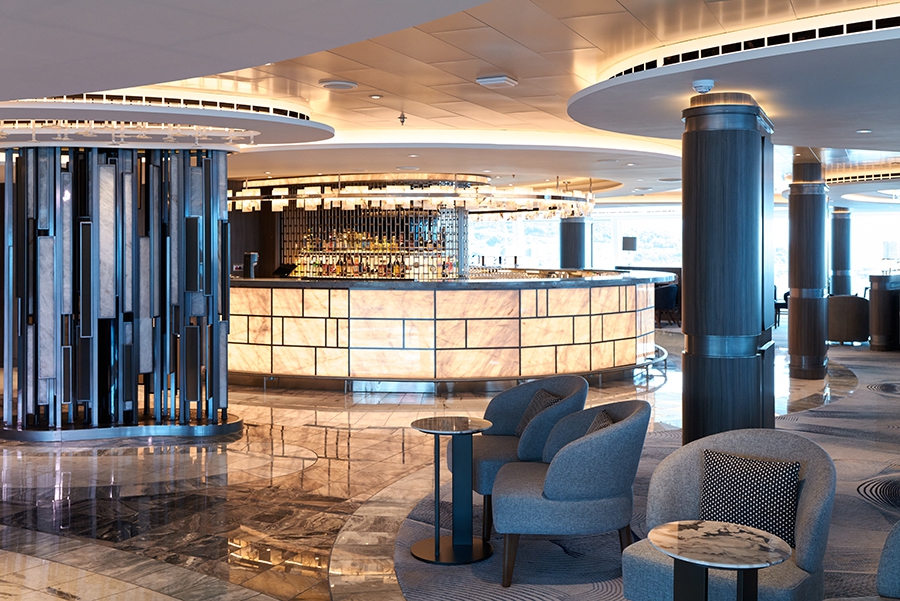 Nine decks higher, a grand hallway leads to Horizons with its floor-to-ceiling windows and back-lit onyx bar. The lounge is decked out in muted hues of blue and grey with gold accents and is perfect for afternoon tea, cocktails, or late-night dancing to the resident band.
Another rendezvous on Deck 14 is Baristas, with its dark granite bar and leather stools. This is a perfect spot for Illy coffees prepared to order by Italians, while close at hand is the Bakery for fresh pastries, quiches, muffins and croissants. Next door is possibly one of the most beautifully appointed libraries at sea.
Studio DADO was also responsible for the design of all staterooms and suites, with the exception of the three Owner's Suites. Accommodations aboard Vista are designed with the understated elegance of a fine home. All come with French or private balconies and are the most spacious standard staterooms at sea, measuring 291 square feet. They have a generously sized rain shower, a minibar, a smart TV, and 24-hour room service. Concierge-level Veranda Staterooms offer an enhanced range of benefits, such as room service from the Grand Dining Room and complimentary laundry three times during a cruise. There's also access to a private concierge lounge on Deck 9. A novel addition are concierge-level staterooms measuring a generous 270 square feet, especially for solo travellers.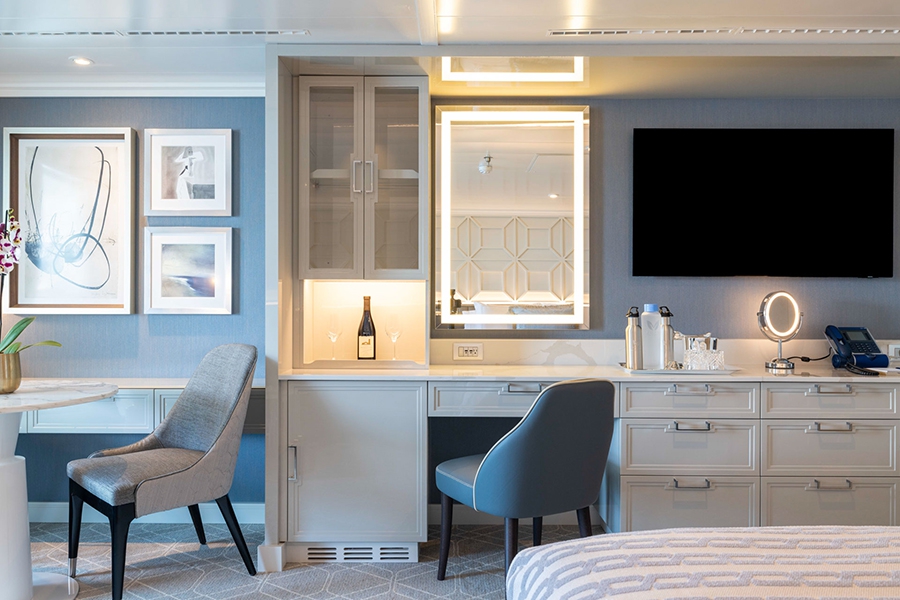 Spanning 440 square feet, Penthouse Suites feature the added luxuries of a walk-in closet, an oversized bathroom with dual vanities, and a large private veranda. Guests also have unlimited use of the Aquamar Spa Terrace, along with Butler service and access to the suites-only Executive Lounge with a dedicated Concierge. Oceania Suites are situated atop the ship to offer unparalleled views. Averaging approximately 1,000 to 1,200 square feet, each radiates an ambiance of residential luxury. There are thoughtfully appointed living and dining spaces, including an oversized teak veranda.
Vista Suites, ranging from 1,450 to 1,850 square feet, are designed to be the ultimate seaside villas. Swathed in subtle tones accented by luminescent marble, granite and rich weathered oak, each is a true retreat. Spanning the full beam of the ship, each of the three Owner's Suites boasts approximately 2,400 square feet of personal space. Floor-to-ceiling windows in every room create an airy atmosphere filled with natural light and unimpeded views. These seagoing suites are styled exclusively in Ralph Lauren Home.
All accommodation grades feature Prestige Tranquillity Beds. Unlike any other mattress, each is composed of a special pocket box spring system that has seven different supporting zones with 400 individually placed springs. A two-inch thick 'pillow top' cushion, constructed from quilted Anthros fabric and filled with super comfort water gel, is wrapped in chamomile-infused fibre. They offer the most comfortable sleep on the seven seas, bar none.
The sanctuary that is Aquamar Spa + Vitality Centre offers a complete array of holistic programmes, rejuvenating massages, facials, nutrition and lifestyle consultations. The jewel in the crown of this lavish facility is the Aquamar Spa Terrace, an open-air deck of plush loungers, plunge pools and whirlpools, all with soothing views of the sea. There's also a state-of-the-art fitness centre.
The resort-style pool on Deck 12 is generous and has padding areas, plus six 'lilypad' cushioned daybeds at the water's edge with sunshades that look like large white leaves. There are also two hot tubs beside the pool, and the Waves Bar and Grill are conveniently close by.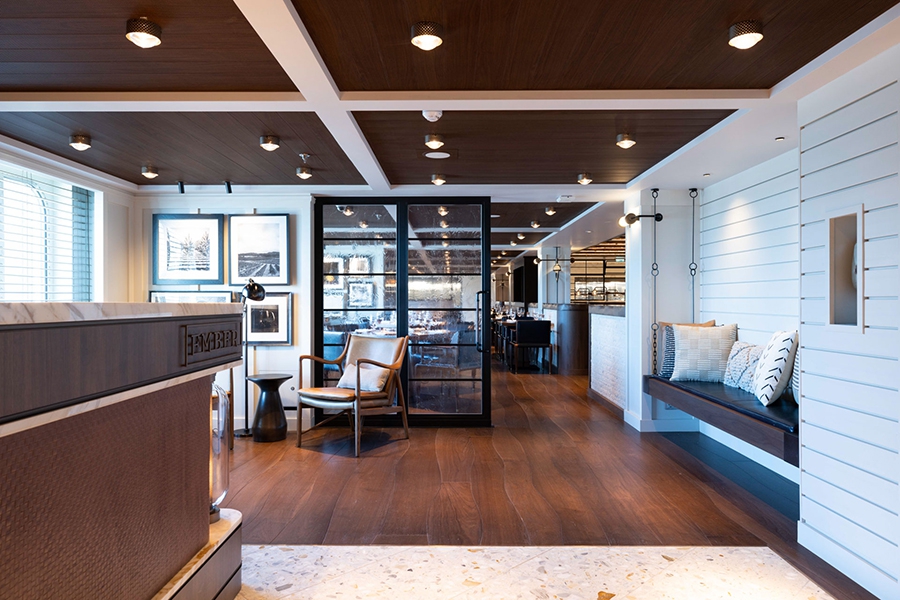 Oceania Cruises is renowned for its epicurean excellence; to maintain this, the company has the highest percentage of culinary personnel devoted to dining. To ensure the impeccable quality of each dish, there's one chef for every ten guests; in fact, half of the onboard crew is dedicated to the cooking or serving of food.
On board Vista, guests will discover two new restaurants, both of which are already receiving critical acclaim. Eye-catching and slightly edgy, Ember has the ambiance of a Napa Valley bistro with a barrel-vaulted brick ceiling and stone walls. The open kitchen provides a vibrancy that guests appreciate as much as they enjoy the American-accented menu specialities. The other novel eating option is the light-blue and white, semi-outdoor Aquamar Kitchen, which serves healthy selections. This chilled-out oasis of well-being serves smoothies, organic power bowls, wraps, and avocado toast at breakfast and lunch.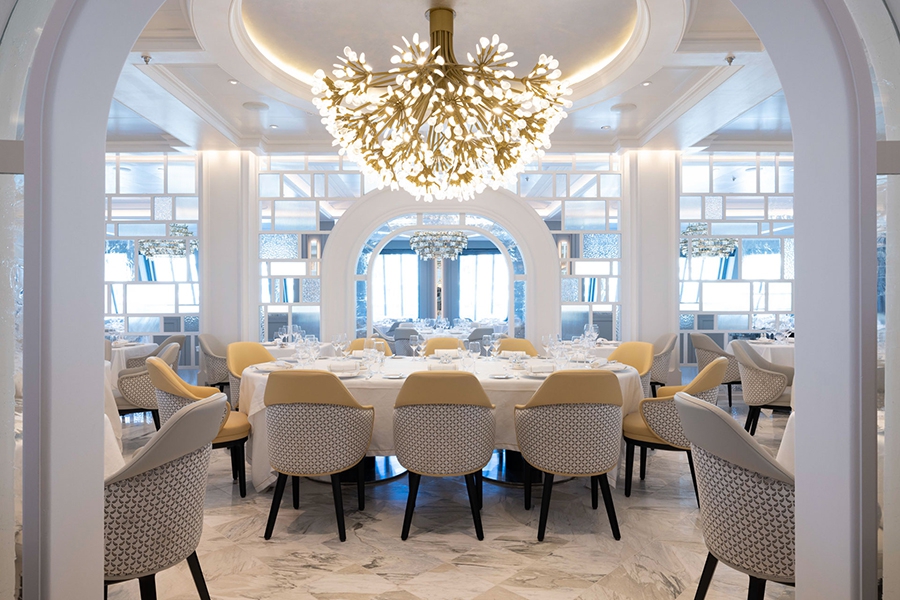 The two-deck-high, open-seating Grand Dining Room remains the grande dame of Oceania's culinary realm. The design pays homage to the Belle Époque with its palette of ivory, gold and silver, coupled with white leather chairs. A series of archways simulate imposing glass conservatories that subtly create intimate groupings of tables, which are lit by three vast hydrangea-inspired crystal chandeliers. Towards the back of this elegant room are hand-painted weeping willow wallcoverings illuminated by the natural light from the double-height windows. This room, more than any other, reflects the art of fine living.
The ever-popular Red Ginger is the go-to restaurant for Pan-Asian cuisine. Embellishing its French-Colonial style motifs with pagoda-inspired lamps, custom wall installations, and chinoiserie pottery, the room unfolds in perfect harmony, with an ambiance that's bourgeois and bohemian, raffish yet respectable.
Simply timeless, the Polo Grill, atop the ship on Deck 14, spans the almanac of decadent design. The Persian rug-themed mosaic of hand-cut marble at the entrance sets the scene. With its drapes in hues of crimson, claret, gold and shades of caramel, not to mention dark-wood plantation shutters and potted palms, this classic American steakhouse is as sophisticated as it is snug.
Frescoes on the ceiling of Toscana evoke tranquil scenes of the city of Siena. The sleek, cool style of this restaurant, with its mosaic of birds made of narrow tiles, is the antithesis of florid opulence. The keenly balanced Tuscan cuisine is presented by the company's dedicated team of Italian staff, and meals commence with artisanal breads accompanied by a menu of olive oils and balsamic vinegars.
The Terrace Café is a perfect oasis for relaxed dining at any time of day. Breakfasts are indulgent, while at lunch and dinner, the expansive menu of international dishes is complemented by flavoursome roasted and rotisserie meats. In the evening, the pizza oven in the adjacent Waves Grill springs into action, creating possibly the most authentic Italian favourites on the high seas.
Vista's menus are among the most exhaustive in the world of cruising. Unlike the norm, there's no supplement for dining in the speciality venues. Connoisseurs will love the Wine Pairing Lunch served in Ember, which features Krug Brut champagne and caviar, and a super Tuscan accompanying roasted chateaubriand, to name but two of the six gastronomic courses. There's also the ultimate indulgence of the Dom Pérignon Experience dinner, served in Privée, a sumptuous private dining room at the stern of Deck 14 between Polo Grill and Toscana. Not surprisingly, these gourmet options attract a surcharge.
It's no surprise to anyone who has sampled the cuisine throughout the ship to learn that the company has the highest food cost per passenger in the cruise industry. It's an integral part of Oceania Cruises' DNA to serve only the finest ingredients – and it shows.
People often ask what makes Oceania Cruises distinctive. It's a sensibility. It's intangible, and it's very personal. This is underscored aboard Vista, which has an impressive passenger-to-space ratio of 55.8 and a crew-to-guest ratio of 2:3. These remarkable statistics only tell part of the story. A harmony of contemporary flair and artistic finesse has ensured Oceania Cruises' latest vessel is a master-stroke in sassy design.
This ship shimmers with allure and offers more than a soupçon of La Dolce Vista.
A huge thanks to Gary Buchanan for providing this piece and Oceania Cruises for the image gallery.
---
If you want a taste of Oceania Vista, call us on 0161 513 8200 to find out more about.