What's life like on board Azamara Pursuit?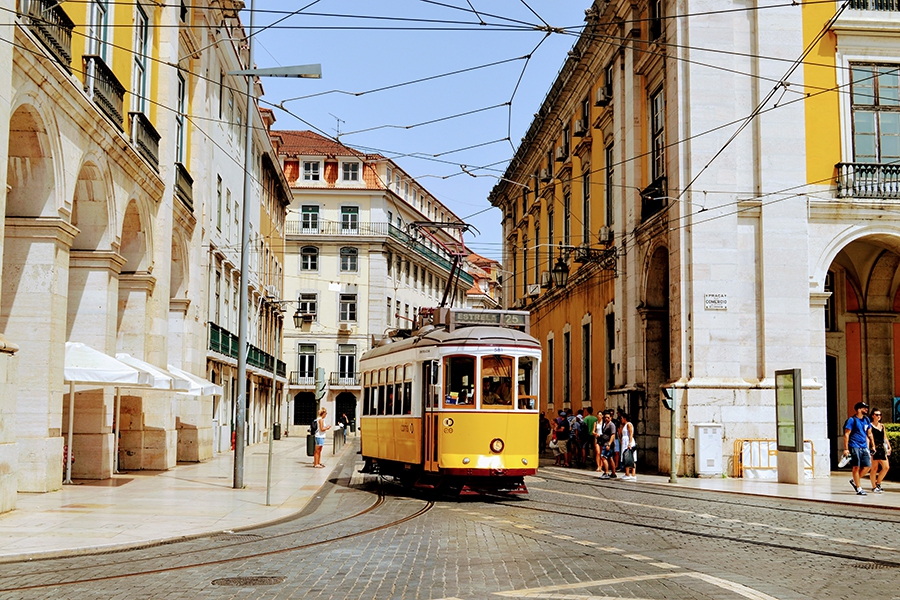 What's life like on board Azamara Pursuit?
Panache Cruises' very own Clare Cruise travelled from Lisbon to Rome on board Azamara Pursuit, suitably sunning herself and enjoying Azamara's outstanding food and facilities on the way.
---
Day 1: Embarking from Lisbon
We arrived in Lisbon nice and early, and the trip from the airport to the cruise port was very easy; 10 miles or so. The port itself is within walking distance from Lisbon city centre, so it's the perfect port to embark from. It's definitely one of my favourites. We stopped in Lisbon to have some lunch then made our way to the ship early in the afternoon.
The boarding process was seamless and our cabin was available as soon as we boarded.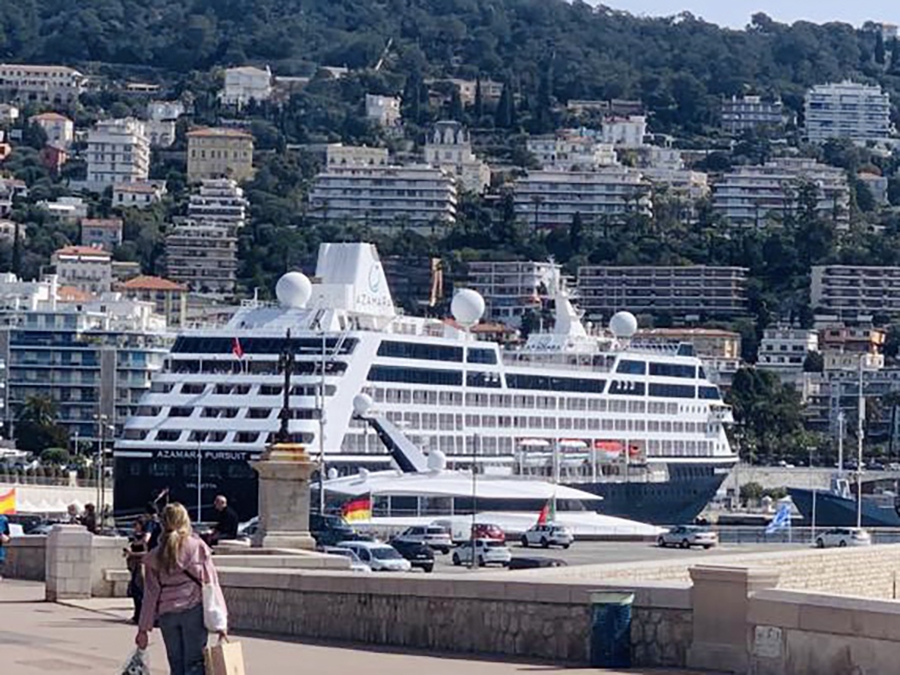 We had a well-positioned Veranda Suite on Deck 7. The suite was of standard size with everything we needed: A nice comfy bed, a small seating area, plenty of wardrobe space with hangers, a mini bar, and a bathroom complete with complimentary toiletries. The bathroom only had a shower and was very compact. There are lots of benefits to a smaller ship, but there are also drawbacks. In my opinion, the size of the bathrooms is definitely one of the drawbacks of this ship. We went straight out to explore the ship. 
Pursuit is very easy to navigate due to its size, but it never felt crowded or busy. There are plenty of places to eat, drink, and relax.
For dinner we ate in the main restaurant. The food was beautiful with plenty of choice. The service was great; the waiters were really friendly and very efficient. After a very busy day of travelling we retired after dinner!
Day 2: Monkeys in Gibraltar
We woke in a very sunny Gibraltar. We ventured off the ship and took a wander into the town after a lazy morning breakfast. My absolute favourite thing about this ship is how close they dock. We talk about this all the time, but I have never really appreciated the reality of this. Gibraltar was beautiful. We took an excursion up the rock to see the monkeys!
We headed to the main restaurant again for dinner. Tonight we had a British theme and we enjoyed good old fashioned fish and chips.
After dinner we headed to the show which was an amazing Spanish artist playing the flute.  This wouldn't normally be my thing but wow was she good. Very entertaining!
After the show we headed to the Den where Derek was playing. This bar was nice and lively, the waiting staff were brilliant; very attentive and really friendly.
Day 3: Cocktail taste tests in Malaga
We opened our balcony door to be met by the street entertainers of a bustling Malaga. Again glorious sunshine and again we were docked very close to the action.
Today we spent lots of time by the pool relaxing and taste testing the cocktails. The pool area is a nice size with plenty of sun loungers. Although they are quite close to each other, the pool deck was never busy - even on a sea day! There is a small pool and two hot tubs.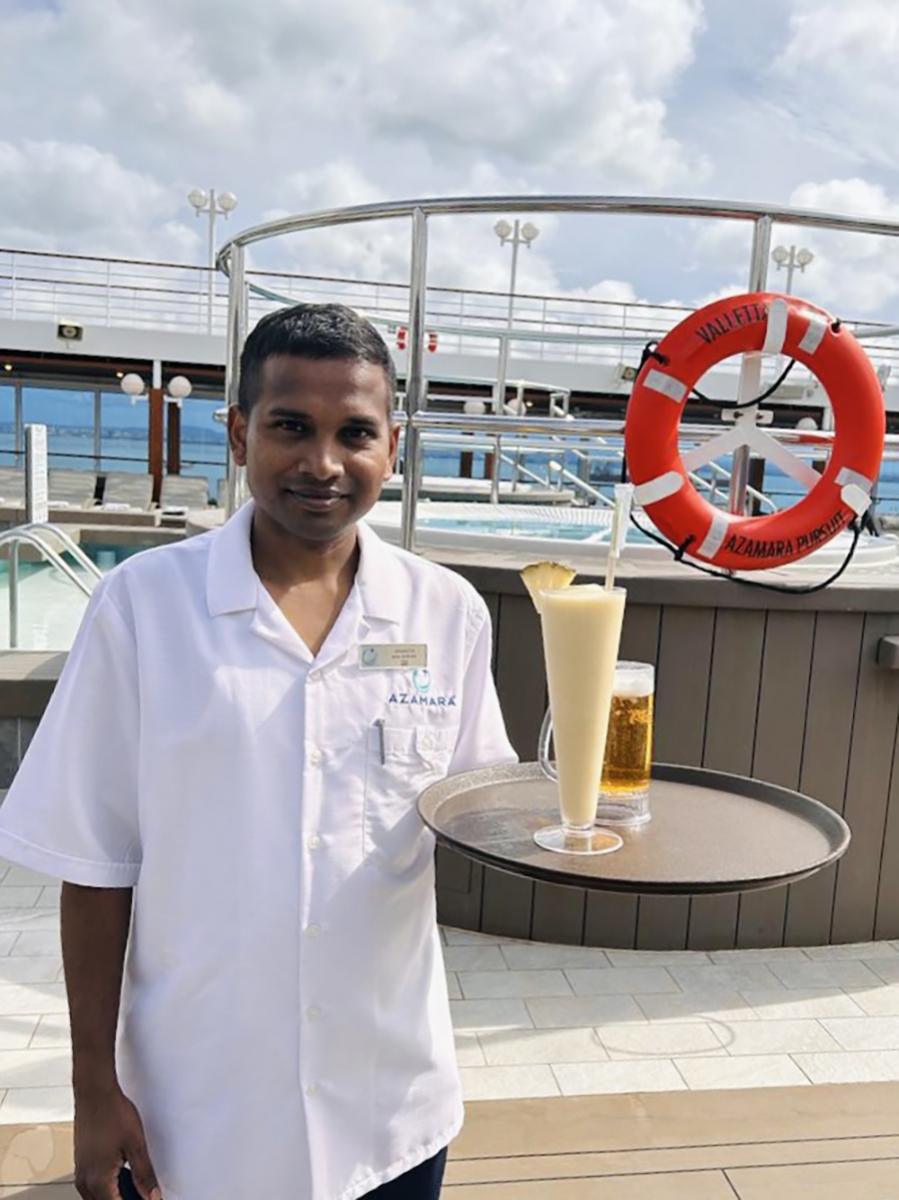 Lunch was on the patio; a nice outdoor seating area just next to the pool area. Nachos, chicken wings, burgers and a salad buffet was the choice. Needless to say, once again the food and service were both impeccable. 
After a lazy day we got ready for dinner. This evening we went to the buffet restaurant. Excellent choice, brilliant quality. Azamara really didn't fail with the food. The show on this night was put on by the brilliant entertainment team. The cruise director, Emily is very funny and leads a very talented and creative team. The show was excellent in a very relaxed and comfortable theatre.
After the show there is a choice of watching Derek on the piano in the Den, or you can join DJ Nelson in the living room to dance the night away.
Day 4: Sea, spa, sunset
Sunday was a sea day. The ship still did not feel busy although there were more people milling around. We went to check out the spa, The Sanctum, which is beautiful. There was lots of choice in terms of treatments; there's also a salon and a fitness centre. For those that want to work off some calories, the gym is well-equipped. There are also classes and on the top deck there is a walking/ jogging track.
For lunch we decided to dine al-Fresco. Windows Café is right at the rear of the ship and has an outdoor seating area on the sunset veranda. This was the perfect place to lunch as we sailed towards Barcelona.
Day 5: Gambas al Ajillo
The restaurant has a special of the day based on the country you are visiting. Today's special was Gambas al Ajillo, or garlic prawns, which is my all time favourite dish. There are lots of organised activities from quizzes to ping pong and shuffleboard. We took the relaxing route, with more sunbathing, but others took up the organised activities. 
Tonight was the AzAmazing evening where Azamara seamlessly took all guests off the ship to a spectacular local venue. The show was Flamenco and the venue was a truly one-of-a-kind experience. An Azamazing evening is offered on all sailings at no extra charge to guests.
Day 6: Barcelona
Waking up from our overnight stay in Barcelona, we started the day with room service for breakfast and then headed out for a stroll around this iconic city. Again we docked closer than any of the big ships. In fact we were so close I could see through the windows on the world trade centre! For lunch we enjoyed a barbeque on the pool deck. My god I have never seen a buffet like it.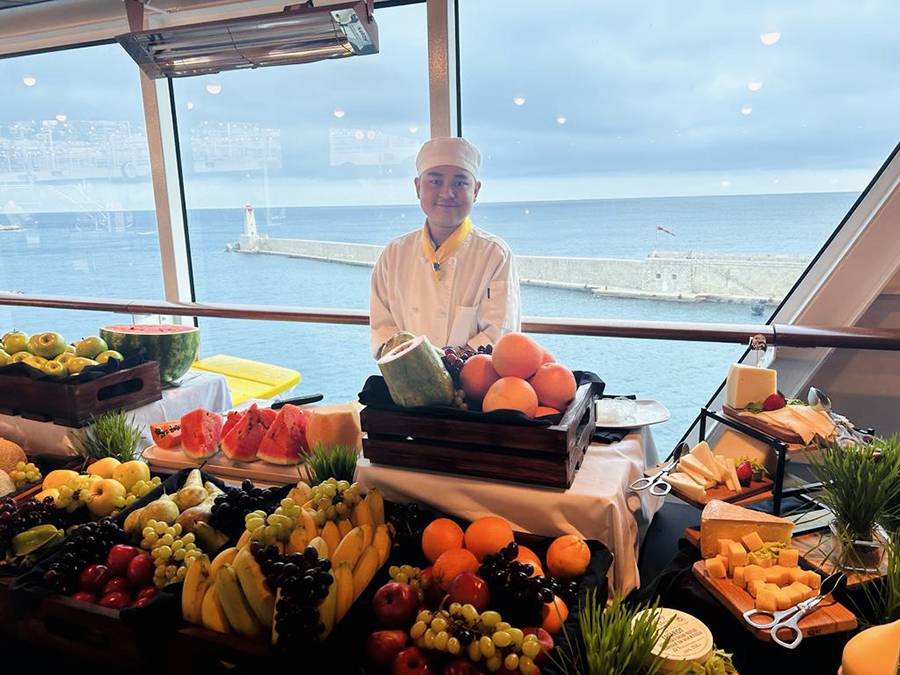 For dinner we were back in the main restaurant, Discoveries. Tonight I was very excited as Filet Mignon was on the menu. It was cooked to perfection and paired perfectly with a Spanish Rioja. There are always some standard choices in this restaurant which repeat every night. Then every night there are extra dishes added depending on where in the world you are. The show tonight was the Cruise Director Emily singing, another great show with all the lights and sound of a west end theatre.
Day 7: It's nice in Nice
Another sunny day and another beautiful view from our balcony. Today it's nice in Nice!
We enjoyed coffee and a blueberry muffin in Mosaics before heading off the ship for a stroll around Nice. If I'm honest, we aren't lovers of getting off to explore. We're more sunbathers. But with this ship docking so close, we felt that Nice was just luring us in. For lunch we headed to Windows Café for the buffet before relaxing all afternoon on the sun deck.
Tonight was Azamara's famous white night and boy do they go to town on this.
The buffet was fit for a king or queen with everything from soups and salads to lobster tails and a vast variety of meats on the BBQ, rice and pulses, breads, and pasta.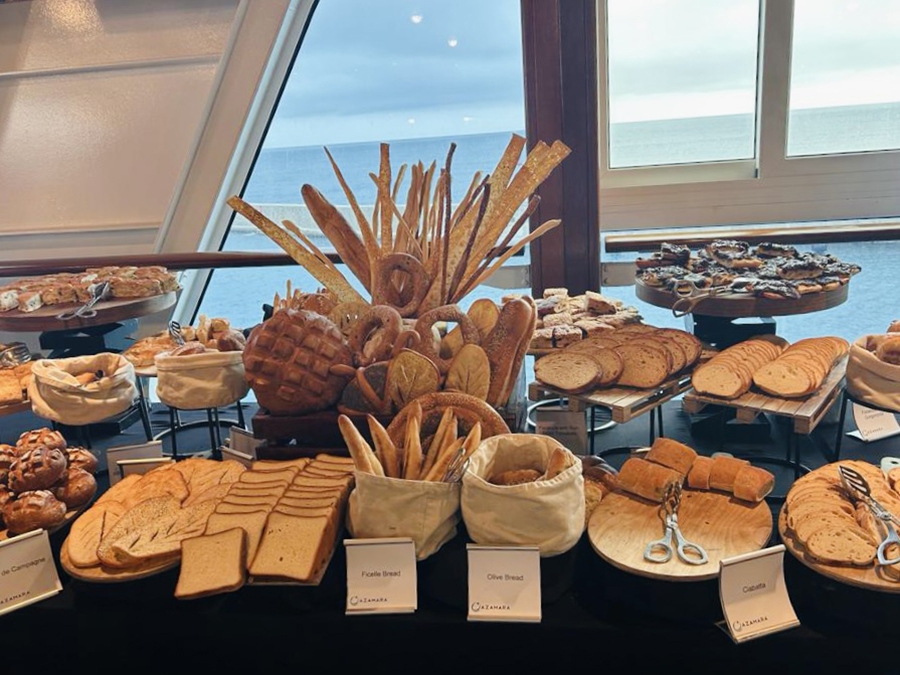 The bread section alone would be enough to feed an army and that's before you get to the desserts. The whole pool deck had been decorated for the occasion and just about every crew member made an appearance at some point.
They put so much effort into this evening it really is incredible, there's music and dancing. Once it gets too cold to stay on deck, the party moves to the living room on Deck 10.
Day 7: Livorno
This morning we arrived in Livorno for our second overnight stay. 
Livorno is fabulous for seeing both Florence and Pisa, but I am not a lover of coach travel. It's another relaxing day on this beautiful ship for us. We had breakfast at Mosaics, they have a fabulous selection of nice coffee, pastries, sandwiches, and cakes.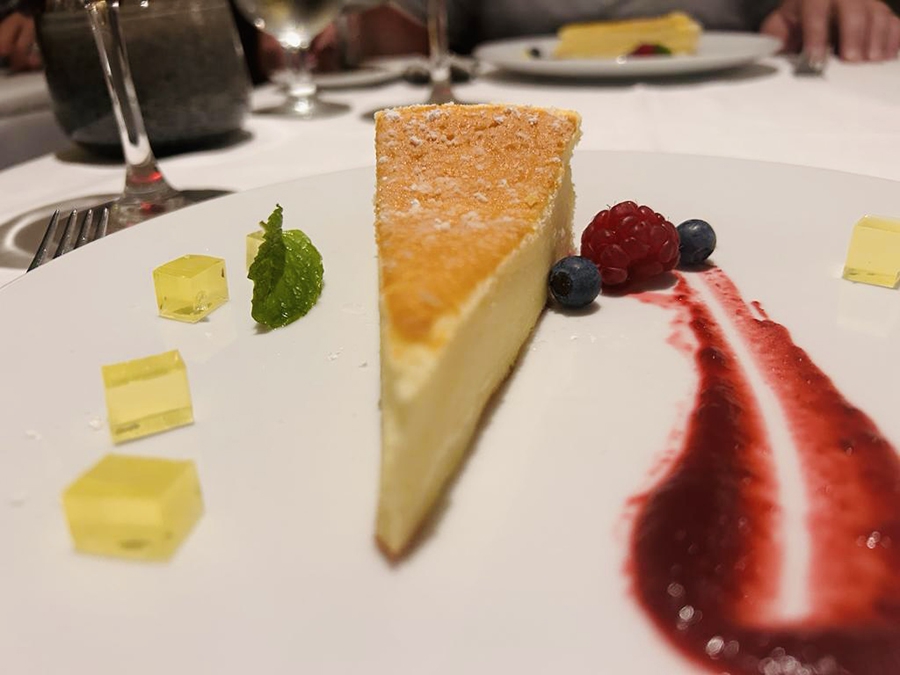 This evening we enjoyed some specialty dining at Prime C. The restaurant is beautiful, very well designed, spacious, and very comfortable. Once again the waiter was superb, sharing his recommendations for both food and wine. It had to be the Filet Mignon for me again and this time in a delightful peppercorn sauce: Mmmmmm my favourite! The cover charge for Prime C is just $35pp and worth every penny.
You can have as much or as little as you want. The ambience is great and the quality of the food and wines are another level. Passengers staying in a Veranda Plus can use this restaurant, and Acqualina, with no charge once per cruise. Suite guests can use both specialty restaurants with no cover charge every night if they choose to.
---
In summary, for me Azamara is great value for money, they are luxury without being posh, the crew are excellent, it feels like they are there to be friends with you and help you enjoy your cruise not to just wait on you. I loved the size of the ship and I think this ship may have actually spiked my interest in exploring new places with them docking so close everywhere. 
The food, wines and entertainment were all great and if you do nothing else please ensure you try the Pina Colada, they were the BEST!
---
Call us on 0161 513 8200 to find out more about Azamara.