Our Seabourn Moment: A Panache Love Story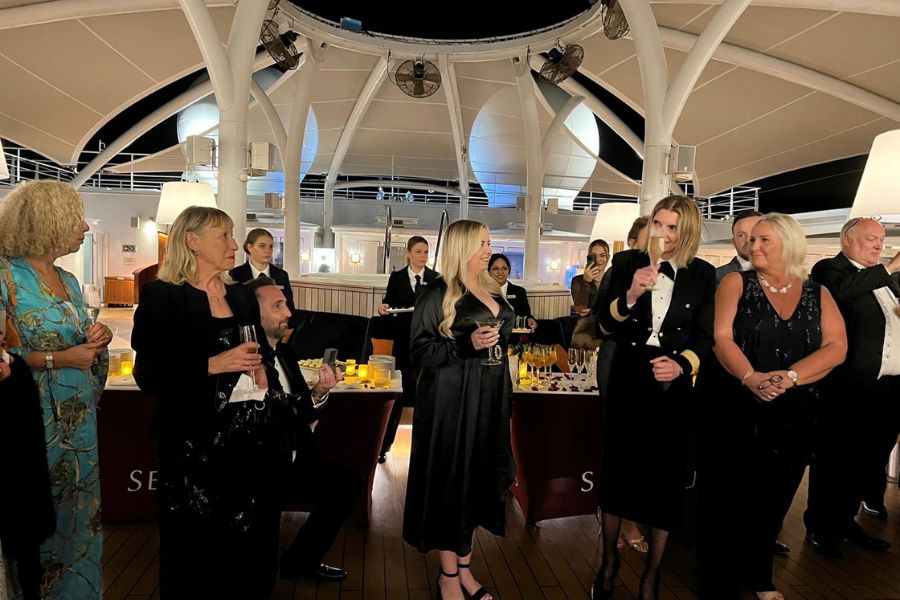 Our Seabourn Moment: A Panache Love Story
Panache Cruises' Kim and her boyfriend John set sail from Barcelona onboard Seabourn's ovation. Proving that an ultra-luxury cruise is the perfect setting for a love story, and without wanting to give too much away… let's just say John's just a bit more than Kim's boyfriend now.
---
John's Moment
Unlike many Seabourn moments, mine began before stepping a single foot onboard Seabourn Ovation. In fact, the wheels were in motion many weeks before. 
I had the opportunity to take Kim's breath away; I chose to take that opportunity with both hands. A small window in my diary had opened up, coinciding with the chance to sail on Seabourn Ovation with Kim. This gave me the ideal opportunity to propose to my best friend and soulmate… hopefully, without her spider senses being tingled.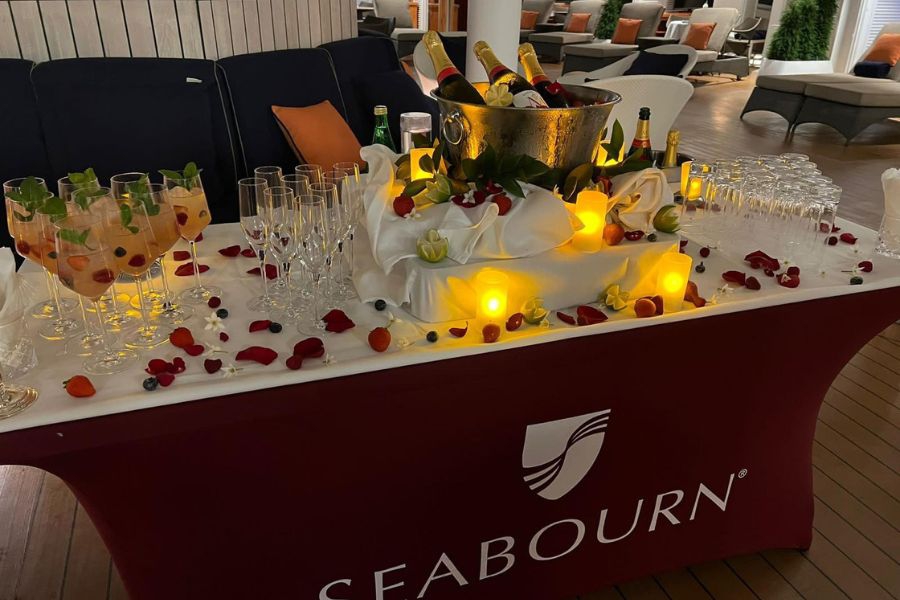 Thankfully, with the help of Director of Panache, James Cole, it was quite simple to contact Seabourn and make my request…
"Anything you can do to make this moment a memory of a lifetime."
It was a simple, yet broad request. Still, my mind was immediately placed at ease by a simple answer…
"'John, don't worry, just leave everything in our hands, this is what we do… we create Seabourn moments!"
Now all I had to do was keep the secret, which was a task within itself! We had to arrive on board Ovation without Kim suspecting, or worse, accidentally stumbling upon the ring. After that, I had to meet my secret contact without raising any suspicion. The game was on!
To cut a long story short, I'm glad to say Kim and I made it aboard. Unscathed and undetected!
My nerves were dispersed and replaced by awe as I set eyes on what has got to be one of the most beautiful ships on which I have ever had the privilege to embark. The moment we arrived, we were greeted with a smile and a glass of Champagne. As nervous as I was, it seemed the perfect remedy to calm me down. It's like they knew!
Once we'd settled into our suite, we made our way out to start exploring the ship. It was at this point I thought to myself "this is where the fun begins".
How and when I would meet my Seabourn contact was still a mystery to me. Keeping the secret from inquisitive Kim was another ongoing struggle. I had a completely separate agenda beyond exploring this magnificent vessel we would be calling home for the week. I was carrying the world on my shoulders!
Jumping forward to the first evening, we found ourselves in the Club Bar, enjoying one (or two) of the perfect Espresso Martinis. Located on Deck 5 at the aft of the ship, the layout of this area is very welcoming. This is where the live entertainment was situated, with a bar in the top corner, a dance floor, a stage, and seating that looks over the lot.
There was a great atmosphere, with a wonderful variety of music that had people dancing, chatting, and fun being had all around us.
It was at this point that I excused myself. It was like something out of a spy novel; my Seabourn contact had finally been able to catch my attention. She took me aside to organise our rendezvous the following morning, where we would turn our plan into action.
Early that following morning under the guise of having to do some work which couldn't be missed, I made my excuses and left the suite and headed to Seabourn Square. An area which has been purposely designed to be a relaxing, yet communal space for passengers to visit. Housing the guest services centrally, with 360 degree access, allowing a more comfortable environment as opposed to your standard official reception areas which can sometimes feel quite cold and regimented.  This is where I met Maria (Head of Guest Services), Claire and the rest of the Seabourn team.
Maria was amazing and was there to orchestrate the rest of the day. All I had to know was to be ready in The Retreat at 19.15pm for cocktails, with my unsuspecting victim…
Kim's Moment
On the afternoon of our second day, myself and John received an invite to a 'Welcome Cocktail Party' in The Retreat. Because I'm very inquisitive – or as some would say, nosy – and because The Retreat is an exclusive-access area on Ovation, I was eager to get up there and see what it was all about. Sunday was the formal night on board, so it was a great excuse to get dolled up.
Once on Deck 12, I was taken aback by how beautiful the setting was for the evening. A red carpet led to glasses of Champagne, canapes, and roses all around. The lighting was perfect for our Moment. The Captain, Cruise Director, Officers & other guests all looked amazing in their formal evening outfits. Shortly after arriving and receiving our complimentary glass of fizz, the Cruise Director had a few words to say about the ship and crew.
Captain Pedder took over the mic to talk about how special Seabourn is and about the 'Seabourn Moment' we were all about to witness…
Myself and everyone else on Deck 12 turned around to see what the Captain was referring to, I didn't have a clue and turned back around fully confused. At that point, I heard my name and turned back to see John on one knee with a ring box in his hand! It really was a Seabourn Moment I will never forget!
The rest of the evening is honestly a little bit of a blur. I do remember lots of dancing, Champagne, and celebrations with the team and guests onboard.
Our Moment
When we arrived back to our suite, our room attendants Mic and Nobu had decorated the room with candles (battery operated, of course), rose petals, swan-shaped towel sculptures. There was also a bottle of Bollinger, chocolate-covered strawberries, a lovely gift, and a congratulations card signed by the Seabourn team. 

As for the rest of the trip, where do we start? We were treated like royalty for the remainder of the week.
We had a couple's massage booked for us in the spa. The spa onboard the Ovation is massive; there's a full size gym, saunas in each of the changing rooms, a relaxation room, and then plenty of treatment rooms. The massages were the perfect way to unwind from the stress of organising and receiving a surprise engagement! It was literally full body; from our toes all the way to our fingertips!
We had the privilege to experience The Retreat for the afternoon just a few days later. 
You can book an area with your own cabana, sun loungers, television, and dining table. Once we had been shown our cabana, we were greeted with a gorgeous fruit platter, luxury dressing gowns, Retreat-branded flip flops, and a tote bag.
Our Retreat Concierge for the afternoon took our drinks order and talked us through the menu. The menu is slightly different than elsewhere onboard, and they also explained that if we required anything from elsewhere onboard, they could bring it to us. This included the high tea they normally only serve in the Observation Lounge. We spent the afternoon relaxing and enjoying the large whirlpool whilst being looked after by the team.

When it sadly came to our last evening we went to say goodbye and thank you to all the crew who made our cruise as perfect and magical as it was. 
It honestly felt like saying goodbye to friends we had known for years!