Ultra-Luxury on Seven Seas Explorer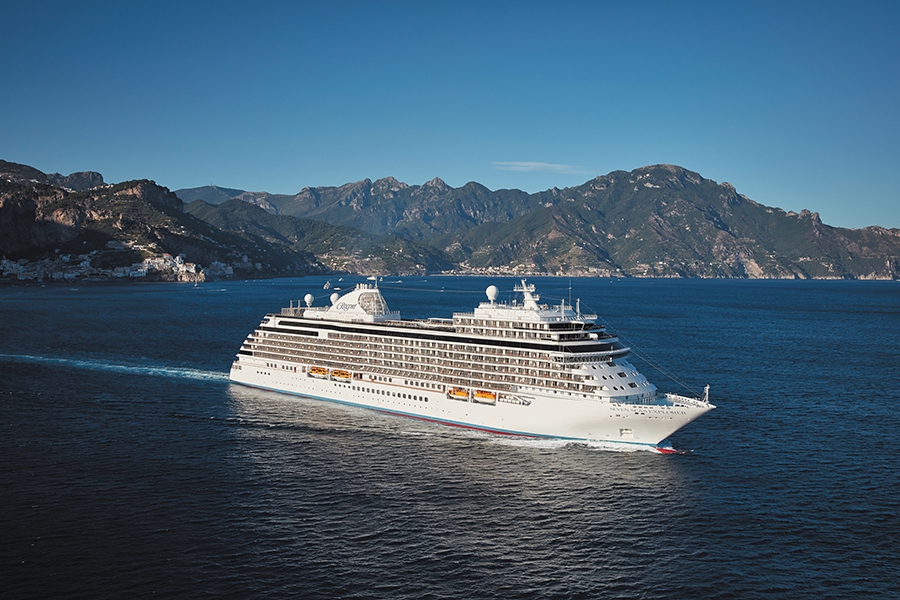 Ultra-Luxury on Seven Seas Explorer
Sales Development Manager Joe spent five days on board Regent Seven Seas Explorer as she sailed from Istanbul to Rhodes, and was blown away by how luxurious the whole experience was. Here's what he had to say about it...
I was especially impressed by the space on board. There was so much space for everyone in the restaurants, lounges, and on the pool deck with lots of sunloungers available around the pool. A similar size mainstream ship would hold 1500 guests but Seven Seas Explorer holds 738 so you can definitely feel the space on board as an added luxury. I loved that all of the finer details were taken care of, even down to the pollen stems cut out of the fresh lilies in the lobby. 
The biggest single thing that stood out for me was the attention to detail in everything within the suite. It was as if they'd invited their top Regent Seven Seas customers and asked them to help design the suite.
My suite was a Concierge Suite on Deck 9 mid-ship, nice and quiet and couldn't feel any ship movement. I loved the plush blue carpet throughout the suite and this really complimented the dark wood. Seven Seas Explorer is designed to have a more traditional look, with dark woods, creams, and a lot of light – all very complimentary features.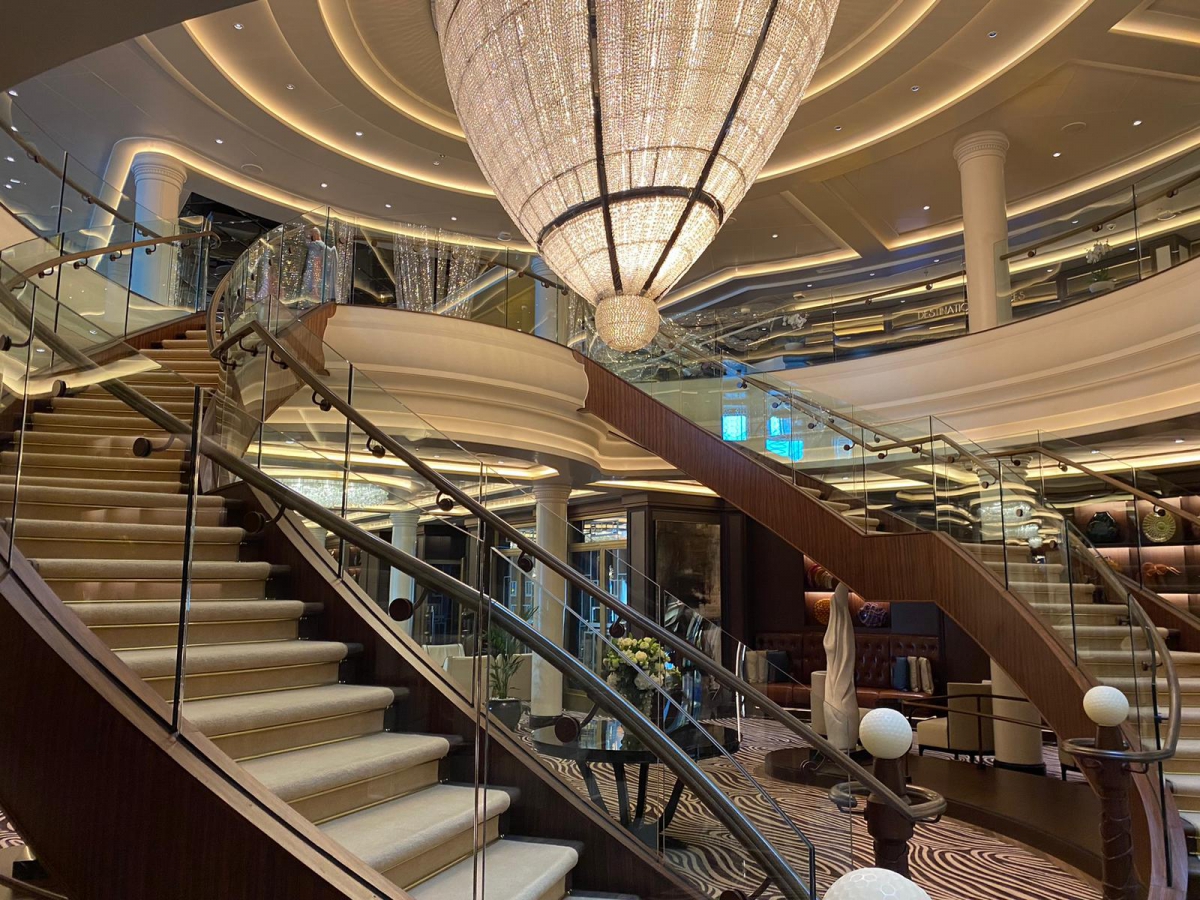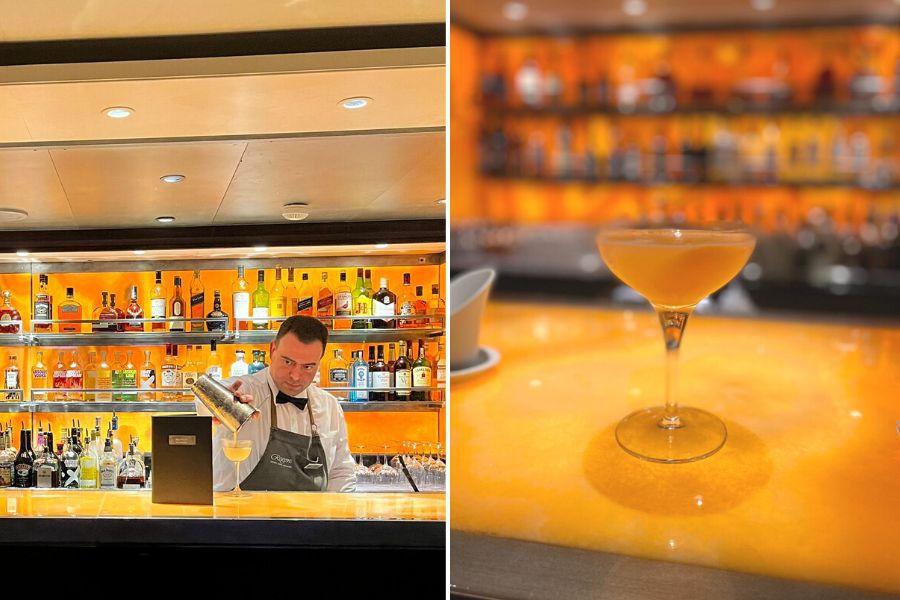 Every minor detail had been thought of...
Bathroom: I loved the spacious bathroom with double sinks, marble top and wall-to-wall mirror. The large walk-in shower had a huge shower head fixed to the ceiling offering a true rainfall shower, even the water pressure was incredible which is often hit and miss on cruise ships. I loved the full sized bath tub, this was a deep tub which meant for a truly relaxing soak. All toiletries were L'Occitane and were put to good use in the bath!
Suite: Immediately opposite the bathroom was a huge floor to ceiling mirror which was great for getting ready in. Sometimes cruise lines forget the lighting in a suite or cabin, however there was plenty of lighting and different types, from strong white lighting to softer mood lighting in areas such as the bathroom, living area, and around the bed.
The bed itself was made as a queen, however I have never been in a bed as big or as comfy on a cruise, the bedding was incredible quality. I loved the USB charging ports on either side of the bed and the soft brown leather headboard rising from the bed to the ceiling surrounded by beautiful dark wood. Each side of the bed was a European plug socket and two lights, a soft reading light and a brighter bedside light.
The bed faced out to the sea which meant waking up each morning with beautiful panoramic port views – I loved that the living area could be separated from the bed by another set of curtains – closing both sets of curtains on a night ensured a perfect sleep!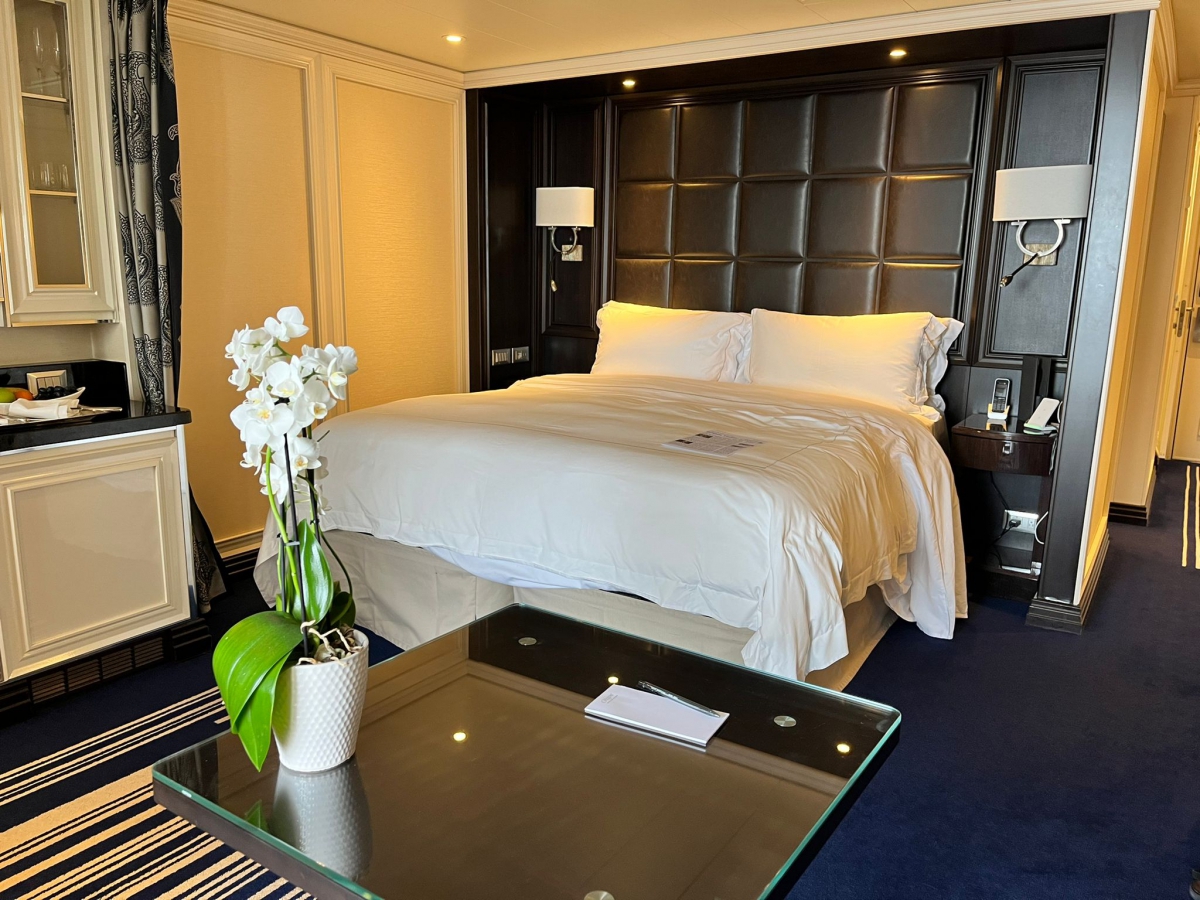 The minibar was stocked with my preferences from Champagne to gin and the cabinet at the side of the TV was stocked with different glassware depending on the drink, from different sized tumblers and glasses to flutes and wine glasses. I keep mentioning it, but it's all about the detail, having a choice of glasses to drink from! I also had an Illy coffee machine in my suite, so I could enjoy a fresh espresso on the veranda before breakfast.
Walk-in wardrobe: Very spacious with another floor to length mirror at the end of the closet, this ran parallel to the bathroom and was behind the bed. There were plenty of drawers on the left as you walked in, with a safe on top. I loved that there were plenty of hangers including the ultra soft padded ones for ladies' dresses - again, attention to detail!
Veranda: The veranda was large and spacious and featured extremely comfy rattan-style chairs, a table, and a rattan sun lounger. This was far more comfortable than I would've expected but goes to show the difference on an ultra-luxury cruise ship!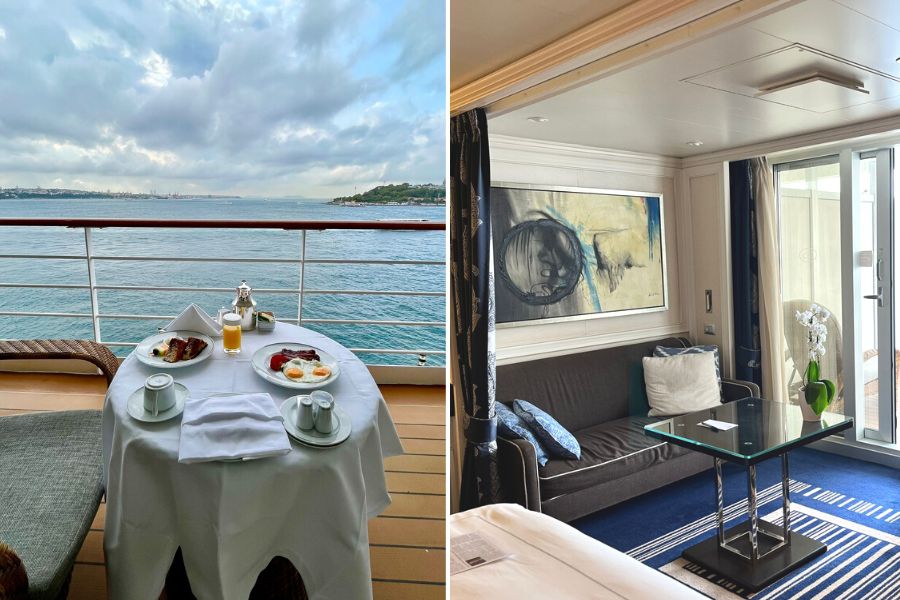 Next, I have to talk about the dining. I absolutely loved everything about the dining on board Regent, everything was fresh and incredibly good quality – I didn't have a bad meal on board.
Compass Rose
This is the main dining room, I loved the colour scheme in here, very light and bright, lots of white and blue and a real contemporary dining venue. Compass Rose is open for waiter service breakfast, lunch and dinner each day with no reservation required. The choice on the menu was incredible and definitely something to suit all tastes. Each evening you had "chef recommendations" which would consist of an appetizer, main and dessert which the chef recommends that day. In addition to this, you would have the featured menu for that evening, a choice of appetizers, soups, pastas, mains and desserts. On the opposite side of the menu was a "classic" selection, this never changed and consisted of guest favourites. There was also a 6-course tasting menu and then a choice section which featured different meats (steak, chicken etc), choice of sides and a choice of sauces.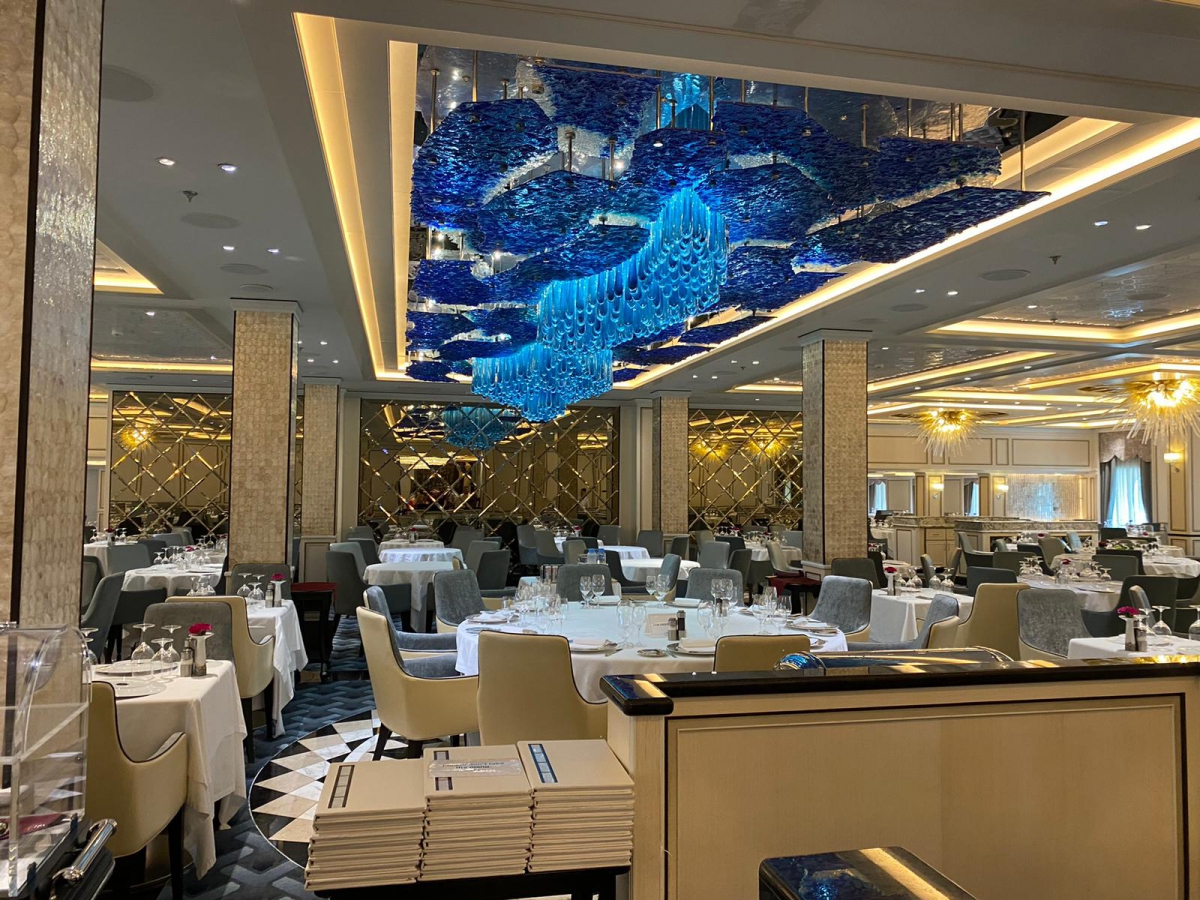 Chartreuse
Chartreuse is a fine dining French venue. I loved the chic décor in here, think dark woods and the feel of an upmarket classic French bistro. This evening, I chose the steak tartare and lobster which were both exquisite.
Prime 7
This premium steakhouse is a very intimate dining venue, with lots of table for couples and small groups. I loved the steak selection as there was lots of choice - I opted for the steak tartare again with a filet mignon. All the wines served in this restaurant come from the California region and the red wine recommended by the sommelier accompanied the steak perfectly.
Pacific Rim
This very eye-catching Asian themed restaurant is a large space with tall ceilings towards the aft of Deck 5.  I loved the black and gold theme in here and it made the venue feel very special, quite like a high class venue in Manchester or London. I opted for the mixed sushi and lobster tempura for appetizer, both were excellent and the black miso cod for main – again perfect.
My time on Seven Seas Explorer was simply perfect. The crew truly looked after me and every little detail was thought of on board. I would urge anyone looking for the ultimate ultra-luxury, all-inclusive cruise to try Regent Seven Seas, you certainly won't be disappointed.

Find out more about Regent Seven Seas here.
Call us on 0161 513 8200 to speak to one of our Cruise Connoisseurs and book your next luxury cruise.