A Splendid Cruise on Regent Splendor
A Splendid Cruise on Regent Splendor
The other week, Panache Cruises' General Manager Clare Cruise was invited on board Regent Seven Seas' newest ship, Seven Seas Splendor. Clare spent a few days sailing along the south coast of England and was blessed with beautiful sunshine throughout. Here's what she said about Splendor when she came back...
"Firstly, the testing process at Southampton was seamless. We were greeted at the port by Regent staff who took our luggage and guided us straight to the test centre. There were no queues so we moved swiftly to each station with the final station being an antigen test. We were given a number and asked to take a seat. Whilst seated we completed our health questionnaires and had our temperature taken. We then waited for just about 10 minutes before being invited to proceed to check in. This whole process was very quick and efficient, we were on the ship within 30 minutes of arriving at the port, and felt incredibly safe on board.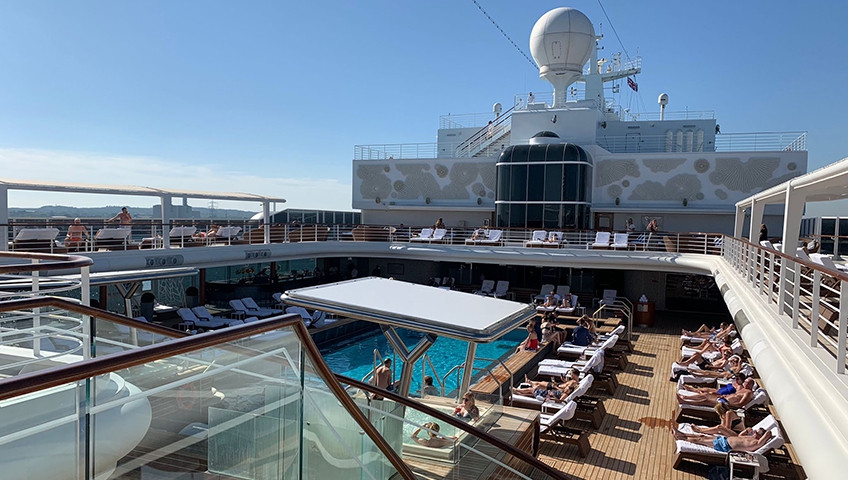 We were allocated a Penthouse Suite which was absolutely beautiful. During our trip we also explored the Concierge Suite and the Deluxe Veranda and all were more than adequate and felt very spacious. The advantage to the Concierge Suite was the bed facing the window, meaning you wake up to beautiful views of the ocean. The advantage to the Penthouse Suite was a double veranda complete with sun loungers, as well as a separate lounge area. All suites include a fully stocked mini bar and room service is readily available 24 hours per day. Laundry is also included.
For travellers who really want to treat themselves, take a close look at the Regent Suite, fully furnished by Ralph Lauren and housing an original Picasso, it is probably better than all of my homes that I have ever owned put together (and I think I keep a nice home!). It comes with its own private spa, lounge, guest bedroom, multiple bathrooms, and a veranda big enough to hold a cocktail party for half of the passengers on board! It even comes with its own private dining room where you can host your friends or fellow passengers for breakfast, lunch or dinner. If you can't quite stretch to the Regent Suite, the Master Suite and Seven Seas Suites are also fantastic options.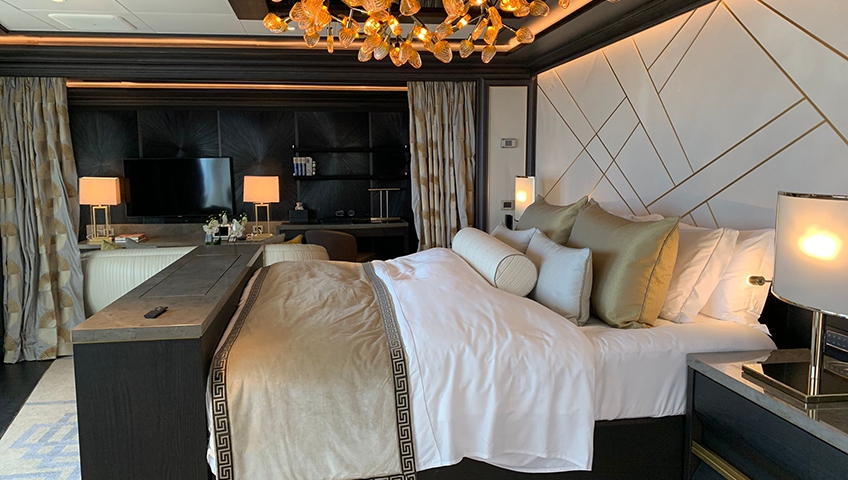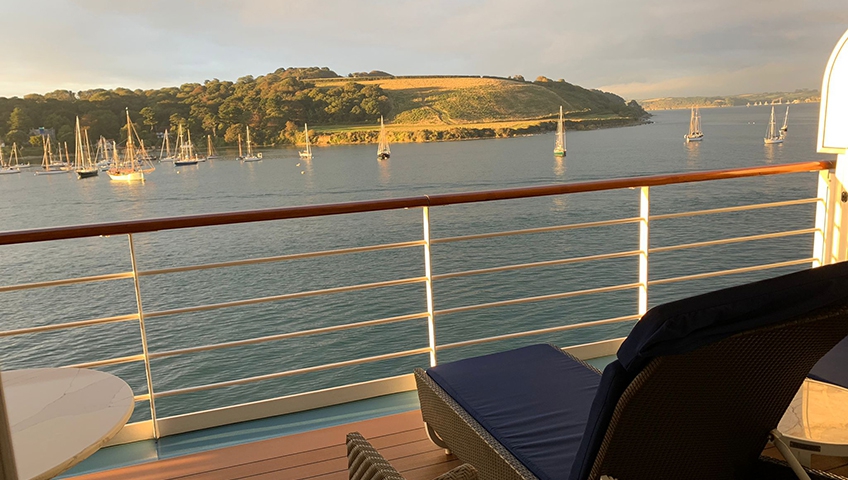 For a ship of this size, carrying up to 750 passengers, there is plenty of choice in terms of eating and drinking. The bars and restaurants are very comfortable, spacious and lavishly furnished. All venues we frequented never felt too busy but always had a great atmosphere. We used the Meridian Lounge for pre-dinner drinks and the Splendor Lounge for post-dinner drinks; the service was impeccable which often kept us there until the early hours!
The choice of food and beverages is excellent and if you can't decide on what to choose, don't worry, they will happily bring you a bit of everything! One of our favourites was Compass Rose, I would recommend you order two starters in here as they are quite small and with so many to choose from it's difficult to narrow it down to just one.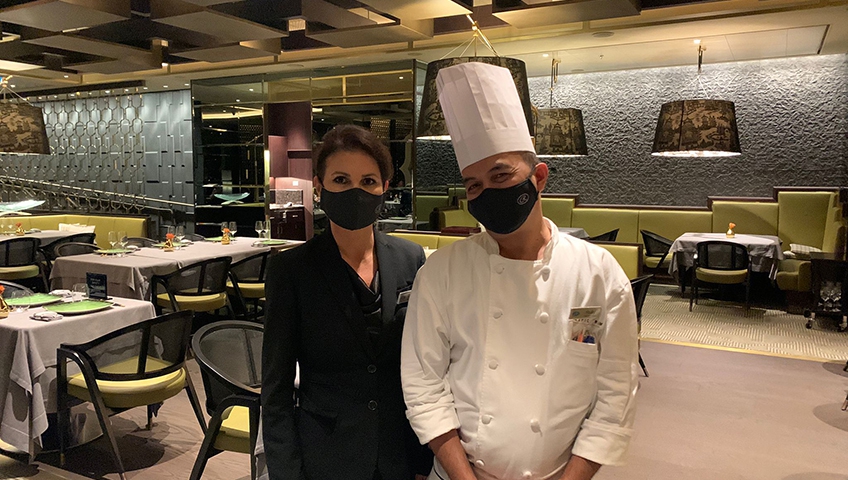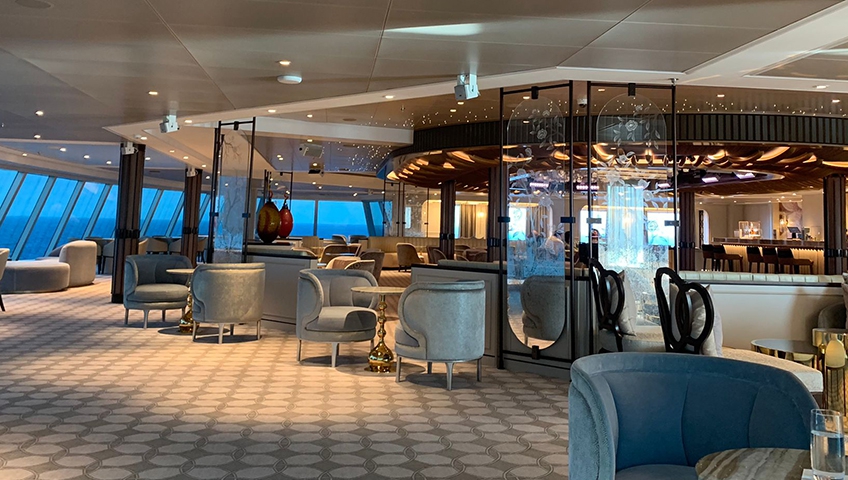 We didn't take advantage of the shore excursions as we were only on board for a couple of days and the ports we visited were easily accessible on foot. However, there were plenty of exciting excursions available starting at different times throughout each day and availability appeared to be good. I guess this does vary based on the itinerary, so I would always recommend planning ahead and pre-booking before you get on board, or head to the excursions desk as soon as possible when you embark on your cruise. If you change your mind, don't worry you can always change or cancel them once you get on board.
There was also plenty of entertainment on board to keep us happy for a few days - there was even a golf net on board so my husband had a great time!
Overall, this ship really does have the wow factor. We speak about the guest-to-space ratio often but I don't think you fully appreciate this until you experience a small ship cruise for yourself. All restaurants, suites, bars, entertainment venues etc. are very spacious and feel like they were made for more people to enjoy at any one time. The service was amazing and the crew are extremely non-invasive while also being super attentive and friendly. They watch from afar and ensure they are there for you exactly when you need them. I would highly recommend this ship, it has to be up there with one of my favourites so far."
If you would like to watch Clare's chat with Regent Seven Seas Managing Director Graham Sadler, click here. Alternatively, click below for a sneak peek of Splendor from some of the fantastic content Clare captured on board.