My First Luxury Cruise with Regent Seven Seas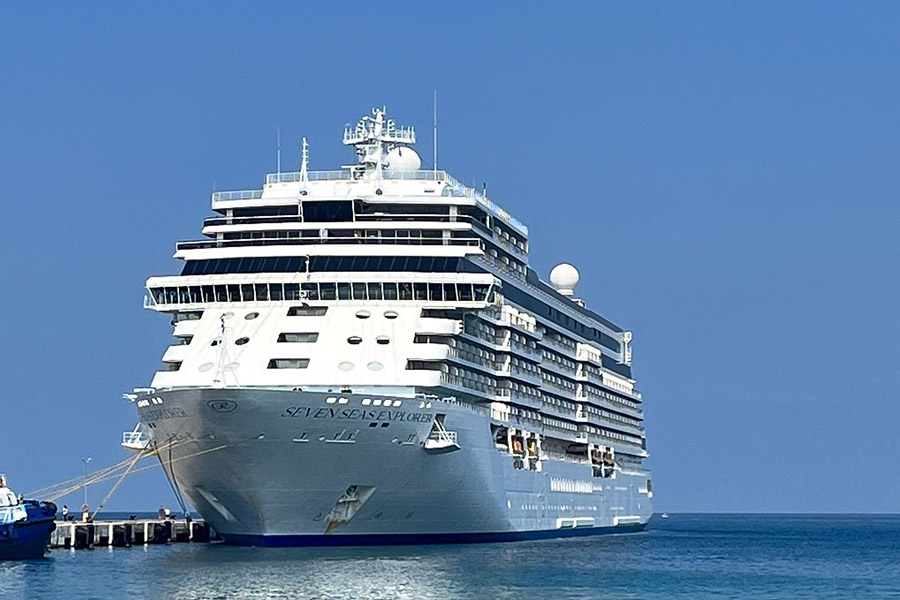 My First Luxury Cruise with Regent Seven Seas
Recently, two of the Panache Cruises team went on Seven Seas Explorer for a fantastic cruise from Istanbul to Rhodes. Finance Manager Kim has cruised in the past - but never with a luxury cruise line. She was absolutely blown away by Regent Seven Seas and how luxurious it was compared to the mainstream cruises she's been on in the past. Read below to find out more about Kim's experience on Explorer and her thoughts on luxury cruising for the first time...
"It was literally from our first moments stepping onto the ship that I knew this experience was going to be amazing. We were greeted with a lovely cold glass of fizz (which was needed after a day of travel and the heat in Istanbul) then shown to the reception area to check in. The staff on the reception desk were extremely helpful, explained where my suite was, gave us a brief explanation of the decks and how to connect onto the complimentary WiFi. By the time I made my way to my suite my luggage was already there and waiting for me.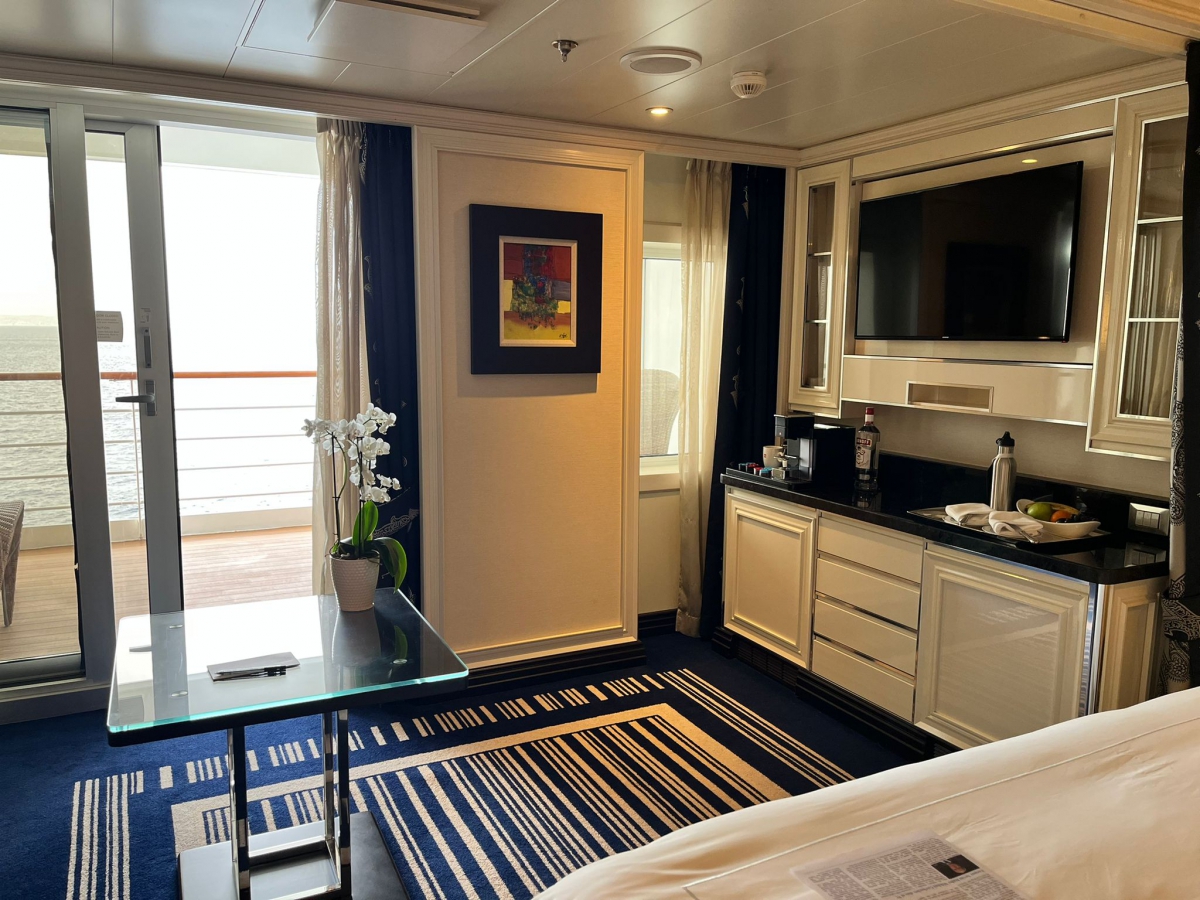 I stayed in a Concierge Suite (855) and having only cruised on mainstream ships in inside cabins previously, I was blown away by the space in the suite. I've actually lived in flats smaller than these suites! As I entered, my eyes were immediately drawn down to the living area of the suite with a welcome bottle of Champagne being kept cool in an ice bucket and the fresh fruit tray on the table. All Concierge Suites are designed with the living area at the end of the suite with access to the balcony. In the seating area you can also find the minibar, coffee machine and flat screen TV.
The design of the Concierge Suite means the beds are facing out to the balcony so you can enjoy a coffee in bed each morning whilst looking out at the beautiful ocean or port views. A really cool feature of the room is that the TV is on a moving bracket, so you can move it around to face the bed or the sofa. The suite also has a full dressing table, including a light-up mirror, perfect for getting ready in the evenings.
The bathroom is extremely luxurious with marble floors and surfaces. There are double wash basins, a lovely deep bathtub and a large walk in shower. All the bathroom and especially around the mirror is very well lit with lots of bright lights. The complimentary toiletries are L'Occitane and I highly recommend running a bath with the lavender bubble bath - if I didn't have dinner plans I could have stayed in that bath for hours!
Next to the bathroom door you will find the walk-in wardrobe, I found this such a luxury! There's so much hanging space, drawers and shelves. In here you will also find a full length mirror, safe box, slippers and dressing gown. The balcony is a great size, with more than enough room for a sun lounger, two chairs and a table which is perfect for a room service breakfast.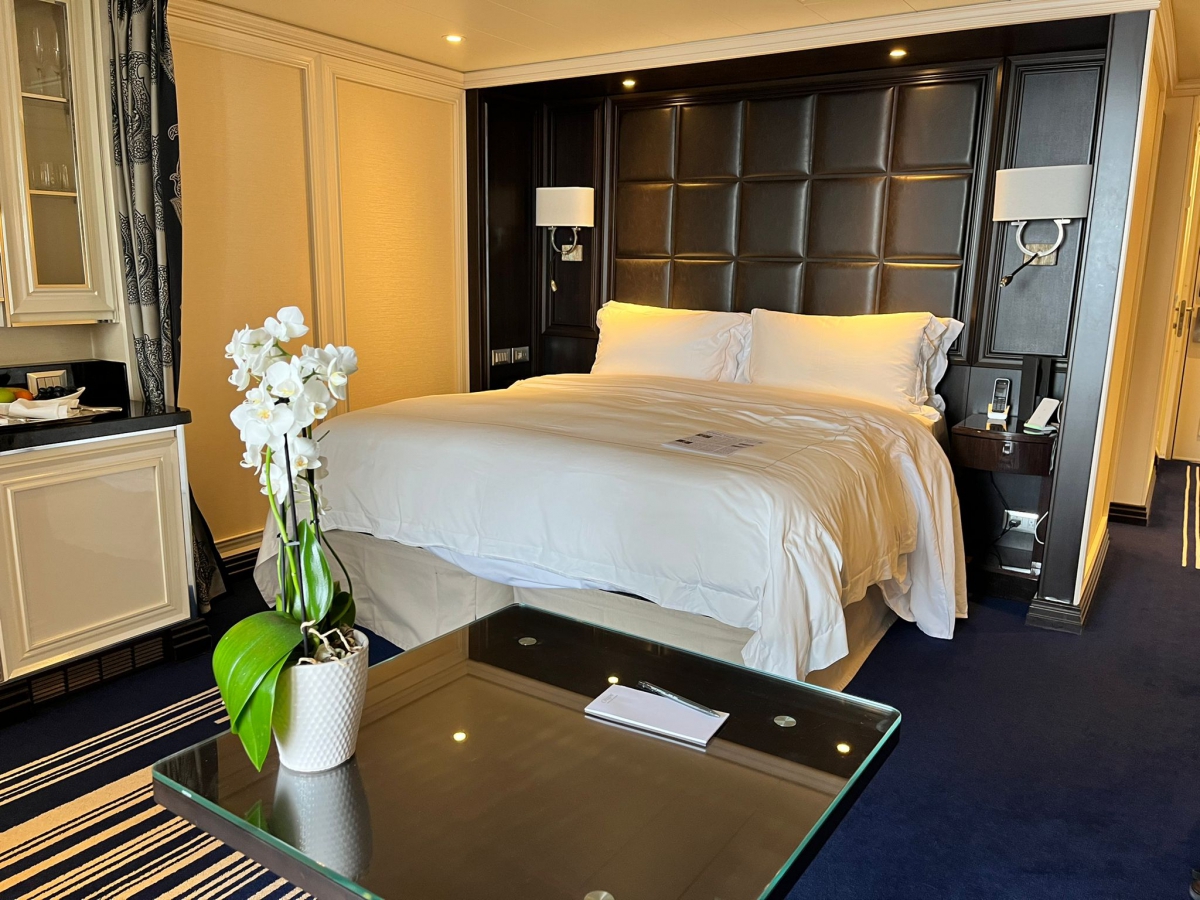 Which leads me onto the incredible food. Although there isn't as much choice as I've experienced on a mainstream cruise, everything I ate and drank on board was absolute perfection. 
The first night we dined in Compass Rose which is the largest specialty restaurant, the décor of the restaurant is based on the ocean, including an amazing blue glass sculpture on the ceiling as you enter and lights across the room that look like sea urchins. There was plenty of choice on the menu, including a 'Design your Entrée' option which allows you to pick your meat or seafood, sauce and side, this is what I decided on while other people in our party opted for the 7-course set menu which also got amazing feedback.
For the second evening we ate in Chartreuse which is the French inspired restaurant. The space in here is beautiful and every detail is thought of, even the dining plates are gold edged. Having never eaten in a French restaurant before I was worried about the menu options, however, once seated the staff explained that the concept of Chartreuse is French with a modern twist, answered any questions around the menu and there was plenty on there for all tastes I wasn't quite brave enough to try the escargot, instead opting for the duck terrine and as another first for myself I had veal for my main which was perfect, just like everything else.
On the third night we ate in what turned out to be my favorite, Pacific Rim. Inside the restaurant you honestly forget you're on a ship, it feels like you're in a top-rated restaurant in a fancy city!  Aside from the décor the food was out of this world. I had sushi, tempura crab and lobster, it was all the best Pan-Asian food I'd ever eaten.

The final night we dined at Prime 7 which is the ship's premium steakhouse, a must visit for any steak lover like myself. I opted for the 'surf and turf' which was a beautiful lobster tail with filet mignon - as expected it was cooked exactly how I like my steak. The atmosphere in the restaurant was great, a guest had renewed their vows on board that day and was surprised with an amazing cake and the staff singing a lovely song to them which everyone enjoyed.  Although I felt like I couldn't eat another bean, we had been told about the famous 14-layer Prime 7 chocolate cake, so we decided to order one for the table so we could at least try it, and I'm so glad we did, it was so light and chocolatey!
In all the restaurants on board there are fully trained Sommeliers and they are always on hand to suggest the perfect wine pairing for the different menus. It was a great touch which meant every dining experience was next level.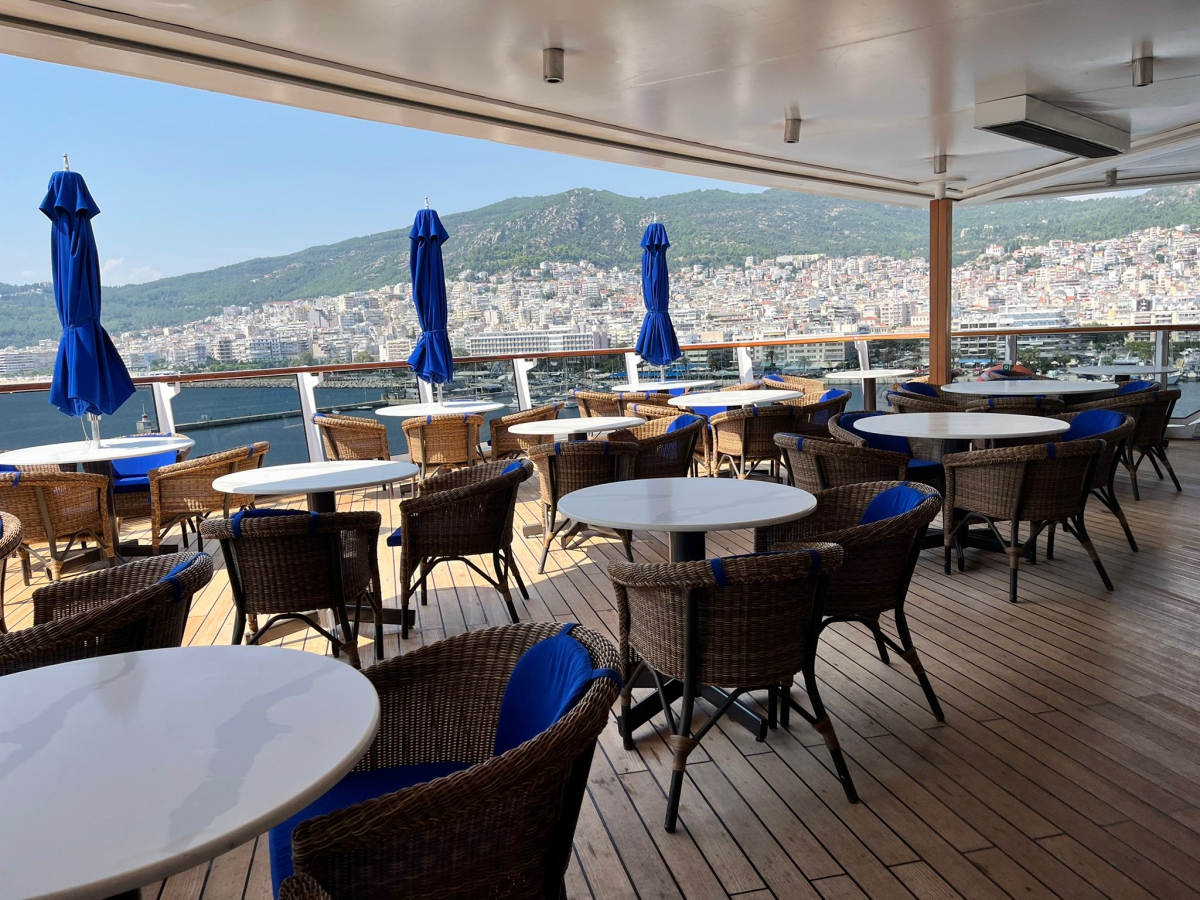 As I was only on board for a few days I decided to make the most of room service breakfast on two of those days. I ordered the evening before and it was brought to my room at the requested time and set up out on my balcony table with a lovely crisp white tablecloth. The choice on the room service menu is great and there's a great mix for whatever you fancy that day. The food, just like in all the restaurants, is cooked and presented perfectly.
If you do prefer to have breakfast out of your suite, then Compass Rose is open for breakfast or there is also Coffee Connection which is perfect for a light bite with a coffee at any time of day. I had more than a few iced coffees from here and enjoyed them outside on deck.
Away from the dining rooms and food, I sampled each of the three lounges on board. My favourite was the Observation Lounge which is at the back of the ship with floor to ceiling windows looking out. Unfortunately as we left Istanbul it was raining so the sail away party was thrown indoors, but we still enjoyed amazing views of Istanbul as we set sail. In the evenings, there's a fantastic dance floor and I was lucky enough to catch a very talented singer and piano player in here on one of the evenings.
There is also entertainment in the two other lounges, Explorer and Meridian, which means there are plenty things to do depending on what kind of entertainment you fancy for that evening. Each night we headed to the theatre after dinner to enjoy the different shows. The theatre itself is beautifully designed, there's plenty of seating without feeling like you are all packed in, and each seat has a table close by for your after dinner drinks while you enjoy the entertainment.
As Regent Seven Seas provides a completely all inclusive cruise, this means that there are also plenty of excursions included each day. As I wanted to experience the ship to its full potential in my short time on board, I only went on one excursion. This was a trip to Ephesus, the iconic ruins in Turkey and one of the only ancient wonders of the world still standing. From my time on mainstream cruises and excursions I experienced on those, I felt Regent's approach to excursions was on a whole different level and exactly what you'd expect from an ultra-luxury cruise. Firstly, the destinations team were at the exit of the port guiding guests to the correct coach and pick-up point. The group size on our trip was much smaller than I'd experienced before, which meant it felt much more personal. The tour guide was extremely knowledgeable, she had previously worked at the Ephesus museum which meant she was very well informed. On our journey to the ancient city she spoke about the history around ancient Turkey and was very engaging and interesting.
Although everything about my time on the ship was amazing and perfect, the one thing that really blew me away was the space. Not only was this the space within my suite, it was really noticeable all around the ship, from walking through the reception area, dining rooms and around the pool, you never felt like you were on a small ship due to the guest to space ratio."
Find out more about Regent Seven Seas Cruises.
---
Want to experience this? Give the Panache Cruises team a call on 0161 513 8200 and they'd be happy to help!