We went on a Hurtigruten Expeditions cruise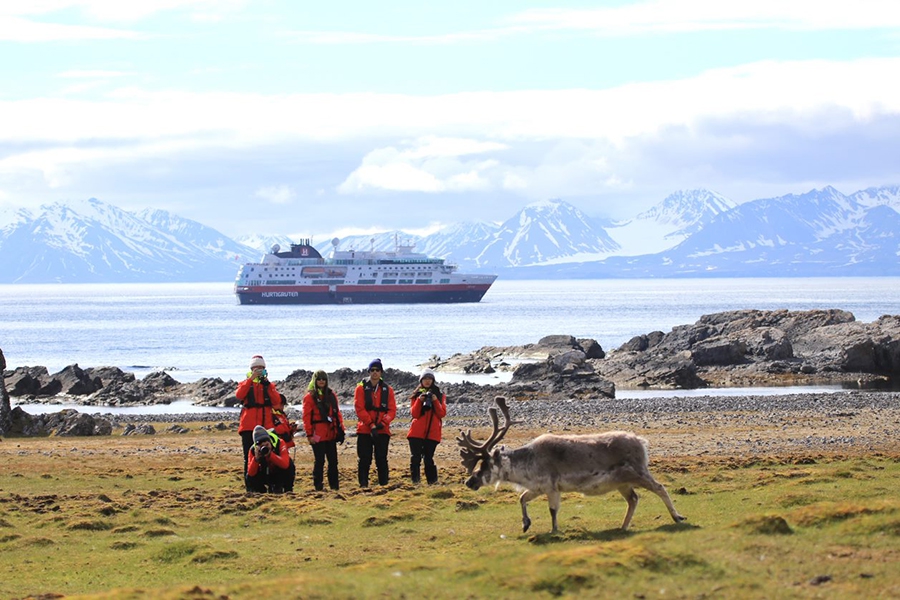 We went on a Hurtigruten Expeditions cruise
Panache Cruises cruise connoisseur Amanda was lucky enough to enjoy a 6-day Hurtigruten Expeditions cruise around the glorious British Isles. She wants to tell you all about it.
---
Day 1: Embarkation
We arrive at Greenock, Glasgow - an industrial-looking port but the start of our adventure nonetheless. After discovering a lack of parking at the port itself, we asked at a bingo hall next door whether we could park there for six days. With typical Glaswegian grace, they accepted. We could finally board MS Spitsbergen.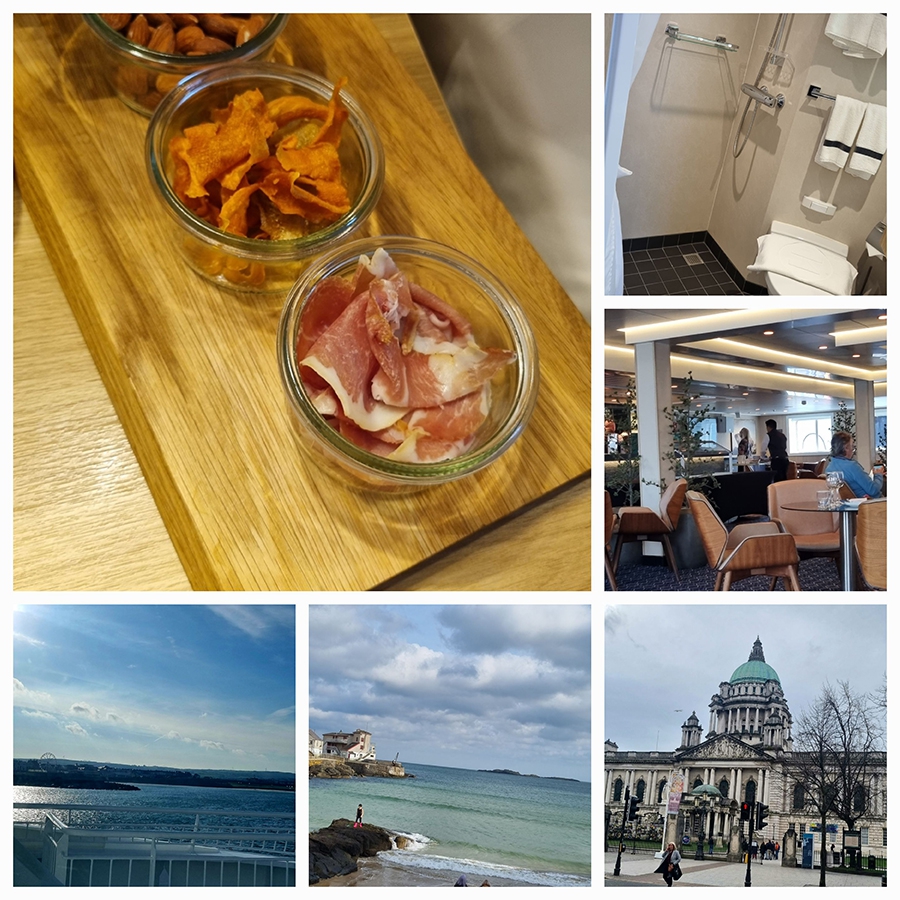 Embarkation was lovely and smooth; our stateroom was ready as soon as we got on board and checked in. We were in an Arctic Superior Oceanview Stateroom. It was beautiful; very spacious, if sparsely furnished. The ensuite is lovely with a walk-in wet room-style shower and a heated floor for those chilly Arctic and Antarctic mornings. Again, plenty of room. Typically Scandi. 
Tip: We did have a window, but beware there is a walkway directly outside and your view be partially or fully obstructed by lifeboats and equipment. We were in 609, and thankfully had an 80% view.
We finally set sail at 6pm, heading overnight towards Portrush in Northern Ireland. Our evening meal was delicious and easy. It was buffet-style dining with plenty to choose from: Fresh pasta cooked to order, meat carved right there in front of you, salad and veggies, and a delectable selection of desserts. My vegetarian friend, whom I was travelling with, had plenty of choice for her dietary needs. All beer, wine, and soft drinks are included with your meals on a Hurtigruten Expeditions cruise. At other times you'll be charged in Euros. Prices are average, around €5 for a beer. After dinner we listened to a talk about how to book excursions and what we would be doing in Portrush the following day. 
Day 2: Portrush
We arrived in Portrush early in the morning. With it only being a tender port, we jumped on the Zodiacs to get to shore. Portrush is a pretty coastal town and we had a little look around before heading back to the ship for lunch. In the afternoon we took an organised excursion to the stunning Dunluce Castle - AKA Greyjoy Castle in Game of Thrones! Afterwards we headed for the Giant's Causeway. With it being one of the natural wonders of the world, it was extremely busy there! I'd like to return out of season so I can appreciate it properly in all its majesty. All the days' excursions and trips to and from shore were very well organised and included in our fare. Another buffet-style evening meal before we were to attend a lecture from the Captain talking us through the itinerary for the following day.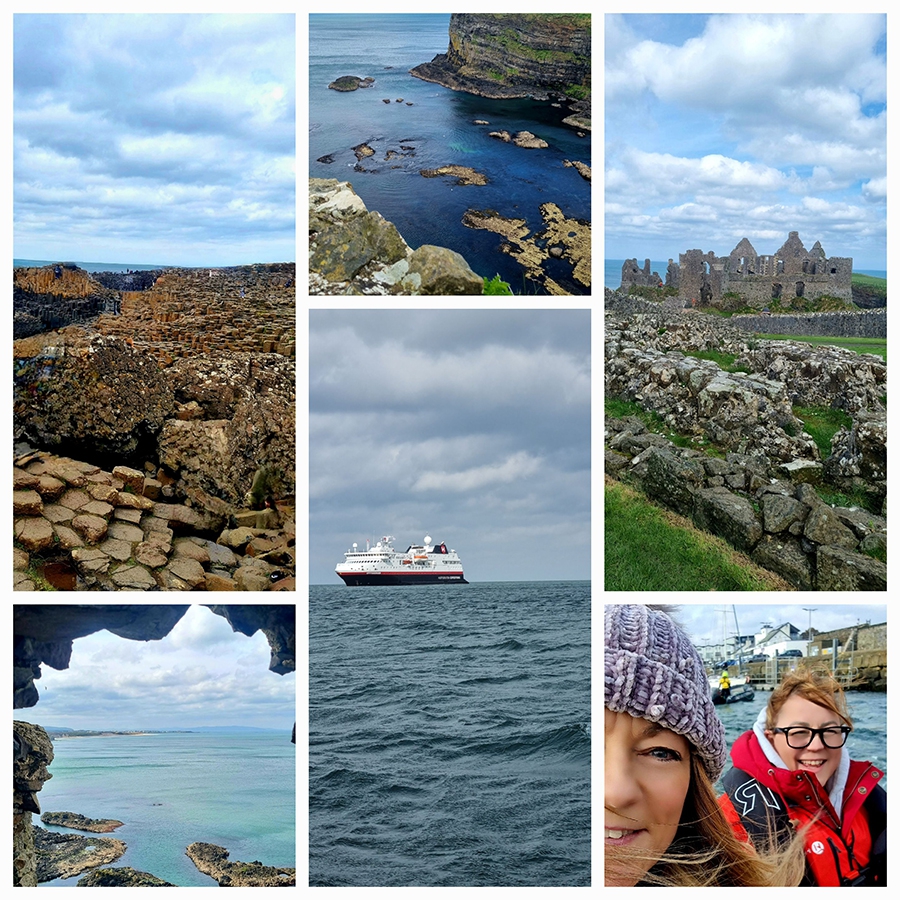 And that was it for the evening. Apart from the lectures and the odd game of bingo, the decks and bar were all empty by 10pm. There's a television in every room that shows films for free. After a busy day of sightseeing, it was quite pleasant to put your pyjamas on, put the kettle on, and watch a film from the comfort of your own suite. 
Day 3: Belfast
We were up early on Day 3. Breakfast finished at 8:30 sharp, but it was definitely worth the early morning. A full English was on the menu with eggs made to order. There was an omelette station, cereals, pastries, fresh fruit, smoothies, juice, tea, and coffee. It was a fantastic way to build up some energy for a day exploring brilliant Belfast. We didn't opt for the organised tour this time, but decided to do our own bit of sightseeing. We took the shuttle right to the city centre, had a bit of lunch, and got the shuttle back to the ship when we'd had enough. Pleasant, easy, and a wonderful way to explore a beautiful city.
Day 4: Isle of Man
After a rough crossing across the infamously choppy Irish Sea, we still managed to sleep soundly. The beds were so, so comfortable - and we probably wouldn't have got out if the Isle of Man wasn't outside our window. We decided to just have a look around the town of Douglas without the organised tour. The weather was typically overcast and raining, but it's only a five minute walk from the port to the town centre. A highlight of the day was finding the Bee Gees statues emerging from the sea mist along the front. Apparently they're from the Isle of Man!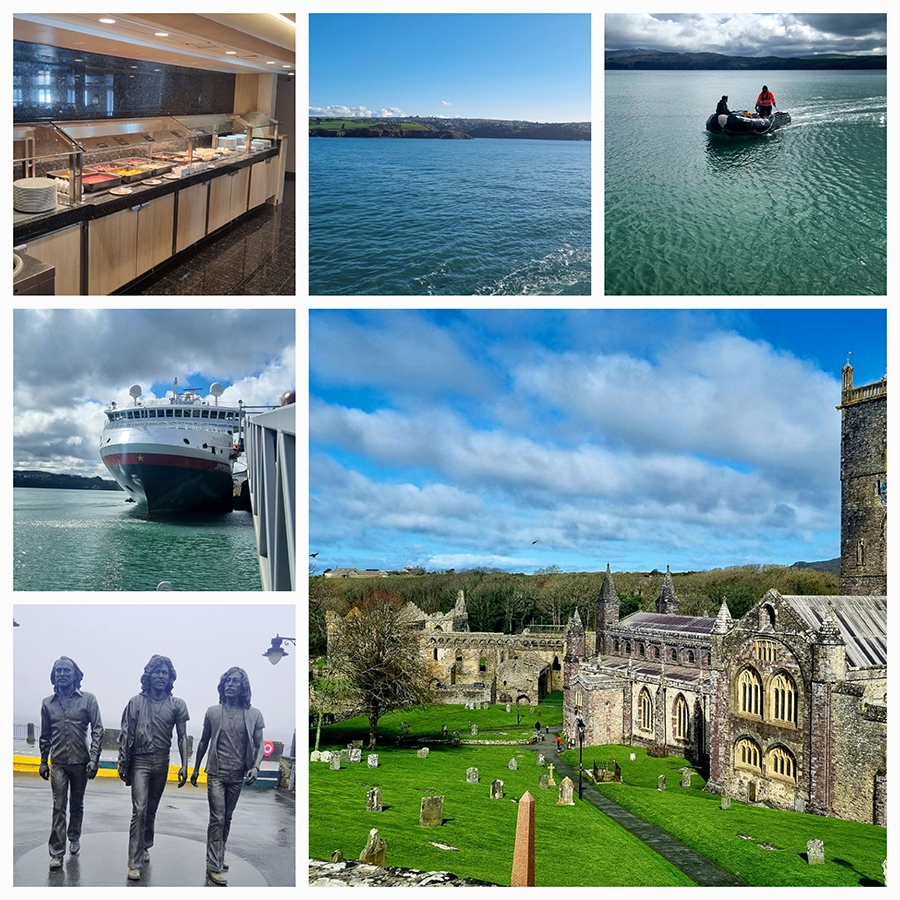 We had another lovely lunch before getting back on board in the mid-afternoon. Similarly to the other days, we enjoyed another evening meal and listened to a talk about the following day's itinerary. We decided to book ourselves onto a kayaking trip for the following day.
Day 5: Fishguard, St. David's, Kayaking
We arrived in Fishguard in Wales accompanied by beautiful sunshine. We headed on the 45 minute coach transfer to St. David's, which is the smallest city in the UK! The transfer took us through the sunny countryside, and it was a wonderful way to start the day. It didn't disappoint. The cathedral is absolutely beautiful, and the rest of the city is quaint and filled with lots of lovely boutique shops. After exploring we got back on the ship for our buffet lunch. As ever, it was filled with an outstanding selection. We needed the energy, because the highlight of our trip was coming up!
Kayaking around the Bay of Fishguard was amazing. All the equipment was provided and we had a full lesson in how to put the dry suit on and everything else we needed to know. We went down to the aft of the ship fully dressed for our adventure. Once we'd finished our lesson we launched our kayaks off the side of a Zodiac; you have to be pretty agile to get in. Then we headed out in twos across the bay. The sea was a beautiful bottle green and calm like a mill pond. The sun was shining - we couldn't have asked for better conditions. I would definitely recommend this activity. We were out for three hours, when we were only booked to be out on the kayaks for an hour and a half!
Day 6: Dublin
We docked about 15 minutes from Dublin city centre. It was another lovely day, so we decided to walk it rather than take the shuttle bus. We've been to Dublin a fair few times, so we just took a lovely stroll through the city and had a couple of drinks. It's worth noting here that we found the shuttle bus back to the ship easily enough. Hurtigruten's app features all the information you could possibly need, such as port information, meal times, menus, and stuff about excursions. You download the app on the first day, and you can access it from the ship. The only thing is, it stops working when you get off the ship, so screenshot any information you might need!
Day 7: Home
After a lovely calm crossing back to Glasgow, disembarkation was very smooth and we were already on our way home by 10am. What a great time we had! The ship is small but perfectly made for expedition cruising. The staff were absolutely amazing, helpful, and informative. We had the option to join in some science classes and go out with the crew on the Zodiacs if you want a more hands-on experience. If you're looking for expeditions in simple comfort, you're looking for Hurtigruten Expeditions!
---
Call us on 0161 513 8200 to find out more about about Hurtigruten Expeditions.