Going with the Floe by Gary Buchanan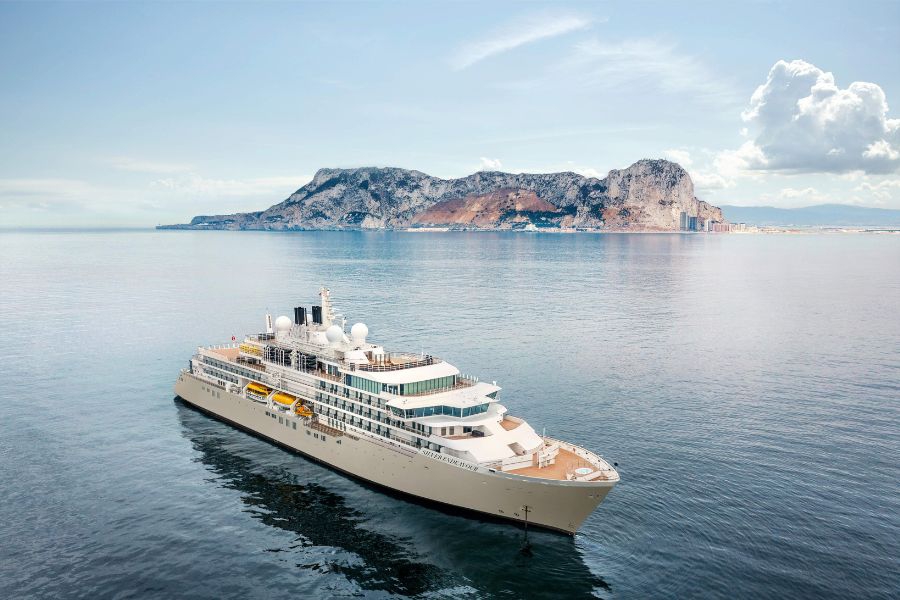 Going with the Floe by Gary Buchanan
The most expensive expedition ship ever built, Silver Endeavour is introducing a new echelon of experiential luxe. Panache Ambassador, Gary Buchanan extols the rapture of an expedition voyage to Antarctica and reports on Silversea's latest trailblazer.
An armada of steep-sided, flat-topped icebergs paraded past us like a welcoming party, each one illuminated by the glow of the sun. We were navigating Antarctica's majestic Lemaire Channel, where mountains of rock erupt sheer-sided from the sea. Crabeater and Weddell seals lying together on frozen rafts of ice were awakened from their midday nap and slid back into the sea. The surface of the ice-strewn ocean suddenly erupted as mother and calf humpbacks spouted before arching and fluking. It was a spine-tingling moment in a cruise overflowing with rapture. Yet it was just one of countless spectacles seared into my memory from my time on the White Continent.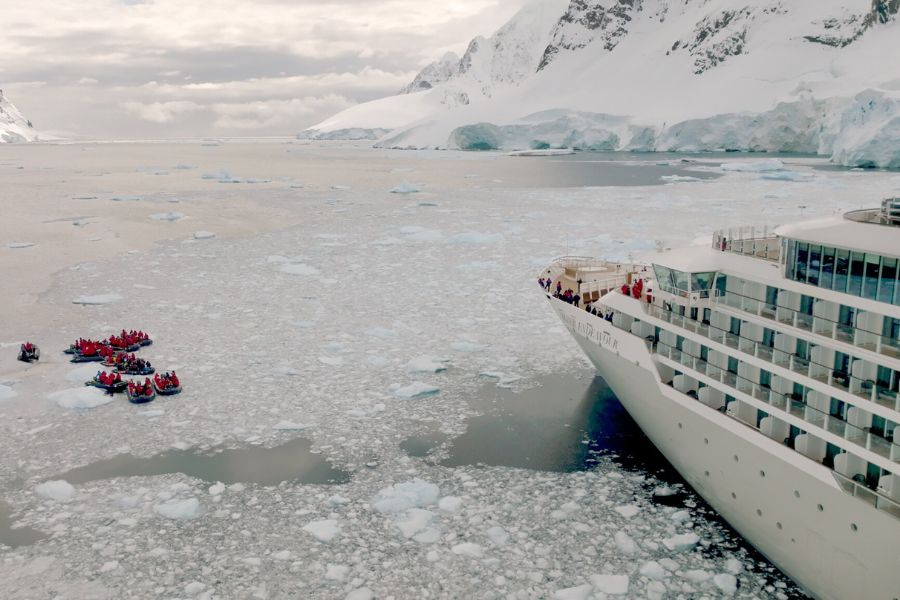 As the captain deftly manoeuvred the sturdy vessel through this narrow, watery chasm, at places less than 1,600 metres wide, we skirted growlers - midsize icebergs named for the sound made as they release ancient air pockets trapped in the ice. It was the overture to nature's endless symphony. 
Our first steps on the elusive Seventh Continent were taken at the Chilean research station of González Videla, in the aptly named Paradise Bay. It's been abandoned since 1984 - seemingly in a hurry, for there was still food in the cupboards, and a tinselled Christmas tree stood forlorn on a table. Outside on the rocks in bright sunshine, Gentoo penguins were feeding their offspring. It's impossible to ignore the grace of these birds; for in spite of their comic, officious waddle on land, in their natural habitat, their agility is outstanding..
Heading north toward Deception Island, few of us realised what lay ahead. The sheer escarpments guarding the island's perimeter are cleaved by a passage called Neptune's Bellows, where the ocean pours into an interior lagoon that's actually a flooded caldera. Volcanic and unpredictable, steam seeps out of the wet, black sand in trailing wisps, giving the place an ethereal quality. At Pendulum Bay we put on our bathing suits and soothed our bones in the natural hot baths where vents from underground pools of molten rock heat shallow pockets of water. This was an ice-breaker to melt the last vestiges of any social pretensions; for unlike the penguins; we were not at home in this watery medium and looked conspicuously out of place.
Exploring a forest of tabular icebergs from the Zodiacs that ferried us along the western shore of the Antarctic Peninsula and South Shetland Islands, we marvelled at the exotic shapes and discovered this was far from simply a continent in monochrome - of white ice and black rock. Three-dimensional stripes of incandescent delphinium blue streak through a battalion of towering structures created aeons ago. Trillions of pixels captured the stunning beauty of an immense aquamarine sculpture whose 100-foot ice arch swept above us, while all around lustrous monoliths were calved from the blue frozen cliffs of ancient ice.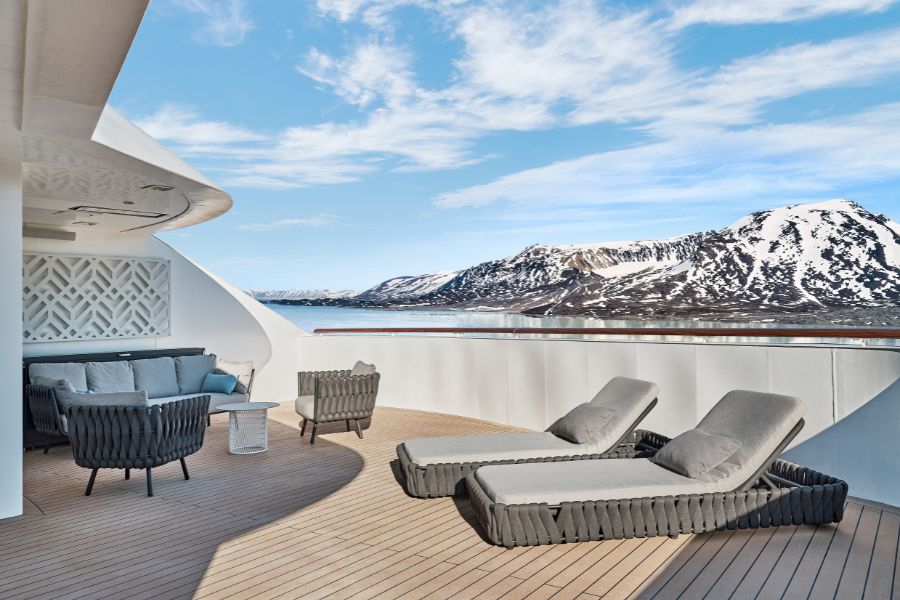 It's almost twenty years since I ventured to Terra Australis – the frozen continent that lies at the bottom of the globe. For ten surreal days, the vessel I called home short-changed on creature comforts, but was as good as it got in those nascent days. In recent years, ships have upped the ante in lavishness, and now there's a veritable flotilla of superbly-appointed vessels finely-tuned to Polar exploration – it's predicted that by next year there will be 90 ships. But nothing can compare with the latest paragon from the undisputed maestros of this niche cruise conceit – Silversea Expeditions.
In July 2022, the trailblazing, 200-guest Silver Endeavour was acquired by Silversea Expeditions. The vessel's previous owner, Crystal Cruises, ceased operations in January that year due to its proprietor – Genting Hong Kong – filing for bankruptcy – a high-profile casualty of the pandemic. After a ten-week makeover in Marseille, when the hull was repainted in Silversea's signature white and light-grey livery, the ship sailed for Antarctica.
First launched in June 2021 as Crystal Endeavor, the most expensive expedition ship ever built, has an impressive crew-to-guest ratio of 1:1. At 100 GRT per guest, the 164.4 metre vessel also has the highest space-to-guest ratio of any luxury ship crafted exclusively for exploration.
On 15th November, this aristocrat of the seas was given a blessing ceremony at the Cape Horn Sub-Antarctic Centre in Puerto Williams. Four days later, the vessel arrived at the incredibly scenic Lemaire Channel for the christening ceremony. Media and industry partners were joined by British climate scientist, expedition leader and climate scientist, Felicity Aston MBE. This polar explorer was also the first woman to ski alone across Antarctica, so it was fitting that she should be Godmother to Silver Endeavour.
Rather than the pomp and pageantry normally associated with the naming ceremony of a ship, guests traded sequins and tuxedos for smart red Silversea parkas, thick gloves and beanie hats. They embarked a convoy of the vessel's Zodiacs to witness the Godmother consign an ice-sculpted magnum of champagne to smash on the 'O' of the ship's name, an historic designation which pays tribute to Captain Cook's famous ship, Endeavour.   
Accommodation ranges from: 12 Classic Veranda Suites; 16 Superior Veranda Suites; 30 Deluxe Veranda Suites; 32 Premium Veranda Suites; eight Silver Suites; to an Owner's Suite; and a Grand Suite. Dimensions start at an impressive 33 sqm rising to a lavish 174 sqm. All suites have king-sized beds, flat-screen televisions, walk-in wardrobes, and fully-stocked mini-bars, plus warm storage for drying parkas, bathrooms with heated floors and rainfall showerheads. All guests have the services of butlers who unpack and pack guest's cases, facilitate laundry requests and provide in-suite white tablecloth service.

Dining venues include: The Restaurant for breakfast, lunch and dinner; Italian cuisine is on the menu each night at the intimate Il Terrazzino; while gastronomic specialities are served in the opulent surroundings of La Dame for dinner. Located beside the pool, with a mezzanine one deck above, the casual Grill serves breakfast and lunch, a more intimate vibe is created in the evening when the menu is à la carte.
Public rooms include the Explorer Lounge, which in essence is the heart of the vessel and is the locale for onboard lectures and natural history films shown on panoramic screens; as well as pre- and post-excursion briefing sessions. There's a Connoisseur's Lounge; the highly-popular Arts Café; and an Observation Lounge with wraparound windows. There's also a Library; Boutique; plus Otium Spa, with three treatment rooms, thermal areas for men and women, and Beauty Salon. A two deck high glass-enclosed Solarium is a masterstroke as the vessel will spend 90 per cent of its time in Polar regions; there's also a sizeable swimming pool and whirlpool. The expansive open deck space is also noteworthy.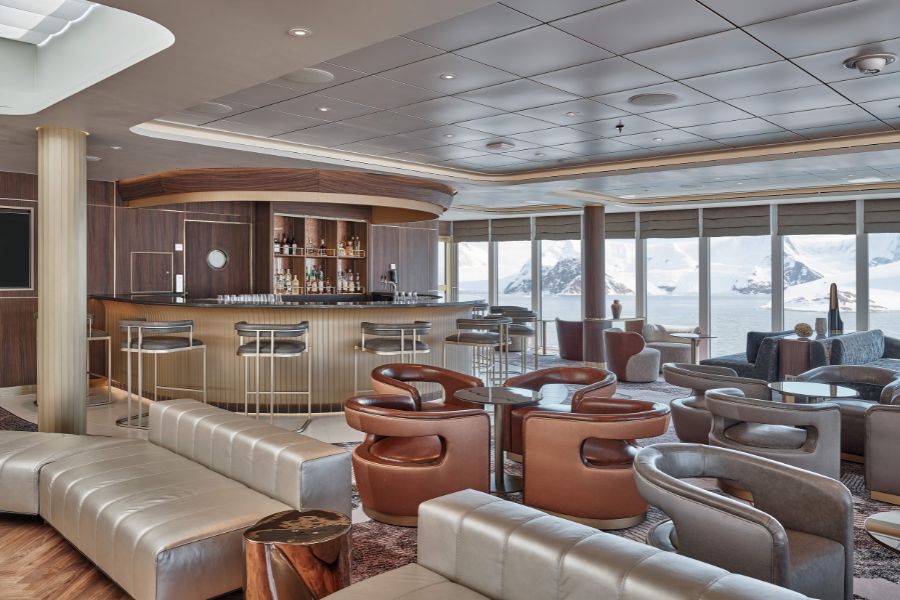 For expeditions there's no fewer than 18 Zodiacs (rising to 22 in May), which guests access via two well-appointed Mud Rooms with lockers for each suite. Accompanying all landings and Zodiac excursions is a 20-strong team of Expedition specialists. There's also a Marina where guests can climb into 14 two-person ocean kayaks to explore the seascape accompanied by expedition team members.
The vessel has PC6 ice class specifications and a power plant created especially for ice-going service. The dynamic positioning capabilities enable the ship to remain in place utilizing GPS and thrusters, rather than dropping anchor, avoiding any potential damage to delicate ecosystems.
Underwater FarSounder 1000 technology located in the bulbous bow allows the captain and bridge officers to detect sea life utilizing real-time 3-D imaging of terrain up to 3,250 feet ahead and 165 feet deep. Live images from an underwater Remotely Operated Vehicle (ROV) and a SHOTOVER Gimbal with an integrated camera system are fed onto LED screens throughout the ship as well as guest suites.
There's no disputing that the 1,100 kilometre Drake Passage between Cape Horn and the Antarctic Peninsula can be challenging. Here, layers of cold seawater from the south and relatively warm currents from the north converge to form powerful eddies which, when combined with strong winds, can create stormy seas. For many cruise passengers this is regarded as a rite of passage; for others, the prospect of a 'Drake shake' for at least 36 hours is enough to make them strike Antarctica off their bucket list.
For the past two years, Silversea Cruises has been operating a hugely successful alternative – the exclusive Antarctica Bridge. Following a charter flight from Santiago to Punta Arenas in southern Chile and an overnight in a local hotel, passengers embark on a dedicated Antarctic Airways (DAP) BAe146 aircraft with European-style business-class seating. Two hours later they arrive at King George Island in the South Shetland Islands, just north of the Antarctic Peninsula. Shortly after landing, they embark the ship for an immersive expedition which lasts between five and nine days. At the end of the cruise the charter flight awaits at King George Island for the return trip to Punta Arenas. In Jan and Feb 2024, there will be two Antarctica Bridge itineraries that involve a flight in/out of King George Island on one leg of the journey and a crossing of the Drake on the other.
With a maximum service speed of 19 knots, Silver Endeavour can wait in the Beagle Channel up to 10 hours for low pressure systems to clear through the Drake Passage before heading to the Antarctic Peninsula. Apart from being the 'fastest ship in the Poles', the draft of 6.1 metres and raised bow also ensure excellent stability.
Silversea Cruises president and CEO Roberto Martinoli, told Panache Cruises that approximately one in five Venetian Society members travelling to Antarctica opt for the fly-cruise option. He also noted that the fly-cruises attract guests seeking an Antarctica experience, but in a shorter time-frame.
From May 2023 through March 2024, guests aboard Silver Endeavour will journey to 116 of the planet's most remote cold-weather destinations across Northern Europe, the Arctic, and Antarctica. The privileged guests will experience enthralling vistas and wildlife straight out of the acclaimed 'Frozen Planet' television series.
There's no disputing that Silversea Cruises fifth expedition ship is introducing a new echelon of experiential luxe. Infusing Polar cruising with a bolt of indulgence, this incomparable superyacht will blaze a trail each summer in Arctic latitudes before following the route of migrating whales south to Antarctica to spend up to five months exploring a land where white spires of ice sail like ghost ships through this frozen realm.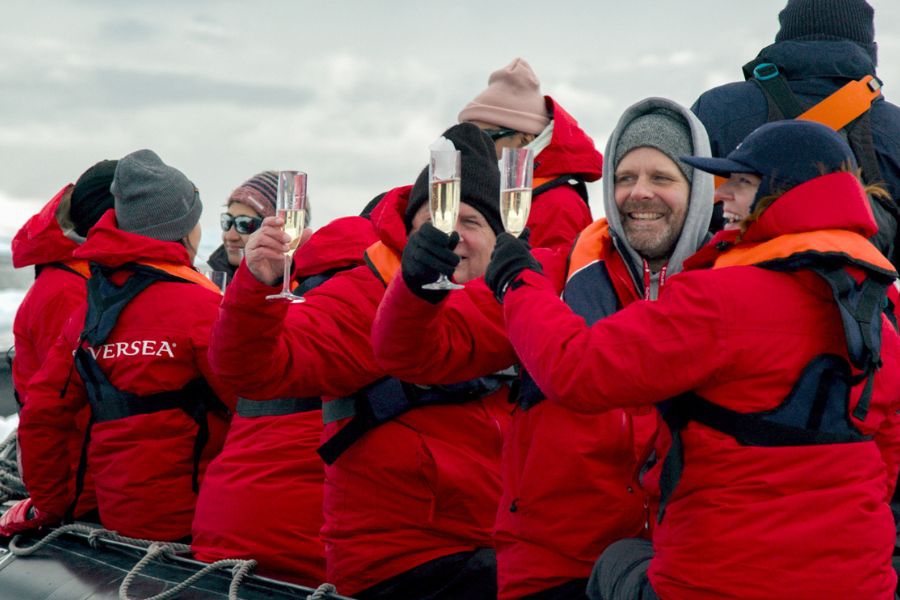 ©   Gary Buchanan
Many thanks to Gary Buchanan for contributing this article to the Panache Cruises blog.
Find out more about Gary here.