Casually Elegant Travel with Oceania Cruises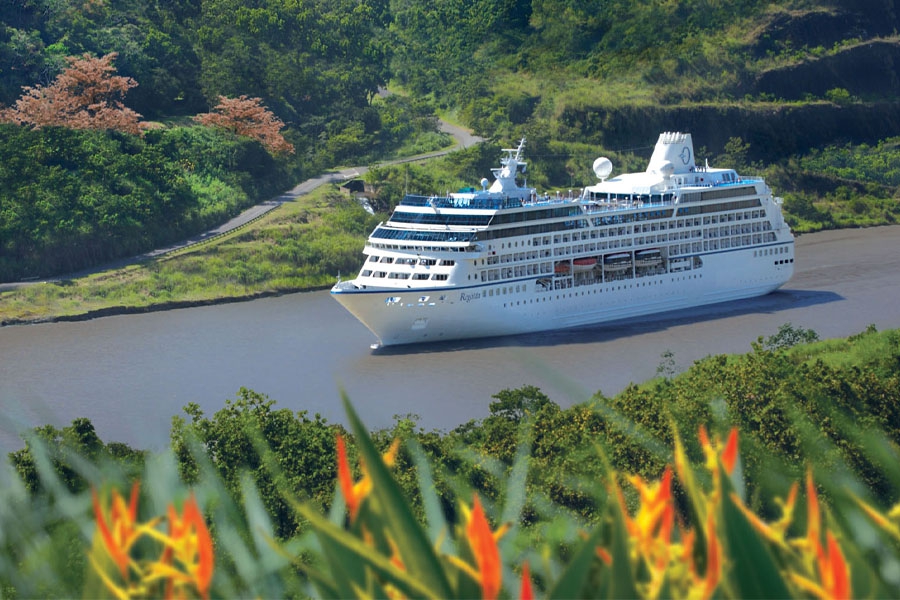 Casually Elegant Travel with Oceania Cruises
Oceania Cruises is the epitome of elegant but casual travel and offers an experience exactly like nothing else. Created for artisans of leisure and exploration, the sassy ships are renowned for their debonaire ambiance that encapsulates fine living, impeccable cuisine and intuitive service. Imagine The Savoy at sea and you're getting close. These qualities have been at the forefront of the company's ethos since its inception 20 years ago. Their six ships are not too ostentatious, nor too hip; they are simply sublime.
Distinguished as an 'upper premium' cruise line, Oceania offers a luxury-like experience at a mid-market price – one where every touchpoint is of the highest calibre. Not resting on their laurels, the company is looking to the future with two new Vista-Class ships, where once again, the bar will be raised.
The mould-breaking company that is Oceania Cruises rose from the ashes of Renaissance Cruises – a cruise line that expanded rapidly between 1998 and 2001, before falling victim to the demands of their bankers in the aftermath of 9/11. There were eight virtually identical vessels, each sported a classic 'Titanic Moderne meets Ritz-Carlton' style, and appealed to devotees of small-ship cruising. In 2002, the newly-formed company acquired three of these ships and named them Regatta, Insignia and Nautica; in 2016 a fourth ship was added to the fleet and named Sirena. In a groundbreaking move, Oceania Cruises commissioned the 1,250-passenger Marina and Riviera, which entered service in 2011 and 2012, respectively.
In 2018 the OceaniaNEXT brand enhancement programme initiative began which has seen a revamp of the appointments and amenities aboard the quartet of Regatta-Class ships. With a crew of 410 taking care of a maximum of 656 guests, the staff-to-guest ratio is extraordinary; ensuring levels of service that typically exist only aboard ultra-luxury ships with a higher price-tag. The former country-house embellished interiors now resemble an on-trend hotel with convivial lounges, chic bars, and intimate public spaces. In December 2022, Riviera will undergo a stem-to-stern re-inspiration; this will be followed in November 2023, when Marina undergoes a similar makeover. The 1,238-guest ships will glisten like never before following their all-encompassing rejuvenation.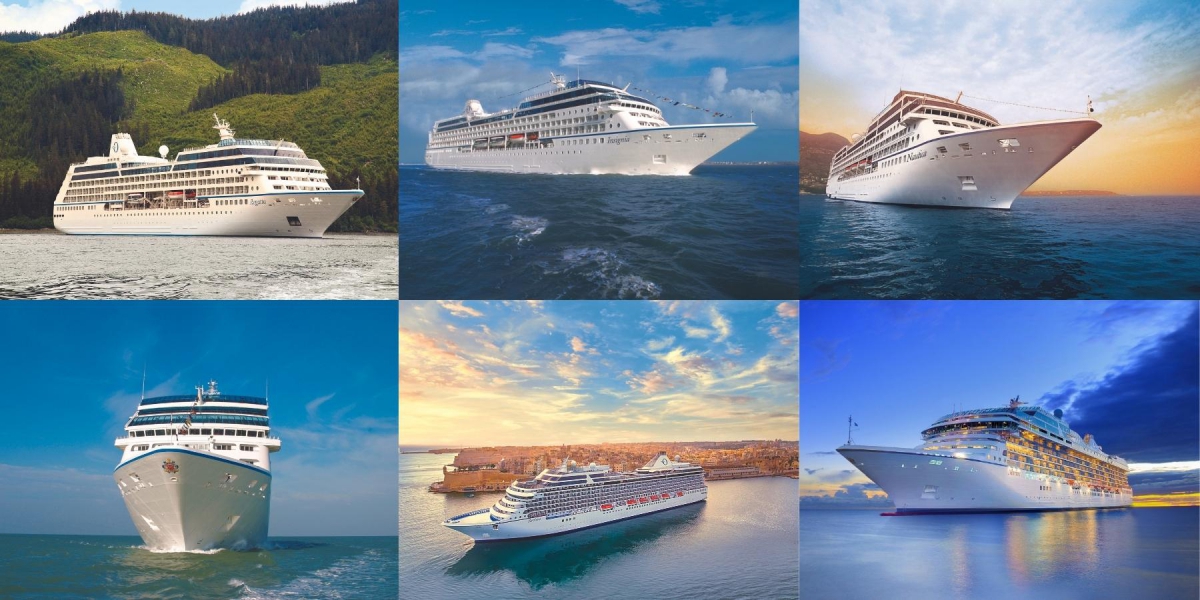 Blazing a trail in cruise ship identity, design and culture, Marina and Riviera exude an ambiance that takes its inspiration from fine estate homes. To achieve this vision of sophisticated elegance, Oceania Cruises sought out the top companies in impeccable design.
As a dramatic focal point of the reception area, the sweeping Grand Staircase features ornate double stairways with balustrades of crystal medallions. The focal point is a stunning Lalique Cactus table and vase. Crafted in stunning Murano glass, the chandelier that adorns the Grand Dining Room sets the tone of this exemplary room.
Undoubtedly among the most spacious at sea, the lavish custom-crafted suites and staterooms boast artistic grace and timeless allure. In the Owner's Suites the designer has even incorporated appointments from the acclaimed Ralph Lauren Home Collection.
Vista and Oceania suites are a study in opulence and have been conceptualized by celebrated New York designer Dakota Jackson. This proponent of fanciful, yet architectural design, is acclaimed for producing innovative furniture, conceived to please both eye and hand. His involvement in the design of the suites aboard Marina and Riviera complements his goal for every furniture piece to reflect unparalleled artistic and craftsmanship values.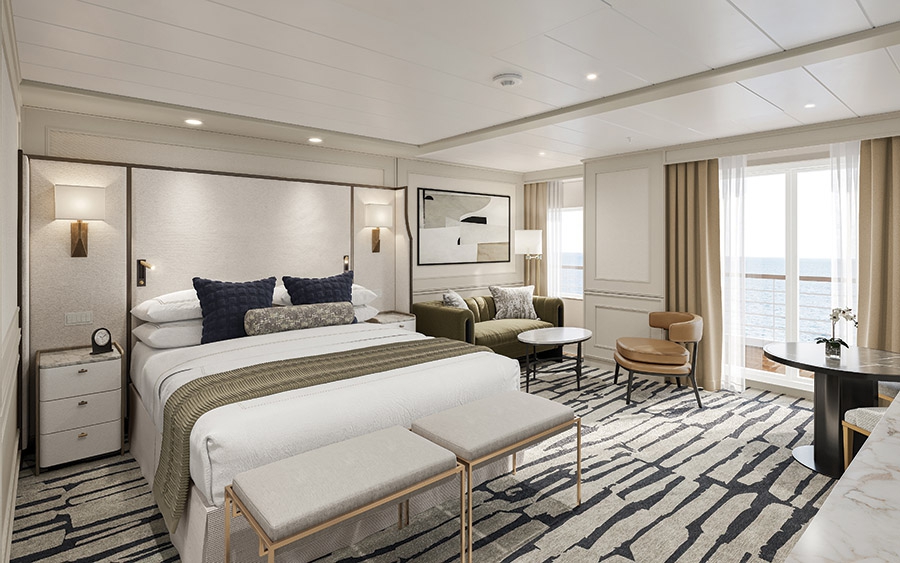 This is the first time bespoke design has been incorporated into the orbit of passenger accommodation on board cruise ships. What has resulted is a continuum of palatial living; the embodiment of sophisticated dolce vita.
Another outstanding feature is the Prestige Tranquility Beds, which feature in all accommodation grades across the fleet. Each mattress is composed of 400 encapsulated springs in seven zones covered by memory foam. A two-inch thick 'pillow top' cushion, filled with gel and wrapped in Chamomile-infused fibre, completes this recipe for a perfect night's sleep.
On board Oceania ships, indulgence isn't reserved solely for guest accommodations – this is a cruise line very much on the radar of those seeking culinary excellence. When the company was founded, celebrated Master Chef Jacques Pépin was appointed Executive Culinary Director. One of America's first 'celebrity chefs', Monsieur Pépin was instrumental in the company's decision to enlist twice as many chefs in their galleys as other deluxe vessels carrying similar numbers of passengers, thus ensuring every meal is prepared á la minute.
This mindset has prevailed, and the company's culinary management team continues to be almost exclusively French. Oceania Cruises' chefs have worked in the world's most prestigious hotels and restaurants; little wonder it's the only cruise line to have been inducted into the esteemed L'Association des Maîtres Cuisiniers de France. As much as 25 per cent of the crew on each Oceania ship is employed in the preparation of cuisine; while 20 per cent of the ship's staff is employed in the restaurants.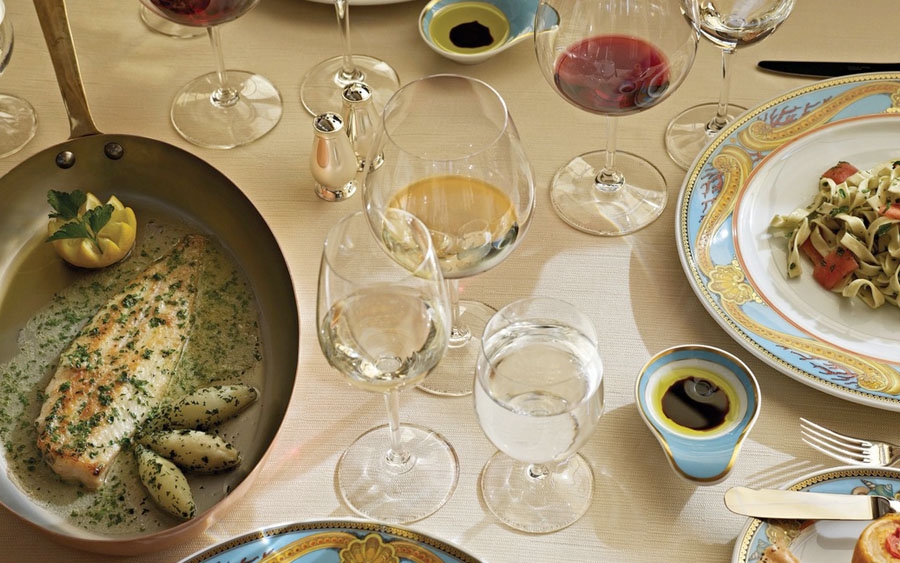 Another esprit de style of Oceania Cruises' dining experience is regional cuisine. This is much more than an homage to destinations visited by the ships. To ensure guests savour the authentic cuisine, the line works with distinguished chefs from around the world, including Christophe Muller, Executive Chef at the Paul Bocuse Restaurant in Lyon.
It's no surprise to anyone who has sampled the cuisine to learn that the company has the highest food cost per passenger in the cruise industry. It's an integral part of Oceania Cruises' DNA to only serve the finest ingredients. Iberico de Bellota pata negra ham; Rougie foie gras 'selection prestige'; black truffles from Perigord; Brittany blue lobsters; Culatello ham; Dublin Bay prawns; Artequeso currado manchego cheese; and Fleur de sel Arbaquinia Spanish olives are just some of the gourmet items served to passengers who appreciate the ultimate in fine-dining at sea.
With its 17-ft high ceiling, colour scheme of cocoa, cream and gold, with splashes of apricot and cranberry, the Grand Dining Room is a study in stateliness, a tribute to elegant continental cuisine, and an icon among Oceania Cruises' dining concepts. Expect a spectrum of global flavours and an all-new Executive Chef's Tasting Menu. Guests are seated at tables boasting Versace charger plates and Riedel crystal glasses. Each evening in the Grand Dining Room, guests can choose from more than two dozen dishes. Every menu incorporates Oceania's acclaimed Canyon Ranch Balanced Selections that follow a mantra for indulgent, yet healthy living.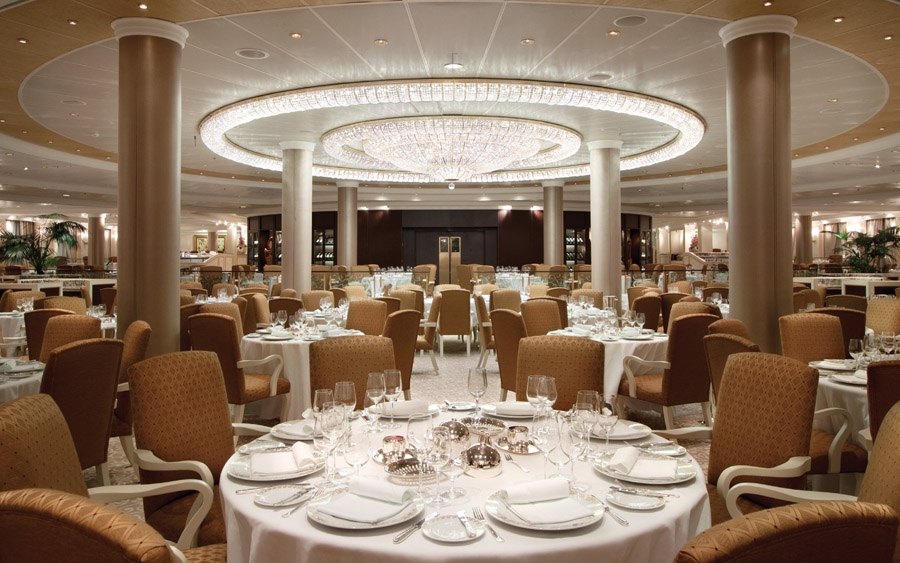 The cruise line also features the most extensive and creative plant-based menus at sea. In addition to the current gourmet offerings, more than 200 plant-based choices are available at breakfast, lunch, and dinner in the Grand Dining Room and Terrace Café, and guests have plant-based options available upon request during dinner service in the alternative restaurants. The menu includes: an Impossible Cheeseburger, Truffle Mac and Cheese, plus an Apple-Oatmeal Crumble with plant-based Vanilla Ice Cream and Coco-Vanilla Cashew Crème Brulee.
The choice of speciality restaurants is nothing short of outstanding. The classic American steakhouse, Polo Grill is a haven of conviviality enhanced with burgundy leather chairs and curtains in hues of crimson, claret, gold and sage green. Evoking bucolic Tuscan scenes with unimpeded views out to sea, the cool style of Toscana belies the cornucopia of Italian delicacies that make this a gastro treasure trove.
Aboard Marina and Riviera, Red Ginger affirms drama with a decorative centrepiece of three brightly lit Buddha heads. With a nod to feng shui, the soothing décor radiates with ebony woods, bronze and hand-blown glass light fixtures and eclectic, modern Asian artwork. To complement the interior, the dedicated chefs in Red Ginger's galley create contemporary interpretations of Pan-Asian gourmet classics that represent the cuisines of China, Vietnam, Malaysia, Thailand and Japan.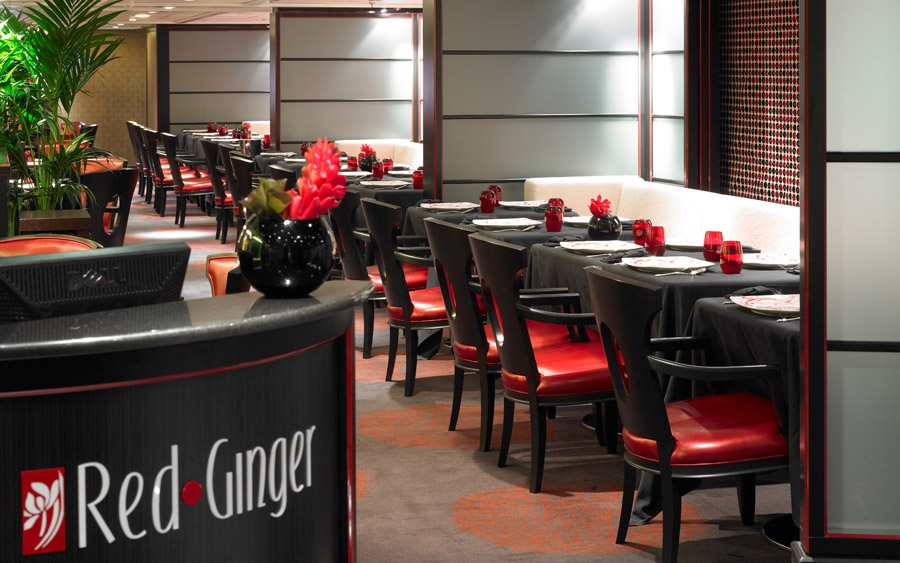 The perennially popular bistro – Jacques, the eponymous restaurant of Oceania's Executive Culinary Director, draws inspiration from fabled bistros in Lyon and Paris. Guests entering the restaurant are greeted by the aroma of freshly roasted chicken, duck, and lamb, wafting from the grand rotisserie. During the christening ceremony of Marina; Master Chef Pépin noted, "The cornerstone of any great dining experience is freshly prepared, simple dishes that are as visually pleasing on the plate as they are on the palate."
With a sophisticated yacht club décor, La Reserve is a 24-seat haven aboard Marina and Regatta that takes gustatory treats to new heights. Each seven-course 'La Reserve by Wine Spectator' wine-pairing menu is designed to be a culinary and wine journey. Guests can choose from: 'The Odyssey' or 'La Cuisine Bourgeoise' (designed by Jacques Pépin) as well as the new 'Dom Pérignon Experience.'
Sequestered between the Polo Grill and Toscana aboard Marina and Riviera, Privée offers the most exclusive dining experience at sea. Lavishly appointed with a custom-made Lalique crystal table, illuminated by a golden Venini glass chandelier, not to mention the white leather throne chairs and Ferrari-red carpeting; up to ten gastronomes can indulge in a seven-course menu dégustation exclusively designed by the Executive Chef.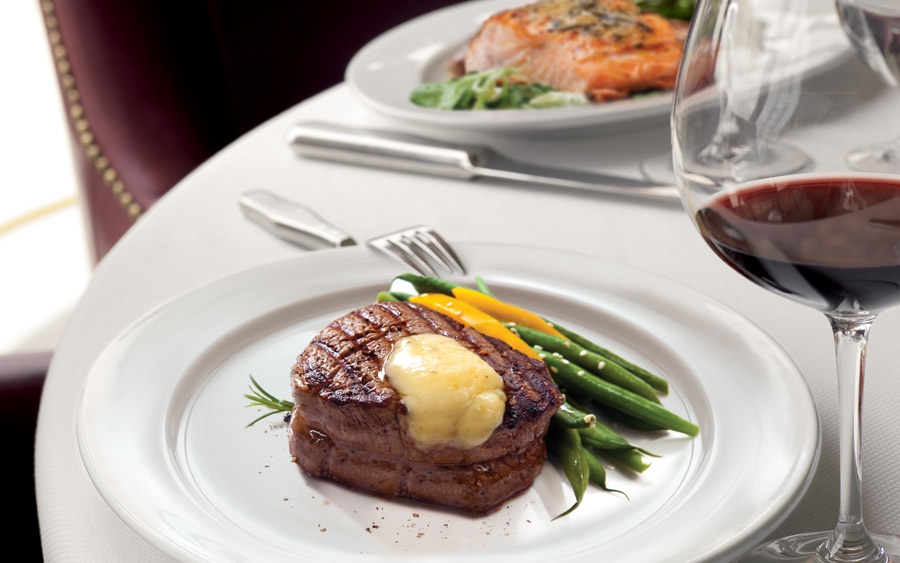 The Terrace Café is a perfect oasis for relaxed dining at any time of day. Breakfasts are truly indulgent, while at lunch the expansive menu of international dishes is complemented by flavoursome roasted and rotisserie meats; there's also a pizza oven. In the evening, the fanciful Murano glass chandeliers create a more esoteric ambiance. With mouthwatering pastas and paellas, the Mediterranean-themed menus are at the sharp end of conscientious cuisine. Alternatively, there's delicately Roasted Duckling; whole Maine Lobster; as well as regional delicacies in selected destinations. As the setting sun burnishes the sea, a scintilla of romance pervades the open deck where waiters present an array of Tapas, Sushi and Sashimi.
For a cruise line that puts so much emphasis on epicurean delights it's little wonder Oceania's Bon Appétit Culinary Centre on Marina and Riviera have proved so popular. With 24 fully-equipped workstations and induction cooktops, as well as convection ovens, passengers in the beginners classes can learn techniques for cooking fish and preparing French sauces; advanced classes concentrate on sous vide and pressure cooking methods. One- and two-hour classes are under the tutelage of Oceania Cruises' Culinary Enrichment Director.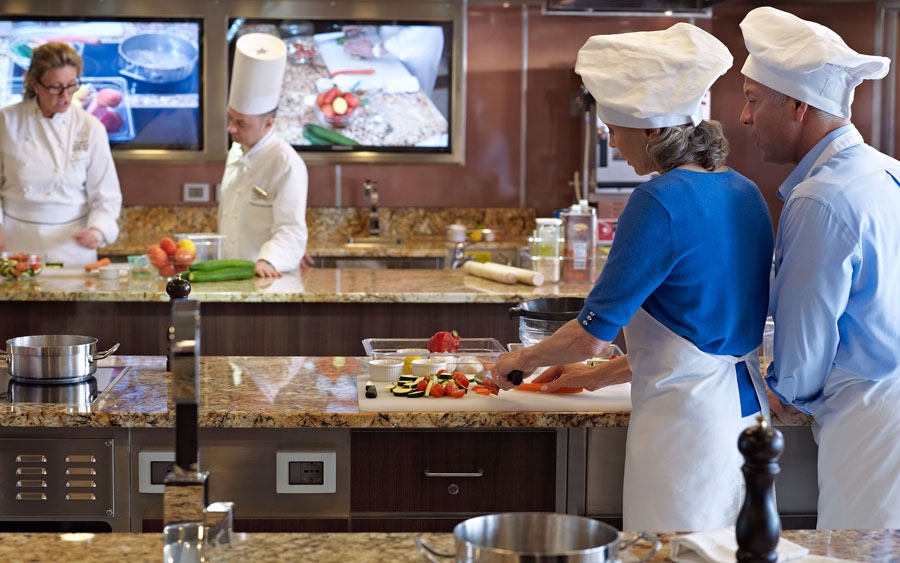 Guests can also sign up for 'Culinary Discovery Tours' which are led by expert chefs and make stops at local food markets, vineyards, and artisan delicatessens. The visits ashore are rounded off with an onboard cooking class inspired by produce bought locally. There is also dedicated 'Bon Appétit Wine & Food Festival' sailings, led by renowned culinary and wine experts, featuring cooking classes, market tours, and wine tastings.
Earlier this year, Oceania Cruises celebrated the float-out of its new 1,200-guest Vista at the Fincantieri shipyard in Sestri Ponente near Genoa.  Speaking at the ceremony, Howard Sherman, President and CEO of Oceania Cruises, said, "Vista is truly a ship of dreams, and we cannot wait to welcome her inaugural season guests next year."
Vista will introduce several landmarks in the realms of dining and guest experiences. There are new echelons of comfort in the all-veranda accommodations; even standard staterooms are the most spacious at sea. Each stateroom and suite features beautifully appointed bathrooms with oversized rainforest showers. Penthouse, Oceania and Vista Suites are ultra-spacious and are akin to seagoing residences with living and dining space for entertaining or simply relaxing. In a first for the brand, Vista features a new category of Concierge Level Veranda Staterooms dedicated to solo travellers.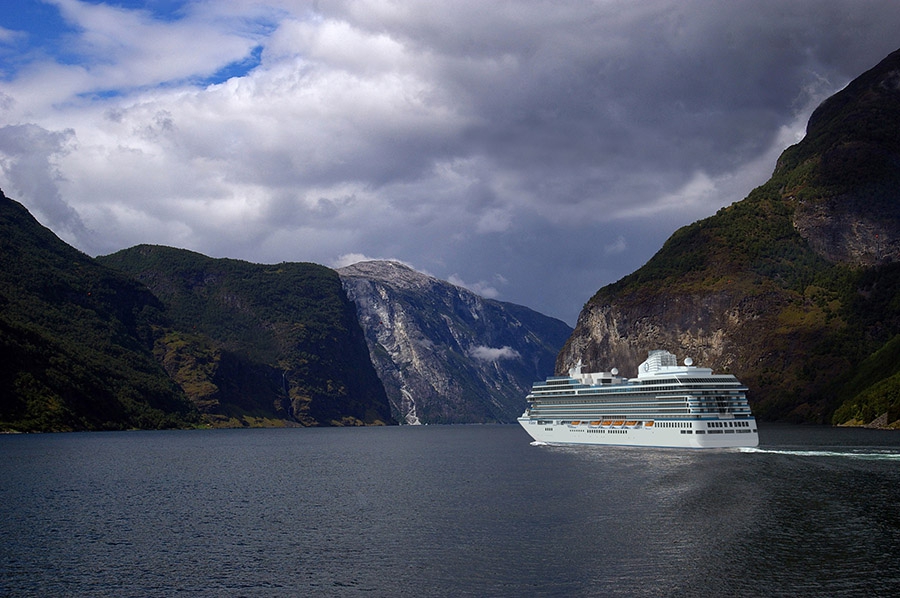 There will be twelve culinary venues which is unprecedented for a ship of its size. Of these, four are brand new and exclusive to this much-anticipated ship. Expect contemporary and inventive American dishes blended with time-honoured classics at Ember, and wellness-focused Vitality Cuisine at Aquamar Kitchen. Naturally, favourites like the Polo Grill, Toscana and Red Ginger will continue to play their role in this next chapter of Oceania's culinary story.
Following the gala maiden voyage, Vista will undertake 18 inaugural European voyages visiting the Spanish, French, and Italian Rivieras; Greek Isles; Turkey; Israel; Canary Islands; British Isles and Ireland.
Looking further ahead, Oceania Cruises is planning to enhance their high watermark of quality with two larger ships set to debut in 2027 and 2029. These paragons will continue to offer small-ship luxury; but they will have two additional restaurants, raising the curtain on a total of nine epicurean experiences onboard.
As many discerning travellers are discovering, Oceania is a torchbearer in the art of cruising. Offering one of the best value-for-money options in holidays at sea, combined with top-notch immersive land tours, this luxury-like experience at a mid-market price is gaining a loyal following with British cruisers who don't want to compromise on style – so it's fortunate the cruise line will see a 47 per cent increase in capacity over the next three years.
Proclaiming to fill what they perceive as a gap in the market, few can argue that Oceania's ships belong to the medium-capacity ensemble, a niche that suits those who eschew the price-tag of smaller boutique ships, yet for whom the prospect of a sojourn on a colossus of the seas fills them with more apprehension than anticipation.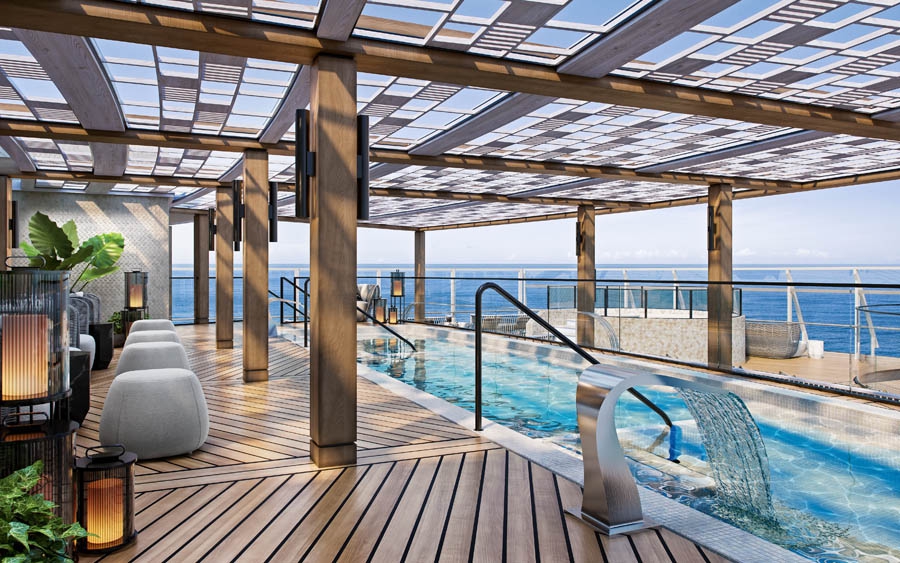 ©   Gary Buchanan
Find out more about Oceania Cruises here.
Call us on 0161 513 8200 to book your next luxury cruise.