Scenic's food is out of this world!
Scenic's food is out of this world!
Scenic Eclipse. What an experience!
In so many ways this trip gave me the wow factor! As a Cornish girl, sailing out of Fowey was always going to be special for me but driving up to the harbour where I spent so much of my childhood and seeing such a sleek and stylish ship docked was really something quite unique.
Stepping on board is like entering the Tardis. The use of space inside is amazing and the ship feels so open with the perfect balance of facilities for the number of passengers. I could go on about how incredible the ship is, its features and design and how the staff very quickly become like an old friend but as ever, the food is where I'm going to focus. If you'd like to read more of an overview of the ship and what we got up to in our 3 days on board, read Olivia's blog post here.
Food on board any cruise is incredibly important and as an ultra luxury discovery yacht, you'd expect a high level of quality and choice but what Scenic have done is out of this world!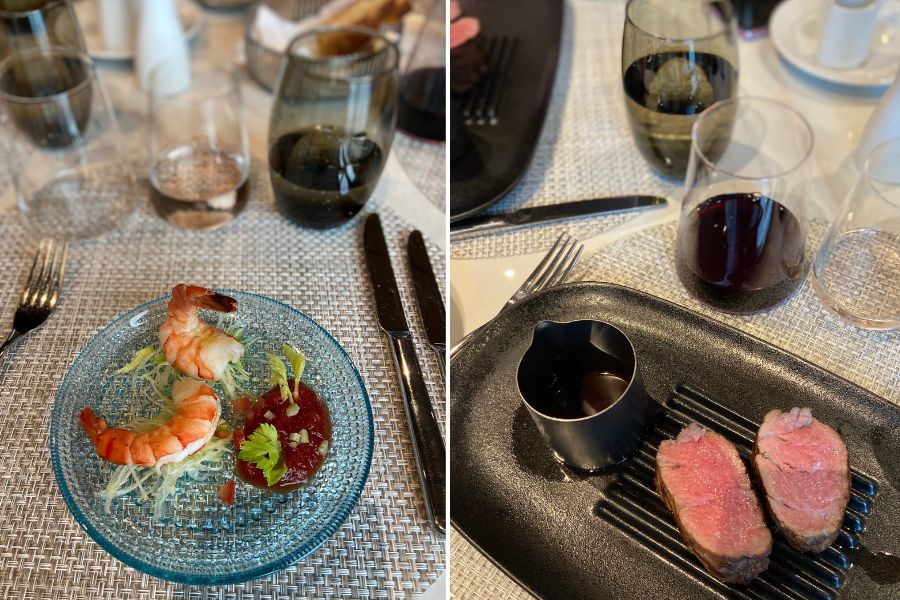 Elements is the main dining venue on board and offers a different menu almost every evening, often reflecting local cuisines in the destination the ship is visiting. We enjoyed beautifully succulent veal, risotto, and pasta dishes in Elements and, had we been able to spend more time on board, would've definitely gone back to sample more from the extensive menu. The atmosphere in Elements was fantastic too, it was certainly the busiest dining venue on board but still without feeling like it was too much. Floor to ceiling windows provided amazing sunset views as we sailed, making it the perfect venue for a spectacular dining experience.
Koko's, the Asian Fusion restaurant, was exceptional. Such a vast choice and cooked to perfection. With so much choice we decided to have a family style dinner and order one of everything so we could try it all. It felt like we were transported to a local Asian street market but with the elegance of a top rated restaurant. Koko's also offers a sushi bar and a Teppanyaki grill, adding more opportunities to experience the epic range of dining on board Scenic Eclipse.

Lumiere, the French restaurant and Champagne bar, produced French food at its best. This was an experience like no other for me. Every single course was a taste explosion and paired with the absolutely perfect wine. With views through to the kitchen and impeccable service, including hand-selected wine pairings for each of our seven courses, this really was a highlight of the trip.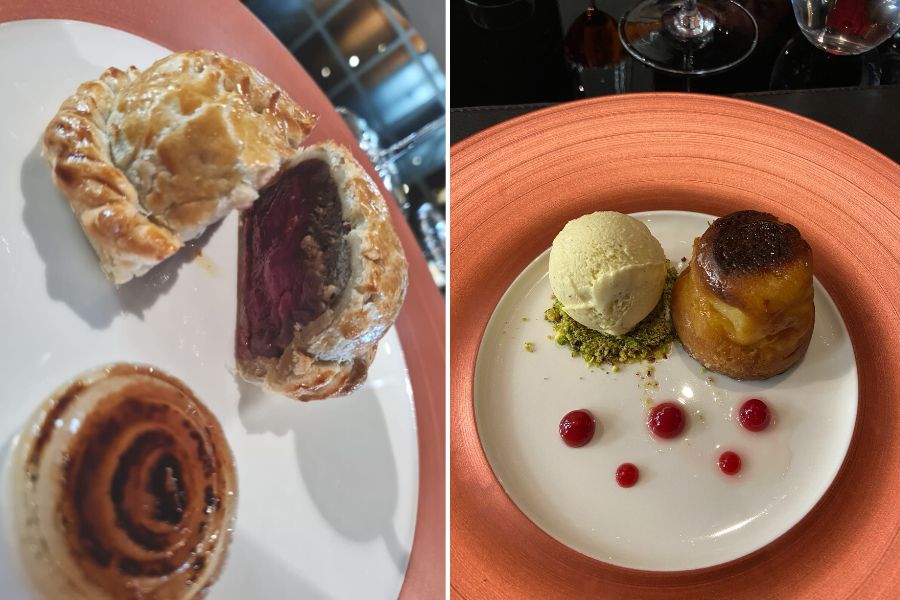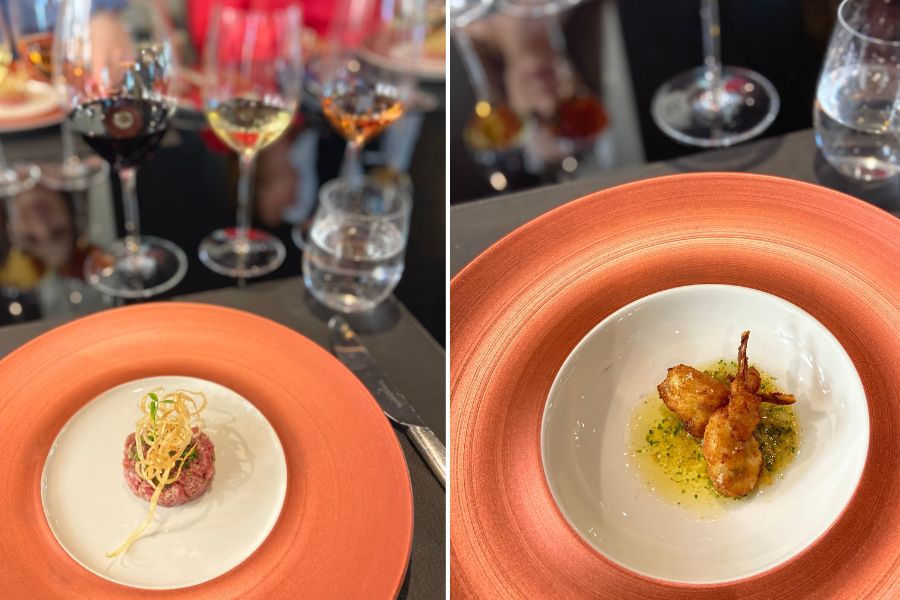 Other dining venues on board Scenic Eclipse include Azure Cafe, where we enjoyed gorgeous pastries, savoury muffins and smoothies for breakfast (and cakes in the afternoon!) and the Yacht Club, where most guests congregated at lunch time and throughout the afternoon for buffet-style food and snacks. The Yacht Club is a beautifully spacious room with plenty of outdoor seating to enjoy the views as you sail and was a great meeting place to chat with other guests in a pleasant, convivial atmosphere.

At the end of the day, it all comes down to Scenic's ethos on food. They have taken every step possible to ensure that their carbon foot print is so minimal, specifically their food waste. The passion that the chefs have, particularly the Director of Food and Beverages, Tom Goetter, is infectious and very apparent in every mouthful.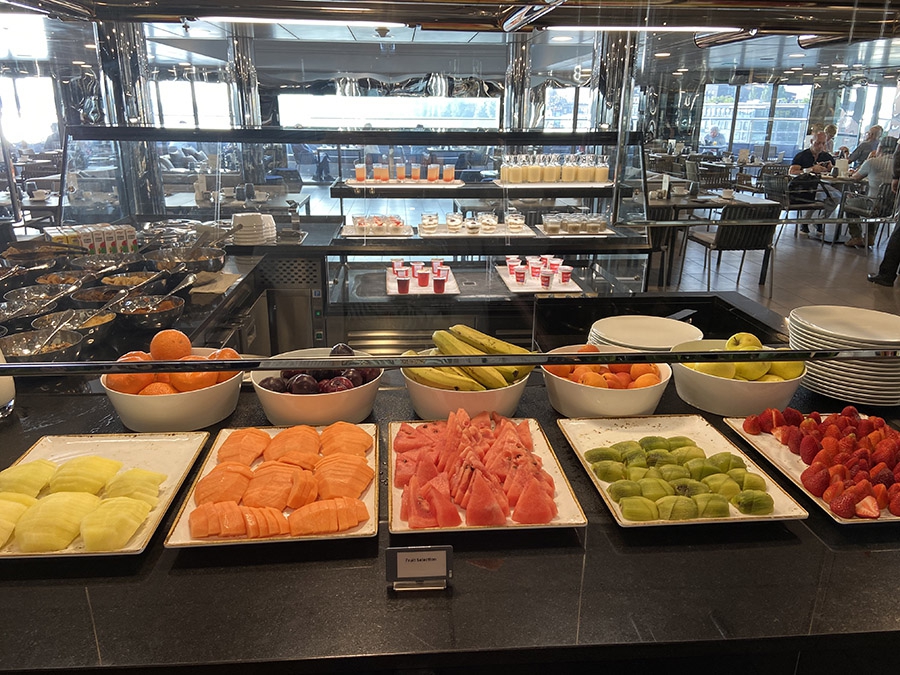 From creating their own garden on board to grow herbs, to encouraging their team to use family recipes and even reducing waste and using every part of their ingredients, like pineapple skins in their deserts, they really have approached the dining experience in a way like no other cruise line. Dehydration plays a huge part of the food preparation on board, and Tom demonstrated this to us on a galley tour where he showed us a small tupperware of orange powder, which was actually 8kg of carrots, dehydrated! Another pot full of green powder contained over 20kg of mint. This saves a huge amount of space in the galley and cuts preparation time down massively during busy periods.
Scenic Eclipse and my time on board will remain in my memories for a long time and I look forward to seeing what they develop for Eclipse II!