Rome to Monte Carlo on Silver Dawn
Rome to Monte Carlo on Silver Dawn
Another luxury cruise with Silversea? Oh yes! Last week Sales and Operations Director Clare was invited on board the beautiful Silver Dawn for a little 3 day taster of Silversea's newest luxury cruise ship.
We've been lucky to have a few team members on board Silversea in the past year or so but this time was another step towards pre-pandemic cruising. All passengers had to be vaccinated, but other than that there were zero restrictions once on board, and it was great! The service was outstanding, the crew were very attentive and friendly, with many of them knowing guests by name within a day of being onboard. Here's what Clare had to say about her experience...
Our suite
We were kindly given a Deluxe Verandah Suite which was absolutely beautiful, spacious and incredibly comfortable. On arrival we were greeted by our butler who gave us a lovely Bulgari bag filled with some handy items to use whilst onboard, such as hand sanitizer and hand cream etc.
The mini bar was all included and we could request any beverages at any time which were then remembered by our butler and replenished daily.
Our suite was very well positioned on deck 6, suite 656. The bathroom was very spacious, complete with bath and separate shower and we were even given fresh towels twice per day. Our butler offered us a choice of toiletries and these were replenished regularly also, without needing to ask.
The suite also had a compact walk-in wardrobe with plenty of hangers and storage space, and this area was home to a security safe. The verandah was of ample size with nice comfortable chairs and foot rests which didn't take up all the room which was really nice as we were able to move around comfortably.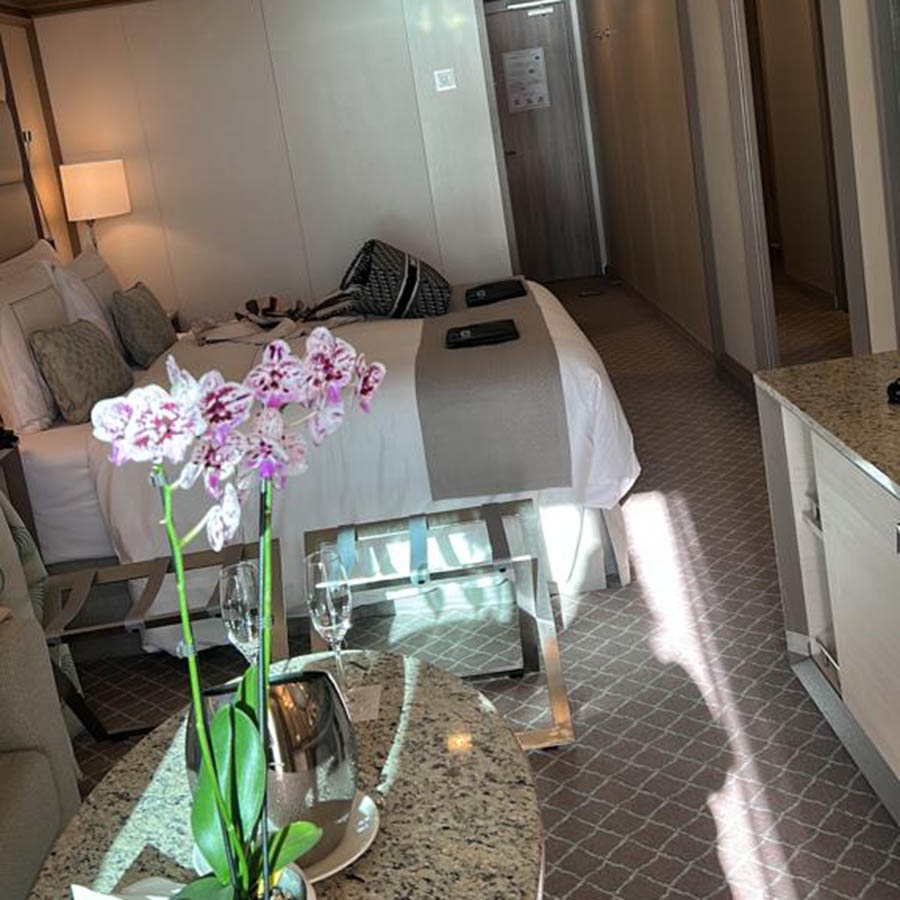 Restaurants, bars & entertainment
The Silver Dawn had a really nice atmosphere, there were 8 restaurants and bars so plenty of choice and the thing I really loved was how much outdoor space there was attached to the restaurants and bars so you could choose whether to sit inside or outside. All of the public areas had very comfortable seating and plenty of it; the ship was full but you never would have guessed it as while it was busy enough to create a nice atmosphere it never felt crowded. The outdoor areas had the most divine heaters so you could sit out until late into the evening even when sailing and still be nice and cosy.
All of the restaurants were excellent, Silversea is known for fantastic dining experiences and the Silver Dawn has brought the amazing S.A.L.T. programme to life. This stands for Sea and Land Taste and brings elements of local cuisine on board for guests to eat, drink, cook for themselves in the cooking classes, and experience as part of food-based shore excursions.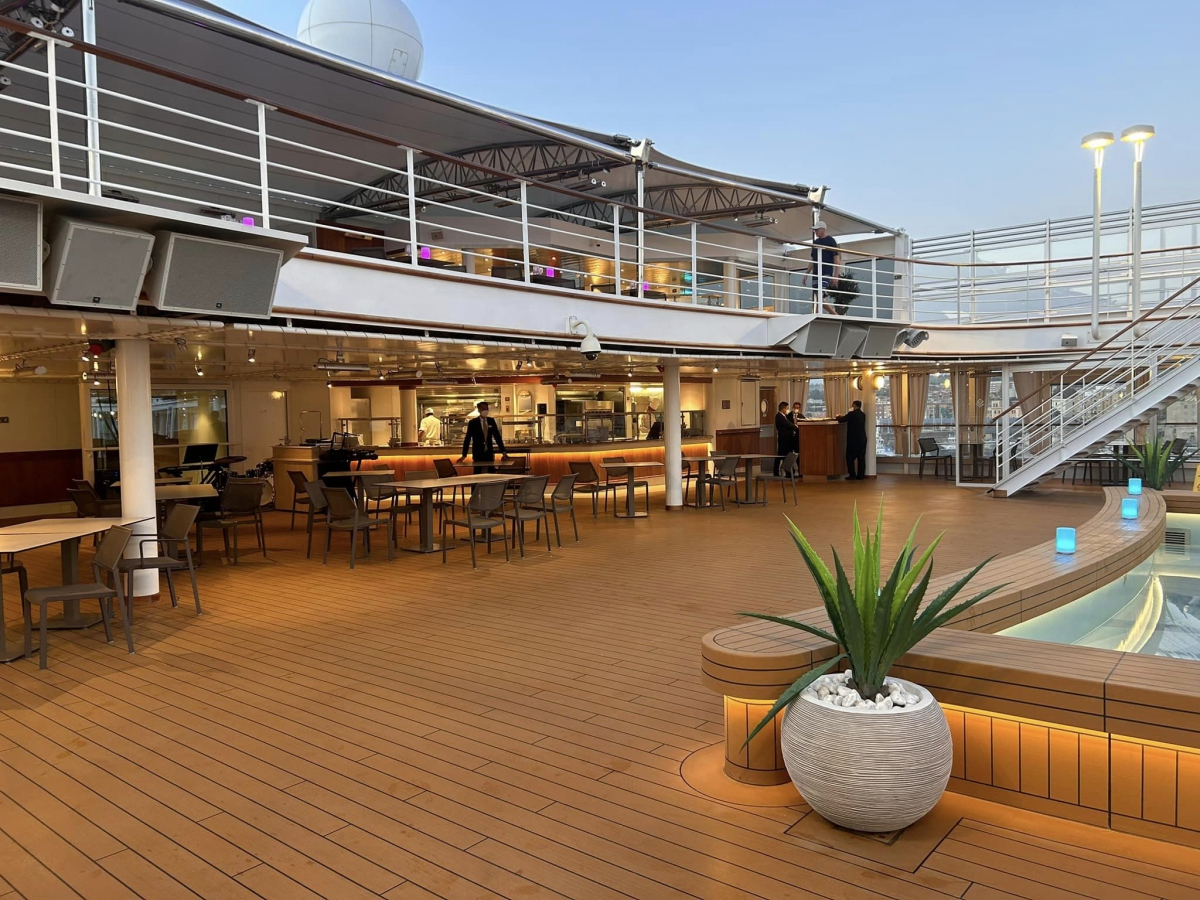 I could not fault the food or the service in any of them that we tried but my favourite restaurant was the Hot Rocks Grill. By night the pool area becomes a really nice dining area, you order from the menu, they then bring your food, the meat is raw and you have a hot rock to cook your own meat, not something I really liked the sound of at first but wow was I impressed. The food was excellent, the service even better and the surrounding really nice and relaxed as we sailed away from Rome.
Breakfast was served until 10am, if you fancied a lazy morning you could order breakfast in your suite and if all else failed, the Arts Café had the most delicious pastries, sandwiches and cakes.
There was entertainment in a number of the bars which was very classy and in keeping with Silversea's luxury offering. The theatre known as the Venetian Lounge was a lovely area, plenty of very comfortable seats and waiters continued to top up our drinks. The shows were excellent, highlighted by probably THE best cruise director I have ever come across. Vicky Van Tassel, she was absolutely hilarious, very engaging and entertaining.
Activities & highlights
The S.A.L.T. Lab was an exclusive Silversea experience which meant could learn to cook dishes from the local area. The class was around 45 minutes, very informative and a lot of fun. Once we cooked our meal, we got to sample it which was great (even though I do say so myself) and for an even more immersive experience we could then also eat in the S.A.L.T. Kitchen restaurant followed by a cocktail in the S.A.L.T. bar.
Another highlight for me was the OTIUM Spa, what a beautiful area, very relaxed, beautifully designed with all you need for one of the best pamper sessions you could ever imagine. It came complete with a gym, hair and nail salon, plus a barbers for the gents. They really have thought of everything, and the great thing with the spa treatments and wellness initiatives is guests are able to enjoy them in the comfort of their own suite. This is unique to Silversea and only available on board Silver Dawn!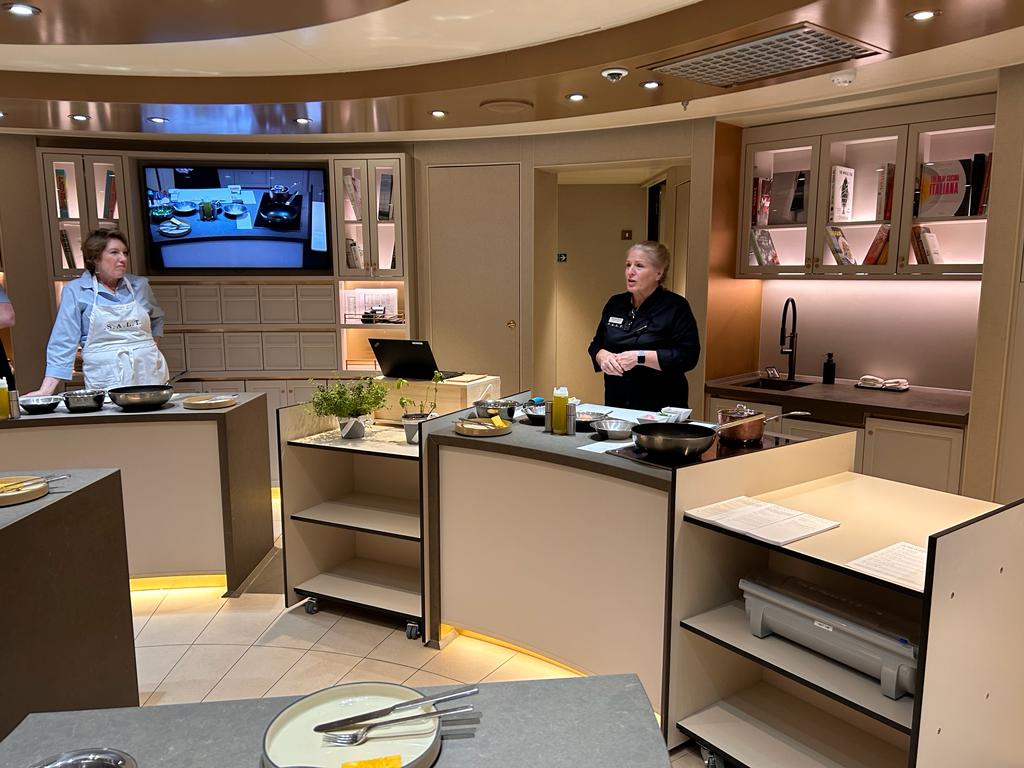 The only bad thing about this cruise was having to disembark as it came to an end, I just loved the ship, the atmosphere and the quality of the amazing food and fine wines. If you do nothing else whilst on this ship please ensure you have your butler prepare you a bath!
The service was second to none on board Silver Dawn. Nothing is too much trouble for us here at Panache Cruises and this was most certainly replicated on this fantastic ship.
Watch the video below to find out what's so special about Silver Dawn...
Find out more about Silversea and Silver Dawn.