New Expedition Ships
Year on year luxury expedition cruising has grown exponentially and over the next decade it is set to become a forerunner in the industry, especially in light of the pandemic and a growing demand for long-haul, 'bucket list' trips.
When ships set sail again, it's likely that cruisers will want to book life-changing voyages offering once-in-a-lifetime experiences. It's expected that regions like the Arctic, Antarctica, and the Galapagos Islands will become the next expedition hotspots, and we can see why.
Luxury cruise lines have realised the potential of the expedition sector and have been battling it out to become industry leaders. New state-of-the-art ships designed to take guests to far-flung destinations have seen some serious technology being used. New futuristic-type vessels with Zodiacs and submarines have been created to venture to more remote areas, where you can get up close and personal to the wildlife in a safe and environmentally friendly way.
So with all that in mind, we have curated a list of the most exciting new expedition ships that we can't wait to get on when cruising resumes!
Silversea Silver Origin
Capacity: 100
Sails to: Galapagos Islands
Silversea's first destination-specific ship, Silver Origin is the height of exploration in the Galapagos. All-suite accommodation, chic interiors, Ecuadorian-inspired cuisine, and the highest crew-to-guest ratio in the Galapagos form the basis of this brand new ultra-luxury cruise ship. Explore one of the most far-flung destinations in the world on Silversea's most environmentally friendly ship; make the most of the eight on-board Zodiacs for thrilling excursions, and spend time with the team of Ecuadorian expert guides to learn more about the incredible biodiversity the islands have to offer.
Seabourn Venture
Capacity: 264
Sails to: British Isles, Europe, USA, Central America, South America, Baltic Sea
Seabourn Venture is scheduled to launch in June 2021, with a second yet-to-be-named sister ship slated to launch in May 2022. Both ships will be designed and built for diverse environments to PC6 Polar Class standards and will be a brand new innovative design, created specifically for the ultra-luxury expedition traveller. Enjoy a complement of double sea kayaks, mountain bikes and ebikes as well as 24 Zodiacs that can accommodate all onboard guests at once, which will allow for a truly immersive experience. 
Aurora Expeditions Sylvia Earle
Capacity: 126
Sails to: Arctic & Antarctica
Due to sail in October 2021, Aurora's new ship honours the highly accomplished marine biologist, oceanographer and explorer, Sylvia Earle. As the first female chief scientist of the U.S. National Oceanic and Atmospheric Administration, and named by Time Magazine as its first Hero for the Planet in 1998, this vessel pays tribute to Sylvia's long standing conservation efforts for marine protected areas and ocean wildlife. With Aurora Expeditions, your Polar cruise is no longer just a dream but an experience you will treasure forever. Venture out in a Zodiac and search for wildlife in remote lands, visit colonies of penguins, or perhaps enjoy panoramic views from a ridge summit.
Scenic Eclipse
Capacity: 228
Sails to: Europe & Russian Arctic
Climb on board Scenic Eclipse and get ready for the trip of a lifetime. The product of thirty years of innovation, passion and curiosity, Scenic Eclipse was born out of a desire to go beyond the expected, shipping guests across the world's oceans in search of new landscapes and cultures - all in absolute luxury. From the Arctic to Antarctica, the Mediterranean to the Caribbean, and everywhere in between; you'll discover a whole new world with Scenic Eclipse.
Ponant Le Bellot
Capacity: 184
Sails to: Antarctica, Asia, Mediterranean, Australia, New Zealand, Baltic Sea, South Pacific
The newest member of Ponant's fleet, Le Bellot will embody the unique atmosphere that is the cruise line's hallmark: a subtle blend of refinement, intimacy and comfort. Experience a luxurious setting where the accent is on authenticity and passion for travel.
Crystal Endeavour
Capacity: 200
Sails to: Antarctica, British Isles, Alaska, Asia, Europe, Central America, South America, Australia, New Zealand, Canada, New England, Baltic Sea, Africa
Offering intrepid adventure and fascinating insight into far-flung destinations and cultures, the Crystal Endeavour is able to reach some of the world's most remote and untouched locations. From distant islands to world-class cities to unexplored polar regions, the Crystal Endeavour explores some of Earth's most beautiful coastal landscapes, home to exceptional biodiversity and rich cultural heritage. With a stunning range of intrepid, all-inclusive journeys on offer, this purpose-built, sophisticated expedition yacht features 100 balcony suites, six outstanding fine dining venues, and a vast luxury spa, just to name a few of its assets. One thing is for sure – you won't need to skimp on luxury aboard the Endeavour.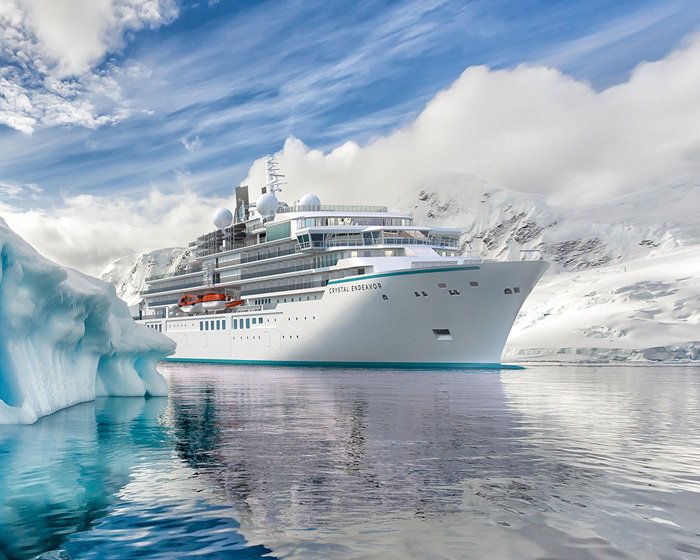 Hurtigruten MS Fridtjof Nansen
Capacity: 530
Sails to: Norway, Arctic, Antarctica
Hurtigruten have a well-established history of intrepid expedition cruises and a voyage with them will be like no other. Taking you to the Land of the Fjords and Northern Lights in Norway, circumnavigating the North Pole, and more recently exploring Antarctica, there is an abundance of wonderful sights to marvel at on board a Hurtigruten expedition. Combining state of the art technology and premium on-board experience with unparalleled destinations, the newest addition to the fleet, MS Fridtjof Nansen, introduces the next generation of adventure travel.